GrubHub vs Instacart: Which is Better? [2023]
We may earn small commission from the products mentioned in this post.
Do you know? GrubHub employees have rated the application 0.3 higher than Instacart employees. But, Instacart does its job accurately. So, which is the best among these two?
Who is not aware of delivery service providers in this first-generation world but trusting one and spending time on ordering your items from them – don't you think you must be aware of the points that will make you decide which one is the best for you? That you can save your time by not choosing the wrong brand?
GrubHub and Instacart are the leading delivery service providers in the USA. In the busy streets and dull atmosphere, when people feel lazy and don't feel like stepping out of their comfort zones, applications like Grubhub and Instacart are used.
With the help of these applications, you can get in touch with your favorite restaurant or store from where you would like to have an item. These delivery brands then will deliver the package to your doorstep.
In the article below, you will find GrubHub vs Instacart – a comparison between two delivery service providers to help you choose your ideal package delivery service provider.
GrubHub vs Instacart – Overview
GrubHub
GrubHub is one of the best delivery companies in the USA that is similar to GoPuff, Doordash and Postmates.
GrubHub is connected with 115,000 restaurants locally. The application works in over 3200 cities and has different menus and cuisines, including Greek, Chinese, Indian, and Thai.
And if you wish to try a new dish from a new restaurant, you can ask for a recommendation through an in-app recommendation option. You can also type in the dish and search for the restaurants around you that sell the same.
Customers get the right to add the delivery and food instructions while ordering. Before confirming the order, the app asks the customer for confirmation and if the customer is not happy with the outcome, he/she can go back immediately.
GrubHub has connected many stores to many guests. On special occasions, you can find several coupon deals including cashback, discounts, and free delivery offers. The in-app option helps customers can resolve their issues within minutes.
Instacart
With the help of Instacart, you can get the ingredients from far-away stores delivered to your doorstep. The online menu at Instacart contains 500 trusted and verified retailers.
Fidji Simo is the CEO of the company which is founded in June 2012. Apoorva Mehta l, Brandon Leonardo and Max Mullen were the founders of the company. Along with the USA, Instacart also works in the streets of Canada.
Moreover, Instacart not only helps customers to get what they want but also helps drivers and shopkeepers to earn a few bucks at the same time. With it being partnered with over 700 national, local, and regional retailers – it is unlikely that you will not find what you are searching for.
If you wish to go buy some ingredients for tonight's dinner but do not feel like stepping out of the house, Instacart can be your rescue.
And you can check the availability of the items before ordering them. Even if you feel like going out but you do not want to waste your time by visiting a store that does not have the ingredients, then you can check the availability of the ingredients from Instacart. If any store near you has the item, you can also visit the store by yourself.
GrubHub vs Instacart: Features
GrubHub Features
The online menu of Grubhub contains many special types of cuisines and cultures including Italian, Thai, Indian, etc.
As Grubhub serves customers in over 2000 cities you can order from far away restaurants and it will accept the request.
Grubhub for drivers – they keep all the tips for themselves along with the base money as their fixed stipend.
Instacart Features
The Instacart application does not ask for registration. You can sign in and sign up whenever you want and even if you don't want to, just adding your address will do.
The application has filters for search and locations. You can type in an item or store name and filter the location to get accurate results.
Return and cancellation policies for simple and decent and customers are allowed to schedule the delivery accordingly.
The in-app tracking order option allows you to know the live location of the package.
You are allowed to rate the item and review it so that the other customers can understand if they should buy from the specific store with the help of Instacart or not.
GrubHub vs Instacart: How to Use?
GrubHub for Consumers
The first step involves the customer downloading the application with the help of any app store.
The account making requires your general information including your Name, Address, Email ID, Phone number, etc. Make sure you typed the correct address and phone number at least.
On the search bar, type in the menu, cuisine, restaurant, or dish name.
If you have filtered the locations, it will show you restaurants serving the dish near your area.
If consumers are not interested in downloading the application or are facing any issues regarding the same, they can visit the website for the time being. The procedure will be the same – you have to type in your desired dishes or restaurant's name on the search bar.
Once you find the items, add them to your cart and before ordering, the screen will show every detail of the order including the estimated time of the delivery and fees. With the help of an in-app option for tracking, you will be able to track the status of the order live.
GrubHub vs Instacart: For Drivers
Both Grubhub and Instacart have been hiring drivers for delivering the packages to the customers. If you are eligible to pass a test, you can become a driver for either of them or both. Driving for Grubhub or Instacart can be a reasonable hourly, seasonal or part-time job.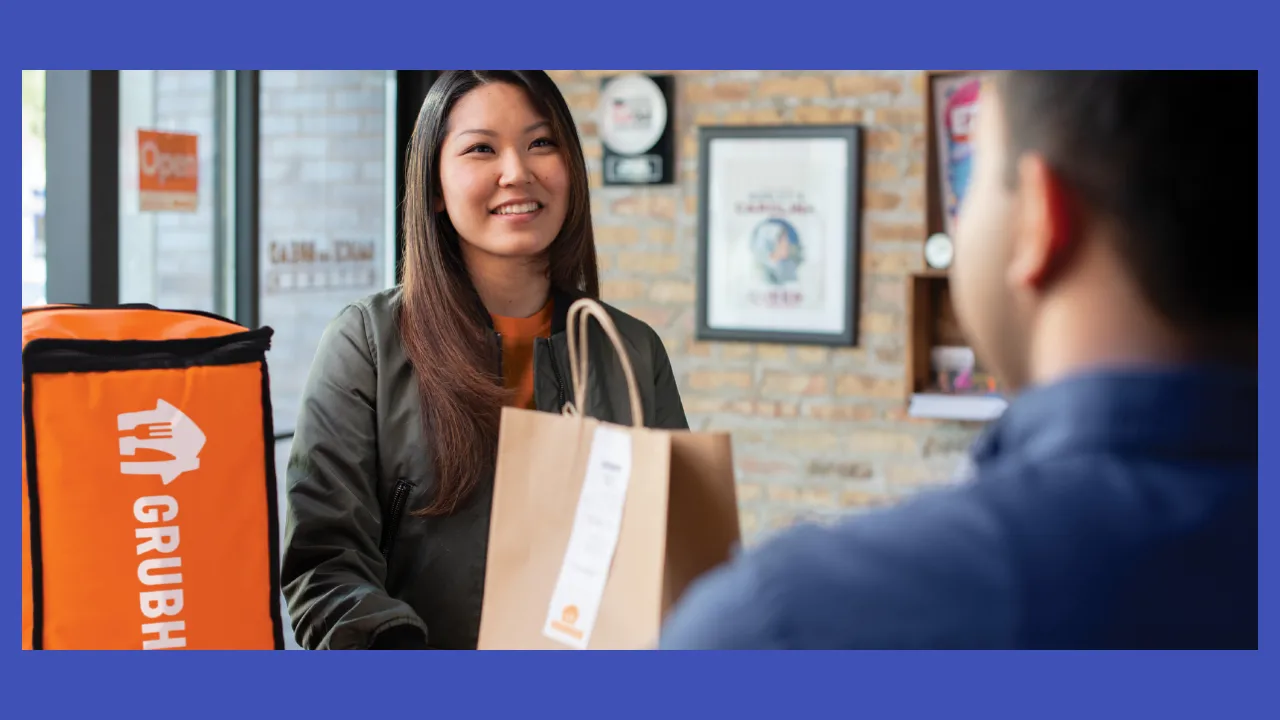 Minimum Requirements
Requirements for Grubhub drivers
Must have a valid driver's license for a bike or car.
Be an adult. If you are working in Las Vegas, you are supposed to be 21 years old to work. As for other cities, being 18 is enough.
Have at least two years of traveling experience.
Must be able to pass a quick criminal background check.
Have an Internet connection
Have an Android or an iPhone.
Requirements for Instacart Drivers
Be eligible to work in the USA.
Must be an adult.
Be able to operate a smartphone. iPhone 6s+ or Android 5.0+.
Must be able to lift 50 lbs with or without a vehicle.
Own a vehicle.
GrubHub vs Instacart: How to Start?
GrubHub for Drivers
GrubHub drivers are supposed to download the driver's app to receive the request for deliveries.
Switch on the app and enter your account through login.
Check the map and drive into the delivery region boundaries to receive a request.
Once you enter the boundaries – let GrubHub know you are ready to deliver orders.
After you receive the request, accept it after checking the details and if it is not of your liking, then reject it.
Once you accept an order, you are required to visit the restaurant, pick up the package and deliver it to the address mentioned.
Instacart for Shoppers
Instacart Shoppers are asked to select a batch of stores to deliver from. Shoppers can select the stores closest to them, are of their liking, or based on any other reason.
Once they receive a request from the customer, all they have to do is visit the store, buy the item/s and deliver it to the customers at their doorstep.
If the shopper is driving a car, he/she can have another person beside him or her for help.
GrubHub vs Instacart: Payout
GrubHub Driver's Pay
Per order rate.
$0.5 per mile distance covered from the restaurant to the consumer.
100% of the Tips.
All three mentioned points will be added on your final day. Per order rate will depend on the city you are living in. For example, if you are working in San Francisco or Los Angeles like cities, the rate per order will be higher.
Instacart Shoppers Pay
Instacart pays shoppers based on the work they do. In-store shoppers are paid hourly wages depending on the area they work in.
Full-service Shoppers and delivery Shoppers' pay depends on the orders.
For the shoppers who deliver the packages – they can earn at least $5 for each delivery they make. For full-service shoppers – they can earn up to $7 to $10 for each full-service batch. Full-service Shoppers can earn additional revenue through tips given by the customers.
GrubHub vs Instacart: Payout time
GrubHub Driver's Pay time
Grubhub drivers can take out the cash instantly with the instant cash-out feature. But if they did not use this feature or cannot use this feature, then they can receive payments on Thursdays through direct deposit.
The payment you will receive on Thursday will show that you have not yet withdrawn your amount from last week. If you wish to, you can continue using the Instant cash-out feature from next Monday.
Instacart Shopper's Pay time
Instacart Shoppers and Full-service Shoppers get paid every week through a direct deposit into savings or checking account. Full-service Shoppers can use the instant cash-out feature. They will receive the money immediately on a debit card.
Full-service Shoppers can use the instant cash feature for the first time after successfully completing five batches of delivery.
GrubHub vs Instacart – Flexibility in work
GrubHub
GrubHub hires drivers individually – they are their own Bosses. It only does the work of recruiting them and paying the wage. And drivers can decide their own schedules. They can work in the morning, run other errands in the afternoon and get back to driving in the evening tonight. The flexibility of this job is 100%.
Instacart
In-store Shoppers – In-store Shoppers are asked to go along with the schedule of the store. The schedule depends on the owner of the shop, the locality, the shop type, etc. As a Shopper, you will mostly get to work day shifts.
Full-service Shoppers – Full-service Shoppers can boss themselves around. There is no specific schedule allotted for them. If their batch contains Shops that are open 24/7 and work well at Night, they can work at night too.
Final Words
Let it be your ordering food or an item online or deciding to join one of the brand's driver's community – GrubHub or Instacart, both are worth a try. We could have shown a comparison for – GrubHub vs Instacart vs Doordash but GrubHub and Instacart are shining more in the Market.
The context mentioned above was to clarify your doubts and help you decide which among them was well-suited for you. If you ask us, GrubHub is the best in its Driver's community while Instacart is perfect if you want to order anything online.
7 Apps like Grubhub to Make Extra Money!
Uber Eats vs Instacart: Which One is Best For Drivers? 
Frequently Asked Questions
Does Instacart pay well?
Yes. Compared to GrubHub, it may pay less as there is only one mode through which Drivers can earn. But, the payment also depends on the working of the driver and the minimum earning per day can differ accordingly.
Does Postmates or Instacart pay more?
The order can fluctuate according to the work. According to the average earning per hour – Instacart is ahead with $10 to $17 and Postmates is $11. But, While Instacart does not include any kind of Tips, Postmates does. All the tips Collected by the Postmates Drivers are transferred into their Pockets.
Does Instacart pay more than Doordash?
No. Instacart and DoorDash have the same average earning per hour. But compared to Instacart, Doordash's Tips range between high amounts. So, Doordash pays more than Instacart.
Why does Instacart pay so little?
By the recent updates – Instacart keeps all the tips from customers to themselves. None of the tips is transferred into the driver's accounts. This is why the pay from Instacart is little compared to others.