8 Games like Gartic Phone to Play With Your Friends [2023]
We may earn small commission from the products mentioned in this post.
Games like Gartic Phone: Do you want to play amazing games with your family, cousins, relatives, friends, or colleagues? In that case, how does the Gartic phone game sound to you?
About Gartic Phone
Gartic Phone is a popular telephone browser-based game trending currently. It requires you to first call the person and then start by texting. The game has a unique concept and has logic behind everything.
The game sounds interesting and full of excitement. However, after you give this game a try, we suggest you must try other multiplayer and browser-based games online.
Are you not aware of such games? Do not worry as we have mentioned a list of best games like Gartic phone in the article below.
Broken PicturePhone
Platform: Browser of desktops, iPhones, and Android phones.
Broken PicturePhone is a live game like Gartic Phone which allows you and your friends to make books of different drawings and phrases. You draw one page at one time and view only the previous page. No viewing past pages!
You are required to choose a cool name for yourself. The moderator of the groups starts the game by offering each player a new drawing book.
So, Broken PicturePhone is a destination that gathers all the friends to play and laugh. If you want to have fun drawing with others, Broken PicturePhone should be your next destination.
Highlights
The game is easy to play.
It is fun-filled, especially if you and your friends love drawing.
No drawing experience is required.
How to play?
Select a good and short name for yourself in the name of a display name.
If you already have a room code, type it in the blank on the website or create a room by adding a random code.
Wait for a bit on the waitlist until the creator of the room invites you in or invites the people in as the moderator.
Once ready, the moderator will give all a drawing book.
After you are done filling out the book, they will pass it to the next player and you will receive someone else's book.
By using the previous page, you have to add a phrase or draw something which matches well with the content.
Skribbl.io
Platform: Browser
Skribbl.io is your ultimate destination when you want to scribble with your friends. The game is a browser-based game and is popular for being full of excitement.
You can create a room for yourself and become the moderator or join someone else's room to play with them. It has easy gameplay and with a few tries, anyone can master it.
Highlights
The game is available in different languages such as Italian, Korean, Hungarian, Tagalog, and Estonian. 
The private rooms can contain up to 12 players.
Private rooms get additional features like custom words and custom drawing time.
How to play?
Create a room or tap on the play option and start playing in a ready-made room.
When it is your turn to draw, you'll be given three options to choose from. 
Select one and illustrate it within 80 seconds.
While you are drawing, other players will try to guess the word. You have to do the same when other players are drawing.
If you guessed right, you will get a point.
13 Games Like Skribbl.io to Play with Your Friends[2022]
Pinturillo2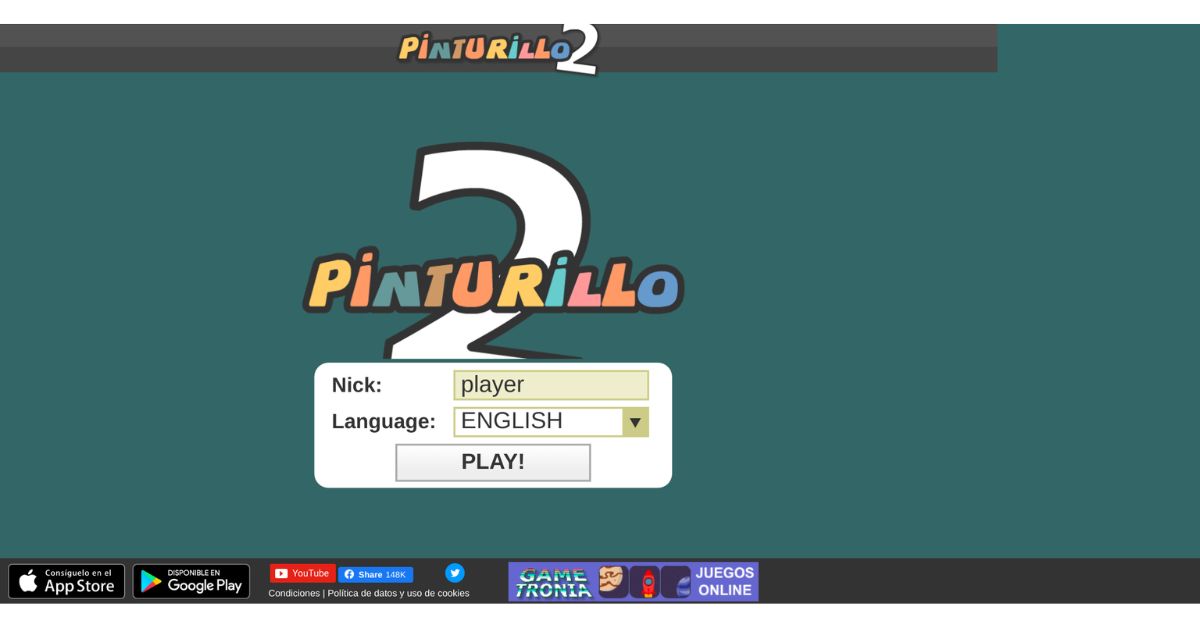 Platform: Browser, iPhone, and Android.
Pinturillo2 is another game where you can illustrate different things and have fun with family and friends online. Pinturillo2 works similarly to Gartic Phone and Broken PicturePhone.
It is a multiplayer game and can be played on different platforms. The game is the alternative to Pictionary which is available on both real and online bases. 
Highlights
The game can be downloaded on both android and apple devices through the Google Play Store and App Store.
It is a free game and does not have any in-app or on-site purchases.
It is an ultimate alternative to Pictionary.
How to play?
To start, you need to gather a good set of people to play with.
Every round consists of new words to choose from and draw. Players take turns and start drawing.
While you are drawing, other players will try to guess in the process. You will do the same when others are drawing. All the players are required to follow certain rules and regulations to play the game and as the illustrator of the round, you need to make the drawing less obvious.
If anyone guessed what you were drawing, they got a point. If none did and the time is over, no one gets the point.
Roblox
Platform: Browser
Roblox is an internet-based platform that allows players to play and experience unique games from other users on the platform. It is one of the best games like Gartic Phone because both the games are multiplayer and offer a lot of fun.
Roblox has many games with easy gameplay. You can invite your friends, cousins, or family members or join a random group to play. It is one of the best platforms for virtual gatherings while playing.
Highlights
It is an internationally famous game with millions of users from different parts of the world.
You get to put your game idea into action.
How to play?
To get started, visit the Roblox website, surf the website, and look for the games you would like to play. The games are free to play so you can tap on them and you will be welcomed.
15 Best Anime Games on Roblox [Latest 2022]
Krunker
Platform: Browser-based. It is accessible on PC, Mac, Android devices, iOS devices, and chrome book. 
Krunker is a multiplayer game where you, as a player, will be thrown into a dark world where you have to keep yourself safe from all the problems and danger. You'll have to put your combat skills into action here.
It is one of the best games like Gartic Phone because you will get to play with your friends and family, in short, with the people you know and also with random people.
Highlights
You can access the game through a cell phone's browser.
It is a free game.
You get to experience unlimited mods and advanced movements.
How to play?
You have to use your mouse in different directions to look around in the game on the screen.
You can move ahead or back left or right with the help of keyboard keys: W, A, S, and D.
To jump, use the keyboard Key: Space.
To crouch, use the Shift key.
Agar.io
Platform: Browser, iPhone, and Android. 
Agar.io is a multiplayer game to play with other players from different parts of the world. It has a unique concept where you are given a cell with the responsibility to protect it from other players.
It has totally different gameplay and ideas and allows you to play online, without needing any downloads and installations. 
Highlights
It is free to download on both Apple Store and Google play store.
The limit of multi-players in this online game is in big numbers. Unlike other online games, you will face over 50 to 80 people at a time.
How to play?
Start by running and getting away from other players.
Try eating other players because it'll make you bigger and stronger.
You will win the game if you are the last person to stay alive while all the other members are eaten.
Slither.io
Platform: Browser, Android devices and Apple devices.
Slither.io runs with the same type as Agar.io but is different in many ways. In this multiplayer game, you have to eat other snakes in the game and protect yourself from being eaten to win in the end.
It is one of the best gartic phone alternatives because they both need other players to come online and play together.
Highlights
The game is free to download from the App Store and Google play store.
It has received good feedback from players across the world.
How to play?
Visit their website and add a nickname.
Tap on the option in green that says play to start the game.
Start by running and protecting yourself until you get a hang of it.
Try eating others and protect your snake from being eaten.
If you were successful in staying till the end, you will grow the biggest and win the game.
GeoGuessr
Platform: Web browser, iOS devices, and android devices.
GeoGuessr is a unique game like Gartic Phone that takes you on a journey around the world. In this game, you need to guess the location of the view shown to you.
It is both a single-player and multiplayer game that challenges you to take a taste of geography and win with most of the guesses being correct.
Highlights
It helps you take on challenges and know how much you know about the world.
The game is free to download on both Apple Store and Google play store.
How to play?
On the website or in the app, you are first required to create an account or log in.
Once you have successfully created your account, you can start your first game.
One by one, the application or software will show you pictures of different scenery and locations.
You have to guess which place is shown.
If you guessed correctly, you will be nearing the winning end.
Final words: Games like Gartic Phone
Gartic Phone is a good choice but having a look at its alternatives can only give you variety to choose from and experience different gameplays. Therefore, you must have a look at least a few of the Gartic Phone alternatives mentioned above.
Frequently Asked Questions 
Which are the best games to play with online friends?
Among us, Minecraft, Valorant, and Skribbl.io are a few of the best games to play with online friends. 
Which are the best browser games to play with friends?
Gartic phone, Among us and Pinturillo2, are a few of the best browser games to play with friends.