Are you searching for the best apps like FloatMe to have fast cash? Many people think of payday loans as the finest option for quick cash, but that's not always the appropriate option as they have very high-interest rate. So, want to get access to money quickly without the pain of these loans? Don't worry, you are at the right place! In this article I'm going to discuss the best apps that are like FloatMe.
When you are using a cash advance app, it is important to keep in mind that there are advantages and disadvantages that are associated with them. Hence, many are looking for FloatMe alternatives. FloatMe benefits millions of hard-working employees get ahead on their finances with overdrafts warnings, smart savings, and access to emergency cash.
7 Best Alternatives Apps Like FloatMe
Here's is the list of & best apps like FLoatMe:
Dave
MoneyLion
Chime
Affirm
Earnin
Brigit
PayActiv
Even though there are several apps like FloatMe which allows you to borrow your paycheck in advance, in this article, I have only mentioned seven. You can even use a combination of these apps which will help you have better control over your finances, borrow cash for emergencies, and even make you learn many valuable ways to save money.
Dave
Dave is one of the best apps like FloatMe. It is a banking application that sets your financial mind at rest. It is available for both iOS and Android devices. Likewise, it helps improve your financial health with their revolutionary financial tools. It's easy to log in and initiate balancing your budget. You can also get an immediate $100 in advance to cover your daily expenses. It has in-built budgeting tools and predictive alerts.
Their simple planning tools supports you organize recurring and forthcoming expenses, this includes utilities, rent, and even trips to your preferred local shops and favorite restaurants. It even helps you find several ways to earn additional money. You can apply for numerous side jobs directly from the app. All you need to do is to search for remote work and work-from-home opportunities to look for the job that suits your routine lifestyle.
MoneyLion
MoneyLion is one of the best apps like FloatMe which will provide you an easy way to earn, invest, save and borrow. You can get your paycheck up to two days prior along with a RoarMoney account, plus no minimum balance, 55,000 no-fee ATMs, Mastercard Price Protection, cashback reward, FDIC protection, Virtual and Contactless debit cards and much more.
It is an award-winning mobile banking, auto investing, personal finance, cash advance and customer leading application that authorizes customers to take control of their financial lives by saving, smarter credit products, spending and credit tracking tools. The amount of Instacash you are entitled to get will be based on your creditworthiness and other conditions determined by MoneyLion.
Chime
Chime is an American financial technology platform that offers mobile banking services without charging any fee. Account holders in this application are delivered Visa debit cards and have access to an online banking system through iOS or Android mobile app or via chime.com. It uses safe procedures to secure your information and help stop unauthorized use.
A fee-free overdraft Chime's service called SpotME allows their customers to overdraw their account up to $100 without acquiring an overdraft fee. Once, the overdraft limit is achieved, purchases will be declined but no outdated negative balance fee will be charged. Chime eliminates lot of hidden fees for its customers. This means, you'll never pay overdraft fees, monthly fees, foreign transaction fees and there's no minimum balance necessity.
Affirm
Affirm is one of the best apps like FloatMe. It is basically a loan financing company which lets you purchase goods and services from online sellers and retail shops on credit. This means, if you have a small purchase you want to make or even a big purchase such as buying new furniture, or a musical equipment, but you don't have the cash to pay, then Affirm might be the answer for you.
With Affirm, you can shop at any store and pay overtime with no penalties, no late fees, or hidden costs of any kind. All you need to do is find your preferred store, fill your cart and then select the payment option you like most. Open a high-yield savings accounts with no minimum and no fees and manage your account and make payments.
Earnin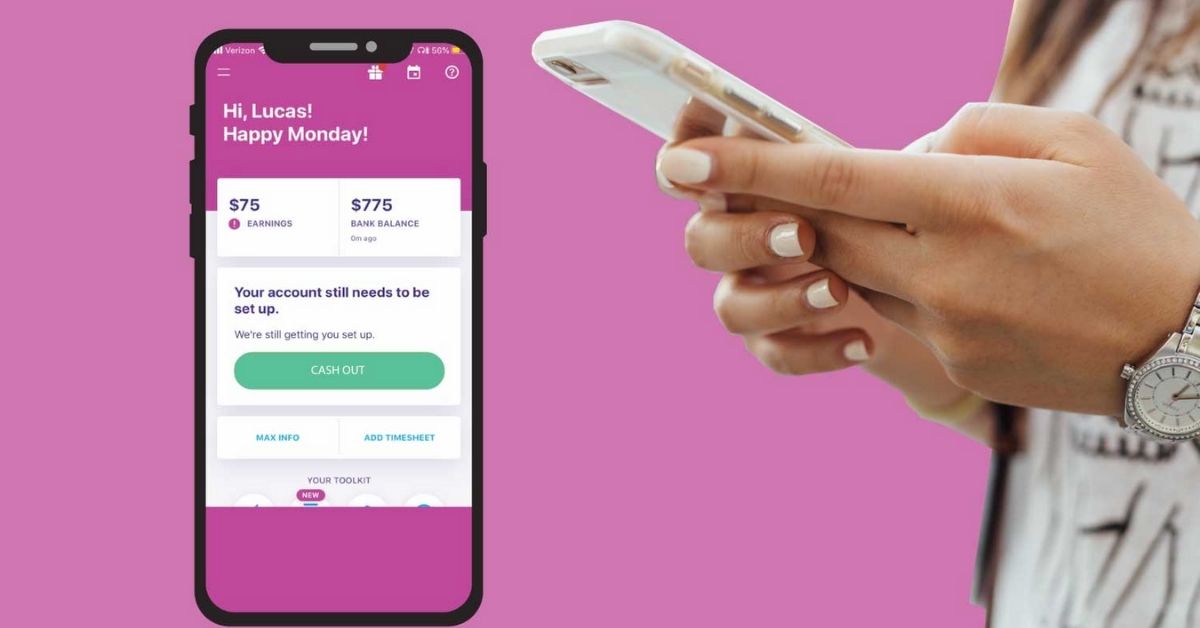 Earnin is a platform which allows you draw small amounts of your earned wages before payday. Instead of charging interest, Earnin ask its users to provide an optional tip for the service. For some customers, Earnin's cash out paycheck early payment is a choice in an emergency, but it is recommended that it shouldn't be used regularly. It stores all your information in an encrypted form and won't debit your account for more than you approve.
Earnin can be best for you, if you have a small emergency expense, or have a checking account and are paid by direct deposit or can use your next paycheck to pay the money owed to the app on top of the other monthly expenditures. Furthermore, it needs your checking account information, not only to transfer money to you but also to alter its withdrawal limits and encourages responsible financial behavior.
Brigit
Brigit is one of the best apps like FloatMe which offers budgeting tool and a paycheck advances of up to $250 without charging any interest fee. It's a better choice for anyone who requires an occasional emergency loan, but this accessibility does come with a fee. With Brigit Plus Membership, you will automatically get advance money if it thinks you're in risk of overdrawing your account.
You are supposed to have a Brigit Score of at least 70 to get qualified for Brigit Plus which you might require if you wish to have an early payment. Likewise, it'll will automatically take your repayments from your account on the next date of a recurring direct deposit. However, it'll notify you one business day prior to withdrawal.
PayActiv
PayActiv is a Public Benefit Corporation and a financial-wellness platform. It is partnered with businesses to offer employees on-demand access to earned but unpaid wages. Corporations that are associated with PayActiv see substantial cost reductions through improved engagement, enrollment, and maintenance. Likewise, it offers a group of financial services which include budgeting tools, savings, financial health measurements and savings.
The Bottom Line
As long as you've a steady paycheck, you can be a good customer for these applications. The idea behind these payday advance apps is to receive your paycheck as early payment. So, once your payday comes, the money gets repaid to the app and it'll not even charge any interest fee. I hope the above article on best apps like FloatMe has helped you find application that are suitable for you.