Top 10 Cash Advance Apps Like FloatMe to Checkout [2023]
We may earn small commission from the products mentioned in this post. visit here for more details.
FloatMe might be the best option for a cash advance, but you can also try out other apps like FloatMe to get more benefits.
Many people think of payday loans as the finest option for quick cash, but that's not always the appropriate option as they have a very high-interest rate.
FloatMe benefits millions of hard-working employees get ahead on their finances with overdrafts warnings, smart savings, and access to emergency cash.
So, want to get access to money quickly without the pain of these loans? Don't worry; In this article, we have shown 10 best FloatMe alternatives, with a detailed guide.
When using a cash advance app, it is important to keep in mind that some advantages and disadvantages are associated with them.
Even though several similar apps like FloatMe are available, that allows you to borrow your paycheck in advance, I have only mentioned seven in this article.
You can even use a combination of these apps, which will help you have better control over your finances, borrow cash for emergencies, and even make you learn many valuable ways to save money.
Check out these apps like FloatMe to find the most suitable working option for you:
Dave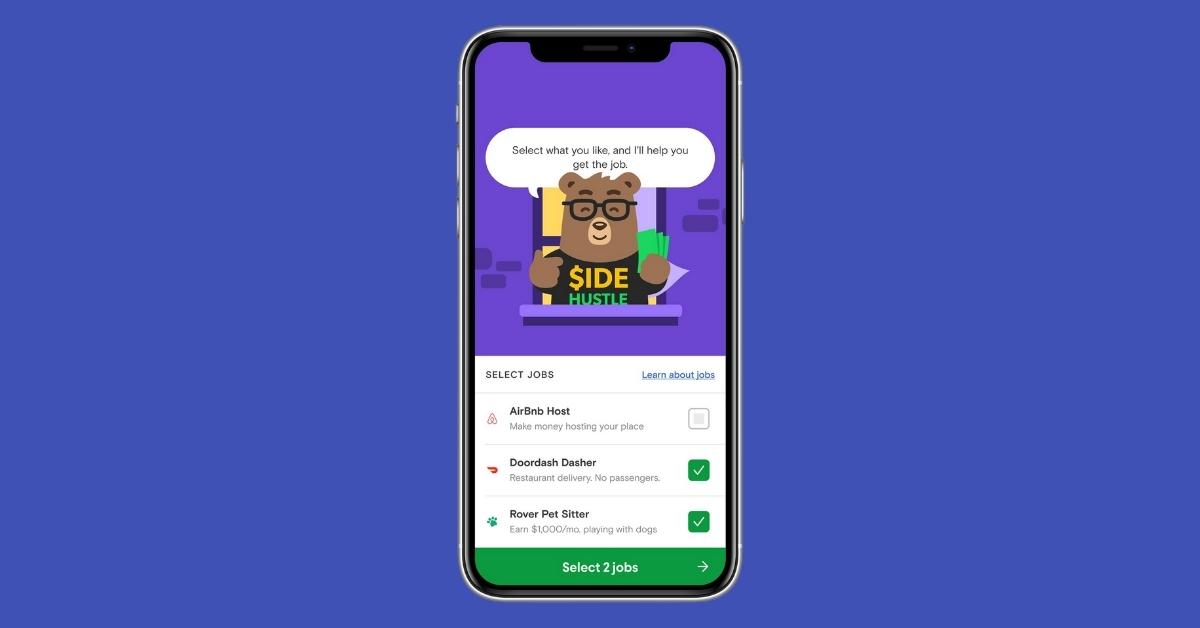 Dave is one of the best apps like FloatMe, it is a banking application that sets your financial mind at rest. Likewise, it helps improve your financial health with their revolutionary financial tools. It is available for both iOS and Android devices.
It's easy to log in and initiate balancing your budget. You can also get an immediate $100 in advance to cover your daily expenses.
Dave has inbuilt budgeting tools and predictive alerts. Their simple planning tools support you organize recurring and forthcoming expenses, including utilities, rent, and even trips to your preferred local shops and favorite restaurants.
It even helps you find several ways to earn additional money. You can apply for numerous side jobs directly from the app.
All you need to do is search for remote work and work-from-home opportunities to find a job that suits your routine lifestyle.
How Does Dave Work?
To create a Dave account, you'll have to provide your email address, mobile phone number, low balance alert amount, and other personal information.
After you've set up your account, it'll examine your income and spending habits, as well as the normal balance of your bank account. And use predictive analysis to know how much money is coming and going out of your account.
You can also manually delete or add products to make sure your budget accurately reflects your current expenses, and it even lets you build your credit score by making on-time payments.
When you are approved for a cash advance, you get to choose from standard funding or express funding options.
Even though the standard funding option is completely free, it might take up to three business days to get your money.
So, if you want your funding on the same day, then the Express funding option can be best for you as you can receive your money on the same day. But the only catch is that you'll have to pay a small fee.
It doesn't review your credit history or report your payments to credit bureaus. Based on how much you borrow, repay your advance either on your next payday or the following Friday.
Your repayments will be automatically deducted from your bank account.
Although it doesn't charge any interest, it asks for optional "tips," and it also charges a monthly fee of $1, which will be deducted from your connected bank account.
Requirements
Should be 18 years old
Must have a steady paycheck that you direct deposit into your checking account
Show that your bills don't consume your entire paycheck
Cash Advance Limit
The maximum payday advance you can receive is $100. After you receive a cash advance, you'll not get more money until your account is paid incomplete.
Customer Service
If you need any help with Dave, you can visit here or call them at 1-844-857-3283 between 4 am to 10 pm from Monday to Friday and between 5 am to 5 pm on Saturday and Sunday. You can also contact Dave by sending an email to their support team at [email protected].
Pros
There is no interest
Gives access to budgeting tools
Automated system for preventing account overdrafts
Access express delivery for same-day funding
It can be cheaper than an overdraft fee
Cons
There is a membership fee
Low maximum cash advance limit
For repayments, it automatically withdraws from your bank account.
MoneyLion
MoneyLion is one of the best apps like FloatMe, which will provide you an easy way to earn, invest, save and borrow.
You can get your paycheck up to two days prior along with a RoarMoney account, plus no minimum balance, 55,000 no-fee ATMs, Mastercard Price Protection, cashback reward, FDIC protection, Virtual and Contactless debit cards, and much more.
It is award-winning mobile banking, auto investing, personal finance, cash advance, and customer leading application that authorizes customers to take control of their financial lives by saving, smarter credit products, spending, and credit tracking tools.
The amount of Instacash you are entitled to get will be based on your creditworthiness and other conditions determined by MoneyLion.
8 Best Apps Like MoneyLion to Manage Your Money [2021]
How Does Moneylion Work?
To create a MoneyLion account, you must be 18 years old and have a bank account. Once you have created an account, you can log in and access its services.
Choose its free services like Instacash advances or paid services like Credit Builder Plus ($19.99 a month). You can apply for a Credit Builder Plus membership and ask for a credit builder loan.
You'll need your address, social security number, phone number, full name, and bank account to apply for this loan.
After you are approved, it'll advance a portion of your loan into your bank account, and the remaining money is deposited into a Credit Reserve Account to build your savings.
Every Credit Builder Plus loan has a 12-month term, and the payments are deducted from your bank account each month on your pay date.
If you wish to repay your loan sooner, you can have access to any funds in your "Credit Reserve Account." Your repayment can be higher based on the amount you borrow and the APR you're provided.
Using the 'Monthly Repayment Calculator' can predict your loan's possible cost and monthly repayment.
You'll also have the ability to change your payment due date and reschedule it by contacting MoneyLion. It will report your monthly payments to enhance your credit score.
Requirements
Must be at least 18 years old
Should be a permanent resident or citizen of the United States
Have a valid Social Security Number
Have a bank account, prepaid card, or debit card
Cash Advance Limit
MoneyLion offers loans up to $1,000, with no hard checks. The APR ranges from 5.99% to 29.99 and comprises your MoneyLion Plus membership fee.
Customer Service
If you need any help with MoneyLion, you can contact their customer support by calling them at 888-659-8244 or +1 (888) 704-6970 or visit https://moneylion.zendesk.com.
Pros
No hard credit checks
There is no monthly fee
No overdraft or service fees
You can build credits as it reports your monthly payments to the credit bureaus
Offers cash backs and other rewards
Cons
It charged a monthly membership fee
It is not available in all states
There are no physical branches
SpotMe by Chime
Chime is an American financial technology platform that offers mobile banking services without charging any fee.
Account-holders in this application are delivered Visa debit cards and have access to an online banking system through iOS or Android mobile app or via chime.com.
It uses safe procedures to secure your information and help stop unauthorized use.
A fee-free overdraft Chime's service called SpotME allows their customers to overdraw their account up to $200 without acquiring an overdraft fee.
Your purchases will decline once the overdraft limit is achieved, but no outdated negative balance fees will be charged.
Chime eliminates a lot of hidden fees for its customers. That means you'll never pay overdraft fees, monthly fees, foreign transaction fees, and there's no minimum balance necessity.
How Does Chime Work?
Chime offers a direct deposit program, which can combine direct deposit with the app and makes them available up to two days early.
As soon as you create a direct deposit into your spending account, you'll be eligible and can select to get your payment up to two days early.
And if you get a direct deposit of at least $200 every month, you can enroll in Chime's SpotMe service, which lets you overdraw your account by up to $20 on debit card purchases without any fee.
Your SpotMe allowance can be increased to more than $200 depending on your account history, direct deposit amounts & frequency, spending habits, and other factors. And though the 'Credit Builder Card', it helps you to build your credit history.
It also doesn't charge any monthly fee, overdraft, or service fees and doesn't require any minimum balance.
Requirements
Must be at least 18 years old
Should be a citizen of the US
Your first and last name
Social security number (SSN)
Email and a password
Cash Advance Limit
The cash advance limit through Chime is up to $200. You can withdraw your advances two days before normal payday, and it'll deposit your paycheck as soon as your employer deposits it into your account.
Customer Service
If you need any help with Chime, you can contact their customer support by emailing [email protected] or calling them at 1-844-244-6363.
Pros
You can easily and quickly create an account
No monthly and overdraft fees
Build credit with a secured credit card
Early access to direct deposits
Access over 60,000 fee-free Visa Plus Alliance and MoneyPass ATMs
Automatic saving tools to enhance your habits
Cons
Limited services
Cash deposits are only possible at retail locations
May charge a fee for every out-of-network ATM transaction
Earnin
Earnin is a platform that allows you to draw small amounts of your earned wages before payday.
It stores all your information in an encrypted form and won't debit your account for more than you approve.
Instead of charging interest, Earnin asks its users to provide an optional tip for the service. For some customers, Earnin's cash-out paycheck early payment is a choice in an emergency, but it is recommended that it shouldn't be used regularly.
Earnin can be best for you if you have a small emergency expense, have a checking account, and are paid by direct deposit, or use your next paycheck to pay the money owed to the app on top of the other monthly expenditures.
Furthermore, it needs your checking account information, not only to transfer money to you, but also to alter its withdrawal limits and encourage responsible financial behavior.
How Does Earnin Work?
To use Earnin, you'll need a stable payday, a mobile phone, and an active checking account. Then, link your bank account and give your employment information to assist them in identifying your pay schedule.
Also, you might have to provide your personal information like email address, paycheck information, and employer information.
It takes a few days to verify your bank account and sends two small test transactions to confirm ownership.
As soon as it is done, you can add your salary information by sending them your electronic timesheet or just link your earnings automatically through its "Automagic Earnings" feature.
When you've borrowed the maximum approved amount, you can't receive more money until your next pay cycle starts. The only downside is that remote workers, freelancers, and those with multiple jobs are not qualified for the payday advances through Earnin.
The repayment due is based on the total amount of money you can receive during each pay period. By clicking on "Max Info" on your home screen, you can check your current daily and pay period Max amounts and know more about the factors that are used to examine them.
Furthermore, it'll automatically deduct the amount you've borrowed on your next payday. Even though it doesn't charge interest, it asks for an optional tip during the cashout, which is quite similar to the Dave app!
Requirements
Over 50% of your direct deposit sent to a checking account
Have a consistent pay schedule – weekly, biweekly, semi-monthly, or monthly
Your salary must be at least $4 an hour
A fixed work location and electronic timekeeping system at work
Cash Advance Limit
The maximum payday advance you can receive through Earnin is up to $100 during your pay scale. You might even be eligible for an advance up to $500 depending on your spending habits, how you use the app and what bank you have.
Customer Service
If you need any help with Earnin, you can connect to their customer support by emailing at [email protected].
Pros
It doesn't charge any interest
Tips are optional
Can prevent overdrafts from your bank account
Can provide loans up to $500
It doesn't require credit checks
It offers several additional tools resources
Balance Shield feature can help avoid overdraft from your account
Cons
Eligibility depends on how you're getting paid
Low withdrawal limits
Brigit
Brigit is one of the best apps like FloatMe, which offers a budgeting tool and paycheck advances of up to $250 without charging any interest fee. It's a better choice for anyone who requires an occasional emergency loan, but this accessibility does come with a fee.
With Brigit Plus Membership, you will automatically get advance money if it thinks you're at risk of overdrawing your account.
You are supposed to have a Brigit Score of at least 70 to qualify for Brigit Plus, which you might require if you wish to have an early payment.
Likewise, it'll automatically take your repayments from your account on the next date of a recurring direct deposit. However, it'll notify you one business day before withdrawal.
How Does Brigit Work?
Brigit uses an algorithm that helps you to avoid overdraft fees by automatically analyzing your checking account, and if it predicts you'll run out of money, it'll advance your cash to prevent you from going to overdraft your account.
Once you're qualified for the credit, it makes sure that you can have access to $250 as long as your credit card balance hits zero. It doesn't charge any overdraft fees, and you are completely free to choose the free or paid version of the app.
And when you request your advances, the repayment date will be given. Although you'll be notified 24 hours before the due date, your payments will be automatically deducted from your bank account.
If you wish to repay the Brigit advance before your due date, you can select the "repay now" button. Also, you can extend your due date to avoid over-drafting!
Once you've repaid your loan, you can access another payday advance, which is all included in your monthly fee.
Payday cash advances through Brigit are interest-free, and its premium version – Brigit Plus, costs $9.99 a month that offers additional features like auto advances, instant deposits, and credit secure.
Requirements
Must be 18 years old
The average paycheck should be greater than $400
Have a bank account balance greater than $0
Must have an active checking account
Money should be left in your bank account two days after you get paid
Should have at least three recurring direct deposits from your employer
Cash Advance Limit
After you are qualified for the credit, you can get a cash advance up to $250 as long as your credit card balance hits zero.
Customer Service
If you need any help with Brigit, you can chat with a Brigit support expert between 9 AM to 6 PM by submitting a request or email at [email protected].
You can also visit here and explain your problem by providing your email address, phone number, bank name, and other required information. They'll usually respond to your mail within two business days, and they currently don't support phone calls.
Pros
No interest or late fee or any hidden fee
It might be cheaper than an overdraft fee
It doesn't require sign up (except for premium members)
Quick access to loans with no credit check
Free access to financial budget tools
Get alerts when you're at risk of getting an overdraft
Cons
Charges a monthly subscription fee for premium members
You can't use a joint bank account
Automatic loan repayments
PayActiv
PayActiv is a Public Benefit Corporation and a financial-wellness platform. It is partnered with businesses to offer employees on-demand access to earned but unpaid wages.
Corporations that are associated with PayActiv see substantial cost reductions through improved engagement, enrollment, and maintenance.
Likewise, it offers a group of financial services, including budgeting tools, financial health measurements, and savings.
How Does PayActiv Work?
PayActive offers a cash advance on wages for which you've already worked but not yet been paid. So, it receives a report from your employer with the number of hours you've worked in that pay period.
By considering those hours with the monthly demographic report, it predicts how much you've earned in that certain pay period.
PayActive then reduces the estimated pay by half and displays the amount that you can access on the spot.
If you want to access the money, you'll have to pay a transaction fee of $5.00. You can then make up to three transactions against your available balance at no extra cost.
For instance, if you have worked a $10/hour shift, your salary will be $80. You can access half of the estimated pay ($40) and minus a transaction fee ($5), which is $35. These funds will be deducted on your next paycheck.
Requirements
Must be 16 years old or older
Should have a regular paycheck
Cash Advance Limit
The employer settings determine the maximum amount you can access.
Customer Service
If you need any help with PayActive, you can connect to their customer service by visiting here.
Pros
It doesn't charge interest
It doesn't require credit checks or personal data
Charges a low fee for EWA (Earned Wages Access)
Instant access to earned wages before payday
Provides multiple financial services
Cons
Limited maximum cash advance
Possible Finance
With Possible Finance, you can make small installment loans. Build your credit history so that you can receive better financial tools.
They report your installment payments to chief credit agencies, so you're rewarded for constantly paying on time. It defines itself as an alternative to traditional short-term payday loans, high-cost, which are supposed to be repaid in the next payment.
Possible Finance provides you eight weeks to repay the loan in biweekly intervals.
You can apply for a Possible Finance loan through its mobile app. You've to provide a driver's license or state-issued ID, Social Security Number, bank information for your compatible checking account, and an online checking account with a minimum monthly income of $750.
Must Try these 12 Apps like Possible Finance for Instant Loans! [2021]
How Does Possible Finance Work?
After you have created a Possible Finance account, you'll have to meet some requirements in order to access the loan. And before applying for a Possible Finance loan, you'll have to check if it is compatible with your current bank or your credit union because it doesn't work with all banks.
You'll get a notification regarding the status of your application within 24 hours, and when you are approved, you can accept your loan within three days. Otherwise, you'll have to re-apply.
Then, you get to repay your loan within two-week intervals for eight weeks or two months, rather than paying the full repayment on your next pay date.
You can pay off your loan before the due date without any prepayment penalty or change your repayment date up to 29 days past your due date with no extra fees or interest charges.
Depending on your location, Possible Finance may charge a monthly fee, as well as some interest. Although its APR's may be lower than other payday loans, note that its interest rates are still high.
Requirements
Have an online checking account with a minimum monthly income of $750
Your bank account information to check whether your checking account is compatible
A driver's license or state-issued ID.
Your Social Security Number
Three months of transaction history
Positive checking account balance
Cash Advance Limit
People with no credit history or bad credit can get up to $500, but the loans are available only in seven states. Also, it won't check your FICO score; you can directly apply and get approved within a few minutes.
Customer Service
If you need any help with Possible Finance, you can email their customer support at [email protected] or call them at +1 (206) 202-5115. You can also visit here for more information.
Pros
Reports payments to all main credit bureaus
You can delay your payment
Help you build credit
Cons
Available only in a limited number of states
Short repayment terms
Cleo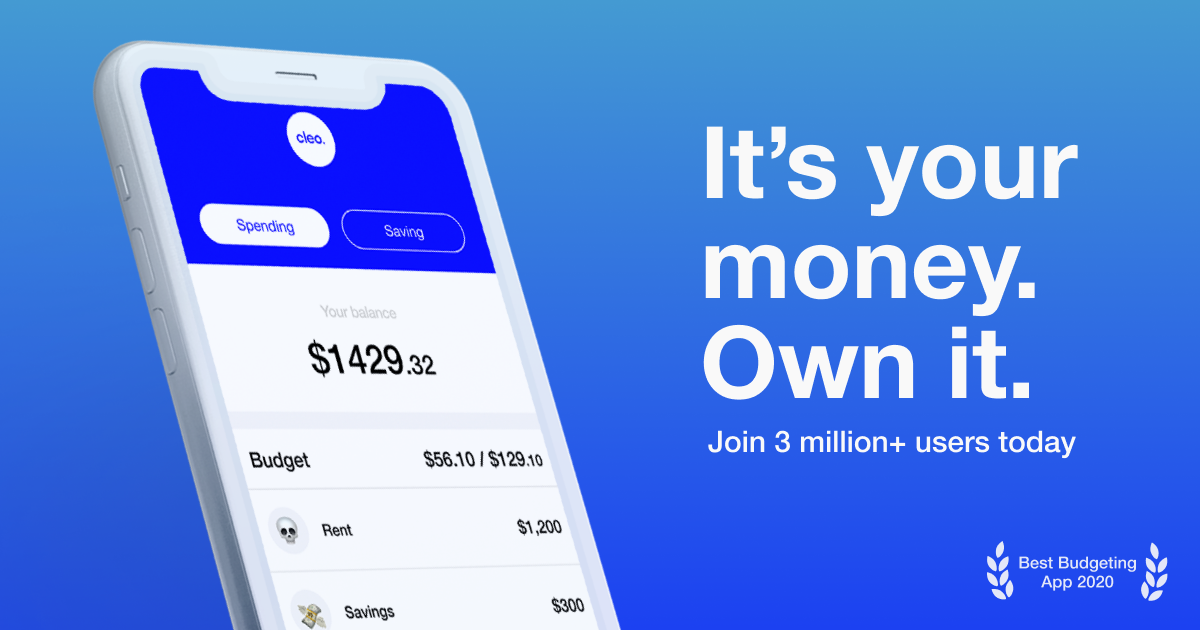 Want to track your spending? Need $100 to get a payday? Cleo has got your back! Cleo is an AI-powered budgeting tool that helps you track your spending, save automatically & manage your budget, earn cash back rewards and even recommend how much you can afford to save.
Cleo shows your spending per category over the last few weeks, so you can set a limit that benefits you.
Through its 'Salary Advance; feature, you can advance your paycheck if you are qualified for completely interest-free. And its credit builder will report your payments to Equifax and help you build credit history.
How Does Cleo Work?
In order to use Cleo, you'll have to link your bank account information to use its AI-powered chatbot to examine your spending habits.
Cash advance through Cleo is only available for Cleo Plus and Cleo Builder, for which you'll have to pay a monthly subscription of $5.99.
So, to get a salary advance, you'll have to sign up for Cleo Plus and set up a Cleo Wallet, and link your debit card. Then, you can access salary advance!
If you say 'Salary Advance' or 'Spot Me' to Cleo messenger, it'll let you know whether or not you are eligible for Cleo advance. If you are qualified, you can get no interest advance of up to $100 to help you stay out of overdraft.
Then, you get to choose your repayment date, which is anywhere between 3 and 28 days. Once you've paid back your advance and cooled-off from the buzz, you can ask Cleo for another advance.
Requirements
Should be at least 18 years old
Must have regular income
Cash Advance Limit
The maximum cash advance you can access through Cleo is $100. Since it doesn't charge any interest, they want you to pay your advance back on time.
Customer Service
If you need any help with Cleo, you can contact their customer service at +1-815-282-7894 (US), +1-866-444-2536, and +44 2038653439, or you can also visit here.
| | |
| --- | --- |
| Pros | Cons |
| Get insights into your budget and spending | Cleo Plus charges a monthly membership |
| Can earn cash back up to 7% when you shop | |
Must Try these Apps like Cleo to Manage Finance [2022]
Klover
Klover is a financing app that offers interest-free cash advances from the money you've already earned at work.
It also provides several financial tools, including overdraft protection and spending insights, thus protecting you from expensive loans and helping you to stay financially stable.
One of the main features of Klover is that it doesn't charge you any extra charge unless you wish to speed up the delivery of your money.
All you need to do is download the Klover app, sign up within seconds, provide your information, link your bank account, verify your paycheck, and then get fast access to cash and other tools.
These tools help you improve your financial condition and give access to money whenever you require it.
10 Best Apps Like Klover [Best Alternatives]
How Does Klover Work?
Create a Klover by providing some basic information and connecting your checking account. After you've finished creating your account, you'll have to wait for 1 to 2 days to get your account verified.
Then, request a cash advance, which generally takes 1-2 business days to deposit the money into your account. However, you can also choose the same-day deposits for which you'll have to pay a small fee, whereas the standard direct deposit is completely free.
In other words, the standard deposit option is completely free, and it usually takes 1-2 business to process the money. And the immediate debit option charges a fee ranging from $1.99 to $14.99.
Nonetheless, you'll receive the money in your account the same day you've requested.
Although the maximum amount you can borrow is up to $100, you can increase your limit through its point system.
These points can be increased by the regular use of the app and can be redeemed for a Boost or extra cash deposited directly into your account.
Requirements
Your bank statement's paycheck description must match previously deposited paychecks
Should have a minimum of three consecutive direct deposits over the past 2 months
All deposits should be from the same employer
The pay schedule should be weekly or bi-weekly. No semi-monthly or monthly deposits are accepted.
Your account must have a positive balance
The checking account should be active for the last 90 days.
Cash Advance Limit
The maximum cash advance you can borrow is up to $100. It uses a point system to increase the limit.
Customer Service
If you need any help with Klover, you can contact Klover customer support by submitting your request here. You'll probably get the response within 3-4 business days!
Pros
No excess fee or hidden charges
No background checks and complicated paperwork
Overdraft protection
Offers innovative budgeting tools to assist you to stay financially stable
Cons
It doesn't build your credit score.
Empower
Empower is a personal finance application that assists you in taking control of your money.
Once you connect a checking account, you'll have the ability to receive an entire and precise picture of your financial condition and seamlessly reduce all unnecessary expenses.
It also offers a card – Empower Card, which you can control anytime, anywhere.
Your data is always protected and secured with its great bank-grade security features like multi-feature authentication, AES 256-bit encryption, and touch or face ID.
If you provide your weekly saving target, it'll examine your income and daily spending to determine when and how much you can save. Then, it'll automatically transfer that money to your Empower AutoSave account.
How Does Empower Work?
First, download Empower app and create an account. To create an account, you must have a bank account at a US financial institution, Social Security Number, and a valid US residential address.
Then, connect your active spending accounts, and the app will show you several pre-loaded financial institutions for you to select from.
It also offers a debit card that comes with different valuable features.
Once you're approved and got your cash advance, you can pay it back on your next paycheck.
Users can use these debit cards to make purchases at sellers and fee-free withdrawals at over 37,000 ATMs across the country.
You can also set weekly savings goals so that they can determine when you're running low and when you have extra cash.
Use the budgeting feature to customize your budget categories and track your spending every time. Similarly, smart recommendations will help you find additional savings in your budget, as well as a monthly report.
Although there are no maintenance fees, no hidden fees, and no overdraft fees, it charges a fee of $8 a month to access all the features, like banking and budgeting tools.
It also sets a 1% foreign exchange fee of the total transaction amount.
Requirements
Must have an active account for at least 60 days
Have a minimum $500 average monthly income
Have three recurring deposits of $200
Account must average at least 2 transactions per day
Current account balance must be healthy
Cash Advance Limit
You can get access to up to $250 with zero interest, no late fees, or perform a credit check.
Customer Service
If you need any help with Empower, you can connect with their customer support by sending an email to [email protected] or call them at (888) 943-8967 between 9 Am to 6 Pm, Monday to Friday. You can also chat with their team through the app between 9 am to 6 pm, Monday to Friday.
Pros
There are no overdraft fees
Categories spending categories
Automatically sets spending limits
You can transfer money within the app
Set up auto-saving within the app
Cons
The spending limit depends on your income.
6 Apps Like Empower to Check out [2022]
The Bottom Line
As long as you've a steady paycheck, you can be a good customer for these applications.
The idea behind these payday advance apps is to receive your paycheck as early payment.
So, once your payday comes, the money gets repaid to the app and it'll not even charge any interest fee. I hope the above article on best apps like FloatMe has helped you find application that are suitable for you.