Must Try these Apps like Depop to Sell Stuff [2023]
We may earn small commission from the products mentioned in this post.
Apps like Depop: If you are looking for a place to sell or buy used or new clothes on the internet, you are at the right place. This article will show you the 6 best apps like Depop that will help you sell clothes online.
Reselling clothes on the internet can be a great way to earn extra money. It even lets you clear your wardrobe by getting rid of unused and outdated clothes. Before going any further, first, let's understand what is Depop and how it works.
What is Depop?
Depop is such an online marketplace where you can buy, sell and discover unique fashion. Since it offers a way to recycle unwanted items for cash, DePop is quite popular with Gen Z and Millennial.
What makes it more addictive is its entertaining features, like Instagram. Thus, it becomes a place for influencers, artists, vintage product sellers, designers, collectors, stylists, sneakerheads, and more.
As a seller, you can access Depop to get more potential clients who are searching for unique shoes or vintage products that rent available in local stores.
And while listing an item, you'll have to provide relevant information, such as description, condition of the product, size, price, aesthetic of the product, hashtags, and even color of the item.
Apps Like Depop: Best Alternatives!
Although it is an amazing place, some sellers are not okay with the commission fee it charges whenever they sell an item. But for some sellers, this 10% commission fee is just fine.
Nevertheless, it never hurts to check out its alternatives if you want to sell your products at a reasonable price. Moreover, they have good ratings, and if you like to purchase anything, they have easy-to-use features to assist you in finding your favorite stuff.
Keep on reading to know more detailed information about the 6 best apps like Depop, so you can decide where to get started!
Mercari
If you are looking to get actual value for your products, Mercari can be the best place for you! It is the largest peer-to-peer eCommerce marketplace where you can buy and sell anything.
You can list items on the Mercari app within a few minutes, sell them to a buyer, ship it, and get paid easily! And if you are looking to buy something, you can get things like jewelry, used clothes, crafts, handbags, and many more.
Unlike other services, it processes each payment between buyers and sellers so that both parties can have the guarantee that they are not being tricked.
Key Features
Check out Mercari Local in select cities.
Sell almost anything from the comfort of home.
Listing an item will always be free.
Shop from thousands of popular brands.
Mercari For Sellers
You can easily sign up and create your account. After that, list your items, upload pictures, and provide the category, size, description, and condition of the product.
When the buyer likes the product, they'll either directly purchase it or send a message regarding the product. You'll not get paid until the buyer 'Rates' you, and you rate the buyer.
But if the buyer doesn't rate you within 2-3 days, Mercari will initiate payment. Mercari charges a fee of $2.9% plus $0.30 for every payment received from the buyer.
Mercari For Buyers
To be honest, Mercari protects buyers more than sellers. It doesn't release payments until the buyer receives the product, and both seller and buyer rate each other.
Categories: Women, men, kids, home, vintage & collectibles, beauty, electronics, sports & outdoors, handmade, and many more.
Shipping Policy: It offers different shipping methods for sellers – Prepaid label, Ship on your own, and Mercari pack & ship. With the prepaid label, you can save up to 60% off retail carrier rates.
Ship on your own option is recommended for experienced sellers with larger items and lastly, Mercari pack & ship means 'The UPS Store Certified Packing Experts' will pack your item and ship it for you.
Visit here for more detailed information on Mercari's shipping policy.
Return & Refund Policy: As a buyer, you can request a return within 3 days calendar days of successful delivery if the item is damaged or defective, or if you've received the wrong item.
For the approved return, it offers a free shipping label to the buyer. And the refund will be processed within 10 days.
Mercari vs Ebay vs Poshmark: Which is Best in 2021?
Poshmark
If you find Mercari is too crowded with sellers, Poshmark is another useful app like Depop through which you can make some quick cash.
It is another social commerce marketplace which makes it a great place for selling your secondhand stuff like clothes, home furniture, etc., but can also be very competitive.
With over 200 million new and lightly used items added every week, you'll find out several amazing discounts and deals on fashion and beauty.
Key Features
Shop over 9,000 brands in every size.
Over 200M new and gently used items for sale.
It even has millions of outfit ideas for you.
You'll get outstanding deals and discounts on various products.
Create new listings, share and shop together.
Poshmark For Sellers
If you want to become a seller, you just have to download the Poshmark app on your device and list the product that you want to sell.
You'll have to take a couple of photos of your product, edit it with its in-built tools & filters and provide the description or detailed information of what you are selling, such as size, color, quantity, brand, and price.
Although it is entirely free to list an item, it will charge a fee after the product is sold. For every sale under $15, it takes a flat commission of $2.95 and for sales above $15, it takes a 20% commission.
And the only downside is that it holds your funds until the buyer makes sure that the product has arrived. Thus, it might take some time to get the funds into your account.
Poshmark For Buyers
As a buyer, Poshmark ensures that the product you receive is the same as it is described. And it also guarantees that it'll protect your payment until you receive your order.
When you really want an item but don't have enough funds to purchase, you can seamlessly use its 'make an offer' feature that offers buyers to open to negotiations with sellers.
Categories: Women, men, kids, home, electronics, pets, shoes, jewelry & accessories, makeup, dresses, and many more.
Shipping Policy: It provides a flat fee of $7.11 for all orders, and each order is shipped within 2-3 days of purchase.
As a seller when your item sells, Poshmark sends you a prepaid, pre-addressed USPS Priority Mail shipping label to your linked account.
You'll have to make sure you use this shipping label to ship out your order to avoid any delay in getting your earnings.
Return & Refund Policy: Typically, all the sales are final on Poshmark. But if you receive any damaged item or wrong product, you'll get 3 days after delivery to report the problem.
Once they approve the problem, you'll get a label to return the order to the seller and refund the payment. To be eligible for a refund, you'll need to ship back within 5 days of approval.
thredUp
Found some good things during spring cleaning? Well, if you are looking to sell those things and not concerned about how much money you'll make, thredUp is the perfect choice for you!
thredUp is one of the world's largest online thrift stores that let you find anything from over 35,000 brands. And all the items that it sells are up to 90% off retail prices.
This practically means that you can get legit shoes, handbags, dresses, or anything at prices cheaper than in local malls as a buyer.
Key Features
Over 35,000 brands, from Gap to Gucci.
It inspects, photographs, lists, and ships items for you.
Offers high-quality secondhand clothes from popular brands.
Regularly updates over 1000 products.
thredUp For Sellers
As a seller, you'll need to click 'Sell' on the cleanout page, and you can choose to order a cleanout bad from thredUp or get a shipping label emailed to you.
thredUp does all the work of pricing and listing for you. They'll take pictures of your items, and they might describe an item mentioning it has minor pilling but don't show it in the picture.
thredUp For Buyers
You can choose from new or gently used items from popular brands like Free people, Lululemon, Anthropology, Banana Republic, and many more.
Categories: Women, kids, juniors, maternity, plus shoes, handbags, activewear, backpacks, accessories, and more.
Shipping Policy: It charges a flat rate of $5.99 for the standard shipping for orders within the United States. Once they ship, it'll deliver your order within 3-8 business days.
Visit here for more detailed information on shipping methods.
Return & Refund Policy: If you'd like to return the product, you'll have to navigate to the returns page to start a request. Note that all returns must be returned within 14 days of delivery.
All the items are subject to a $1.99 restocking fee, and the original shipping charge is not refunded when returning products.
Must Try These Sites Like Thredup to Buy/Sell Stuff! [2021]
Etsy
Next on our list of apps like Depop, we have Etsy. Etsy is a great place for selling clothes that come under a certain niche, like wedding dresses, vintage, and literally anything else that is unique and hard to find.
Whether you want to buy a gift for family or friends, Etsy has everything that you've been looking for. Through its app, you can access the creative marketplace that provides millions of custom products.
Additionally, it has a review and rating system, and loyalty discounts for customers that return to your store. It even lets you know when your favorite shop has new products!
Key Features
Shop millions of one-of-a-kind items straight from your phone.
Explore all the delightful, personalized, unique items you want.
Save your favorite items and shops.
Get notified when your favorite shop adds new items.
Chat directly with shop owners and have items customized.
Etsy For Sellers
Join its marketplace, where millions of shoppers spend a lot of money buying directly from sellers every year. All you need to do is list your item for just $0.20, and once the sale is done, there is a small commission fee and a standard PayPal payment processing fee.
Visit here for information on different types of fees that sellers may be charged for using some of Etsy's services.
Its tools and services make it easy to promote, manage, and grow your business. And whenever you need help, you can always reach out to the Etsy support team.
Etsy For Buyers
Buying something on Etsy is entirely safe and secure. It features a wide variety of options, so you can seamlessly choose a payment method that you'd like to use.
It even offers order tracking to let you know when your order is on the way.
Categories: It comprises different categories, including bags, clothing, jewelry, vintage, wedding, furniture, mobile accessories, home decor, toys, gift ideas, craft supplies, art, trending items, and many more.
Shipping Policy: Sellers ship their sold products to buyers. And the cost of a postage label will depend on the destination, origin, mail class, weight, package type, and dimensions of the package. Visit here for more information.
Returns & Refund Policy: As a seller, you don't need to accept returns, exchanges, or offer a refund unless it is mentioned in your shop policies.
As a buyer, if the seller accepts returns, ensure you ask when you should return, what time frame, and what shipping method to use in a message.
Mercari vs Etsy: Which is Best for Selling?
Vinted
Vinted is another secondhand clothing marketplace like Depop, which offers a lot of flexibility for both sellers and users. It helps you find shopping and selling opportunities.
When compared to Depop, it primarily focuses on reselling clothing. So, if you have bought anything recently but don't fit well, it's much better to sell on Vinted!
Although it is mainly dedicated to women's clothing, it does have a large selection of clothing for men and boys. And the app has several new features and functionalities to enhance your shopping experience.
Key Features
Sell clothes to 25 million Vinted members.
Filter through its catalog to find the right brands, sizes, and prices.
Browse video listings, get more details, and enjoy a 360 view.
Sellers can set their prices and control their discounts.
Vinted For Sellers
In order to sell on Vinted, you'll need to download the app on your device to list your item for free and then take a couple of photos of your item, describe it, and set your price.
Once it is done, you can ship after boxing your item, printing your prepaid shipping label, and pop to the drop-off point within 5 days. Since it doesn't charge any selling fees, what you earn is yours to keep!
Vinted For Buyers
As a buyer, you can browse the catalog to find what you'd like to buy. You can press 'Ask Seller' to clear-up your queries or select 'Make an offer' to suggest a new price.
And when you want to pay for the product you like, press 'Buy Now.' The seller will have 5 working days to send the item, and the delivery might take up to 1-3 working days.
Categories:
Shipping Policy: Vinted offers three shipping types – Custom shipping, with prepaid labels generated on Vinted, and No shipping (pick-up in person).
The cost of shipping is always covered by buyers, and sellers have to make sure to use that shipping method. Otherwise, your order will be canceled, and the buyer will be refunded.
Returns & Refund Policy: If you don't like the item you have received, or if it is damaged, you can return it if your seller agrees to refund you.
To inform the seller, you'll have to press 'I have an issue' within 2 days of the item's delivery. And then send the proof to the seller.
If you don't inform the seller within 2 days, Vinted will automatically release the payments to the seller, and no refund will be possible.
Vinted vs Poshmark: Complete Comparison [2021]
eBay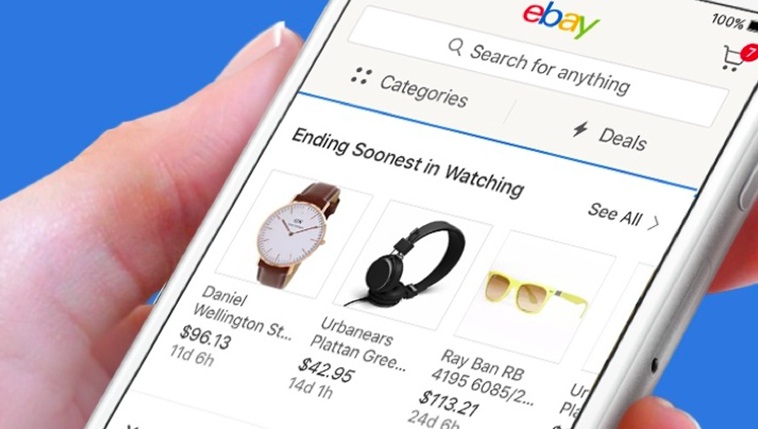 Last but not least, we have eBay, which makes a great Depop alternative! With millions of visitors every day, it is widely popular and can be the perfect choice for selling clothes online.
What makes it great is that you can sell anything you want. But the key to better business is to try to find out what people are looking for. So, look for demands, and create listings that target key search terms.
You can discover over 175 biggest brands, including Superdry, Seasalt Cornwall, River Island, Joules, and many more. Needless to say, since the demand is very high on eBay, you are most likely to make sales pretty fast.
Key Features
Buy and sell offers on the eBay marketplace.
Browse shopping deals on electronics, fashion & home, and more.
Search & shop best-selling brands at discount prices.
Offers on clothes, shoes, and accessories for any occasion.
Save money with deals at your fingertips.
eBay For Sellers
You can start selling on eBay after you create an eBay account. Once it is done, you can create a listing for the product that you'd like to sell.
And to get a listing up within minutes and upload photos directly from your use, it's better to use the eBay app.
When your item sells, eBay keeps a portion of the sale. This final value fee for most categories is 12.55% of the sale price or lower, plus $0.30 per order.
eBay For Buyers
On eBay, you can either pay a fixed price and buy the product instantly, or you can bid on a product and try to win it for a lower price in an auction.
You can shop for several things withing having to create an eBay account. When you like something, you get to view the product's description, photos, shipping, and payment options.
Categories: Motors, fashion, electronics, collectibles & art, home & garden, Cards, Antiques, sporting goods, toys, music, Pet Supplies, business & industrial, eBay refurbished, and many more.
Shipping Policy: Sellers have to ship items within the handling time stated in their listing, and they must review the cost and speed of delivery before offering a shipping service.
Returns & Refund Policy: If your item arrived damaged, wrong product, or doesn't match the listing description, you can return it for a refund. And the seller will have 3 business days to get back to you.
Final Thoughts: Best Apps Like Depop!
As you can see by now, there are other apps like Depop where you can sell or buy new or gently used items. All these apps will let you buy and sell legit products like bags, clothes, shoes, sportswear, antiques, and many more.
Based on what type of product you want to sell, there are several options out there that will definitely work better than others. However, it doesn't matter which app you choose. Because the market for clothing or other resale items is really massive.
And they ensure that you can make extra money without any problem! But you might have to consider the fees that each platform charge. Hopefully, the above article has helped you to pick up the perfect option for you!
7 Best Sites like Bonanza: The Best Sites to Sell in!