4 Apps & Sites Like Clearpay To BNPL! [UK 2023]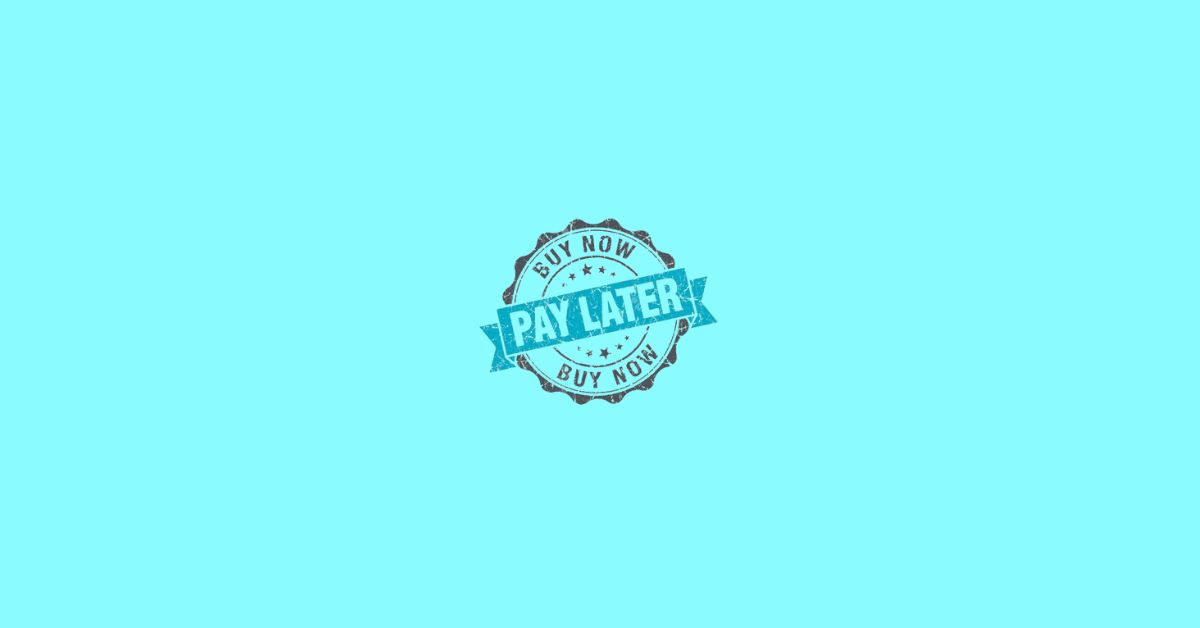 We may earn small commission from the products mentioned in this post.
Apps & Sites Like Clearpay – There may be a lot of reasons why people are looking for BNPL services when they shop. One of the main reasons is that even if you are low on budget, the BNPL app lets you buy something now, and pay for it later.
So, with the buy now, pay later services, you can split the cost of your purchase into interest-free installments. Clearpay is such a popular app that let you buy something online and repay in four installments, interest-free.
Its spending limits vary and depend on your prior usage of the app. It doesn't charge any fees or any other hidden fees, except a late payment fee.
Apps & Sites Like Clearpay
Although Clearpay is an amazing service, it has only one type of payment plan. Whereas its alternatives offer different payment plans that you choose according to you.
So, here is a list of the best apps & sites like Clearpay that let you split your purchase into smaller installments.
Klarna
We have Klarna at the top of our list of the best apps like Clearpay. Klarna is one of the best buy now pay later service that offers payment plans for in-store and online purchases.
Its main aim is to offer payment solutions for the e-commerce industry and to make safe and secure payments for sellers and buyers. You can use Klarna at popular sellers like Etsy, Sephora, Macy's, and Foot Locker.
Klarna is partnered with over 200,000 vendors and merchants, so you can purchase at any listed US or Europe-based retailer that accepts credit and debit cards.
Requirements for Eligibility
Be at least 18 years old
Have a positive credit history
Don't have a lot of debt
Should have to be a resident of the UK
Must have a valid email address and mobile number
How Does Klarna Work?
Klarna's most popular payment plan is Pay in 3, which let shoppers divide their purchase into three equal installments with the first payment made at the point of purchase and the remaining scheduled automatically every 30 days.
If you don't want this plan, you can choose from other financing options it offers – a Pay in 30, or a 6-to-36-month loan. Pay in 30 plan provides you the ability to pay nothing for now and then pay the complete days after 30 days.
It also offers a traditional loan option at selected retailers with an APR of 18.9% maximum. Through the Klarna app, you can track your shipments, view your purchase history, and process returns.
Spend Limit: There isn't any specific pre-set credit or spending limit. However, your spending limit and the ability to shop is determined by its soft credit check, the information you provide, and your buying history.
Repayment Terms: When you make a purchase, you can select from one of the three financing options – Pay in 3 or pay in 30 days, or a 6 to 36-month loan.
If you fail to pay on the scheduled date, the missed will be added to the amount of the next scheduled payment.
Payment Methods: Klarna accepts all major debit and credit cards, this includes Mastercard, Visa, AMEX, and Discover. Prepaid cards are not accepted, and AMEX cards are not accepted when creating a One-time card.
Interest & Fees:
| | | | |
| --- | --- | --- | --- |
| Loan Type | Terms | Interest | Late Fee |
| Pay in 3 | Pay three equal installments due every two weeks | Interest-free | No late fee |
| Pay in 30 | Pay nothing for 30 days and then pay the balance in full | Interest-free | No late fee but if you don't make the full payment, you might be considered in default |
| Longer Term Loans | Pay with a loan up to 36 months | Highest APR rate is 18.9% | No late fee |
| | |
| --- | --- |
| Pros | Cons |
| No interest on Pay in 4 financing | Requires a soft credit check |
| Offers different ways to finance purchases | Charges a late fee |
My Argos Card
With the Argos Card, you can buy now, and pay later! By using the Argos Card, you can also register on the app to make payments directly from the app.
Moreover, you can view your statements, keep track of your recent transactions, personalize your credit plans, set up payment reminders, and most importantly ability to securely log in with the touch of a finger or a simple four number passcode.
So, from making payments to changing your contact details, it's easy and quick to keep on top of your finances with the Argos Card app.
Requirements for Eligibility
Must be above 18
Provide valid UK bank details
Provide home addresses for the past 2 years
Should be a permanent UK resident for over a year
How Does My Argos Card Work?
All you need to do is to apply for an Argos Card online. But before continuing with a full Argos Card application, their online application will let you see immediately whether you'll be accepted.
Then, you can shop at your favorite store or browse from thousands of stores. Once you added what you want to your trolley, you'll see your credit plan options and application details at the checkout.
Spend Limit: Your Argos Card's credit limit is reviewed regularly and can be increased or decreased by them. However, if you want to increase your credit limit, you'll have to navigate to your Argos Card account on your app or on the website.
Moreover, next time your funds require a boost, you can also set up your account to auto-extend your limit.
Repayment Terms: Your repayment terms are based on what you buy. Yet, it has standard 3–6-month credit plans along with special offer plans on certain products.
Payment Methods: It accepts all kinds of cards and payment methods, including Argos Card, nectar, VISA, Mastercard, Maestro, American Express, PayPal, Love2Shop, eGift Card, One4all, Christmas Club.
Interest & Fees: With Argos Card, there will be no interest if you pay in full within your credit plan period. However, if you don't pay in full, you'll be charged interest on any balance remaining at the end of the plan.
It also other charges, such as you'll be charged £12 if you don't make your minimum monthly contractual payment on time, £12 if you exceed your credit limit and £12 for a returned payment.
All these charges are termed as 'Default Charges.' Besides, it also charged £5 for sending you a copy statement.
| | |
| --- | --- |
| Pros | Cons |
| Flexible credit plans | Interest may be charged on the unpaid balance |
| No interest | |
| Helps you to balance your budget | |
Laybuy
Laybuy is another Clearpay alternative that let you pay for your purchase weekly, without any interest over six weeks. You can use Laybuy both online and in-store.
For online purchases, you'll just have to select Laybuy as your payment method and proceed to checkout. And to pay in-store, take your items to the checkout and simply pay with Laybuy.
From your Laybuy account, you can view all your account information along with a payment schedule anytime, anywhere.
Requirements for Eligibility
Be at least 18 years old
Have a valid ID – license or passport
Must have a valid and verifiable email address and phone number
A valid credit or debit card
Should be a permanent resident of the United Kingdom
How Does Laybuy Work?
With Laybuy, you can get your purchase now and split the total cost over six weekly automatic payments for entirely interest-free. All you need to do is to download the Laybuy app, sign in to create an account, and shop at your favorite stores.
Once you are done shopping, select Laybuy as the payment method and choose your payment day, view your schedule, and tap pay now to finish your order.
You can then see the first payment that is equal to one-sixth of the entire purchase price. And the next five subsequent payments are regulated every week on the day of your original purchase.
Spend Limit: You can find 'You Limit' on your dashboard on the website or app. This means that it is the current limit you are accessible to spend.
Generally, a credit limit of between £60 to £600 can be agreed upon based on your credit score.
Repayment Terms: For each product, you have purchased through Laybuy, you will have to pay them in six equal weekly installments.
The first installment will be due at the time of your purchase and the remaining five subsequent installments will be due on the same day in the weeks following.
Interest & Fees: All payments are interest-free, and it doesn't charge any fee for early payments. However, for whatsoever reason you fail to make payment on its due date, you'll get a further 24 hours to pay.
Still, if you fail to pay within 24 hours of the due date, you'll be charged a default fee of £6. If you do not repay the fee within the next seven days, it will charge you a further default fee of £6.
Therefore, in aggregate, you could be charged £12 for each installment payment you miss, up to a maximum charge of £24 per purchase.
| | |
| --- | --- |
| Pros | Cons |
| Weekly automatic payments | Charges a late fee if you miss an automatic payment |
| Easy to use and has only one way to pay | If you default on your payments, it may affect your credit score |
| Ability to customize your repayment schedule | |
5 Best Buy Now Pay Later Apps in UK [2022]
OpenPay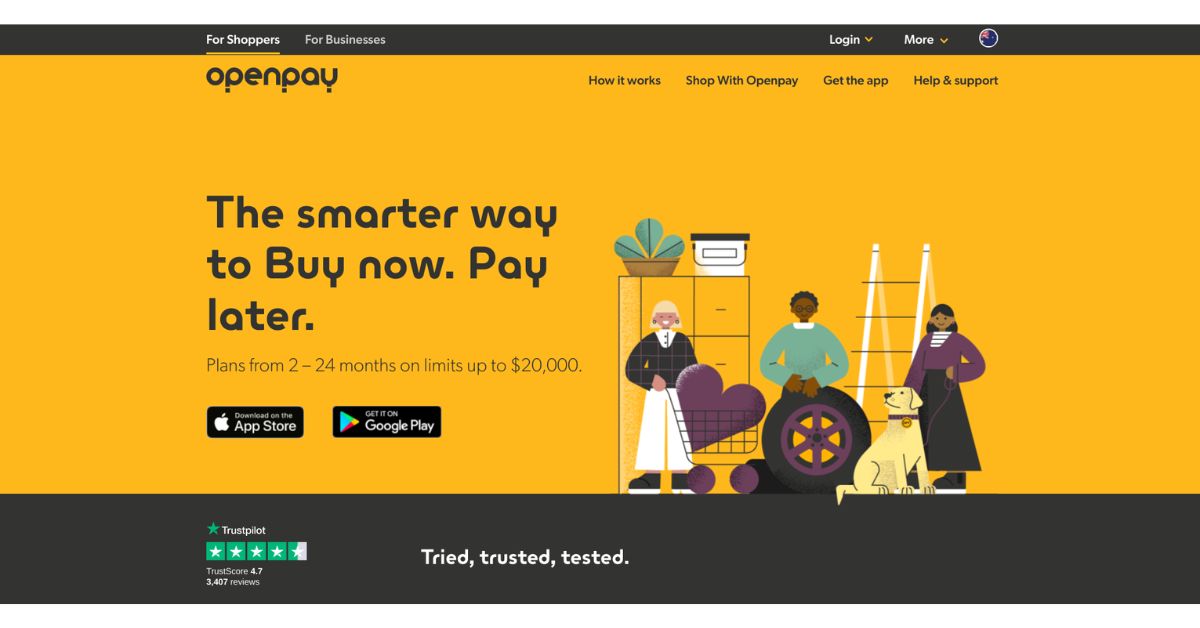 Last, on the list of the Clearpay alternatives, we have Openpay. With Openapy, you can shop online and choose it as a payment method at the checkout.
It is an interest-free buy now, pay later service that is available in the United Kingdom, the United States, and Australia. You can spread the cost of your purchase amount on an agreed monthly repayment plan of between 2-9 months.
Requirements for Eligibility
Must be at least 18 years of age
A valid email address and phone number
Provide a valid photo ID
Valid UK passport information
Have a valid Visa or Mastercard – both debit and credit cards are accepted
Other valid government-issued photographic information
How Does OpenPay Work?
First of all, download the Openpay app on your device and sign up easily. After you provide your details, it'll perform a quick ID and credit check to verify your details.
If you are approved, you can shop at your favorite and choose Openpay as your payment method. As soon as you have selected your payment method, you'll get instant approval.
Then, select among different repayment options during your purchase, with the first installment paid during your purchase and the rest over 2-6 monthly installments based on your purchase.
Spend Limit: With Openpay, you can make larger purchases. You can view your available spending limit on the home screen of the app. Generally, it offers a credit limit of up to $20,000.
However, the amount you can spend differs by merchant, and it also depends on your financial circumstances.
Repayment Terms: Your repayments are due every two weeks, which are automatically deducted from your linked credit or debit card.
Payment Methods: Cheque, money order, electronic funds transfer, or through the Nominated Card.
Interest & Fees: It doesn't charge any interest. If your Nominated Card is a credit card, and you fail to pay your credit card statement on time, they may charge interest.
And if you miss a payment, you might be charged a late fee which will be capped at a maximum of £15 per plan.
If you are not able to make an upcoming payment because of your financial circumstances, you'll need to contact Openpay as soon as possible.
| | |
| --- | --- |
| Pros | Cons |
| Flexible repayment options | Charges late fee |
| Interest-free payments | Perform a credit check |
| Payment reminders | |
Summing Up: Apps & Sites Like Clearpay!
Buy now pay later services can help you stay on top of your finances as these are viable solutions when you are tight on budget. These apps spread your purchases into four equal payments, give you more time to pay, can help you get discounts, and even offers rewards.
Although most of these apps are interest-free, some services may charge interest or fees, so don't forget to check the costs and APR rates before you apply. So, with several apps and sites like Clearpay, it is easy to find a service that meets your requirements.
6 Best Apps Like Zilch to Buy Now Pay Later [2022]