5 Best Apps Like Over for Easy Graphics Design [2023] We may earn small commission from the products mentioned in this post. visit here for more details.
Apps Like Over: Applications have been a great blessing in this generation. Our life starts with one application and ends with another. Applications nowadays are a lifeline for everything in life just like blood and oxygen.
Applications tend to make our work easy by providing easy-user interface steps to complete hard tasks. Applications provide us with everything we need in one program and just in one device. We can have access to infinite different and unique apps for everything at once.
In today's generation, the industry works on digital marketing and content which is 100% virtual and digitally based. And when we talk about digital marketing we need apps that provide us with creative tools to create beautiful ideas for digital marketing.
In this article, we are talking about free apps like Over which helps its users to design their ideas into a beautiful art pieces to attract the digital audience via digital platforms. The 5 best apps like Over are namely- GoDaddy Studio, Canva, VistaCreate, Adobe Express, and Desygner.
By the end of the article, you will get to know in detail about these free apps like Over with their key features, plans, pricing, and much more.
GoDaddy Studio
GoDaddy Studio is the best alternative to Over because it is owned by the same company which acquired Over. Hence, GoDaddy Studio is a new version of the formerly known Over.
GoDaddy Studio in general is graphic design software that provides great creative tools to its users to create and share beautiful art pieces curated by their new ideas to influence the digital audience.
GoDaddy Studio is available both on the ios store and google's play store which allows you to access your designs from anywhere and everywhere. It also has a computer version compatible with all devices.
Key Features of GoDaddy Studio
It has a huge collection of graphics to shape your ideas into art pieces same as the Over app.
It also has customizable colors, fonts, and text designs to add to your designs.
It also has added text to images feature where you can directly add text on photos, images, pdfs, etc.
It also has a connection available with different social media platforms and networks to share your creative ideas with.
It also has a huge logo collection where you can create your logo out of more than 67000 ready-to-use graphics and templates.
It allows its users to create posts, flyers, logos, banners, posters, and much more.
It also allows users to edit and create videos out of their creative ideas and share them directly and instantly with their audience.
Plans & Pricing of GoDaddy Studio
The version of GoDaddy studio is a free version to be downloaded on devices of ios and Andriod.
The basic plan with premium features will cost you around 5.15 USD per month.
The standard plan with premium features will cost around 9.14 USD per month.
The premium plan will cost you around 13.06 USD per month.
The eCommerce plan will cost you around 18.29 USD per month.
Canva
Canva is the topmost editing app that is a favorite among graphic designers and social media digital marketers. To like Canva, people have infinite reasons. Canva is one of the best alternatives to Over because it is user-friendly and even the newbies can learn graphic designing without learning the course.
Canva comes in handy when you have to post multiple stories within a great time limit and you can't just open your laptop and sit for hours for making. It creates easy and beautiful art pieces within just a few clicks and thanks to its AI intelligence.
Canva provides you with everything with just one click. It has millions of templates of different categories to choose your background design from. It has text templates, gifs, stickers, fonts styling and so much more for you.
Key Features of Canva
It offers a free version for normal users but it also has a free plan for nonprofit institutions and verified teachers of kindergarten through 12th grade but requires your application for the same.
It has a unique feature of mirror images and makes your photography a professional outbase.
It also offers a huge collection of editing tools and sound effects for video editing to turn your videos into a great movie-like project.
It also has photo filters to apply classic black and white montage look, vintage filters, and much more to your creativity like Over.
It also has many different features like borders, striking effects, frames, and many more like Over application.
It also has many options like flipping the photo, adding photos to presentations, posts, and much more.
It also has exciting and unique features like video transitions, making stories out of videos and photos, merging videos into one vlog, projects, and much more.
Plans & Pricing of Canva
It also offers a free plan for its pocket-friendly users.
It has a Pro Plan which is available for up to five people and will cost you around $12.99 per month.
It has an Enterprise plan which is available for up to 25 people for $30 per person per month.
VistaCreate
VistaCreate is another good alternative to Over application because it is a great tool for designing animated graphics, social media posts, posters, flyers, and much more in general.
VistaCreate has its unique logo creator which has earned many hearts for the uniqueness and customizing features coming with the creator. The logo creator gives liberty to users to customize logos how they want them.
VistaCreate also has many other things added to their application like templates, music, videos and photo gallery, object sections, and much more.
Key Features of VistaCreate
It has a unique 'Try Logo Maker' button for creating logos and customizing the same.
It also has to add photos and videos option for the making posters, flyers, presentations, and much more like the Over application.
It also has millions of templates to choose the background, framing, styles, themes, and much more.
It also has a huge objects collection to create unique designs out of it and it has many different animation styles like zoom, fade-in, and much more.
It has 75+ templates for designing and has a feature of removing backgrounds and turning them into gifs and much more.
If you use VistaCreate, it promises you 1M+ creative tools and assets for making your masterpieces.
It offers 10 GB of storage for files, projects, designs, etc.
It also allows high-definition photos and videos for downloading and sharing.
It also offers unlimited access to brand kits, a multi-user account, a free version to be downloaded, and many more features.
Plans & Pricing of VistaCreate
VistaCreate offers two plans namely Starter Plan and Pro Plan out of which Started Plan is the free limited plan for users.
Pro Plan offered by VistaCreate offers premium features at the cost of $10.00/per month.
Adobe Express
Adobe Express is the oldest and most trusted application in terms of photography, editing, creative graphic designing, and many more in general. Hence it is the best alternative to the Over application because everyone loves to work with Adobe Express.
Adobe Express(Creative Cloud) formerly known as Adobe Spark has huge graphic designing tools and makes it easy to design beautiful templates and art pieces to influence the social media audiences and much more in the virtual world.
Adobe Express is available in three stores namely Apple Store, Google Play Store, and Microsoft Store, it is a free version to be downloaded on computers, tablets, mobile devices, and much more.
Key Features of Adobe Express
It has a huge list of templates, designs, stickers, fonts, texts, animations, and much more hidden gems like the Over application had.
It offers designs and templates in the category of Instagram stories, posts, Facebook stories and posts, collages, music videos, slow mos, video vlogging, movie projects, and much more.
It also provides book templates, cover designs, resume makers, invites templates, logos, posters, banners, and a huge collection of ratios to choose from.
It has quick-fixing tools like converting docs into pdfs, resizing videos, removing backgrounds, resizing images, merging videos, and much more.
It also has a unique collection of icons which is not seen in many graphic designing apps.
It also allows you to create logos and brand logos and gives you 2GB of storage for free.
This is made for the people who are non-designers but have great creative taste and want everything perfect and aesthetic.
The best quality about Adobe Express is it has file conversion capabilities.
Plans & Pricing of Adobe Express
The free limited plan starts at $0 with limited success with tools and features.
It has a free trial of 3 days to offer its users.
The full access Pro plan starts from $9.99/per month which gives access to premium features and kits.
Desygner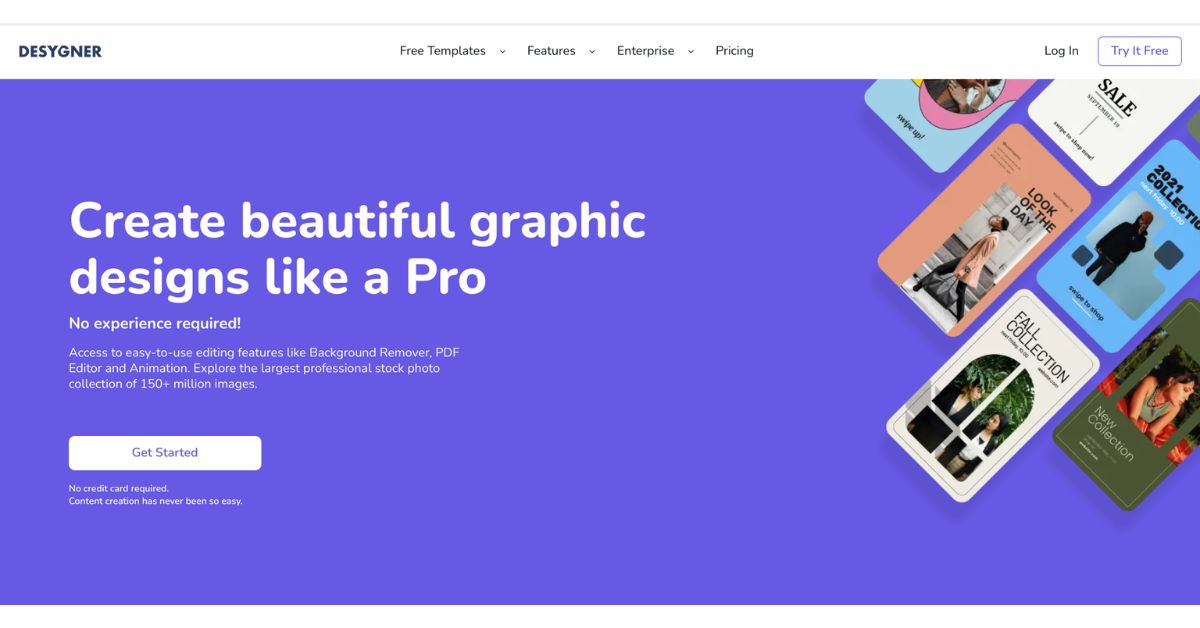 The name says it all Desygner is a great pick for graphic designers and non-graphic designers as well. Desygner stands in the alternatives for Over application and has a meaning about it because it offers any size and any format customization.
Desygner offers a great printing option where once you complete the work, you can order the copies for the same. It has all formats supporting namely A4, A5, and much more. It allows designing for book covers, infographics, logos, posters, and even social media banners.
Desygner is a cloud-based service so it allows a user access to your projects and designs wherever and whenever you want them. It also has a convertible option where you can convert your work into pdfs, jpg, etc.
Key Features of Desygner
It has pre-made templates from book covers to Instagram posts, you can choose it and customize it your way.
It also has a start from scratch option where you completely customize and design everything be it ratio, theme, font, or color everything according to your choice.
It also offers a stock image library where users get access to high-quality digital images for their presentations, projects, and much more.
It also offers a collaboration facility where you can collaborate with up to 5 users and rock your design under a premium plan.
It also offers a logo creator which is specially designed by Desygner with numerous templates and unique trends.
It also has a unique feature of Designer for Hire where you can hire literally any professional specialist to help you out with your projects and quote it for professional services.
It also has downloading and print orders options where you can order your designs in printed form with high-quality masterpieces.
It also has a PDF importer and editor where it allows its users to edit the pdf and import them.
Plans & Pricing of Desygner
It offers a free version that everyone has access to, but has limited tools and kits for the same.
It has 2 paid plans namely Pro+ and Business Plan.
Pro+ Plan costs its users up to $4.95/month and Business Plan costs its users up to $9.95/month.
Final Verdict
Hence, here we came to the end of the article, The final verdict is the simplest answer- the 5 apps which are like Over application and are best among themselves namely Desygner, Canva, GoDaddy Studio, VistaCreate, and Adobe Express.
Every app mentioned in this article has different fandom of graphic designers and non-graphic designers. Hence choosing the best out of them is a tough call. But here we have provided you with every bit of information you need to select them as per your requirements. So choose the best out of the best alternatives of Over.
These apps listed above in the articles are not just meant for designers who know graphic designing, the newbies or beginners can start their journey in designing easily with these apps because they all are free with basic things and are user-friendly.
With these apps, anyone can shape their ideas and creative thoughts into art pieces and masterpieces.
FAQs: Apps Like Over
Who owns Adobe Express?
The founders who have all rights reserved under Adobe Express namely are John Warnock and Charles Geschke.
What are other apps of Adobe? 
Adobe has many apps namely Photoshop, Illustrator, Lightroom, PDF, Dreamweaver, Creative Cloud, and much more.
Does Canva come with a free version?
Yes. Canva does offer limited features and access in the free version of the application. 
Do Over has alternatives? 
Yes. Over has many alternatives whereas the best 5 alternatives namely are- Adobe Express, GoDaddy Studio, Desygner, Canva, and VistaCreate.