5 Best Apps Like Pureple – Lit Up Your Digital Wardrobe [2023] 
We may earn small commission from the products mentioned in this post. visit here for more details.
Apps Like Pureple: Everyone thinks they have nothing to wear when in reality we have a wardrobe full of clothes. Many times, we find it difficult to style our collection in an appealing and eye-catching way.  
Most of the time, we all end up repeating a few clothes like we have only a few dresses to wear and nothing else. And sometimes we find it chaotic to look at everything in the wardrobe.
Pureple App is a wardrobe organiser which provides a virtual wardrobe to look out digitally and create styles out of the same. It provides you app suggested outfits out of your wardrobe to help you be in style.
In this article, we are going to talk about the 5 best apps like Pureple to help you out creating digital wardrobes at your rescue.
By the end of the article, you will get to know about their key features and costs to choose the best alternative for Pureple.
Cladwell
Cladwell is the best option for apps like Pureple to use as a virtual closet organiser. It is known for its large catalogue with many other features.
The app is free to download from Google Play Store and Apple App Store. And it is preferred for its capsule wardrobes and daily app-suggested outfits.
Key Features of Cladwell
The app is easy to use and offers a free trial.
It allows users to organize their wardrobes digitally in capsules and large catalogues.
Cladwell provides good weather-based outfits, and you can easily edit preferences for the same.
You will get suggestions for clothes to buy based on your liking.
Cladwell offers a 7-day free trial to its users.
It will charge you $4.99 monthly and $49.99 annually.
StyleBook
A StyleBook is an excellent option for apps like Pureple to digitalize your wardrobe with price tags, colour coordination, fabrics etc.
StyleBook is a go-to app for virtual closets, planning outfits, having backup and also getting inspiration. The app is the powerhouse to get the best styles out of your regular wardrobe.
Key Features of StyleBook
You can simply add images of your clothes.
Users can lay out their clothes for styling in free-form canvas.
An online website is available to try virtual closets and buy.
Read the interview from your style experts, track down your styles and inspiration etc.
It also provides an iCloud backup and calendar to pre-plan your outfits.
It will cost you around $4.99 as a one-time cost.
Save Your Wardrobe
Save Your Wardrobe is another app for apps like Pureple to have clothes on the go to choose and style from. It uses artificial intelligence to create the best out of your regular clothes.
The app not only allows you to recollect your old wardrobe collection but also offers a selection of services such as Repairs, Cleaning, Donation, Upcycling etc for responsible shopping.
Key Features of Save Your Wardrobe
The app is available for both Android and IOS Users.
It is free to download and user-friendly.
The app provides services like Repairs, Donation, Alteration etc to keep up with your clothes management.
Save Your Wardrobe offers wardrobe insights such as brands, categories, colour, usage etc.
Artificial Intelligence helps you to look at your wardrobe from anywhere with your device with styling ideas.
It has a freemium version for its users.
Premium Rates may vary as per the user's preferences.
Lookscope
Lookscope is said to be a closet and change room in your pocket for digital wardrobe offerings like Pureple. Lookscope can be a good choice for having AI-based outfit options out of your closet.
This app stands out from other closet apps because of its simple and basic aesthetics added to the user interface, unlimited closet options, automatic outfit generation and much more.
Key Features of Lookscope
Has a great user interface and automatic features for outfit generation.
It offers unlimited closet space to note down and organise your whole wardrobe digitally.
Lookscope has an automatic backup feature which keeps looking at all your clothes and favourites.
Extra login for backups is not necessary with Lookscope, iCloud is accepted.
Check weather option is available to check the weather and then select clothes to wear.
It also offers star looks out of your favourite clothes and selections made in the past.
It charges users $3.99 as their cost.
Smart Closet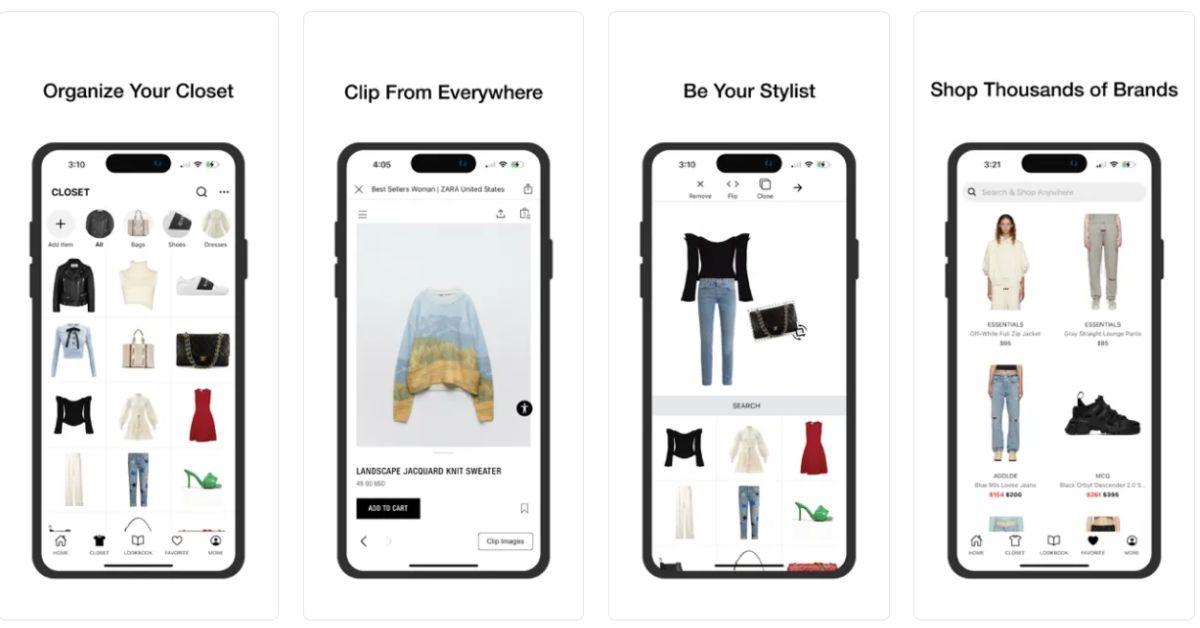 If you are looking for an app which helps you create a virtual wardrobe with high editing effects, then Smart Closet is the closest option to go for. It helps you remove the background to focus only on your clothes.
Smart Closet is the talk of the town which projects equality when it comes to digitalizing wardrobes because they have introduced wardrobe organisation and styling for men as well.
Key Features of Smart Closet
Simply add your clothes by taking pictures and removing the background with one click.
You can easily add details to your clothes such as category, brand, colour, season etc.
It offers a calendar to plan your outfits in advance and also shows the statistical results of your closet.
Smart Closet allows users to share their looks on social media handles such as Instagram and Facebook.
It offers a freemium version where iOS devices are charged $3.99 and android users can use it for free without a pro version.
The pro version is the premium version for which charges may vary.
Final Verdict: Apps Like Pureple
We hope you find apps like Pureple appealing to digitalise your wardrobe and never get out of fashion with a regular collection of clothing.
All these 5 apps are explained here in detail with their key features and costs to make it easy for you to select the best Pureple alternatives for Android and Apple.
WATCH MORE SIMILAR APPS LIKE PUREPLE-
5 Best Apps like Polyvore To Make Your Own Outfits! [2023]
FAQs
Is there an app that puts outfits together for you? 
Yes. Pureple is said to be the best app which puts your outfit together for you and also apps like Pureple are provided in this article. 
Is Pureple a good app?
Absolutely. Pureple is an app for all be it your mom or you, it is one of the best apps for digital wardrobe organisers and stylers.