5 Best Apps like Polyvore To Make Your Own Outfits! [2023]
We may earn small commission from the products mentioned in this post.
Isn't it wonderful to have virtual wardrobe apps like Polyvore or Polyvore itself that allows you to design different types of outfits, get inspiration from other members in the community and decide beforehand what you will be going to wear? But, since the Polyvore app is no longer in motion, are you searching for other apps like Polyvore?
About Polyvore
Polyvore was a famous community-powered social commerce site. With the help of its virtual mood board function, community members can add products to one shared product index and use it to make image collages named 'Sets'.
Polyvore sounds like the best app to create colleges in the community but it is no longer present due to fewer profits and a poor user base. Therefore, users are currently in search of alternatives.
On a positive note, you don't have to search for them separately, as in the article below, we have mentioned a well-curated list of the best Polyvore alternatives to help you decide which app can be a well-suited virtual wardrobe for you.
Smart Closet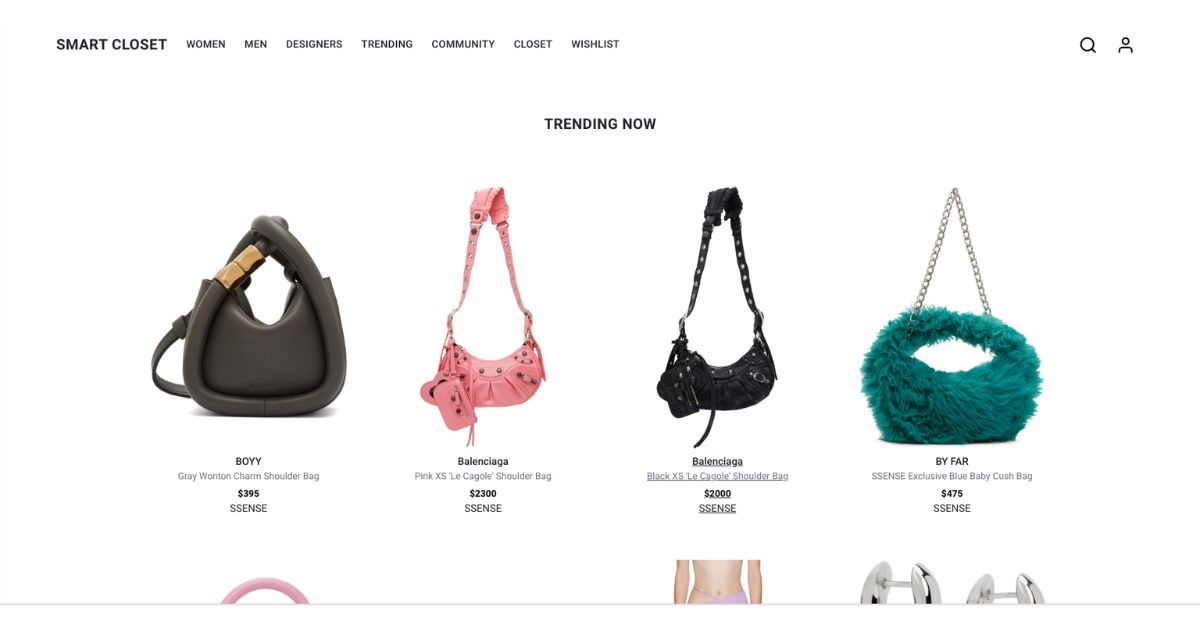 If you want a place to store all your favorite brands' items and future outfit ideas that you would like to try, then Smart Closet is the perfect app like Polyvore.
Just like the name suggests, Smart Closet is a virtual closet, also known as your personal stylist which can help you store different types of brand items in one place and help you manage your closet along with sharing your style with others.
Users get to combine one item with other sets and decide which one turns out to be the most stylish. Along with this, users can also view ideas by others to gain ideas and inspiration.
So, with Smart Closet, you no longer have to stand for hours in front of your closet to decide which outfit to try today. With the help of its daily notification and calendar feature, you can decide beforehand what you will be wearing throughout the week and get daily notifications to wear the perfect outfit that day.
Highlights
Gives a detailed statistical report about your closet.
With the help of brand, colour, or look filters, Smart Closet will help you find the item online at the best price.
You can customize the category and occasion unlimitedly whenever you want.
Offers backup and restore features for all compatible devices.
Supports men's as well as women's closets.
With just one click, you can remove the background of the picture of the item.
You can add pictures from your advice through the photo gallery or take a live picture.
Urstyle
Urstyle is a popular fashion social network that qualifies users to discover outfit ideas and shop for the perfect products to be added to their outfit sets. You can shop products from top brands and retailers globally and put together the items that match perfectly with each other.
It allows you to become the stylist of your interior designs, mood boards and outfits. While exploring fashion ideas from others, you can also create and share your own fashion ideas with your followers and friends.
One of the main highlights of Urstyle is that it permits you to interact with other community members through built-in messenger for messaging, follow feature, group discussions, community board, likes, and comments on posts. So, while receiving support from your followers, you can support some other community members whose ideas interest you.
Highlights
Participate in fashion contests by others or create your own to share more knowledge and ideas.
Urstyle allows you to write and publish your fashion stories and become a professional fashion blogger.
You can customize your post, remove the background of pictures and alter them accordingly.
Fashmates
Fashmates is a community-powered destination where creative fashion designers, artists, beauty specialists and home decor lovers gather together to explore and share ideas. It is known as one of the best apps like Polyvore because it is also a social commerce service that empowers you to become a professional in the aforementioned fields.
With the Fashmates app, you can create inspirational and unique collage looks and sets brought together by thousands of retailers, designers, and brands globally. Moreover, it can connect you with people who share similar interests like you.
While exploring, you can also gain support from your friends and support them in return through messages, comments, likes, and group discussions. All these features of Fashmates app help you interact with others which give rise to amazing collaborations and ideas.
Highlights
Create style polls to get real-time feedback from community members.
You can share your outfit sets on popular social media networks and through blogs.
It offers a 'kayak-like' search to help you discover products from all over the world.
ShopLook
ShopLook acts as an ultimate platform that helps users to create outfit posts and moodboards easily. The platform is for fashion enthusiasts where you can dress up any outfit by browsing through thousands and thousands of product images from millions of labels globally. Along with it, you can also add images from your gallery or take a picture from the camera.
ShopLook is a popular free-form canvas to make collages, mood boards and niche memes around different themes with limitless possibilities.
Furthermore, while creating vision boards and mood boards for yourself, you can also share your interests and styles with your friends and family publicly. Besides, you can even publish your designs on the app and get inspired by other designers' ideas.
Highlights
Drag and drop any image on the canvas to create a post.
With only one click you can remove the background of any image neatly. Likewise, you can add custom backgrounds to items.
ShopLook permits you to create your fun challenges or participate in other users' challenges to have fun and explore more.
Along with the clothing items, you can furthermore put together different things related to the outfit like the hairstyle, accessories, perfume, lipstick shades, etc.
Combyne
Among the list of apps like Polyvore that we have mentioned in this article, Combyne is the most popular and trusted outfit creation app currently available. With Combyne, you can blend multiple items from several globally famous labels and create the perfect outfit in no time.
It has thousands of users from across the world which means you can get inspired by other style peers and discover the latest fashion trends while finding your new favourite item and style from over 800 brands and online retail shops.
One of the best parts of using Combyne is that you can share whatever you did with your followers, receive honest feedback from fashion lovers and get the recognition that you deserve.
It also permits you to do research of items through various categories like dresses, jeans, skirts, etc individually with over 30 varieties listed. Among the more options present on the platform, you can likewise search the item by designer, item name or brands available in the sale.
In simple words, Combyne is a creative platform that brings together individuals and enables them to combine unique items and create their personal virtual dressing room.
Highlights
Ability to communicate with your followers and friends by following, liking posts and blog posts.
The community will find you a match for your fashion soulmate with whom you can chat instantly, make friends, do collaborations and receive quick feedback.
You can create your own fashion challenge and invite your friends and others on the platform to explore.
Final Words
Although you will find a lot of apps that will claim to be a good Polyvore alternative, the list of apps like Polyvore mentioned in the above article are the best options in the market you currently have.
Not only do all the apps work systematically, but they also have received an above-average response from the users and the highlight is that they are known to have the most similarities to Polyvore.
In conclusion, we will suggest you try the Polyvore alternatives mentioned in this article first before exploring other options on the internet and we hope it has helped you find the perfect app.
5 Best Apps Like Pureple – Lit Up Your Digital Wardrobe [2023] 
Frequently asked Questions
What to use now that Polyvore is gone?
Since Polyvore is not working now, you can have a look at other apps like Polyvore currently doing good in the market. Our list of best Polyvore alternatives include Fashmates, Combyne, ShopLook and Urstyle.
What app puts outfits together?
Apps like Combyne, ShopLook, Urstyle, Fashmates and Smart Closet do a good job of putting together your outfit ideas. Through these options, you can create vision boards, mood boards, colleges, etc and share your fashion ideas with others or simply keep a track of your wardrobe systematically.
What is Polyvore called now?
The Polyvore app is no longer working under any name. It is officially shut down and not coming back anytime soon. However, if you need more stores like Polyvore then you can have a look at apps like Urstyle, ShopLook, Fashmates and Smart Closet.