6 Interesting Apps like Heads Up: Best Party Games Ever! [2023]
We may earn small commission from the products mentioned in this post.
Looking for other apps like Heads up? Heads Up app is one of the party games as it breaks the ice and gets people laughing and having fun together. Both in-app purchases and a free version of the game are offered. One of the top word guessing games available right now is this one.
Selecting a category for the card deck initiates the game. Celebrities, superstars, films, songs, animals, and much more are all included in the Deck theme. The player who is making the guess must place the smartphone on their forehead. Additionally, the other player must provide hints on the word that is displayed on the screen.
In addition to this, you can create your own decks by making in-app purchases. You can also record your gaming sessions and upload them to any social media site.
Even the most experienced player will find the game to be challenging despite its ease of learning. However, not everyone loves Heads Up. If you dislike charades-style games in general or find the game to be frustrating. And if you're looking for apps like Heads Up, here this article will show some of the top app games like Heads Up along with each one's features.
Psych!
The Psych app is ideal for pre-party games. Choose from a variety of categories, and then challenge your friends to determine what is real and what isn't by making up fake answers to real trivia questions. You're encouraged to tell lies. You will receive points for both correctly guessing the answer and successfully 'psyching' your friends into selecting your solution. It is the ideal game app for poolside or pre-party entertainment.
The game becomes challenging to win if you play with a large group of friends because there are so many possible solutions. If so, you can play cooperatively. Create teams with two to three people apiece, then engage in combat!
Key Features
For iOS and Android devices, Psych! is a party game that focuses on trivia and bluffing.
There is a minimum player requirement of 2, but you can play with as many friends as you like because there is no player limit.
It is available for $2.99, without ads.
You don't have to be with the people you're playing with because it can be played remotely.
The ideal app for road trips, Zoom calls, family gaming nights, and even line waiting!
You can score points for both correctly predicting the response and deceiving others into thinking your response is the right one.
Guess What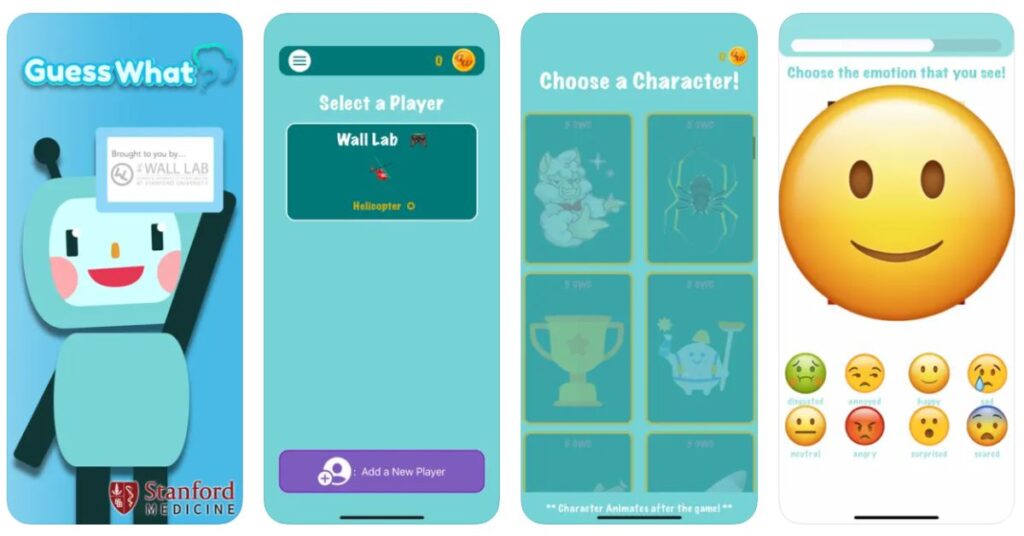 The "Guess What" app, which can be downloaded for iOS and Android devices, is an one of the apps like Heads Up where you may transmit puzzles they've captured to your friends and guess puzzles from your friends.
You can select a friend from Facebook or Twitter to play with during the game. You are given three phrases at the start of the game, and you must select one. The chosen phrase will require you to photograph it, and then transmit the image to your friend, who will then attempt to decipher its meaning from the image.
The guessing participant will receive coins for each successful response based on the level of difficulty of the sentence he guessed.
Key Features
Through your Google Play or App Store accounts, you can buy coins.
It allows sharing pictures on social media.
Even in offline mode, you can play alone.
You may select a photo from your gallery.
Spaceteam
In the cooperative science fiction party game Spaceteam app, you and your friends take on the roles of the starship Bridger crew who are attempting to contain disasters. Two to eight people can play this game at once.
In terms of the gameplay, each participant will be given a control panel made up of buttons, switches, sliders, and dials at random. There will be a timer for the instructions. Your teammates will receive the same instructions, so you must work together quickly before time runs out. You can shout directions to other players to attract their attention to their game.
Both platforms have Spaceteam, which is totally free. Additionally, its cross-platform functionality enables you to play on both iOS and Android devices.
Key Features
It is a two- to eight-player cooperative party game.
It is a free cooperative game.
Requires each player to have their own device (phone or tablet, Android or iOS).
A control panel featuring buttons, switches, sliders, and dials will be randomly allocated to you.
Before the five minutes are up, you have to coordinate with your space team to fix your failing spaceship.
You will utilize the 24 cards in the Tool deck to solve the faults and anomalies discovered in the Malfunction deck.
Charades
Charades is one of the classic party game apps like Heads Up that has been around for centuries. The objective of the game is to determine the words on each card using hints from friends.
Although teams are not necessarily to play this game, they can make it more enjoyable. Divide the group into two or more teams to play in teams. After the selection of the teams, you can write words or phrases on paper slips.
In its word guessing game, one player must perform an action or word silently while the other participants must guess what it is. It's a pleasant game that is played at parties all over the world.
A point is awarded to the side that is correctly predicted. If not, the opposing side has the opportunity to steal the point. When all the words have been correctly identified or the timer expires, the game is over.
Key Features
You can go head-to-head with a single friend or 100 people at once.
There are more than 45 themed decks to pick from, many of which contain more than 400 fun gameplay cards.
This game doesn't necessarily require teams to play.
You can do anything to win: jump, make faces, and dance.
You are unable to speak, point at items in the room, or move your lips.
The Charades card that will be performed in each round is only visible to one player on each team.
Who Am I?
Who Am I? is another app like Heads Up. By asking questions to other players, you can infer who they are from their answers. The game's great idea is perfect for getting people who don't know each other well acquainted at parties and social gatherings.
You can in this guessing game "Who Am I?" try to identify a famous person by answering yes or no questions. The questions are based on attributes and qualities of a person with whom everyone may identify.
Any size group can play this game well, but the more players there are the more entertaining the game is. It is ideal to play with 8 to 10 people, but more (or less) can be involved.
Key Features
8 to 10 persons can participate.
Players try to identify a famous person or animal by answering yes or no questions.
A deck of cards featuring well-known individuals can be purchased expressly for the game "Who Am I?"
The players are given a set amount of time or a set number of questions.
Pictionary Air
Pictionary is a classic board game that has been around for decades. Identifying the word or phrase that your partner has drawn is the aim of the game.
Each participant will need a piece of paper and a drawing tool in order to participate. The drawer will be one of the players, and the guesser will be the other. To check the word or phrase, the drawer will pick a card from the deck.
The next step requires them to draw an image that, without speaking a word, depicts the word or phrase. The guesser will then make an attempt to guess the word or phrase. If their estimate is correct, they get a point. If not, the opposing team has a chance to make a prediction.
Key Features
Android and iOS mobile devices are compatible with it.
You can utilize your Apple TV to check up on the game's process.
You may save and record performances.
The Selfie mode gives you unlimited time to draw.
You must use a special air pen that enables you to draw by waving your hand.
Conclusion: Apps like Heads Up
Although Heads Up will always be among the top word guessing games, it is amazing that there are so many other games that are similar and may offer the same amount of enjoyment and excitement.
We have listed some of the best apps like Heads Up above which are sure to keep you entertained for hours on end. We hope you have selected the best game from the above article on the best apps like Heads Up.
5 Mind Games like Green Glass Door You'll Love! [2022]
7 Best Games like Fantasy life – Role Playing Games [2022]
FAQs
How does the Heads Up app work?
As one player holds their device to their forehead, a person, song, or other answer will appear on the screen. His or her partner must convey the answer in a variety of methods, without saying any part of the answer or offering an obvious rhyme.
How much does the Heads Up app cost?
Heads Up is available to download for free on iOS and Android devices.