Top 6 Sign Up Genius Alternative: Have You Tried it? [2023]
We may earn small commission from the products mentioned in this post. visit here for more details.
Are you looking for the Sign Up Genius alternative? Are you interested in learning which app has the best features?
Here, I'll present the top 6 Sign Up Genius alternatives in this article for you to use. The online sign-up platform SignUpGenius is used for recruiting volunteers and arranging events.
The app saves organizers time by automating the recruiting and coordination process, eliminating the need for reply-all emails and spreadsheets. From the app, you may communicate with group members and see event data.
Up to 14 million people use SignUpGenius each month to plan and attend events. You can use SignUpGenius to streamline the process of organizing activities and signups for nonprofits, educational institutions, sports teams, churches, families, and colleges.
Although it offers a number of amazing features, these are free to use. So, Check out the top Sign Up Genius alternative listed below.
SignUp.com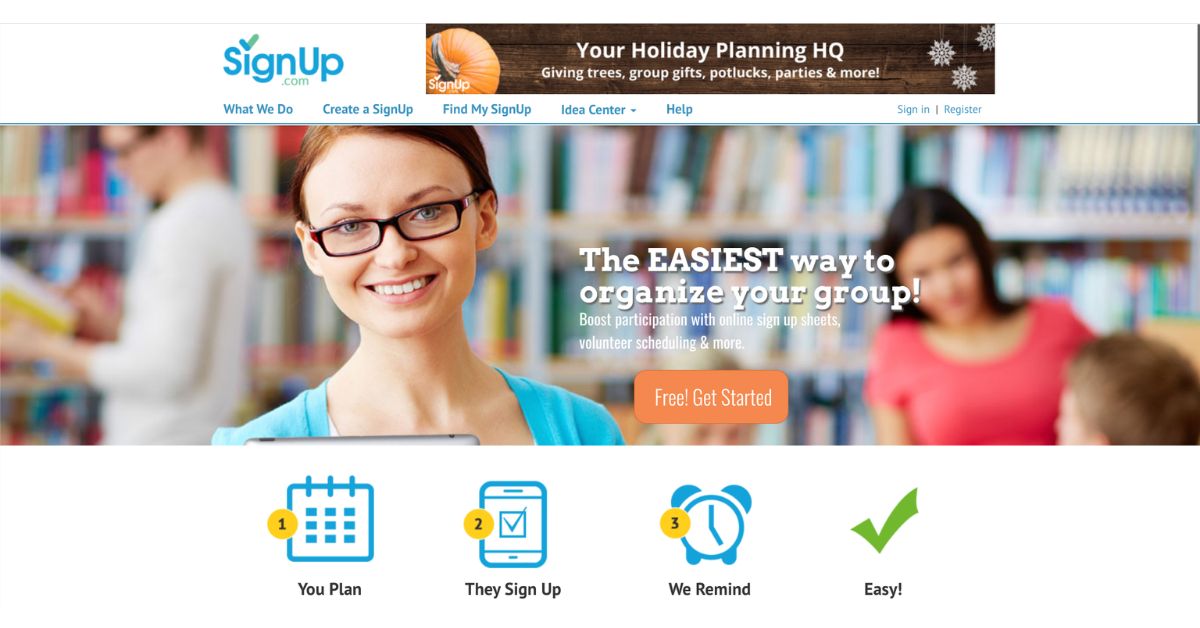 SignUp.com is the easiest app for organizing group events, activities, and conferences. Volunteer calendars, parent-teacher conferences, event registration, potlucks, office hours, mutual help, snack duty, tournaments, festivals, giving trees, cookie booths, classes, prayer circles, ushers, greeters, vaccine clinics, and more can all be scheduled and managed by SignUp.com.
You may easily register, pay dues and fees, log your volunteer hours, set up automated reminders, sync the calendar on your phone, and more if you've been invited to participate. SignUp helps safe occupancy management throughout the pandemic.
Key Features
It enables non-profit organizations to organize their fundraising, event planning, and employee scheduling processes on a single platform.
Employees can use it to maintain volunteer records, invite stakeholders to events via email or SMS, and get real-time confirmations.
A number of services are available on SignUp.com, including engagement metrics, reporting, custom workflows, calendar management, reminders, and more.
Cost:
Basic plan: Free
Starter plan: $9.99/month or $99.99/year
Plus plan – $24.99/month or $249.99/year.
EventBrite
Eventbrite is a free Sign Up alternative that enables event planners to arrange events of any size, sell tickets for them, and promote them. They can also immediately advertise their events on Facebook, Twitter, and other social media platforms through the site's user interface.
The self-service event planning options offered by Eventbrite, such as email invitation generation, RSVP tracking, and ticket sales, are advantageous to organizers. With the aid of Eventbrite, users may target the attendees who are most interested in their events and increase the number of tickets they sell.
Key Features
You may find out about events in your area that are well-liked and recommended.
You can locate the week's and weekend's forthcoming events.
You can sign up for events and purchase tickets.
You may browse information about the event, such as maps and directions.
Events can be easily shared with your friends.
You don't need paper tickets to enter events; all you need is your phone.
Cost:
Basic plan: 2% plus $0.79 per bought ticket
Professional plan: 3.5% plus $1.59 for each purchased ticket
Premium plan: get in touch with Eventbrite for a special price quote.
Calendly
Calendly is a virtual availability and booking software used by both individuals and organizations to schedule meetings, appointments, and events. You can set meeting preferences, choose a meeting type, notify attendees via email and SMS, and interact with your coworkers.
When you book a meeting, you may also send email invitations, thank-you notes, requests for additional meetings, feedback forms, and more. Everything you require to schedule, monitor, and manage appointments is contained in this straightforward, user-friendly software.
Key Features
You will never have a conflicting appointment because it integrates with your Google, Outlook, Office 365, or iCloud calendar.
You can avoid last-minute meetings, create secret event kinds, specify buffer durations between meetings, and more.
Time zone detection for your invitees is handled seamlessly so that everyone is on the same page.
Use tools like Zoom, Google Meet, Salesforce, GoToMeeting, Zapier, and others to automate processes.
Cost:
Basic plan: $0
Premium plan: $8.00 per month
Pro Plan: $12.00 per month
TeamUp
Teamup is an online tool that helps organizations manage their resources, plan and visualize resource utilization, schedule tasks and monitor progress, simplify event signups, and more. It is simple and free.
Groups can collect, update, filter, and share information in a variety of dimensions using custom fields and document attachments. Individuals have access to exactly the information they require thanks to centralized calendar management and customizable access control, while managers can simply bring disparate teams together and maintain real-time alignment.
Key Features
It facilitates more effective planning, organization, access, and sharing of information for both groups and individuals.
Whether you need to set up teams, schedule tasks, control the availability of resources, or arrange events and distribute information.
You may easily design the calendar solution you require with Teamup.
Centrally controlled with nine access permission levels.
It supports comments and event registration.
Cost:
Basic plan: free for up to 8 sub-calendars.
Plus plan: $8/month for up to 12 sub-calendars.
VolunteerHub
VolunteerHub is an online app for managing volunteers and collecting donations. You may more easily plan, schedule, and attract volunteers for events because of its simplified approach to excellent volunteer management and engagement.
For optimum event involvement, it provides prizes and recognition, gamification, and point assignment. Single sign-on, messages, custom forms, emails, and social media scheduling can all be automated by you. In addition, it offers a helpful support staff that walks volunteers through using the interface.
Key Features
You can put up industry-specific fields in the application's user interface according to their needs and those of their companies.
· It provides options for creating landing pages tailored to certain events as well as automated email confirmations and reminders for registration.
It offers a phone app that can be used on-site and across all platforms to manage volunteers and make event check-ins simple.
Allows for rapid and simple event modification in case of modifications.
By doing away with the manual process of sending and updating text messages and emails, it saves time and encourages effective volunteer engagement.
Cost:
Plus plan: $150 per month for up to 1000 volunteers.
Pro plan: $289 per month for up to 2500 volunteers.
Google Forms
With Google Forms, you can collect information using a survey page that presents your business in a more credible way to your target audience. To improve the client experience, you can upload images and videos and generate unique questions using the system.
Additionally, forms compile finished surveys in one place. All finished responses are automatically added to a different Google Sheets file, where they are saved and examined for later use. After processing the responses, the application displays them to you in attractive charts and graphs.
Key Features
Control who can read and change data by modifying the sharing options for each Google form to keep forms private.
You can create a questionnaire.
You can use capabilities for real-time collaboration to quickly construct forms.
The intelligent data validation rules in Google Forms make sure that email addresses are formatted correctly, that data is accurate, and that people receive the right questions based on past responses.
You can create, modify, and submit forms using any device, including a desktop computer, tablet, or smartphone.
Cost:
Personal: Free
Basic plan: $6/month per user and comes with video meeting capabilities, 30 GB of cloud storage, and standard support.
Premium plan: $12/month per user and includes everything in the Starter plan, with the ability to record video meetings as well as 2 TB of storage.
Business plan: $18/month per user and comes with a custom email account, 5 TB of cloud storage, and enhanced security controls. 
Final Words
Above all are the best Sign Up Genius alternatives for recruiting volunteers and arranging events. These apps generally come in both free and paid editions. Additionally, you can test out their free trial to see if it satisfies your needs. Hopefully, the above article has assisted you in identifying the top Sign Up Genius alternative.
10 Insider Sites like Glassdoor with Employee Reviews! [2022]
FAQs
What is SignUpGenius good for?
SignUpGenius is a cloud-based solution for volunteer management and event planning tool for creating online sign up forms. Create and customize sign up for organizing registrations, volunteers or events. Invite an audience via email and social media to sign up online.
Is there a free version of SignUpGenius?
SignUpGenius Basic is free. Premium Features are available and start at $11.99/month. SignUpGenius Premium is available in monthly and annual subscriptions. Collect Money on sign ups is available for a service fee 5% of the purchase price plus $0.50 per transaction.