7 Best Apps like GoodNotes To Take Notes [iOS,Android 2023]
We may earn small commission from the products mentioned in this post.
Apps like GoodNotes: GoodNotes has recently become a popular topic on the internet for its extraordinary features that allow users to save notes digitally on their Apple devices. But, are you among those users who cannot use the GoodNotes app because it is only available for Apple devices or because its subscription plans are expensive?
In any of the forenamed possibilities, you do not have to worry anymore as we have brought together some good apps like GoodNotes in the list mentioned below.
About GoodNotes
GoodNotes is known as the best note-taking app solely for iPad users. It is an optimized tool for Apple Pencil and has good handwriting recognition and convergence. And it acts as an important tool for your digital note-taking moments.
Notability
Highlights
Available for: iPadOS and iPhone
Free Version: Yes
Free trial for paid version: N/a
Best Deal of the Day
Reason to Buy
Secured iOS integration and iCloud support.
Has an amazing handwriting recognition quality.
It can be optimized perfectly with the Apple Pencil.
Notability offers good features for its free version.
You can easily search the documents and media files by the name they are saved with.
Reason to Avoid
Its subscription plans are expensive.
You cannot backup files since the app does not ask for any account or login data.
Notability is a leading note-taking app for Apple devices that allows users to take notes and annotation of PDF files.
The highlight of the Notability app is that it can not only jot down your text but if you are an artist or student, then you can also make diagrams and artworks with its good variety of brushes and pens. Another highlight is that you can mix pen and highlighter tools to make other shades and different effects.
Furthermore, Notability also allows you to share your notes in public and with other members while downloading notes from others. It has an in-app feature to record and replay your audio notes too. And the sync feature of audio is smooth and your notes will be automatically noted down on the screen.
Apple Notes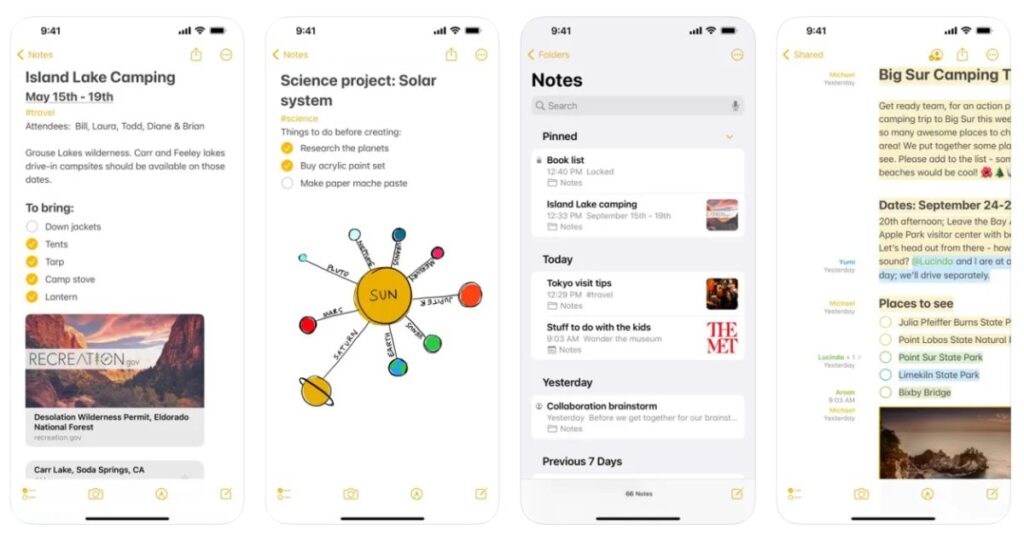 Highlights
Available for: iPad and iPhone
Free Version: Yes
Free trial for paid version: No
Best Deal of the Day
N/a
Reason to Get
It has some amazing scribble and handwriting recognition.
You can type and scribble in one note systematically.
It is connected via iCloud.
The app is extremely simple to use and understand.
Reason to Avoid
Printing can come out weird.
Apple Note is one of the best apps like GoodNotes which is a favourite note-taking app for many users who do not like to spend money on note-taking platforms.
It can be either used for short text notes like to-do-lists, noting down small details, reminders or for scribbling and typing more notes like case studies, assignments, regular college or school noise, etc.
You can change the colour of your pencil as Apple Notes offers a good variety of colours with a pen, pencil, highlighter, and a few more. And you can add photos, videos, and other media files.
Not only that, but you can also jot down phone numbers, upload documents and links, and do a good bunch of more things with the app. 
Samsung Notes
Highlights
Available for: Android
Free Version: Yes
Free trial for paid version: N/a
Best Deal of the Day
Reason to Get
You can lock certain notes with the help of a password. In this way, the notes will only open when you type in the correct password.
You can use the rich text toolbar to edit the style of your text.
Samsung Notes app can be used with any pencil.
Reason to Avoid
Samsung Notes does offer limited storage options.
Samsung Notes is a note creating app that contains footnotes, voice recordings, music, text and images. The main goal of the app is to provide a smooth digital surface where you can scribble, write, and do whatever you want with your pencil or finger. This makes the Samsung Notes app a promising app like GoodNotes.
It provides a good variety of brushes and colour mixtures. So, you can not only write notes, but you can also draw beautiful drawings like any professional painter. Moreover, users with paintings can share their artworks at PENUP publically.
So, Samsung Notes is a great platform for those who love writing but not in real books. In addition, users can share their notes easily to SNS. And you can import the notes that you have already made from any memo app into the Samsung Notes app.
Noteshelf
Highlights
Available for: Android, iPad, Mac and iPhones.
Free Version: No
Free trial for paid version: No
Best Deal of the Day
Reason to Buy
You can record audio with the help of the Noteshelf app's in-app record audio feature and the file will be uploaded automatically.
Noteshelf offers a markup PDFs feature.
The app has a good variety of templates and covers for notes.
Noteshelf includes a planner with an already-organized table.
Reason to Avoid
You will not get any preview of the features of the app because you will have to buy the app on the Google Play Store before using it.
With the Noteshelf app, users can create handwritten notes, record audio, doodle all their ideas and imagination and organize their notes professionally.
Along with notes, users can do many more activities like adding geometric shapes, changing the templates and customizing the notes page more according to their liking, adding photos, etc to make their notes more presentable.
And users can proofread documents, give feedback, annotate blueprints on different designs all at one place. Its ease of use makes the Noteshelf app one of the best GoodNotes alternatives.
Additionally, the Noteshelf app can help you record important discussions and details when you are in a hurry. Then you can play them anytime, even when you are taking notes on the screen.
Also, are you interested in journalling? Instead of just scribbling digitally, with Noteshelf's additional features you can make your journal look appealing by adding stickers, audio, pictures, etc. Noteshelf app also offers a Digital Diary in-app feature which has got you all covered for journaling and similar activities.
Evernote
Highlights
Available for: Windows, Android, iOS and macOS.
Free Version: Yes
Free trial for paid version: 14 days
Best Deal of the Day
Reason to Buy
You can keep track of meetings.
Offers some amazing group collaboration features.
It has a powerful and advanced multipurpose organisational system.
Ability to sync your iPad with other devices and get a hold of your notes through them.
Reason to Avoid
Has poor-quality research features.
It does not offer enough range of features.
The premium subscription plan is expensive.
The free account has a storage limitation of 60 MB per month
Evernote is a popular note-taking and task-managing app working around all the major platforms. It is one of the highly recommended apps especially if you have tons of notes to note down each day.
It mainly works for creating notes but you also can add different media files like audio and pictures along with saved web material which you can include in notes.
If you are an entrepreneur, executive or simply a creative person who loves to capture and arrange the ideas and details of important things then Evernote is your ultimate weapon to stay organised and work systematically.
Although there is a free version, if you do not want to work with the limitations of features, you can upgrade your account and opt for the paid version with a SaaS license.
Evernote vs GoodNotes: What is the Best Note-Taking app? [2023]
Pocket vs Evernote: Which Is Better? [2023]
Obsidian vs OneNote: Which Is Better Note Taking App? [2023]
Microsoft OneNote
Highlights
Available for: iPhone, iPad, macOS, web, Android, and Windows.
Free Version: Yes
Free trial for paid version: One month only for office 365 subscription plan
Best Deal of the Day
Reason to Buy
Microsoft OneNote contains rich features and tools.
The app can be optimised for MS software.
It has a powerful free version.
Microsoft OneNote manages notes similar to a traditional notebook binder along with tabs.
The feature of copy and link pages can help you share notes with teammates and friends even without OneNote.
Reason to Avoid
If you want extra storage, that will require a paid subscription.
Creating and making changes to the tables is quite hard and confusing.
Microsoft OneNote is a popular notes program for gathering all the data you need and multi-user collaboration. The app is helpful to gather your notes, screen clippings, audio commentaries and drawings.
The main highlight of the Microsoft OneNote app is that you can share your notes with other users through the internet easily. Its copy and link page features help you to share your knowledge with other users even if they do not have access to OneNote.
Google Keep
Highlights
Available for: Apple iOS, Android, Chrome OS and Windows.
Free Version: Yes
Free trial for paid version: you can use up to 15 GB storage.
Best Deal of the Day
Reason to Buy
Google Keep has amazing connectivity to all the other Google applications.
It is easy to use and understand.
It has a good variety of visual planning tools.
It offers some amazing collaboration tools for group projects.
Reason to Avoid
Google Keep offers some big limitations for its free version.
Google Keep is another good note taking app like GoodNotes that is included as a free part/feature of the web based Google docs editor suite. With help of Google Keep you can get easy access to other services like Google sheets, Google slides, and Google drawings and connect everything.
While it helps you take notes, if you have your documents spread out in different Google apps, Google Keep will act like an ultimate tool to gather everything and help you manage easily. Just a few clicks here and there and linking up with your notes from other devices will be easier too.
For instance, if you are on a big project, with the help of Google Keep and other Google tools you can note down your ideas and share them to the broader and important platforms, among your teammates, etc.
Final Words
GoodNotes is a simple app with numerous professional tools and features. It can play a good part in managing your business, studies and day-to-day life.
But, if you still wish to opt for its alternative, then the apps like GoodNotes mentioned in the above article can do a great job.
Frequently asked Questions
Which are good apps like GoodNotes but free? 
Notability, Apple Notes and Google Keep are a few good apps like GoodNotes but free. A few of them also offer paid subscription plans but if you do not want to pay for organising your notes, their free versions can cover almost everything for you.
Which are apps like GoodNotes for Android?
Google Keep, Microsoft OneNote and Evernote are a few apps like GoodNotes for Android. All of them have received a good response for users and contain enough tools to make any notes activity creative.
Is GoodNotes for Apple only?
Yes, the GoodNotes app is only available for Apple devices. It can be used on iPadOS, macOS and iPhone but not on any other company devices including Android.