Afterpay vs ZipPay: Which Is Better BNPL Service? [2023]
We may earn small commission from the products mentioned in this post.
Afterpay vs ZipPay: Both Afterpay and Zippay are two of the popular BNPL services that allow you to pay for your purchases in interest-free installments.
They both have been in Australia for over six years and their popularity has grown over time. So, what is the difference between the two? Well, they differ in terms of the fees, the repayment options, and the maximum amount you can access to complete a purchase.
So, which one is the best? To know the answer to this question, keep on reading this Afterpay vs ZipPay comparison article.
Afterpay vs ZipPay: Overview
Afterpay
Afterpay is a financial technology popularly known for its buy now, pay later service which allows online and in-store purchases and lets you pay back your purchase in four equal fortnightly installments.
In order to avoid conventional credit cards and loans, Afterpay has become a popular payment option all over Australia.
When you tend to purchase something, Afterpay first pays the retailers the complete purchase amount upfront, and the remaining installment should be paid by you over the next few weeks.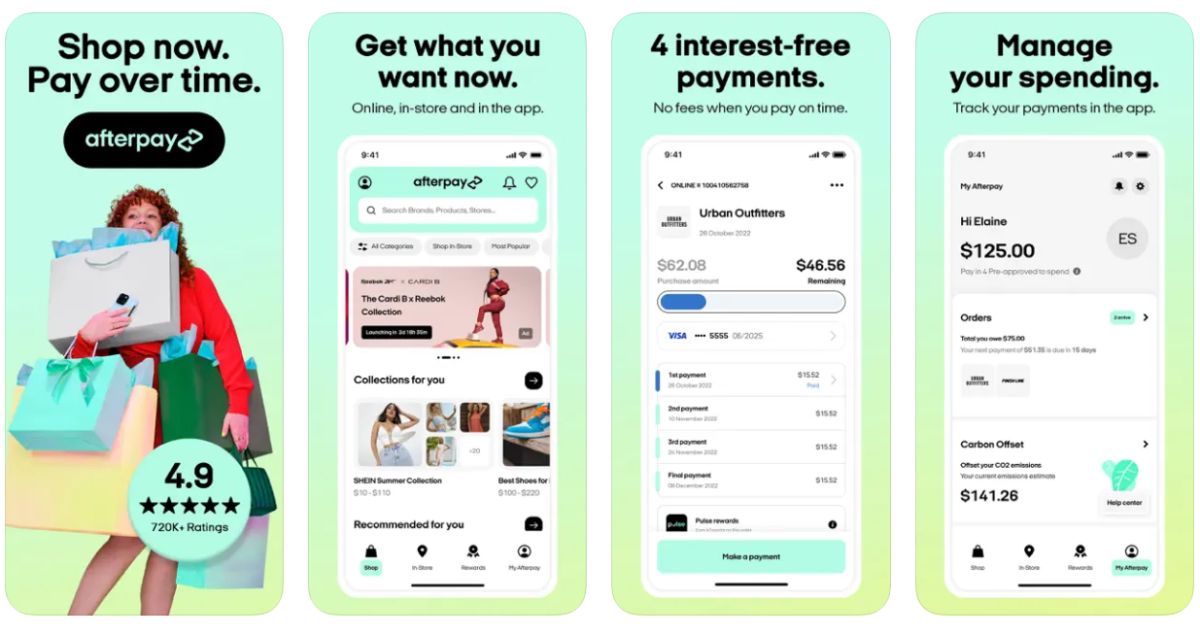 ZipPay
ZipPay is another BNPL service that is similar to Afterpay. It lets you make purchases and pay for them in installments with more flexible options. So, it helps you navigate your everyday life with ease by spreading the cost of your purchases over time.
It is partnered with numerous industries, including beauty, electronics, fashion, and home goods, and is available in many countries like the United Kingdom and the United States.
Besides BNPL service, it also offers you the ability to access small personal loans and a digital wallet for managing your finances.
Afterpay vs ZipPay: How Do They Work?
Since none of them allows anyone to access the services, you're supposed to quality an eligibility criterion. Both Afterpay and ZipPay have similar eligibility criteria which are as follows.
You should be at least 18 years of age.
Have a valid email address and a credit card or debit card to link to your ZipPay or Afterpay account.
Must be an Australian citizen.
Provide proof of identity and income to access ZipPay and Afterpay services.
Both Afterpay and Zippay perform a credit check to check whether you are eligible to use their services.
Afterpay
To get started with Afterpay, all you need to do is to create an account by providing your email address, phone number, and payment information. And choose Afterpay as your payment method when you are checking out from an in-store or online store with a maximum limit of $1,500.
If you are eligible, it'll divide the cost of your purchase into four equal installments that are due every two weeks with the first installment paid at the time of purchase.
Remember that passing the eligibility criteria doesn't mean that you're automatically qualified for your ongoing approval. Afterpay will assess you every time you want to use the service.
Usually, Afterpay pays the seller for your purchase upfront so that you can receive your products instantly. Then, it will directly deduct the remaining three installments from the payment method you've selected until the complete balance is paid off.
ZipPay
Similar to Afterpay, ZipPay works the same by making life more affordable by splitting the cost of your purchases over time. You can easily start by creating an account for free and choose Zippay as your payment method when you are checking out.
Start your application to get an answer soon. So, once you are approved, you can spend up to $1,000 to purchase goods either online or in-store. Although $1,000 is the maximum credit limit, it also offers different credit limit tiers like $300 and $500.
Since you have the freedom to select your own schedule, you can pay back the amount either in full at the end of the month or spread the payments over different installations, ranging from weekly to monthly, and the money will be automatically deducted from the account you've attached.
However, ZipPay requires a minimum repayment amount of $40 per month $80 per month if your credit limit is greater than $1,000. And the repayment terms for bigger payments ranged from 6 to 48 months.
Features
Afterpay
Instant approval: Get instant approval to apply for an account online and get approved for BNPL service within minutes.
Wide acceptance: A large number of stores both in-store and online accept Afterpay thus making it easier to pay for your purchases.
Interest-free payments: You can pay for your purchase in four equal installments without any interest.
Security: It protects your data and transactions by using all required security measures.
Automatic payments: On the due date, it automatically deducts the money from your linked credit or debit card thus you don't have to worry about remembering to pay on time.
Flexibility: You can choose your payment schedule. For instance, you can choose to pay in four equal installments over six weeks or pay off early.
Late or missed payment fees: It charges a late payment fee for missed payments, so make payments on time to avoid extra charges.
ZipPay
Interest-free payments: You can pay for your purchase in four equal installments without any interest.
Offers & Cashback: Use Zippay for your purchases and earn instant cashback rewards in-store and online.
Digital Wallet: Store multiple payment methods thus making it easier to manage your finances and make purchases.
Automatic payments: Like Afterpay, it automatically deducts the required money from your linked bank account.
Budgeting tools: Helps you manage your finances more effectively.
Repayments: Customize your repayment amount, date, and frequency, including weekly, fortnightly, or monthly payments based on your requirements.
Late payment fees: Zippay also charges a late fee for not making your payments on time.
Feasibility: Easily pay in-store and online by tapping Zippay on your device or using a virtual card.
How Much Will They Charge?
Afterpay
Afterpay is a free service that doesn't charge any upfront fee or interest. However, if you don't complete your payments on time, it charges a late fee.
ZipPay
ZipPay charges a monthly account fee of $7.95 which will be waived if you pay your statement closing balance completely by the due date.
Fees Comparison:
| | | |
| --- | --- | --- |
| | Afterpay | ZipPay |
| Account Fee | None | $7.95 |
| Limit | Up to $1,500 | $1,000 |
| Repayments | Four equal instalments are paid fortnightly | Though there are no scheduled repayments, it usually ranges from 6 to 48 months. And there is a minimum repayment of $40 a month |
| Late Fee | $10 and if not paid within 7 days, there is a further fee of $7. | If the payments are not paid within 21 days, you'll be charged $5. |
What Are the Differences Between Afterpay and ZipPay?
Although both ZipPay and Afterpay are famous BNPL services that let you purchase whatever you want and pay for them overtime without a credit card, they are pretty different from each other.
They differ from each other in terms of fees that you may have to pay and the overall credit limit. Also, Afterpay pays 25 percent of the purchase price as an upfront fee with the remaining three installments due every week, while ZipPay lets you choose your repayment schedule.
Below are a few similarities and differences between Afterpay and ZipPay.
Where you can shop: Both let you shop in-store or online stores that accept their services.
Approval Process: Afterpay approves users depending on their credit history and repayments. And ZipPay performs a credit check and considers other factors like income and employment.
Account keeping fees: There is no account keeping fee for Afterpay but ZipPay charges $7.95 if you have an outstanding balance.
Credit Limit: Afterpay's pre-approved credit limit can increase over time as you make payments on time and use the service. While ZipPay also offers a credit limit that depends on your creditworthiness.
Repayment Schedule: Afterpay lets you make four equal payments over six weeks with an upfront payment of 25%. While ZipPay lets you select your repayment schedule ranging from 6 to 48 months with the ability to make your own number and frequency of payments. Also, ZipPay requires a minimum of $40 per month.
Fees: ZipPay charges a flat $6 if you don't make the payment on time. And Afterpay charges $10.
Afterpay vs ZipPay: Which is Better?
BNPL services can be a great charge if you want a more manageable way of making a large purchase. Though they let you bring products home sooner and promote themselves as interest-free services, there are some catches.
For instance, ZipPay charges a monthly fee on your account unless you pack it back completely every month. And there are also late fees if you miss any repayment, which could impact your credit score negatively.
Besides, since you should connect your account to a credit card, you might find yourself taking a double hit on fees and extending your financial pain if you can't keep up with repayments.
Nonetheless, BNPL services may help you review your budget and check whether you'll be able to meet the payment deadlines on time to avoid any account keeping fees or late payment fees. So, we hope this article has given you a detailed comparison between Afterpay and Zippay.
FAQs
Is Zippay better than Afterpay?
Both Afterpay and Zippay are two of the popular BNPL services that allow you to pay for your purchases in interest-free installments. However, deciding which one is better typically depends on your requirements.
Is Afterpay and Zippay the same?
No, both Zippay and Afterpay are different platforms that offer the same type of service called BNPL services.
What is the Afterpay max limit?
The maximum amount you can spend with Afterpay in a single transaction is $1,500 but you can hold an outstanding limit of $2,000 per account.
Try Alternatives-