Sezzle vs Afterpay: Which Is Best BNPL Service? [2023]
We may earn small commission from the products mentioned in this post.
Sezzle vs Afterpay: Sezzle and Afterpay are both popular payment services that let you split the cost of your purchases into installments instead of paying the complete amount upfront.
Since both platforms have a quick approval process and are integrated with various in-store and online stores, which one is the best?
So, to know which is the best BNPL platform, read the article below where we have given a detailed Sezzle vs Afterpay review.
Sezzle vs Afterpay: Overview
Here is a detailed Afterpay vs Sezzle comparison.
Sezzle
Sezzle is an online payment platform that lets you make purchases and split the payment into interest-free installments for 3 months or six-week period.
It is partnered with numerous merchants that offer the latest trends in home goods, fashion, beauty, and more, and gives you the ability to use Sezzle during the checkout process.
Besides, you can easily take control of your purchases by managing your existing orders, changing your payment methods, and rescheduling future payments.
So, if you don't want to use a credit card or take out a loan, using Sezzle can be the best option as it provides financial flexibility and independence.
Afterpay
Afteroay is a BNPL service that lets you divide the cost of your purchases into four interest-free payments for every two weeks.
Similar to Sezzle, you can shop from numerous in-store and online stores and get amazing shopping deals on a range of fashion, beauty, homeware, and more.
And you can easily create your repayment plan to settle up your payment later in four interest-free installments every two weeks.
Also, you'll be charged a fee if you make a repayment late otherwise, you don't have to worry about paying any kind of fees including interest.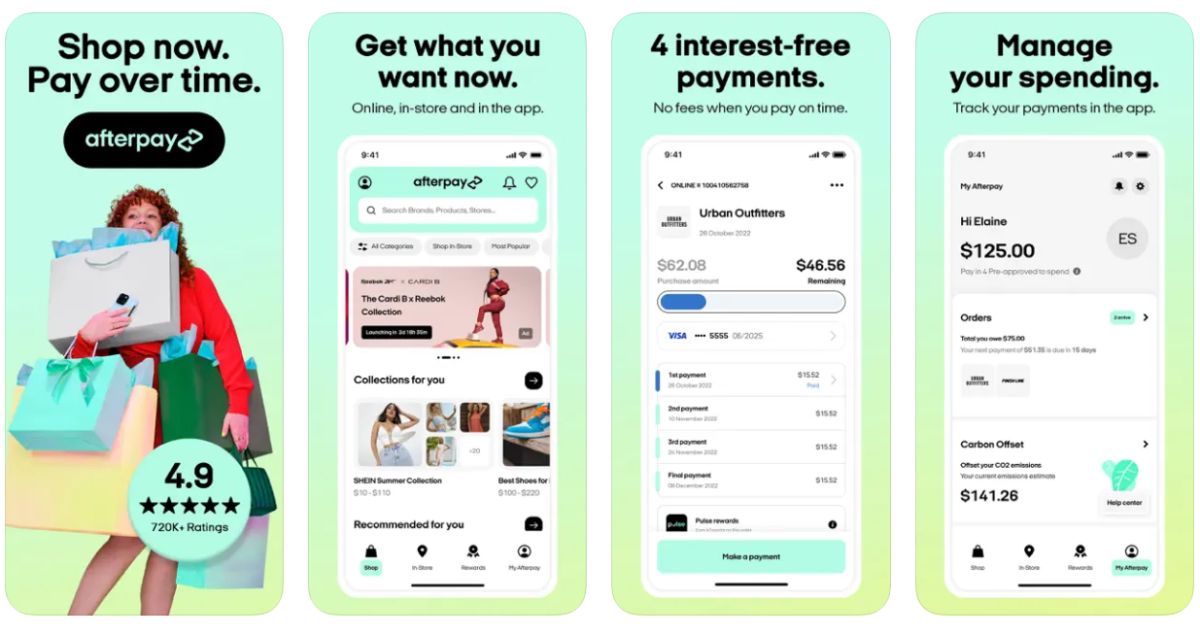 Sezzle vs Afterpay: How Do they Work?
Sezzle
Easily get started with Sezzle by signing up in a few simple steps. All it needs is the following info to complete your sign-up.
Have a US or Canadian phone number that can get a text.
Be 18 years of age or older.
Verify your email address.
Have a non-prepaid payment method available.
Once you've given all the required details, sign up and get approved within a few minutes. Then, you can choose from over 47,000 brands to shop and use Sezzle at the checkout as a payment method.
Typically, it required an upfront fee or first installment or the down payment of 25% to be paid at the time of purchase and the remaining amount split across three more installments with the due date two weeks apart.
This also means that, when you place the order, Sezzle pays completely to the merchant thus they are able to process your order. And once you've made all four payments to Sezzle, your purchase is complete.
Afterpay
To create an account with Afterpay, you'll need to meet the following requirements.
Be a resident of the United States.
Should be at least 18 years old.
Have a valid and verifiable address in the United States.
Be capable of entering into a legally binding contract.
Be authorized to use a US-issued debit card, credit card, or bank checking account to initiate the purchase.
If you meet the above eligibility criteria, you can easily sign up for an Afterpay account and get approved within a few minutes.
Once you've created an account, you can browse through various stores and select Afterpay as your payment method during the checkout process.
Afterpay will automatically split your purchase into four equal payments with the first installment paid at the time of purchase. And once you complete your purchase, the seller will ship your goods.
And you can pay the rest of your payments over the next six weeks, each two weeks apart, till you pay the complete amount. You don't have to worry about forgetting your payment date because Afterpay will send you reminders before each payment.
Features
Sezzle
Offers an easy and flexible payment option to make your purchases and manage your finances.
Interest-free payments let you split the cost of your purchase into four payments over six weeks.
It performs a soft credit check, and your credit score will not be affected.
Over 48,000 in-store and online stores accept Sezzle thus making it a convenient payment option for you.
Get new offers and various other ways to save money at your favorite stores.
Your next installments are automatically deducted from your chosen payment method.
Offers a flexible refund policy if you wish to return a product and get a refund.
Afterpay
Browse thousands of retailers and shopping brands and find your favorite beauty and fashion brand & stores.
It makes it easy by not having to pay the complete amount upfront and pay for it in four interest-free installments.
It doesn't perform a credit check thus making it easier for people with lower credit scores to access credit.
There is no interest or fee, but it charges a late fee for missed payments.
Easily manage your purchases, make payments, and keep track of your spending.
Afterpay is available in Australia, the United States, the United Kingdom, France, New Zealand, Canada, and Spain.
Differences Between Sezzle and Afterpay
Availability
Sezzle: It is available in both the United States and Canada.
Afterpay: Unlike Sezzle, Afterpay is available in various countries including Australia, the United States, the United Kingdom, France, New Zealand, Canada, and Spain.
Merchant Network
Sezzle: Over 40,000 merchants in Canada and the United States accept Sezzle. For online purchases, simply use Sezzle at the checkout process and complete the necessary steps.
And for in-store purchases, you can access the Sezzle Virtual Card and add it to your Apple Pay or Google Pay account to pay. You can use this card to make in-store and online purchases.
Afterpay: Around 80,000 retailers across the world accept Afterpay. For in-store purchases, Afterpay offers two options – to generate a barcode in the app and show it to the store staff. Or create an Afterpay card and add it to Google Pay or Apple Pay.
And for online purchases, you can simply use Afterpay on the checkout page. All you need to do is to sign up and get approved instantly.
Credit Check
Sezzle: Since Sezzle is not a credit card, it doesn't perform a hard credit check and instead it performs a soft credit check which will not affect your credit score.
Afterpay: It doesn't perform any kind of credit check, so people with poor or no credit history access Afterpay.
Credit Limits
Sezzle: Usually, your spending limit vary by merchant which you can see at each merchant through the Sezzle app. However, according to various sources, it has a credit limit of $2,500.
If you are a new user, you won't be able to access the complete credit limit on your first purchase. But, as you continue to make payments on time, your credit limit might increase up to $2,500.
Afterpay: You can start with a spending limit of around $600 which will increase eventually over time as you shop more. And this also differs by location.
Typically, you can have a balance of $2,000 on your account at any given time and each individual purchase can be a maximum of $1,500.
Installment Period
Both Sezzle and Afterpay split your purchase into four interest-free installments over six weeks with the first payments which is about 25% of the total order as an upfront fee or first installment is charged when you make the purchase.
Besides, Afterpay also offers a monthly payment option which offers 6 or 12 month interest-based repayment option upon approval. However, it is not available in some cities of the United States.
Reschedule Payments
Sezzle: If you cannot make your payments on the originally scheduled date, you can reschedule your payment for free the first time. But, if you want to reschedule a second or third time, a fee will be added to your next upcoming payment.
However, remember that payments can only be moved two weeks out from their original due date and until all your rescheduled installments on your account are paid in full, you'll cannot place any new orders.
Afterpay: You can easily change the due date of a payment through the app or the website. However, this option might not be available for the following reasons.
You cannot move the payment date on certain purchases.
New users cannot access this feature.
You can only move one payment per order.
If the payment is already due within the next 24 hours.
You cannot reschedule the first or last payments by yourself.
Fees
Sezzle: It charges the following fees:
More than one rescheduling fee.
If your payment fails, a reactivation fee is added to the payment, which will be waived if you resolve the payment issue within 48 hours.
Monthly minimum account management fees for merchants.
A convenience fee is charged if you use a debit, credit, or prepaid card to pay off installments for your purchase.
Afterpay: Afterpay is a free service that doesn't charge interest or any hidden fees. But the only fees it charges are the late payment fee which are capped at 25% of the total order value.
In other words, for every order below $40, a maximum of $10 late fee will be applied and for the order above $40, it is capped at 25%.
Final words
When deciding between Sezzle and Afterpay, there are many factors to consider. For instance, payment options, fees, installment period, approval process, etc.
BNPL platforms charge a late fee if you miss a payment, and both offer four interest-free installments for six weeks.
When it comes to the approval process, Sezzle performs a soft credit check which doesn't impact your credit score. While Afterpay doesn't perform a credit check at all but might affect your credit score if you don't make payments on time.
Further, Afterpay has a larger merchant network across the globe, wherein you might not be able to use Sezzle in all stores. So, it depends on your needs and preference to decide between Afterpay and Sezzle.
Hopefully, this article on Sezzle vs Afterpay has helped you know everything about them.
FAQs
Is Sezzle the same as Afterpay?
Both Afterpay and Sezzle are buy now, pay later services that let you buy things now and paying for them later.
Does everyone get approved for Sezzle?
No, Sezzle considers various factors during the approval process, so it doesn't approve everyone and all orders.
What countries is Sezzle accepted?
Sezzle is a financial technology that is operating in Canada and the United States.
Try Alternatives-