Zello vs WhatsApp vs Voxer: Which Is Better For You?[2023]
We may earn small commission from the products mentioned in this post.
Zello vs WhatsApp vs Voxer – Traditional Walkie-Talkies, which has been used for several small and large events for quick and effective communications have many downsides, including carrying an additional device wherever you go, changing channels for various chats or to reach diverse people, perhaps missing out some messages, etc.
Thankfully, smartphone apps that function as push-to-talk have made real-time conversation easier and simpler as you no longer have to carry any extra device with you.
Zello, WhatsApp, and Voxer are such apps that offer real-time communication. In this article, we will have a Zello vs WhatsApp vs Voxer comparison, which will help you select the best option.
Zello vs WhatsApp vs Voxer: What are They?
The main difference between Zello, WhatsApp, and Voxer is that WhatsApp only lets you send the audio message when you finish recording, whereas Zello and Voxer stream it in real-time. Read on further to know more about Zello vs WhatsApp vs Voxer comparison.
Zello is an emulate push-to-push walkie-talkie platform that works in traditional two-way radio, with a walkie-talkie style communication.
It lets to talk one-on-one in a channel with a group of people or to a single person.
Likewise, it offers numerous advanced features, including notifications, history, replay last message, and Bluetooth device support.
Zello Walkie Talkie App Review: Features, Plans, Legit?
Zello provides several advantages over traditional walkie-talkies. You don't have to buy any extra hardware, you don't have to ensure whether you are using the correct frequency, and the range does not limit you. You can be able to use Zello with Wi-Fi or mobile data.
Zello Work is the paid service of Zello application that lets businesses and other organizations to have real-time communication over channels or groups.
Zello users can create channels and provide control to other Zello users to work as moderators. It can be accessed through iOS, Android, Blackberry, Windows Phone, and Windows PC.
Key Features:
It offers a list of certified accessories to use with the Zello application.
It supports over 1,200 users per channel, so you can talk to as many people as you want.
You can create channels and communicate live with other people and groups through an app.
You can be able to share the channel with your family and friends online through Twitter, text messages, Facebook, and email.
Notifications can be set up to sound till a message has been received.
In case of an emergency situation or any other incident, you can quickly broadcast messages or instructions to the people.
Ability to view your history of communications in date and time, including text, voice, images sent and received.
You can also monitor the movement and location of your team member or track transportation through the map view.
WhatsApp
WhatsApp Messenger is a VoIP and instant messaging platform that lets users to send voice messages and text messages, share documents, images, users' locations, make video and voice calls, and much more.
It is compatible with mobile devices and accessible on PC, as long as you're connected to the internet.
You can be able to quickly view your contacts who are on WhatsApp and immediately start messaging, all you require is your phone number.
WhatsApp has become the primary internet communication method in several locations, including the Indian subcontinent, Latin America, and large parts of Africa and Europe.
WhatsApp uses your Wi-Fi connection or mobile data to send messages and voice calls to whomever you want.
You can also be able to set personalized wallpapers, notification alerts, use the camera to click photos or record videos, and instantly broadcast messages to several messages.
Key Features:
Your personal messages and calls to family and friends are end-to-end encrypted.
Status lets you to share photos, text, video, and GIF updates that disappear after the 24 hours.
Its disappearing mode feature lets you allow disappearing messages across all your chats.
You can be able to change the background and share your GPS location to a collaborative map.
Ability to block contacts within the app or share a friend's data to another user.
You can use the broadcast message feature to bring up your whole contact list and add contacts quickly to share a message immediately.
It enables you to control who sees your status updates, profile photo, and other information.
Voxer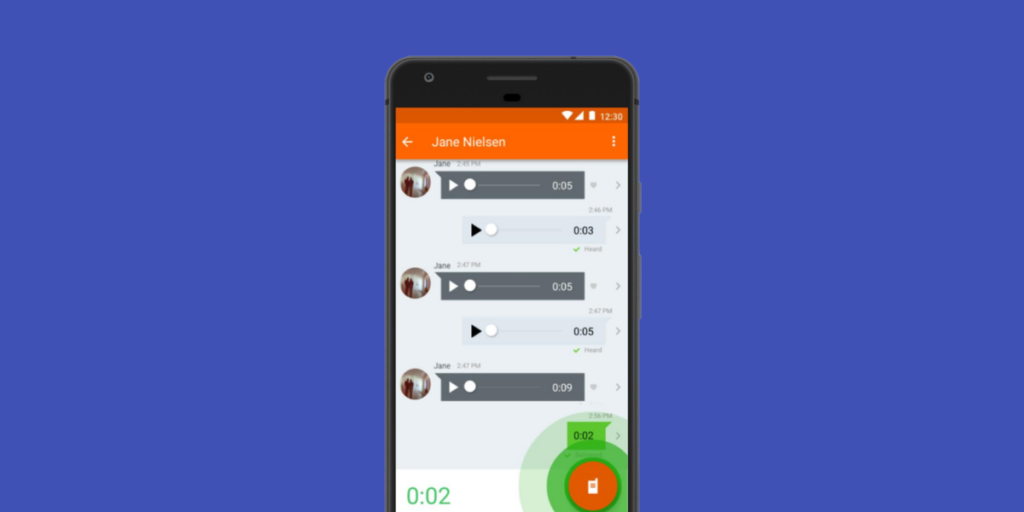 Voxer uses a lot of patents and technology across its live streaming voice services to create a "push-to-talk' that makes live communication. You can easily and immediately connect with family, friends or teams at work live or just listen to the saved messages.
This service is known as Voxer Walkie Talkie, it allows users to listen to messages at their ease.
It also lets users to send photos and text messages. It has users worldwide, including the United States, Canada, England, Germany, Asia, Mexico, and many more.
Furthermore, its location feature lets users to see on an interactive map where other users are positioned when they send a message.
It can work over EDGE, 4G, 3G, and Wi-Fi. Its upgraded version is built for mobile or remote teams who require to communicate quickly.
Key Features:
You can hear messages as people speak, or listen later at your convenience.
You can use instant voice communication along with photos, GIFs, text, and videos.
It works with both iOS and Android operating system and over EDGE, 4G, 3G or Wi-Fi.
Send end-to-end encrypted messaged with private chats.
You can create chats up to 500 individuals or team contacts.
Its voice-to-text transcription features lets you see a written copy of audio messages rather than listening to them.
Unlimited message storage enables you to access your complete message history.
Pricing: Zello vs WhatsApp vs Voxer
Zello
Zello standard app free for personal use, allowing friends, families, and even strangers with similar interests like yours to communicate.
Zello business costs $6.80 per month. Zello also has another paid version – Zello Enterprise, it offers a 30-days free trial.
Its paid version offers several features, including Unlimited channels, Live location tracking & maps, iOS/Android/Win Mobile/PC availability, Management console (Web-based), Live voice playback, AES 256-bit audio encryption and much more.
WhatsApp
WhatsApp is available for free in the Google Play Store or Apple App Store.
Voxer
Usually, the standard Voxer Walkie Talkie app is completely free. If you to upgrade for more advanced features, Voxer Pro subscription costs $3.99 per month or $29.99 per year. Voxer Pro Business costs $4.95 per user per month.
Zello vs WhatsApp vs Voxer: Which is Best?
All Zello, WhatsApp, Voxer are outstanding applications. Zello and Voxer a push-to-push walkie-talkie, which lets to talk one-on-one in a channel with a group of people or to a single person in real-time.
On the other hand, WhatsApp doesn't offer real-time voice messages as it only lets you send a voice message once you've finished recording.
Final Words: What did you choose? Well, if you ask us, it really depends on your needs and preferences.
So, we hope the above article on Zello vs WhatsApp vs Voxer comparison has helped you know what each app offers to choose accordingly.
8 Messanging Apps like LINE to Try Out [2022]
WeChat vs WhatsApp: Which Is Better Messaging App? [2023]