14 Top Venus AI Alternatives to Try Right Now! [2023]
We may earn small commission from the products mentioned in this post.
Venus AI Alternatives: Venus AI is one of the most popular AI-powered chatbots on the Internet — allowing you to interact with a virtual companion whenever you wish. Unlike many similar sites, it allows you to participate in uncensored conversations without any limits and restrictions.
Apart from the censorship highlight, Venus AI is a good chatbot for many reasons — giving you the full AI customization experience you would want. Yet, is it the only option you have? And as everything has its drawbacks, do you despise the disadvantages of using the Venus AI site?
If it's a no for the prior and a yes for the latter, then we are glad to inform you that the article mentioned below includes a list of the top Venus AI alternatives offering a good variety of benefits you'd like.
List of Venus AI Alternatives:
1. Venus Chub AI
Pricing: $20 per month
Platform/s: Web
Venus Chub AI is a new AI-powered site where you can talk to a good variety of virtual characters. Here, you are welcome to chat with your personal favorite character, or you can always choose from the recent hits and recommendations for them.
In addition to that, the chats and messages are updated every 5 minutes, and as of August 2023, there are over 30 characters you can talk to. With no categories, you can find many kinds, including autistic, hip-hop artists, unpopular waifu, anime, etc.
Key Highlights
You can chat with random characters, while the collection also includes characters from anime.
It offers many kinds of genres including horror, Yuri music, drama, romance, and more.
2. Janitor AI 
Pricing: Free
Platform/s: Web
Janitor AI is another good platform to find a big collection of characters. Here, one will basically be lost, not because of the website UI but because there are just too many options and ideal scenarios to see.
Janitor AI has thousands of characters with different personalities, male and female, and while some are straight out of your favorite anime or ideal scenario, there are others totally random yet interesting.
Additionally, whether you are interested in anime characters, gamers, or just want to chat with the most popular ones – Janitor AI has it all laid out for you.
Key Highlights
The site has more than 9000 characters to offer — all free of cost.
Chats and messages count will be updated every 15 to 30 minutes.
3. Character AI 
Pricing: Free. $9.99 monthly for a plus subscription.
Platform/s: Android and iOS
Character AI is one of the leading AI platforms currently on the Internet. It is a trending app where you can chat with many virtual characters, ask them anything, and get advice for almost everything, while you also have the option to create your ideal partner.
At character AI, you will basically be experiencing the true power of an artificial intelligence chatbot, which is able to understand, remember, and actually hear you.
Key Highlights
You get to chat with ultra-realistic personalities.
It offers an advanced creation tool, which can do a good job of helping you create anything you want.
You get to chat with your favorite characters, famous characters, and AI celebrities.
It offers help as your personal assistant in studies, work, etc.
4. AgnAIstic 
Pricing: Free. You pay for third-party AI services.
Platform/s: Web
Agnaistic is a well-known open-source, chat service where you are required to bring your own AI. Yes, here, you won't be asked to pay the usual monthly or yearly fee to use the bot but you would have to choose your own third-party services, create your own bot, and pay accordingly.
Moreover, there are many interesting and notable features of Agnaistic. For instance, you can tell your characters about their worlds through 'Memory Books', and if not that, then you can use the image generation tool to generate a scenario.
Key Highlights
It's free and you'll only pay for third-party AI services which you choose – and the price can vary according to your choice.
It allows you to give your characters a tone and talk with them.
You are allowed to permanently delete your private data anytime.
It lets you chat with several users as well as characters simultaneously.
5. SillyTavern
Pricing: n/a
Platform/s: Linux, Windows, macOS, and Android
SillyTavern here is a little different from what you have seen so far in the article. It is not a site or an app, but a user interface that you get to install on your monitors or Android devices, which will help you interact with next-generation AIs to chat and roleplay.
Overall, after you have successfully installed the UI on your device, the working of it will be like any other site.
Here, you can use customization tools to personalize your character, and if talking to an individual character doesn't excite you, then you can form a group and chat with your favorite characters
Key Highlights
The prompt crafting feature allows you to field different types of prompts like NSFW, jailbreak, and more to boost the chat whenever you wish.
You get to bookmark any highlight in the chat so that you can hop back and start reading in whichever direction you want.
6. ChatFAI 
Pricing: Free. $9 per month for basic, $29 per month for premium, and $59 per month for a deluxe subscription plan.
Platform/s: Web
ChatFAI is another one on the list to get you your favorite characters from books, history, movies, TV shows, etc. for chatting. Here, some are created as public characters randomly while some are straight out of your favorite show or movie.
Additionally, it uses powerful technology to make conversations feel lively and real – designed for natural conversations. Also, if chatting sounds boring, then you can always opt for role-playing playing with your favorite anime and manga character.
Key Highlights
You can add the bot to any discord server and chat in channels whenever you want, with others.
If you didn't find your favorite character in the list, then you always have the option of creating them.
7. Cleverbot 
Pricing: API prices start from $10 per month.
Platform/s: Web
Cleverbot seems to be a chatterbot web app using machine learning technology to have real and human-like conversations.
As the name suggests, with this bot, you can talk about anything and everything, and ask for advice, it will answer all your questions, and be a loyal companion. In addition to that, it is made to understand, imitate, and learn from people and context.
Key Highlights
You can discover new snips, add your own, and can also star the ones you like the most.
It doesn't have any restrictions on the NSFW content, and you can go deep with uncensored chats.
8. TavernAI 
Pricing: n/a
Platform/s: Web
TavernAI is one of our favorite AI platforms mentioned in this list. It is well-known for its adventure atmospheric chat room, where you can feel the real vibes of the scenario and talk to your favorite character.
At TavernAI, you get a full online characters library or you can always create characters with the personality setup system – adding customizations like your favorite personalities, appearance, and such.
Key Highlights
You get to choose from a good list of beautiful atmospheric backgrounds and landscapes.
Deleting, moving, and editing messages is allowed and can be done easily.
9. Inworld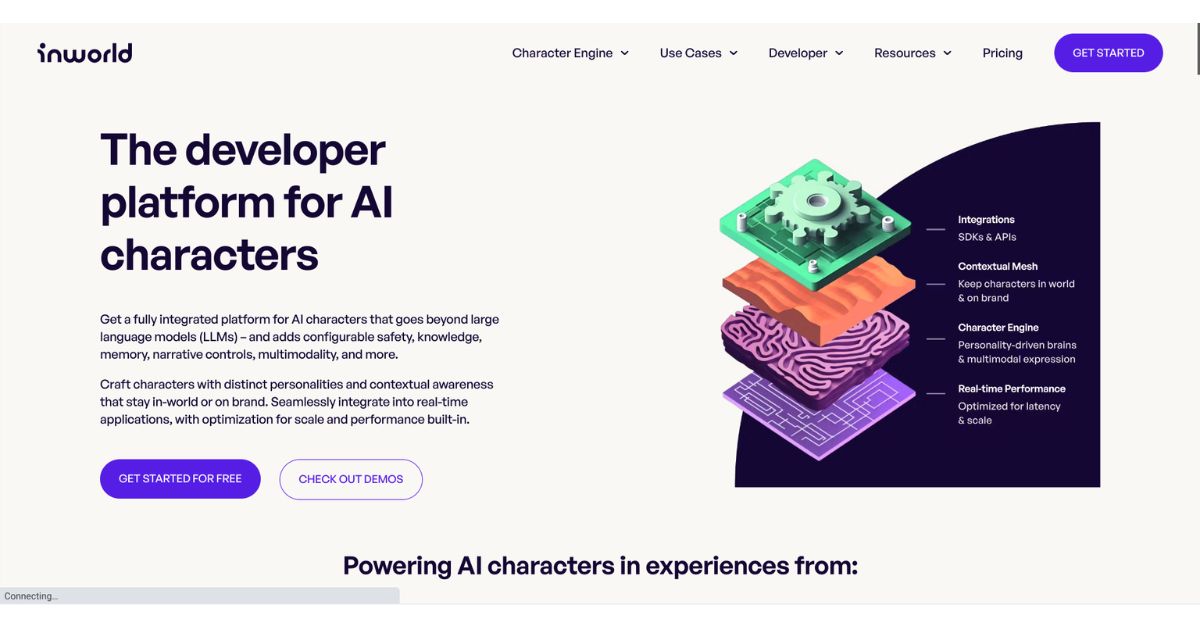 Pricing: Free. $20 per month for a pro and $5000 per month for an enterprise subscription plan.
Platform/s: Web
Inworld is a place with advanced character engines for AI NPCs exhibiting lifelike and complex human behaviors. This is used to increase player engagement, while you can use its studio to bring all your imaginations of games to life.
With Inworld, you will be experiencing crafting characters with different personalities and contextual awareness. It is where you can add knowledge, memory, multimodality, narrative controls, configurable safety, and more.
Although out of the content, the Inworld AI tool can do a good job in helping you manage things and interact more professionally with clients in business.
Key Highlights
All the creations are made to express emotions whenever required, which can be mapped to goals, triggers, and animation
You can opt for real-time voices using built-in voices, or, you can always integrate third-party services for the same.
10. Spicychat
Pricing: Free. $14.95 per month and $24.95 per month for premium subscription plans.
Platform/s: Web
SpicyChat is another reliable chatbot platform that comes with a good assortment of virtual AI characters. It's a platform made to make all your fantasies come to life, where you will be exploring the world of many different personalities.
At SpicyChat, you can start chatting with your favorite chatbot without any limits. Also, if you want to become a creator, then you can also try the advanced creation tool to create multiple personalities of your choice.
Key Highlights
There are over 9000 bots to choose from.
While you can search for different personalities, you will also find many scenarios including a roommate, best friend, bodyguard, and more.
The NSFW filter will give you all the characters available for uncensored content.
11. Risu AI
Pricing: n/a
Platform/s: Web
Risu AI is chock full of features and interesting stuff, an AI chatting platform with multiple API supports, waifu mode, auto translators, additional assets for displaying audios, images, videos on chat, and so much more.
With Risu AI, you can either use the usual chatting room, change the settings for text, or, an RPG simulator to have an even better experience. Also, you can create characters by personalizing descriptions, including names, gender, species, age, occupation, etc.
Key Highlights
You can opt for group chats where you can add your favorite characters and chat together.
The 'Lorebook' will allow you to make your characters memorize more about their worlds.
You can choose from three themes – Classic, WaifuLike, or WaifuCut.
You can change the order for prompts easily, like editing, using conditions, variables, etc.
12. CrushonAI 
Pricing: Free. $5.9 per month, $14.19 per month, and $49.9 per month for standard, premium, and deluxe subscription plans.
Platform/s: Web
CrushonAI is again, one of the top AI chatbot platforms for uncensored conversations where you can chat with your favorite characters with no filter issues.
Here, you get characters from anime, manga, random, cartoon, and real-life celebrities, while you can also see different scenarios like stepbrother, IsekAI, teacher, stepmom, etc.
Apart from all that, you also have the option of creating your own character if the character library doesn't excite you. Creating characters is no big deal, and the platform supports Pygmalion, text generation, and Tavern AI for JSON, and image, or you can explore from scratch too.
Key Highlights
There are plenty of filters and collections to explore including NSFW, male, female, new, trending, popular, editor's choice, and more.
It includes many popular titles on the internet including Shinobu, ZeroTwo, Boa Hancock, Mitsuri Kanroji, Tomura Shigaraki, Tsunade, and many more.
Final Words
The above-mentioned list of the top Venus AI alternatives includes only the best currently on the internet, offering safety, and a majority also allows for uncensored and NSFW content.
Yes, the market has many names not mentioned in this list. But, if you want to go straight to chat without needing to worry about privacy, security, glitches, bugs, etc. then the above list has all the answers you need.
With this, we have successfully presented the top Venus AI alternatives and hope the article was helpful to you.
Frequently Asked Questions
Are there any good sites similar to Venus AI?
Venus Chub AI, Janitor AI, CrushonAI, Inworld, Risu AI, Agnaistic, SillyTavern, TavernAI, ChatFAI, Character AI, Cleverbot, and Spicychat are some of the good sites similar to Venus AI, where you can chat with a good variety of characters, and can also create your own. 
Which are good sites like Venus AI?
SillyTavern, Character AI, Spicychat, Cleverbot, TavernAI, ChatFAI, Venus Chub AI, Inworld, Risu AI, Agnaistic, Janitor AI, and CrushonAI, are some of the good sites like Venus AI to chat with powerful and realistic chatbots. 
Try Some Best AI Alternatives-