Ultiself App Review: Cost, Pros-Cons, Is it Legit? [2023]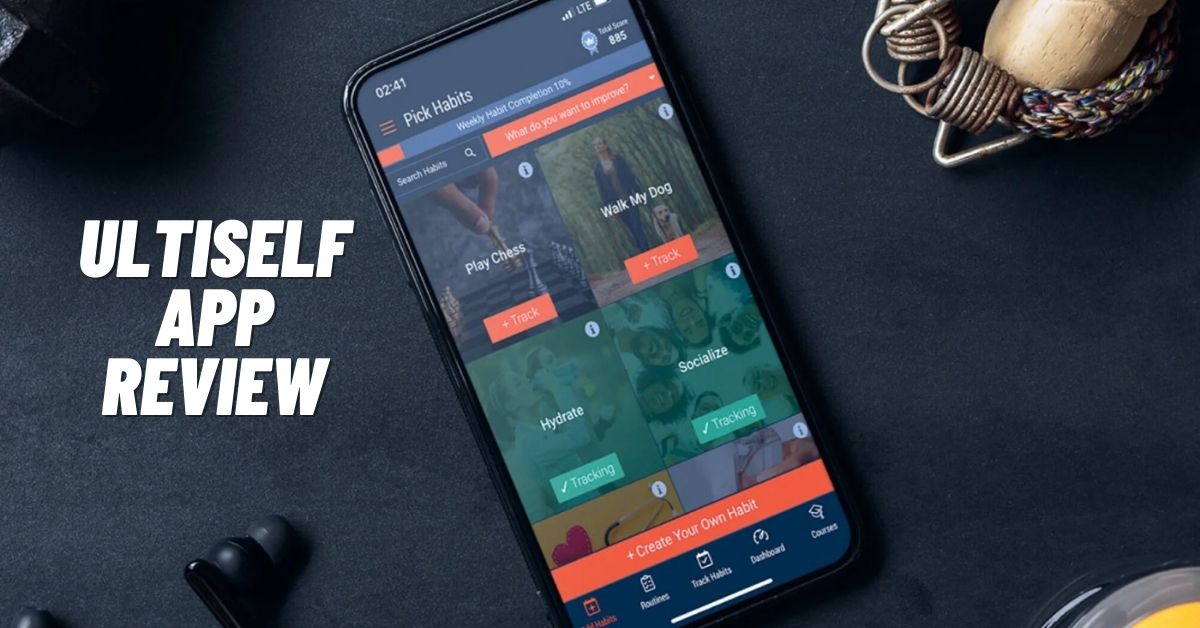 We may earn small commission from the products mentioned in this post.
Ultiself App Review: Ultiself is a personal development and self-improvement app that allows you to enhance various aspects of your life, such as mental health, physical health, career, relationships, and finances.
So, is it a safe app? What are its features? How does it work? How much does it cost and is it worth it? To know the answers to all these questions, keep on reading below.
In this article, we've mentioned a detailed Ultiself app review where you'll get everything you want to know about the Ultiself app.
Ultiself App Review
Ultiself is a user-friendly self-improvement routine planner app that identifies your most effective habits, creates your optimal routine, and makes it stick so that you can get significant results, and become the best version of yourself.
It offers several tools and resources along with goal-setting exercises, guided meditations, habit tracking, and expert advice from therapists and coaches who can help you build healthy habits.
Besides, you can also access several guide courses and other valuable resources. So, setting personalized goals and achieving them can make positive changes in your life by reaching your full potential.
How Does Ultiself Work?
To get started with Ultiself, download the app and create an account and then select the things that you want to improve. You can filter from over 150+ good habits, including energy, confidence, mood, fitness, career, personal growth, and focus.
All it takes is two minutes a day to track your habits and rate your day. Then, their revolutionary assessment tools will help you identify your weaknesses and strengths of your life and assist you in setting realistic goals and tracking your progress.
Ultiself uses the information from your profile and customizes the experience for you. For instance, it suggests routines and habits depending on the area you wish to improve.
And with its therapists and expert coaches who offer personalized support and advice, you can either choose to work with them one-on-one or join a group session to connect with others. Not only that, but you can also join communities or connect with friends to share your progress and get support from others.
How Much Does Ultiself Cost?
Ultiself offers both free and paid versions. With the free version, you can access all basic features like a habit library with video and infographic routines, daily rating, basic results, habit tracker, and habits effectiveness breakdown.
However, if you want to get the best results, you'll need to get the premium version which costs $37 as a limited time offer.
Through Ultiself Premium, you can access sleep optimizer, YOUR optimal routine, effective habits and biohacks, a virtual coach, weekly cash prizes, premium routines, key stats and insights, AI results breakdown, and much more.
The premium version is entirely customized to what you have to enhance and offers all the power of AI.
Key Features
Tailored Goal Setting: Set customized goals in various areas of your life like mental and physical health, finance, career, and relationship.
Guided Meditation and Mindfulness Exercises: A wide range of guided meditations and exercises to help you improve focus and overall well-being and reduce stress.
Habit Tracking: It assists you in building positive habits and breaking bad ones. And you can track your progress and receive reminders to stay on track.
Self-assessment Tools: Numerous self-assessment tools to help you recognize your strengths and weaknesses. And it can help you set realistic goals and track your progress over time.
Expert Guidance: Access expert therapists and coaches where you can get personalized advice and support.
Is Ultiself Worth It?
Though Ultiself appears to be a comprehensive self-improvement app that offers a wide range of tools and resources to improve your mental, physical, and emotional well-being, a lot of people didn't find it worth it.
For instance, a few users have issues regarding bugs and glitches and some of the content like expert coaching and therapy services are quite expensive. So, we can say that not everybody finds it affordable.
Nonetheless, it can help you reduce stress and enhance focus. Besides, you can also identify the areas where you need improvement and track your progress.
Overall, it's always better to do your own research and read various reviews before you decide whether Ultiself is right for you. We hope this article on Ultiself app review has given all details regarding the Ultiself app.
FAQs
Is Ultiself useful?
Yes, Ultiself can help you increase your productivity and enhance your focus and confidence in your ability to reach your goals.
What is the cost of the Ultiself?
As of now, Ultiself premium version costs $37 as a limited time offer.
Is the Ultiself app free?
Ultiself offers both free and paid versions. If you want to access advanced features, opting for Ultiself Premium can be useful.