21 Stores Like Serena & Lily That Are Just As Chic!
We may earn small commission from the products mentioned in this post.
Stores like Serena and Lily: Serena and Lily provide you with a unique and refreshing approach to decorating your sweet home. It is a design-driven, high-end luxury home, accessories, interior, and bedding designer brand – offering a variety of proprietary items and personalized services.
Serena and Lily have a big collection of themes and ideas to offer, something like summer whites, entertain alfresco, halcyon days, and more — with quality being expectedly great and satisfying for the money you spend.
But, since it's a high-end brand, many are wondering if there are any more good cheap stores like Serena and Lily — and fortunately, we have come across about 21 good and highly-recommended stores like Serena and Lily in our research – and the list is mentioned right below!
List of Stores like Serena & Lily:
1. Wayfair 
When it comes to shopping for furniture – wayfair.com has been stealing the majority of the customers — acting as the top-most platform for selling all types of themes and ideas for your sweet home.
With that said – at Wayfair, you can literally browse across a zillion products with many styles and colors, it has about 5000 trusted furniture brands, and the best part is that the majority of the products will fit right into your budget!
2. IKEA 
When you have a tight budget to follow and are looking into some decent yet elegant furniture at perfectly affordable prices – IKEA is our personal favorite and highly recommended furniture brand to visit.
IKEA is a multinational furniture brand that designs manufactures and sells ready-to-assemble furniture decoration, home accessories, and more types of goods and home services. Also, while it offers a huge variety of categories to shop from — the quality of the products is durable too.
3. Lulu and Georgia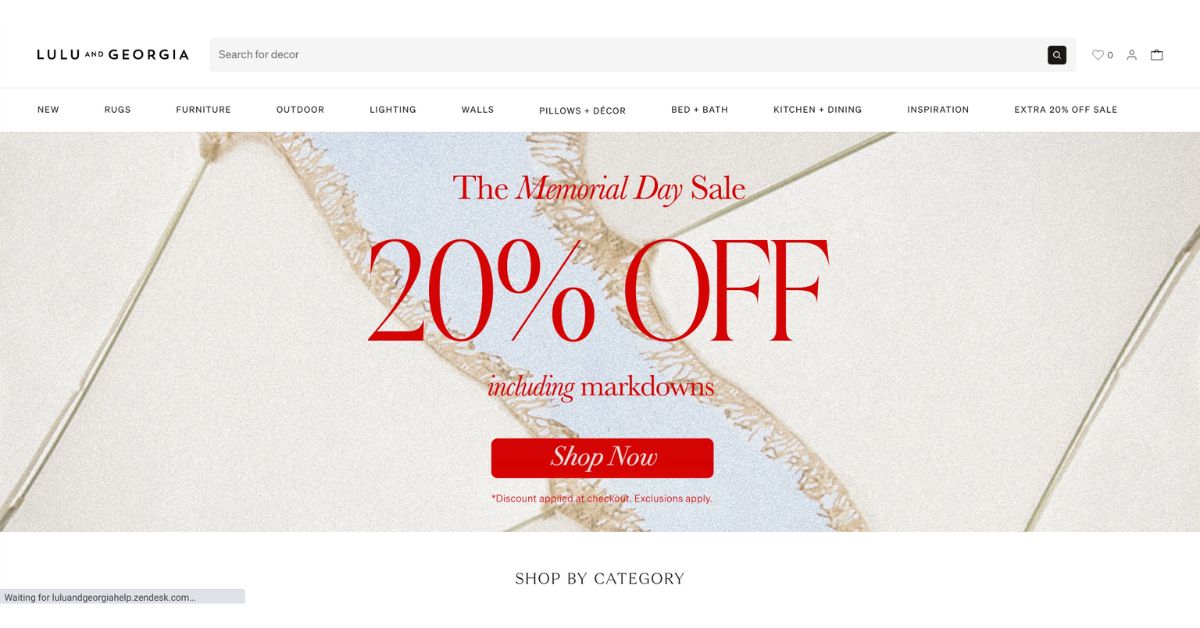 Lulu and Georgia is another good furniture brand and one of the ultimate destinations to shop for the latest in-trend furniture, rugs, lighting, home accents, and more such products, with multiple exclusive collections and deals.
At Lulu and Georgia, the prices are average and you get to shop from a good variety of categories like outdoor furniture, rugs, pillows, throws, lighting, decor, bed, kitchen, dining, walls, and more — with the highlight that it always has a sale available on its website.
4. Poly & Bark 
Poly & Bark is here to provide you with one of the top collections of sofas available on online platforms. With this brand, you can browse through thousands of furniture and home decor products with better quality materials guaranteed.
In addition to that, the main highlight of Poly & Bark is its convenient 100-day trial feature. Also, let's not forget about the entirely affordable prices — easily suitable for a middle-class person's budget.
5. KROFT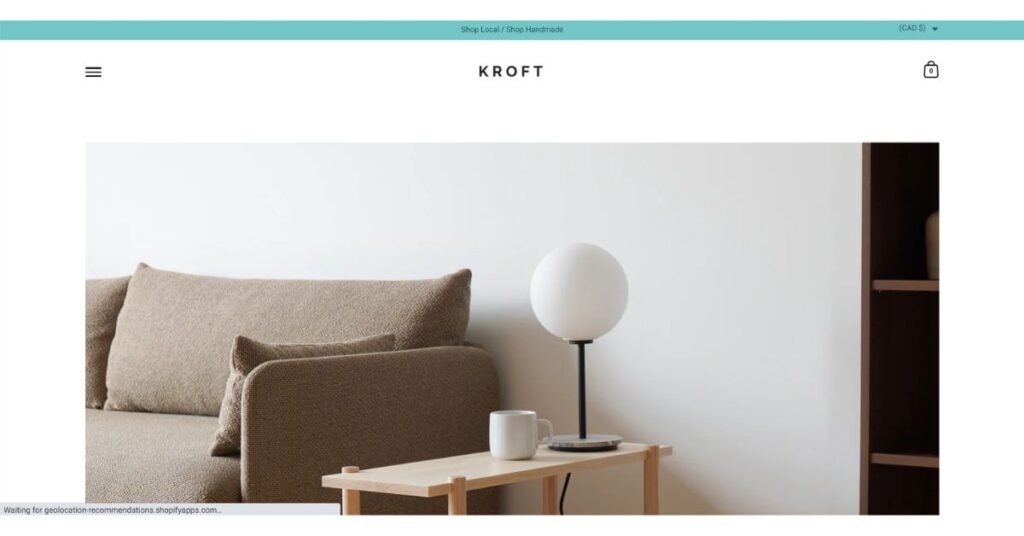 KROFT is here with modern and trendy collections for shelving and storage items. This brand is listed in this article for its aesthetically and emotionally appealing unique accessories for a modern sweet home.
With KROFT, you can browse through a good variety of handcrafted and solid wood shelving systems and units, clothes storage like racks and hooks, along with accessories like a wall ledge, table mirror, wall hooks, per rail, and many more.
6. Muji 
When it comes to lifestyle aesthetics in Japan, Muji is one of the most popular retail companies selling a wide range of household and consumer items. All the items from this label promote minimalist vibes while emphasizing important natural factors like packaging waste, recycling, etc.
At Muji, you will get reasonably priced items from categories such as women's clothing, kids' clothing, accessories, footwear, home furnishing, stationary, kitchen, furniture, storage, health, beauty, men's clothing, bags, and electronics – with quality being entirely satisfactory. Indeed, it is one of our personal favorites.
7. Soho Home 
Soho Home proposes a furniture and interior collection exclusively from Soho House. The pieces from this label incorporate textures, colors, and patterns where the rugs offer a contemporary vibe and traditional craftsmanship is always highlighted.
At Soho Home, you can shop from categories such as textiles, lighting, furniture, dining, decor, home fragrance, and gifting. Also, since the quality of the materials used is good – the products can come off as a bit expensive, but if you are buying one or two products only – then your budget will stay safe.
8. Ferm Living 
Ferm Living is a Danish designer brand for everyday furniture. It supports passion for functional and authentic design and offers a wide range of collections for furniture, featuring chairs, shelves, tables, and sofas mainly — all at reasonable prices for the quality provided.
Moreover, with Ferm Living, you can explore and shop from collections and departments such as outdoor furniture, chairs, benches, daybeds, sofas, storage, shelves, tables, and Poufs, with a special feature to build your own shelving unit.
9. Dwell 
Dwell claims to be a smart shopping platform for all customers who are design obsessed. It is a destination where you can find expert-curated collections of flawlessly crafted travel, lifestyle, home, and office products, with prices reasonable and quality satisfactory.
Also, Dwell promotes beautifully combined colors and combinations, and unique designs with every new piece, providing you with multiple themes with categories such as bed, bath, lighting fans, decor, furniture, and many more.
10. Crate and Barrel 
Crate & Barrel is one of the leading furniture companies – an internationally famous furniture and home decor retailer, supporting modern furniture and home decor over other departments, such as small kitchen appliances, and dinnerware.
With Crate & Barrel, you can shop some of the finest home essentials and collaborative collections with other popular furniture brands. Moreover, you can shop from categories such as decor, pillows, rugs, lighting, windows, bar, bath, kitchen, furniture, outdoors, etc at Crate & Barrel.
11. Gantri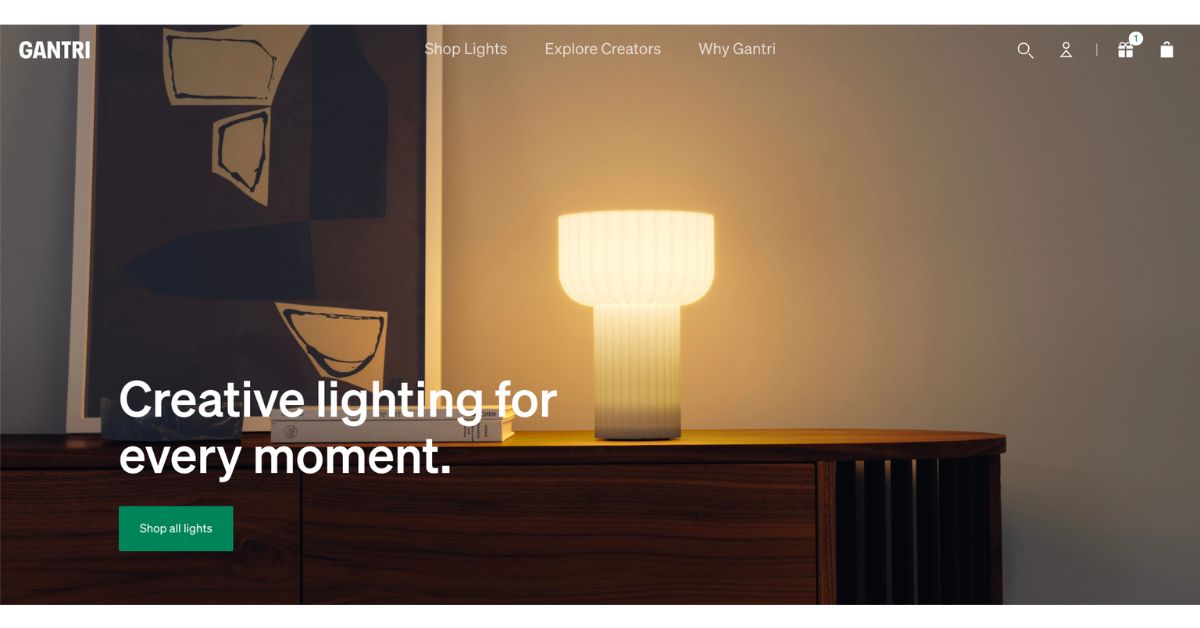 Gantri is here for its unique collections of lights for daily living. It offers plant polymer that is derived from sustainably farmed sugarcane and is non-GMO. In simple words, Gantri lights are pieces created by award-winning designers and made from only plant-based materials.
With Gantri, every piece offers a distinct design and you can also find some fascinating 3D-printed lighting fixtures. Moreover, you can find table lights, lamp lights, floor lights, and even wall lights at Gantri, with quality expectedly high for a bit expensive price.
12. Room and Board 
Room and Board is a well-known modern furniture, home furnishing company – a retailer providing you with a wide range of modern furniture and home decor. The furniture pieces from this label are specifically designed to fit well with your modern life, and the majority of the items are handcrafted by skillful artisans.
At Room and Board, you can shop from categories like dining, kitchen, bedroom, storage, entryway, kids, office, outdoor, lighting, rugs, and home decor — with special services like custom and commercial, where you can customize your furniture and buy well-suited furniture for commercial spaces.
13. Target 
Target is one of the topmost titles in the US because it works to offer you almost everything you need in your daily life – from groceries to furniture. Also, the main reason why it is so popular is that – while the variety is more, the prices are the lowest for a satisfactory quality.
At Target Furniture stores – you can shop a good combination of furniture collections from departments such as kitchen, dining, home, office, entryway, organization, bathroom, folding tables, chairs, storage, mattresses, nursery, gaming, statement, small space, bedroom, and more.
14. Muuto 
Muuto is a promising design company offering a good range of choices including furniture and other design-related products. It is here with a new perspective towards Scandinavian design, offering all items inspired by Scandinavian design traditions filled with functionality and aesthetics.
At Muuto, you can shop for good quality products at average prices, and browse by categories such as sofas, shelving, lighting, accessories, outdoor, storage, seating, and tables.
15. Akron Street
Akron Street claims to design simple, yet thoughtful furniture items – well-suited for your sweet home. It is a US-based design studio, designing a wide range of items to accompany you in your daily life while adding their own decent and peaceful touch to your living.
Akron Street uses only fine-quality materials to manufacture the items like American white oak and real wood. Additionally, you can shop from departments such as seating, low tables, tables, beds, case goods, and more from Akron Street.
16. Blu Dot 
Blu Dot is another popular title to buy modern furniture from. At Blu Dot, you get to explore some inspiring modern home and furniture pieces — exclusively designed to be enjoyed while being used. Additionally, it also offers timeless contemporary furniture specifically designed in Minneapolis.
Now, talking about the categories you can shop from – the list includes dining, office, outdoor, living, bedroom, storage, lighting, and accessories – with a specific section for outlets on its online store.
17. BoConcept 
BoConcept is another famous furniture store chain with more than 300 stores in over 60 countries worldwide. It specializes in dining and living room furniture and offers a 60 months warranty with the majority of the products.
Moreover, BoConcept is a suitable destination to shop for your dream home. With it, you can explore and shop from categories such as tables, chairs, storage, beds, garden, furniture, outdoor lamps, rugs, accessories, and sofas.
18. CB2 
CB2 is again, a widespread contemporary home decor and modern furniture store. With this title, you get to dig and shop from some exclusive and premium collections, some of which are in collaboration with other popular furniture stores.
At CB2, you can shop from departments such as bedding, bath, kitchen, dining, rugs, pillows, throws, lighting, decors, mirrors, furniture, and outdoor, and the best part is – there is always a sale – either clearance or warehouse, available on its official platform.
19. Hay 
Just like the unique name — Hay is here with its unusual range of designer furniture items. With this brand, you can shop for Danish-inspired contemporary home accessories and furniture for modern-day living, while also browsing through thousands of minimalist items.
With Hay, you can experience shopping from a variety of categories like furniture, outdoor, lighting, kitchen, tabletop, decor, rugs, bed, bath, and organization – where the prices are perfect for the quality of the products.
20. Jacob May 
Jacob May is another favored title in the list – a small furniture and accessories design retailer that specializes in making heirloom quality items. It works to offer you elegant and simple ethnic items made with sustainable material.
At Jacob May, you can shop for a good variety of collections like Inyo, Flora, Lore, Nomad, Scribe, and categories such as tables, seating, bedroom, storage, accessories, and more.
21. Hive Modern 
Hive Modern, or just Hive, is here for its modern designer furniture from worldwide famous names like Herman Miller, Artifort, Bensen, Flos, Fritz Hansen, Carl Hansen, Kartell, Knoll, and Vitra in the designer furniture industry.
With Hive Modern, you can explore many unusual collections and designs with every new release to add a unique look to your space – whether workplace or home. Also, you can shop from departments such as lighting, furniture, and accessories.
Final Words
Apart from the stores like Serena and Lily mentioned in this article, the internet is filled with many more designer furniture brands and popular titles. But, our list is well-curated to offer you only the best stores like Serena and Lily – with each offering its own unique essence to your house.
Therefore, as much as we would like you to explore more furniture retailers to try out next – we will highly suggest you go through our list of best stores like Serena and Lily first and try exploring at least a few of them before going for others.
Frequently Asked Questions:
Who competes with Serena and Lily?
Wayfair is one of the popular furniture retailers that compete with Serena and Lily since both of them offer similar themes and good quality products at moderate prices.
What stores are similar to Serena and Lily?
Hay, CB2, Crate and Barrel, Akron Street, KROFT, IKEA, Wayfair, Muuto, Blu Dot, Muji, Gantri, Room and Board, Soho Home, Poly & Bark, Ferm Living, and Lulu & Georgia are some of the trusted stores similar to Serena and Lily.
Which are more stories like Serena and Lily but cheaper? 
Target, Muji, Wayfair, and Ikea are the best and our personal favorite stores like Serena and Lily, but cheaper.