7 Best Stores like Foot Locker to Try Out [2023]
We may earn small commission from the products mentioned in this post.
Stores like Foot Locker: Footwear is a statement maker you believe it or not. Without a proper statement, making your path in today's world is impossible. If you want to shine in the outer world you need a good pair of shoes or footwear to do so.
Footwear comes last while dressing up but it is most likely to be noticed first when you make an entry somewhere or meet someone for the first time.
Hence having proper footwear which is reasonable in pricing, and has the best durability and quality with statement-making unique styles and features is not a lot to ask for but a necessity for finding a good pair.
In this article, we are going to talk about the best footwear stores which stand as the closest alternatives for Foot Locker with compare their shoe quality, pricing, key features, etc in detail.
By the end of the article, you will get a piece of great crisp knowledge about the similar stores to Foot Locker and why they are in top-list for the same.
Champs
Champs stands for Champs Sports which is the brand name for Footlocker, Inc. Hence this does make it top the list for the stores similar to Footlocker.
Champs and Footlocker both are known for selling sports apparel, equipment, footwear, and also accessories. Champs Sports is a special category for sports footwear for every generation.
Champs Sports is available throughout the United States, U.S Virgin, Puerto Rico, and Canada. The average store of Champs is meant to be 3500 square feet.
Key Features
Champs Sports has an app available to specifically shop from Champs which can be downloaded from the apple store and google play store respectively.
Champs app has a get notified feature that sends notifications on promotions, latest products, and much more.
They also provide you with Release Calendar which will keep you updated with your favorite launches and their dates.
They also have a store locator feature to locate the store near your office area or residence like Foot Locker.
They also have a catchy feature to earn rewards with FLX.
Brands Covered
AND1 Tai Chi
Diadora
Kawhi x Goosebumps
Adidas
Under Armour and much more.
Pricing and Quality Check
The pricing is set to be reasonable as per the high-quality products it sells.
They provide free shipping for FLX Members.
Gift cards are acceptable too.
They have a wide category of payments through debit and credit cards.
Finish Line
Finish Line comes with the widest varieties of footwear after Footlocker. Hence if you are looking for a footwear store that has the biggest variety then Finish Line serves to be the best.
The biggest flex of Finish Line is the footwear and other clothing basics namely men's and women's fashion, accessories, and kids sections have more than 50-60 brands to choose from.
Key Features
The website has a sleek look and user-friendly interface like Foot Locker.
The section of the website is divided into different categories namely new arrivals, men's fashion, women's fashion, boys and girls category, and accessories to choose from.
It also has a special category of selection which is a sale, hence if you are on a strict budget but want to shop then the sale section of the Finish Line store is a perfect fit.
It also has a selection dedicated to brands respectively. You can directly go to the brand's section and shop according to the brand you are wishing to buy.
It also offers an order assistance feature, tracks your order feature, makes a return feature, finds a store feature, and much more.
Brand Covered
Nike
Jordans
Adidas
Vans
New Balance
Puma
Champion
Crocs
Calvin Klein
Ivy Park
Fila
Brooks etc the list is ongoing.
Pricing and Quality Check
The pricing has been set up differently by the brands as per the category of men, women, and kids.
For the teenagers, the price has been set to a minimum of 50-85 $ whereas the adult range starts from 100$ and above.
Shoe Palace
Shoe Palace store is been established by a family which is born in San Jose, CA since the year 1993. Shoe Palace app and website have all the aesthetic vibes any millennial and gen z craves for.
Shoe Palace has a sleek design and theme of their store which gives a detailed polish look to the online store and easy very user-friendly option, one of the reasons Shoe Palace is the best store alternative to Footlocker is because of the wide collection it owns.
The flex of Shoe Palace still has its own branded collection under its original name similar to what Footlocker offers its customers.
Key Features
The store login can be operated from their Twitter handle, Instagram handles, Facebook handle, and Pinterest handles like Foot Locker.
Or you can directly download their app from the apple and google stores.
Their website is also available on search engines.
The website has different pages under the titles new collection, men's clothing, women's section, kids section.
They also ahs a specific brand section like Footlocker which offers a direct selection from the brand's name.
Brand Covered
Shoe Palace
Nike
Jordans
Adidas
New Balance
Champion
Converse
Crocs
Jason Mark
Vans and much more.
Pricing and Quality Check
The pricing policy works under the after-pay criteria, gift cards, and much more.
The quality check is very easy under Shoe Palace since it offers return and exchange policies to its customers.
Famous Footwear
Famous Footwear is known for its eye-catching offers and collection of clothing, sports shoes, footwear, and much more. Famous Footwear is being of the top 7 alternatives of Footlocker because they focus mainly on footwear just like footlocker.
The biggest flex of Famous Footwear is in its name, just in one go you get to know about the majority of sales is been processed in the category of footwear and have exclusive collections too.
Key Features
Their website and app also have a simple and similar user interface to the Footlocker store.
They also have found a store feature like a footlocker to find the nearest offline store to have visit-in purchases.
Currently, their search engine is divided among the heads of men, women, brands, accessories, kids, and much more.
They also ahs a special brand selection option and sales page to directly shop only among the sales products.
The unique feature of Famous Footwear is they give discounts not only one but many on one particular product as per the brand contract.
Famous Footwear also has award-winning points to redeem and win for its exclusive members under the paid membership.
Brand Covered
Sketchers
Vans
Adidas
Nike
Converse
Crocs
Under Armour
Puma
Birkenstock
Zodiac
Ryka and much more.
Pricing and Quality Check
The pricing policy of Famous Footwear is the eye-catching reward-winning options and sales feature.
Famous Footwear is always working on their discounted prices to make sure their customers are never less in count and orders are reaching more height gradually.
Foot Action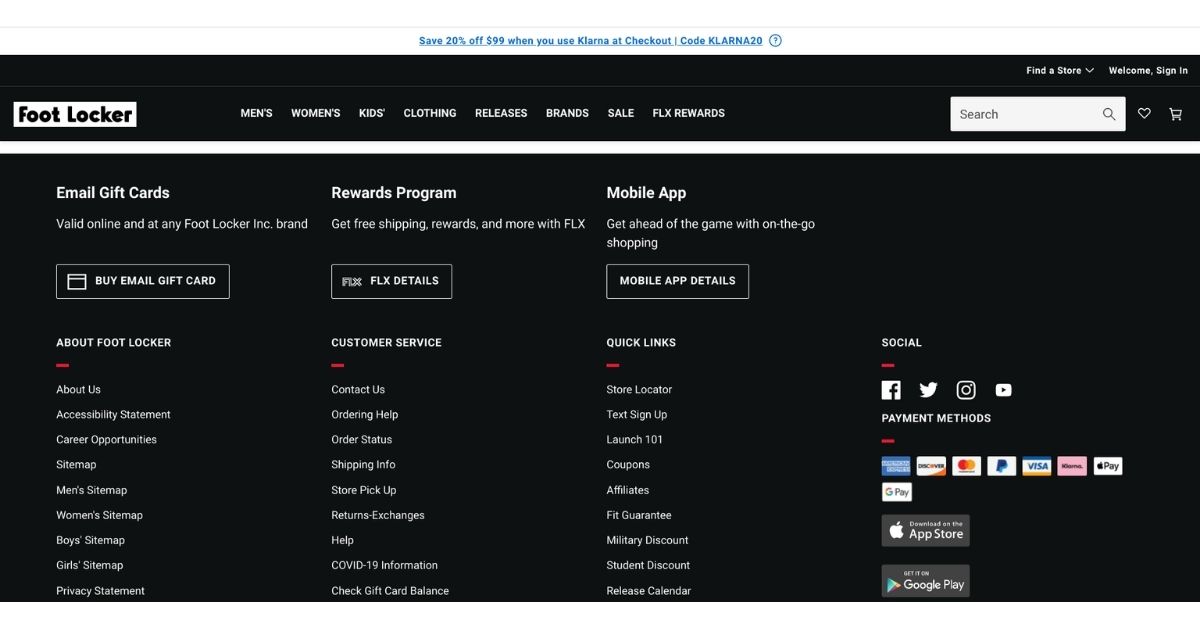 Foot Action also tops the list for the best alternative because of the merging done between Foot Action and Footlocker. The foot action has moved to the Foot locker as of the year 2022.
Hence if we are talking about footlocker we are talking about Foot Action and vice versa. If you need to buy Foot Action shoes and footwear you can go and buy them from footlocker since it has closed its stores individually.
Though for the individual who wants only Foot Action and can still get their application file from mod versions or different web portals on search engines.
Key Features
Since the Foot Action has been closed down individually but customers can find their collection under the Footlocker website and stores.
Since Foot Action is under FootLocker a comparison cant is made between the two.
Hence Foot Action has all the features of Footlocker namely free shipping and exclusive features for its FLX members.
It has the products listed among the heads of what's new, sales, brand collection, and much more.
It also offers a find a store feature to locate the store of Footlocker to purchase footwear collection of Foot Action.
Brand Covered
Foot Action
Kids Foot Locker
Foot Locker
Champs Sports
East Bay
Side Step and much more.
Pricing and Quality Check
The pricing coupons, gifting coupons, and balances extra which were earned by customers are still valid and can be utilized under the Footlocker purchases and stores.
They have free shipping, returns, and exchanges for FLX members.
East Bay
East Bay is another company owned by Foot Locker, hence it is easy to say East Bay is one of the best alternatives of the original Foot Locker, Inc.
East Bay is known for the variety of shoes but also for the underrated shoe clinic which was set up for their customers to try their shoes and get their perfect fit according to individuals' foot preferences.
East Bay has a direct mail catalog for its customers and provides a larger retail store on the internet as Footlocker's subsidiary. Eastbay not only sells footwear for athletes but also its major companions like apparel outfits, training and sportswear, gears and equipment, and much more.
Key Features
Eastbay is in the market since the 1980s.
The initial sales of Eastbay were for the high school runners, sportspersons, and coaches. But today the variety has reached the infinity change.
Eastbay also offers membership with FLX and benefits to FLX members.
Currently, Eastbay also has different offers namely 50% off on sales and many more.
Eastbay usually offers free delivery within 48 hours for FLX members like Foot Locker.
Eastbay also offers free returns and shipping on domestic orders.
Brand Covered
Nike
Adidas
Hoka
On
Under Armour
Jordan and much more.
Pricing and Quality Check
In the payment option, Eastbay offers an email gift card option for the customers to gift people footwear of their choice.
They have quality and pricing diversification on different modes namely age range, gender, brand, sport, etc.
StockX
StockX is the one-stop solution for not only footwear and shoes but has a wide shopping collection of different product lines.
StockX is a store for sneakers, footwear, apparel, electronics, trading cards, collectibles, accessories, and NFTs. Hence you can purchase sneakers and also trade money through NFTs, etc.
Hence StockX is a rounder in-store industry. StockX is a good alternative to Footlocker because it has all brands covered under the sneakers collection that Footlocker offers. The footwear collection of StockX is all dreamy because only the best stays up on StockX.
Key Features
You can not only purchase shoes and footwear and other items like electronics from StockX but also sell them if you are done with keeping them.
The sneakers collection is divided among the most popular, featured, new in the market, cheapest, like Foot Locker, etc.
StockX also has a feature of the lowest asks and bids category to purchase your favorite sneakers at low prices and great discounts.
The collection is also divided among the past month and year's sales to make their customer clear about the latest trends and what is currently outdated in the market.
Brand Covered
Adidas
Air Jordans
Nike
New Balance
Reebok
Converse
Hoka
Puma and much more.
Pricing and Quality Check
The pricing is dependent on the bids and asks which can be flexible according to the buyer and seller's conveniences.
The lowest prices start from $70 and can go up to the highest of $260-300.
StockX vs Flight Club: Complete Comparison [2022]
9 Sites like Stockx & StockX Alternatives to Buy Sell Stuff [2022]
Conclusion
If we take a summary look at the 7 best alternatives of Foot Locker we will see that among the 5 to 4 brands are already covered and part of Foot Locker store and hence this makes it easy to be the best alternatives without the second thought or research.
Of course, Footlocker is the best and but the alternatives are strong competitors to choose from. The choice of the best alternative is completely upon the customers and their requirements.
FAQs: Stores like Foot Locker
What brands are covered under Foot Locker?
The brands covered under Footlocker are EastBay, Champs, Side Up, Foot Action, and much more.
When did FootAction close down?
Foot Action has closed its stores since April 2022. 
Where can I buy products from Foot Action?
Since Foot Action is moved to Footlocker, the products are available at the Foot Locker stores under the brand name Foot Action. 
Foot Locker Website Not Working? 11 Ways to Fix! [2022]