Promova App Review: Scam or Legit? [2023]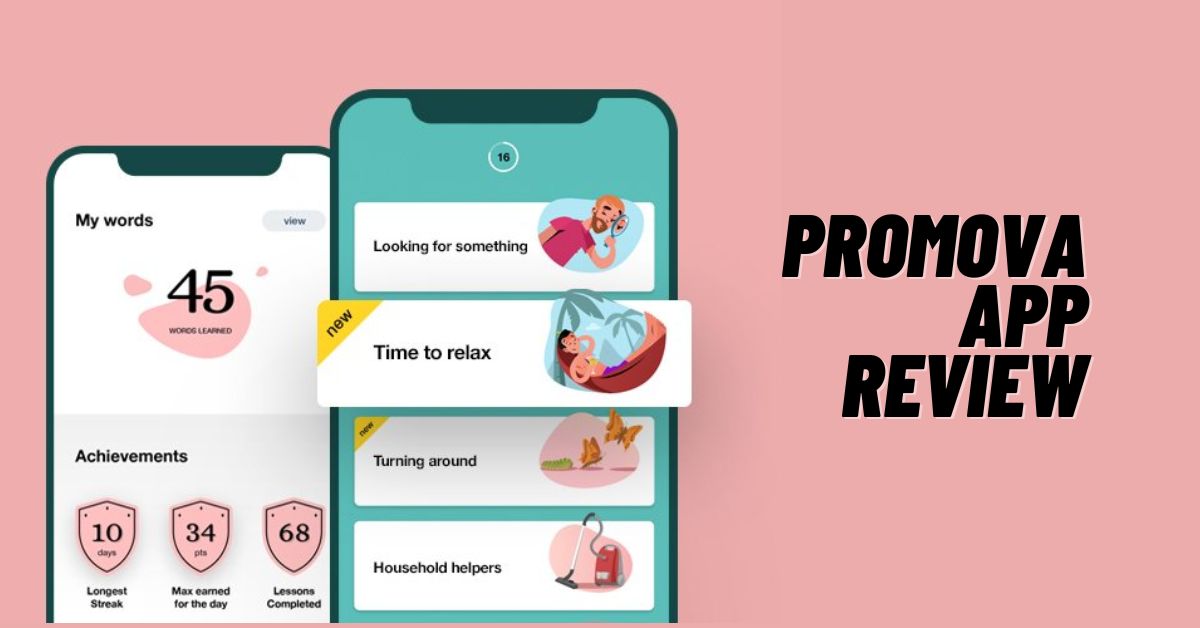 We may earn small commission from the products mentioned in this post.
Promova App Review: Promova is a language-learning app for quick and effective language learning. You can select your level and start learning English with fun.
A lot of people are wondering whether the Promova app works and is legit or not. You've come to the right place if you want to learn the same thing.
In this article, we'll give you a detailed Promova app review. You'll know everything about the app, including its price, features, and other details. So, keep reading!
What Is Promova App?
Promova is an app for learning languages that offers a complete solution to learning a foreign language. The app provides you access to dictionaries on 40+ topics. It also provides exercises to improve your speaking skills, engaging quizzes to memorize complex material, and fun illustrations to make learning a game.
Communicating with tutors, watching videos, and reading books are all effective ways to increase your vocabulary and grammar knowledge. It has access to learning courses in English, French, German, Italian, Portuguese, Russian, Spanish, Chinese, Korean, Japanese, Czech, Danish, Finnish, Norwegian, Romanian, Swedish, Thai, Turkish, and Hindi.
The app is appropriate for language learners of all levels. It offers lessons with translations and a special English-to-English section for those who want to learn English like native speakers.
Key Features
With this app, you can enrich your vocabulary anywhere and anytime.
With it, you can quickly advance to a new level within a month.
You can easily try it and benefit from continued improvement.
With this app, you can easily remember 90% of everything you learn.
Engaging in quizzes to memorize complex material.
The app may include speech recognition that allows you to practice speaking the language.
Shake up your knowledge with 500+ lessons inside the app.
It has 40-themed topics with 3,000+ words to enrich your vocabulary.
To improve your abilities and convey your ideas without restrictions, you can take private online speaking lessons with tutors.
You can study foreign languages anywhere and whenever you want.
How does it work
The working of Promova is super simple. It starts by requesting you to create an account. Then, you can select the language you want to learn from the available options.
Promova may access your proficiency level through a placement test. Alternatively, you can set your language learning goals, such as starting as a beginner or focusing on specific skills if you already know the language.
After that, based on the assessment or your-set goals, the app generates a personalized learning path. The app presents lessons in various formats, including text, audio, images, and videos.
Each lesson covers different aspects of the language, such as vocabulary, grammar, pronunciation, reading, and listening comprehension. You progress through the lessons sequentially, building your language skills step by step.
You can speak into the microphone, and the app analyzes your pronunciation and provides feedback or suggestions for improvement. You can connect with other learners and native speakers of the target language.
Cost
Some of its online language courses are free, the speaking club is free, and many of its core features are free. However, if you're serious about learning, Promova offers a premium version to greatly speed up your progress.
Promova provides a free 3-day trial during the first week along with a half-year auto-renewing subscription for $49.99. It gives you unrestricted access to the premium language learning solution while your subscription is active.
Within 24 hours of the current period's conclusion, your account will be debited for renewal, with the renewal fee clearly stated. After making a purchase, go to your account settings to modify your subscription and turn off auto-renewal.
Is Promova App Legit?
Yes, Promova is a legitimate app that helps you learn a foreign language quickly and with fun. With Promova's assistance, you will not only pick up new vocabulary but also improve your grammar and pronunciation, read books, view movies, and take speaking classes with tutors.
However, people have complained that Promova offers a free trial of the app, but when the trial ends it charges you the full amount regardless of your cancellation status.
FAQs
Is the Promova app free or paid?
You may get unlimited access to the premium language learning solution from Promova while your subscription is current by purchasing a $9.99 weekly subscription that automatically renews after the first week with a $0.49 offer.
Is Promova a good app?
Yes, Promova is useful for everyone from beginners to proficient language masters. If you want to study English like a native speaker, the app provides both classes with translations and a dedicated English-to-English part.