Opal App Review: Pros-Cons, Worth It? [2023]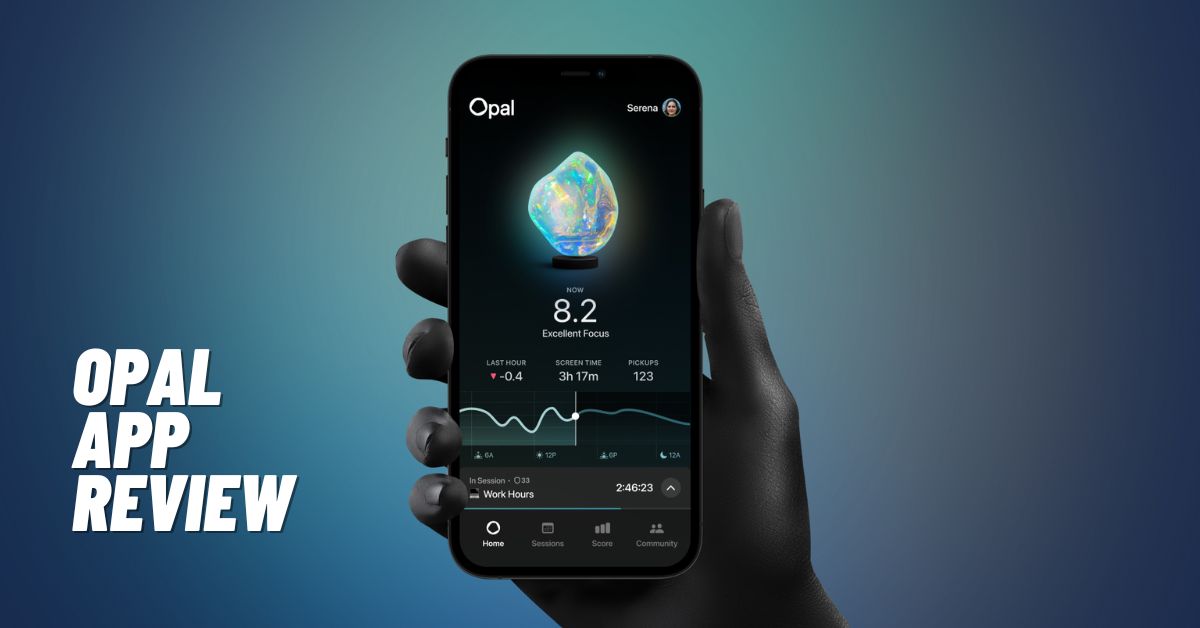 We may earn small commission from the products mentioned in this post.
Opal App Review: The increasing number of people focusing on cell phones more than the environment has been gradually growing, and the topic, as always, has much attention. Being one of these people, have you ever seriously considered trying a solution to cut down on your screen time?
Indeed, you might have tried multiple methods – but if none of them actually solved your problem, then how about you have a look at this popular Screen Time software known as Opal? The same software with millions of downloads – specifically for iPhones.
However, if you don't know anything about the Opal app, but wish to know about its working, pros and cons, pricing and plans, and if it's actually worth it – then continue reading this article because it contains a thorough and unbiased Opal App Review.
What's the Opal App?
The Opal app is a globally famous Screen Time software application with millions of users. It works with a goal to drastically reduce your screen time – totaling up to only 4 hours on average regularly as the final result.
The Opal app comes with an assortment of helpful features like app restrictions, and you will be strictly not allowed to access social media platforms, including Instagram, Twitter, Facebook, etc along with other apps you frequently visit while working.
How Does the Opal App Work?
The working of the Opal is simple. The downtime schedule feature will allow you to schedule the downtime and you won't be able to access any selected apps on your device.
You can also use the session feature where you can select a specific time limit, like: 10 minutes, 20 minutes, or 30 minutes, and once the session starts – you won't be allowed to go back from the session screen until the time is over.
Moreover, you also get to decide the difficulty level of your sessions. You can choose the normal stage where you will be allowed to take breaks or even cancel the session.
For the timeout stage – the delays before another break will keep on rising. Lastly, at the deep focus stage, you won't be able to end the session any time earlier and all the applications selected will be strictly locked.
Opal App Pricing
Opal has four varieties of subscription plans to offer, and they are as follows:
Free subscription plan – $0 per month which includes about three features.
Monthly subscription plan – Opal Pro at $8.25 per month or $99.99 per year. It comes with a 7-day free trial and includes 7 features.
One-time payment – Opal Pro lifetime at $299, and comes with 11 features.
One-time payment – Focs coaching at $399, comes with 15 features.
Opal App Pros and Cons
Pros:
It is designed for platforms including iOS and Chrome, while other platforms like Android, macOS, Safari, and Firefox will be soon added to the list.
The focus screen feature helps you stay focused on your work for the specific time you have chosen – and you won't be able to leave the screen until the session is completed.
It will cut out all the distracting apps from all categories as long as you want – including communities, forums, games, social media platforms, and even adult platforms.
Under the quick ideas headline, you can see the recommended time span for downtime, like — morning: 6 AM to 9 AM or, work time: 9 AM to 5 PM.
Cons:
The subscription plan appears to be a little bit expensive.
There are no free trials for one-time payment subscription plans.
Is the Opal App worth it?
For starters – the free plan is an advantage, and although the feature count is only 3, it's well-suited for those who aren't totally into their mobile phones daily.
On the other hand, if you really need to reduce your screen time, then the subscription plan is needed. But, it may seem like the monthly plan along with other subscription plans are quite expensive since all it does is reduce your screen time.
However – the majority of the users who have used the app have said the monthly payment as well as one-time and lifetime plans are worth every penny.
You may not think of your excessive screen time as something crucial – but you will definitely see the change and advantage of the saved time when you will be focused on something more important than scrolling on Twitter and Instagram.
Therefore, with all the highlights mentioned in this Opal app review and user reviews – we suggest you try the Opal app because: it is worth your interest, efforts, and money.
Frequently Asked Questions
Is Opal app useful?
Yes, according to the majority of the users who have tried the app for a good set of days – the Opal app is a really helpful software that actually works to reduce your screen time – and helps you focus on other crucial things in life.
Is Opal a free app?
The Opal app is not totally free, but it does have a free plan that comes with 3 helpful features. 
Is Opal app legit?
Yes, as said by thousands and thousands of users – the Opal app is 100% legitimate Screen Time reducer software.