Merryfield App Review: Legit or Scam [2023]
We may earn small commission from the products mentioned in this post.
Merryfield App Review: Merryfield is a rewards app that turns your receipts into free gift cards to popular retailers like Target, Walmart, Starbucks, Whole Foods, Amazon, Sephora, and more.
As it is a rewards app, a lot of people are wondering how much it pays and whether it is legit. If you also want to know the answer for this, keep on reading.
In this article, we've mentioned a detailed Merryfield App Review where you'll get to know everything related to the Merryfield app, including how it works, features, and more.
What is Merryfield App?
Merryfield is a completely free app that rewards you with points for your receipts, which you can redeem for gift cards. So, simply turn your receipts into free gift cards.
Here, you'll get 50 points for any paper receipt you submit. You can also earn extra points on thousands of products from several participating better-for-you brands, including Barilla, Plum Organics, Alaffia, Wholesome, Lundberg Family Farms, Country Archer, Nasoya, Vital Proteins, and more.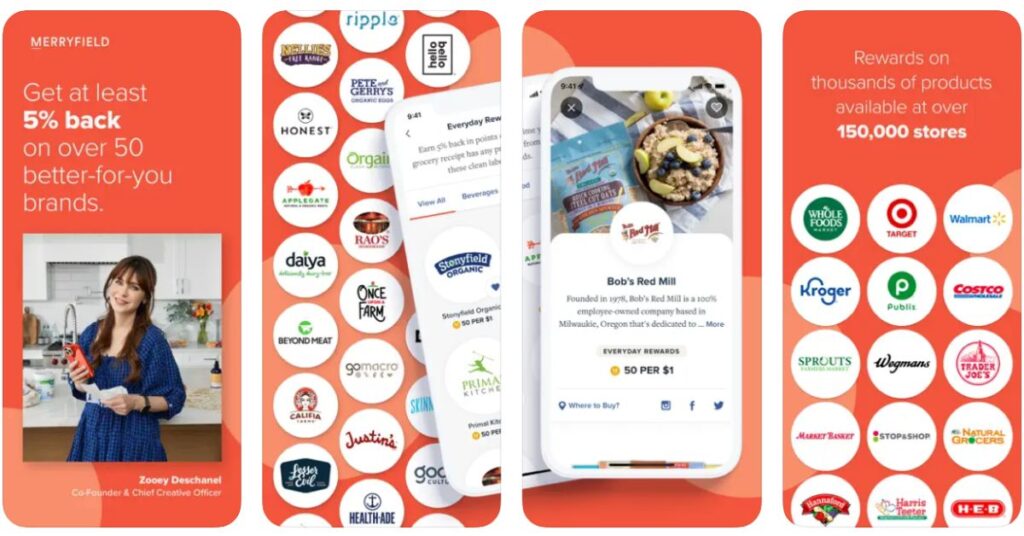 How Does Merryfield App Work?
Get started with the Merryfield app by downloading it on your device and signing up for an account. Once you download the app, you can see the participating brands on the home page.
And when you click on 'see all brands, you can view all the products along with the information regarding the product's standards and how they give back to no kid hungry.
When you scroll up, you can check out the special offers that are exclusive for that week. And when you click on a product you wish to buy, you can see more information about the item, including values, allergens, and more.
Furthermore, to ensure that the product qualifies for the offer, you can scan the product. And from the receipts section, you can submit your receipts.
All you need to do is to have a clear receipt that you are able to read the details on it and submit it within seven days. Here is how you can submit your receipt.
Click on the Snap Receipt Photo option.
Place your receipt under the little rectangle that will appear on the screen.
Now, snap a picture and click on Finish.
If you didn't like the picture, you can retake it by simply clicking on the retake option. And if the entire receipt did not fit in one picture, you can click the + sign which will allow you to take another picture till you capture the full receipt. Once you submit the receipt, you can see the number of points you'll receive.
Key Features
Instant Cash out – You can immediately cash out your points from the Merryfield app.
Wallet – Here you can view all your redeemed gift cards. All you need to do is to click on the gift card that you want to use at the store.
Rewards – Explore a lot of gift cards options which you can purchase using your points. However, remember that what you want to cash out will entirely depend on how many points you already have in your account.
Special Offers – These are limited time promotions for certain products that must be activated to get the extra points.
Standards – Though there are several brands, Merryfield is only partnered with the brands whose integrity, quality, and standards match with its standard policy.
How Much Does it Pay?
Merryfield offers a different way to help you earn, but you'll get paid by points. So, you'll need to understand how many points are equal to a dollar. Basically, 1000 points are equal to a dollar.
So, if you earn around 750 points, you'll get 75 cents. You can see the amount you earned when you go to cash out. You'll always get at least 50 points per dollar spent on its participating brands. And in order to get a five-dollar gift card, you'll need to have a minimum of 5,000 points.
Is Merryfield Legit?
After going through several reviews on the Google Play Store and App Store, we can say that the Merryfield Everyday Rewards app is legit.
A lot of users have mentioned that the app is a great way to make money by simply purchasing goods from better-for-your brands and showing receipts.
One of the users on Reddit mentioned that though it's not a huge money maker platform, it does offer rewards for healthier food purchases.
FAQs
Is the Merryfield app free?
You can download the Merryfield app for free and create an account to explore all the offers from its better-for-you brands.
What brands are on the Merryfield app?
Its better-for-you brands include Applegate, Beyond Meat, Canyon Bakehouse, Earthbound Farm Organics, Crofter's Organic, Dave's Killer Bread, GoMacro, Health-Ade, and more.
How do I contact Merryfield?