9 Best Loans like Seedfi & Seedfi Alternatives [2023]
We may earn small commission from the products mentioned in this post.
Seedfi is a personal lending platform that allows you to borrow money to help you build credit while also saving money to help you be set up for a better financial future. It offers two ways of helping you build or improve credit, depending on whether you need cash to borrow or are looking to save money instead.
However, if you're looking for loans like Seedfi, you've come to the right place. Seedfi is an excellent company that offers credit builder loans, but there are plenty of other companies out there that can help you build your credit.
In this post, we will list nine loans that are similar to Seedfi and offer credit builder loans as well. We will also discuss the key features and terms of each loan so that you can decide which one is best for you.
List of Loans like Seedfi
1. Self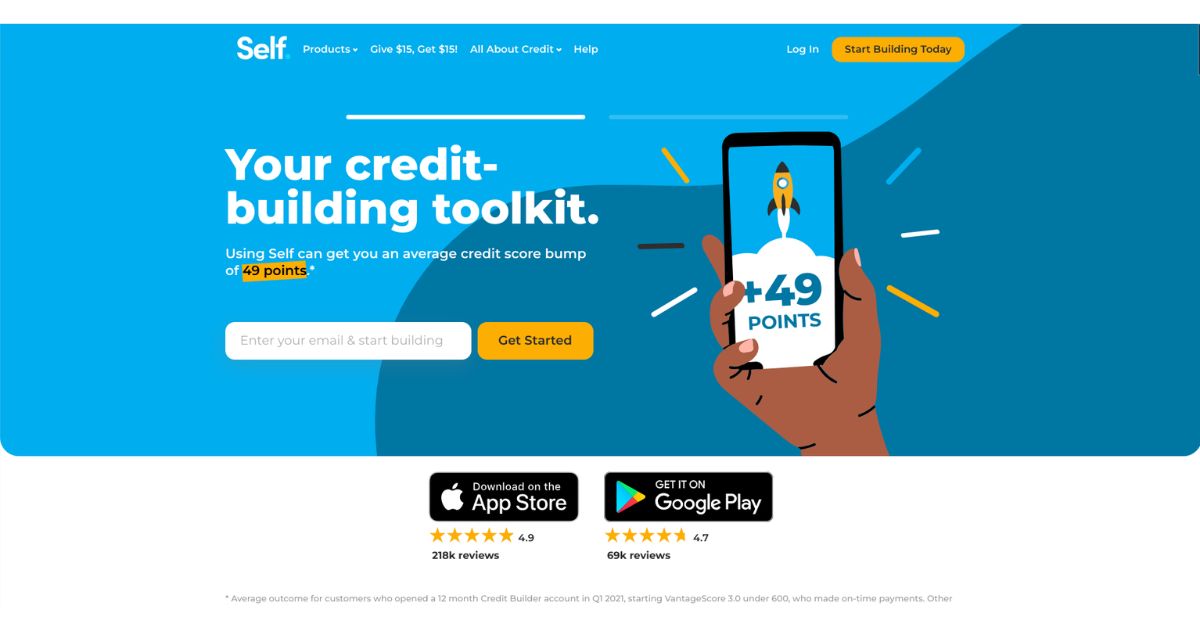 Self is a financial technology company to assist you in establishing credit, especially for those who are unfamiliar with the process or may not have access to conventional financial products. It has four credit-building loan programs available, each with a defined interest rate and monthly payment amount.
You can also apply for a Self credit card, which helps speed up your credit-building process, once you've made three timely payments and have a $100 balance in your savings account. Upon Self's approval of a loan request, the requested amount is deposited in a certificate of deposit at one of its affiliated banks.
Key Highlights
There are two credit-building instruments and four account options.
There are no restrictions for upfront payment or income to be approved.
Accessible in all fifty states.
$9 for a small, clear setup charge.
Loan Amount
$520 to $3076
APRs
15.72% to 15.97%
Credit Check
Yes
Other Features
It is best for anyone with bad or little to no credit.
No credit check or pre-qualification is required.
Reports to each of the three main credit bureaus.
Simple alternatives for standardized loans.
For more info visit here.
2. Upstart 
Upstart is a lending platform that connects borrowers and associated lenders using artificial intelligence (AI). It is a fantastic choice for people with fair credit because the platform employs more than 1,500 unconventional factors, such as college education, to enhance loan access.
If you require quick access to money but fear that a loan application won't be granted, this is a good choice for you. Additionally, it might charge you for origination, overdue, declined, and paper copy fees. Even so, if you don't have a credit rating that makes you eligible for more affordable loans, Upstart is an excellent choice.
Key Highlights
It provides refinancing for auto loans and small business loans.
You can use the calculators and instructional resources on it to manage your money more effectively.
You won't be penalized if you pay back all or part of your loan at any time.
Most loans with Upstart are disbursed after one business day.
Loan Amount
$1,000–$50,000
APRs
4.60%–35.99%
Credit Check
At least 600
Other Features
The Upstart platform links you to its affiliated banks and credit unions.
If you promote Upstart through websites, blogs, or other social media channels, you can get 1% of each loan that is funded.
It provides loans to you that traditional lenders might not, even if you have no credit history.
Prequalification is available with a mild credit check.
The option to select a specific payment date.
For more info visit here.
3. Digital Federal Credit Union
Digital Federal Credit Union (DCU) is based in Massachusetts but offers services to customers nationwide. It offers you a credit builder loan to help you improve your credit while building savings.
With the possibility to offer further services like credit cards, loans, home mortgages, and certificates of deposit, it quickly builds a banking connection. DCU provides dividends on the account used to secure your loan. The APR you will pay on the loan will be at least partially decreased as a result.
Key Highlights
A credit builder loan is free to use.
You will have access to additional banking services provided by DCU as a member.
Retirement planning, accounts, and full-service banking are all included.
No minimum account balances or monthly maintenance fees are necessary.
Loan Amount
$500 to $3000
APRs
5.0%
Credit Check
No
Other Features
DCU offers credit-building loans with one of the lowest APRs available.
The three major credit bureaus are informed.
Available in all 50 states.
Superior rates of interest on your savings and loans.
5,900 CO-OP Shared branches and 23 DCU locations are accessible around the state.
Almost anyone is eligible to join.
For more info visit here.
4. MoneyLion 
MoneyLyon is one of the apps that offer loans similar to Seedfi. It is a fantastic choice for you if you want to start building your credit history or repair your credit. If you're looking for a place where you can meet all of your financial demands in one place, MoneyLion is a fantastic choice.
It provides credit-building solutions in addition to personal loans with affordable rates and convenient payback schedules. These loans are available for a variety of uses, including debt consolidation and unforeseen needs.
Key Highlights
It offers credit builder plus, which enables you to improve your credit while also saving money.
This program is open to a larger range of people because there is no stringent credit check requirement.
You can get a portion of the loan money right away.
It provides investing alternatives, cash back benefits, and loans with cheaper interest rates.
Loan Amount
$500 to $1000
APRs
5.99% to 29.99%
Credit Check
No
Other Features
It aids in financial planning, saving, and investment.
Additional financial services are offered, such as an investment plan and a visa card with cash-back benefits.
Paycheck advances with 0% APR and up to $300 are available.
Includes three major credit bureau reports.
For more info visit here.
5. Brigit 
Brigit is a platform that offers short-term cash advances to you in need of quick financial assistance. You also can monitor your credit score, get identity theft protection, find side gigs or borrow a credit builder loan. All these features cost $9.99 per month, which can add up over time.
You can apply for up to $250 in advance, with no credit check required, and receive the funds within minutes via direct deposit. When you receive your next paycheck, the repayment is automatically taken out of your bank account.
Key Highlights
It provides quick funding for those with limited resources.
Auto advances are available if Brigit thinks you may overdraw your account.
It also offers budget tracking, credit monitoring and $1 million in identity protection.
You must pay a monthly subscription of $9.99 to get advances.
For more info visit here.
Loan Amount
$20 to $250
APRs
0%
Credit Check
No
Other Features
Brigit offers credit-building features.
It is a cash advance system that is typically smaller than rivals yet valuable for things like one-day loans.
Its automatic repayment feature has also been extremely helpful in ensuring that you don't miss any payments.
It connects to your bank account and withdraws payment after you get a recurring deposit.
6. Credit Strong 
Credit Strong provides credit builder loans intended to raise a failing score. It is a well-known and reliable credit builder tool with over 1 million customers. Of all credit builder plans, Credit Strong has one of the lowest monthly payments.
You can improve your credit by taking out installment loans. However, the money is deposited into a savings account rather than being given to you immediately. Following that, you start making set monthly installments. You stand a chance of raising your credit score by making a number of payments on its loan.
Key Highlights
It will report your payments to all three credit bureaus.
Payment terms are as long as 10 years.
No fees for early termination or prepayment.
For more info visit here.
Loan Amount
$1000 to $25000
APRs
3.02% to 15.73%
Credit Check
No
Other Features
Seven plans with varying terms are available.
Both your credit score and your savings should rise.
There is no need for a credit check or pre-qualification.
Available everywhere except Vermont and Wisconsin.
For more info visit here.
7. Kikoff
Similar to Seedfi, the lending platform Kikoff provides credit builder loans. You may easily improve your credit while saving money thanks to the small personal loans it offers with low-interest rates and an automatic savings option.
It's a great choice if you want to raise your credit score or reduce your interest costs by using prudent borrowing practices. Obtaining a loan with Kikoff is a straightforward process.
Key Highlights
Over time, your credit score will rise if you make your payments on schedule and in full.
A minimum credit score is not needed to sign up.
Any kind of financial institution can use Kikoff.
The app is really easy to use.
For more info visit here.
Loan Amount
$750
APRs
0% APR
Credit Check
Below 600
Other Features
You can pick your own payment due dates and quantities due to its various repayment choices.
The Kikoff credit account's use of artificial intelligence (AI) technology is one of its distinctive features.
24/7 customer support is available.
It does not include any additional costs or penalties for early payment.
8. Kovo 
Similar to Seedfi, Kovo offers a variety of financial tools and information to assist you in improving your credit. Kovo provides individualized credit-building programs, access to credit products, and financial education, much like Seedfi does.
Additionally, it provides seminars to you on how to better manage your credit and personal finances. On loan offers, you can receive 1% cashback up to $1,225. It makes it a fantastic choice for you if you're seeking short-term financing while also trying to raise your credit score.
Key Highlights
To purchase Kovo courses, apply for the Kovo installment plan and make prompt monthly installments.
24 months at $10 per month.
Gather credit and receive benefits.
The three main credit bureaus and Innovis receive monthly reports about your payment history.
In addition to DC, all 50 states also offer Kovo.
For more info visit here.
Loan Amount
$1225
APRs
0%
Credit Check
No
Other Features
No fees for late payments or early payments.
For approval, a credit check is not necessary.
Its rapid acceptance makes it simple for you to access the platform and begin enhancing your financial situation.
9. Fig Loans 
Fig Loan provides credit-building loans that help raise your credit score. It can be the best option for you if you simply need to borrow a small sum of money for a few months and you're actively trying to build your credit.
If you want to improve your credit so that you can buy a house or another significant item in the coming year, these loans are wonderful possibilities. It also provides installment loans, which are repaid over a typical 4-month period in equal amounts.
Key Highlights
It does not impose late penalties, late interest, or bounce fees.
It reports to the three main credit bureaus so you can improve your credit while obtaining the urgent cash you require.
Your My Fig account allows you to request, accept, and modify your payment plan.
Loan Amount
$50 to $1,000
APRs
35.99% to 211%
Credit Check
No
Other Features
You will never pay more than what was specified in your loan agreement as your monthly payment amount.
Everything is done online.
Your state will determine the precise loan term, repayment plan, and amount of installments.
For more info visit here.
Final Words
This is the end of our discussion of Seedfi loans. With these, we've done our best to inform you about the loan-offering platforms. We hope that our advice will be helpful to you while you look for the finest loans like Seedfi.
FAQs
What type of loan is SeedFi?
If you wish to establish credit can choose between personal loans and lines of credit at SeedFi. SeedFi will report your payments to all three credit agencies whether you choose one of its Borrow & Grow loans or a Credit Builder Prime line of credit.
Does SeedFi give you money instantly?
The Borrow & Grow Plan from SeedFi is intended for you if you require cash up front and wish to begin establishing both a solid payment history and savings.
If approved, you'll receive a portion of the loan money right away, with the remainder going into a special savings account. Once the loan is fully repaid, you'll get the remaining amount.
Are there any other loans like Seedfi?
Yes, the Platforms mentioned in the above article are loans like Seedfi which help in increasing your credit score and immediately receiving loans.