Likee vs TikTok: Which is Best? [2023]
We may earn small commission from the products mentioned in this post.
Likee vs TikTok – Marketers and influencers who already had the chance to advertise on social media know that these services can be significant sources of leads, conversations, traffic, new customers, and eventually income.
In the recent years, Likee and TikTok have been the trend in social section of the digital empire. These short video-editing platforms have accomplished to increase attention of a lot of young users and other marketers and authorities.
Their popularity is still going on. However, many users are confused which service they have to use. They are wondering which platform offers the best features. Don't worry! In this article, I'll show you a brief Likee vs TikTok comparison which will help you to select the best option.
Likee vs TikTok: Let's begin!
Basically, both are same in terms of use and both Likee and TikTok are available on Android and iOS which can be used for creating and sharing short videos. Check out the below article for more information on Likee vs TikTok.
Likee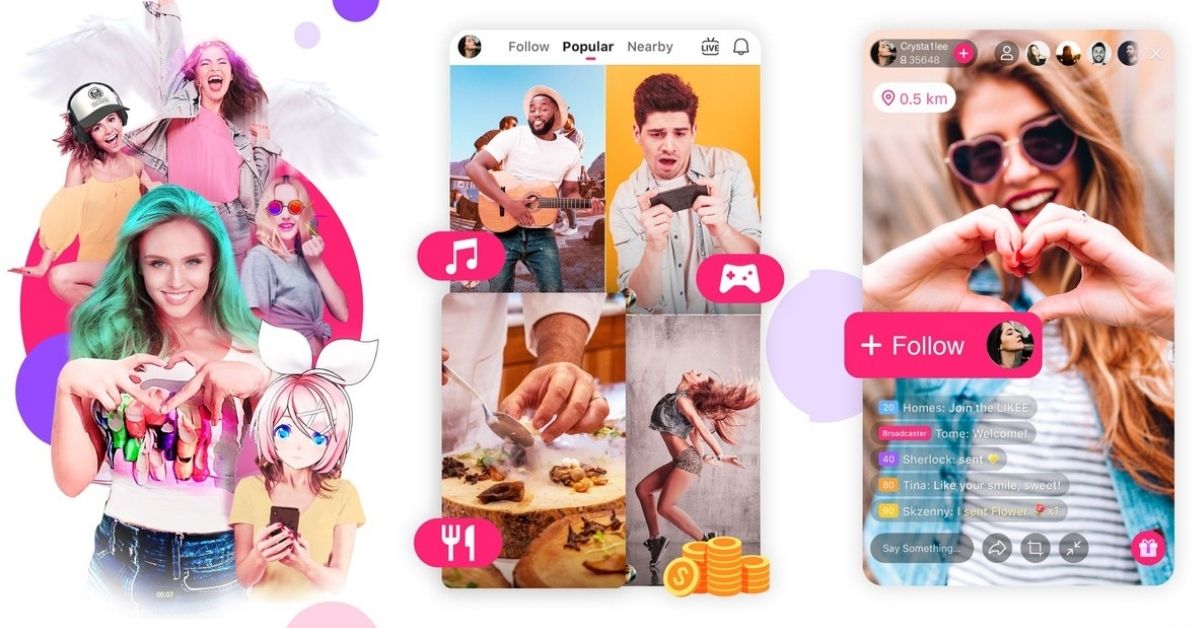 Likee is a short video creation and sharing app which is available for Android and iOS operating systems. Not only short videos, it also offers video effects and live stream. With the amazing customized video effects and feed, you can easily look for viral videos, watch and g live stream, as well as capture perfect videos.
The application's abilities consist of visual effects, including Dynamic Stickers and 4D Magic, as well as video recording and editing. It has over 100 million users, including talented vloggers, bloggers, video and content creators. You can follow these creators, make new friends and chat with them.
You can be able to choose from a great variety of videos, including dance, drawing, news, music, makeup, DIY, movies, or anything you like. It provides personalized feed depending on what your like, watch and share. This means, it provides more of those you like and less of those you don't.
TikTok
Just like Likee, TikTik is also a short video creation and sharing application. This social media platform is mainly used to create variety of short form videos, from genres like comedy, dance, as well as education, which has a duration from fifteen seconds to three minutes. It is available for both Android and iOS devices.
Users create videos which usually feature music in the background, and can be slowed down, speed up, or edited with a filter. You can also add your own sound on top of the background music. It is available in various languages, including Czech, Italian, French, Portuguese, Chinese, Turkish, German, Vietnamese, Swedish, Hindi, English, Spanish, Thai, Indonesian and much more.
Its "For You" page feature offers videos that are suggested to you based on your activity on the application. Content is generated by TikTok's AI (Artificial Intelligence) based on the content you liked, searched or interacted with. You can also select to add to "favorites" or choose "not interested" on videos.
Likee vs TikTok – Key Features
Likee
Like helps you make cool videos by using various face filters, video effects and editing tools.
You can personalize your videos with several funny stickers, quotes, cute emoji, greetings, colorful hairs and much more.
Enhance your videos with cool special effects like Astral Travel, MV, Face Morph, Face Cut and more. All you need is a photo to make it more professional and fantastic.
Change video backgrounds with video filters, and try various makeup styles in just few seconds.
Unlock several video effects like glitch, montage, sketch, vintage and much more.
You can go live on Likee to express yourself and engage with your viewers. Or simply just show your talents to boost your fan base and receive gifts.
It also offers special features like Likee tournament, Live Pk and fan club.
TikTok
Explore all types of videos from gaming, sports, pets, comedy, DIY, food and memes to ASMR, oddly satisfying or anything you want.
Its integrated editing tools lets you to effortlessly cut, trim, merge and duplicate video clips without leaving the platform.
React feature lets you to film their reaction to a certain video that is placed in a small video which is movable around the screen.
Duet feature lets you to film a video beside another video (this was a trademark of Musical.ly).
You have the ability to set certain videos to either friends only, public or private irrespective of whether the account is private or not.
you can add hashtags, sounds, videos and filters to your saved section, and when you want to create a video, you can go to your saved section or just create a video directly from it.
Influencers or content creators with more than 1,000 followers can use the live feature.
Likee vs TikTok – Comparison
As both apps are used for making and sharing short videos, people are wondering whether to use TikTok or like. If you are also confused, look out the below Likee vs TikTok detailed comparison:
| | | |
| --- | --- | --- |
| Features | Likee | TikTok |
| Platform Type | Like is a User Generated Content platform | TikTok is a Profession Generated Content platform |
| Users | 150 million monthly active users | 800 million active users across the world |
| Music Options | The in-built music catalog is fairly limited to TikTok. Likee allows users to add local music | Up-to-date and broad music library. Third-party apps are required to add their own music |
| Socialization | It lets users to watch live streaming and make new friends by people nearby function | It mainly aims to redefine digital socialization by presenting online video socialization |
| Video Editing Options | Artificial Intelligence and AR based technology. Realistic hair color filters, super power effects, 4D magic | A multitude of video effects, text, trimming videos emojis, frames and much more |
| Text Options | Multiple text boxes with precise timing. Facility to change font, angle, background, size and color | Text boxes with precise timings and positioning. The background color is adjustable |
| Compatible Device | iOS and Android | iOS and Android |
The Bottom Line
Likee and TikTok can hold something valuable for influencers, content creators, or marketers as they are more creative entertainment focused platforms. To simply this, I would like to mention that TikTok was early into the business and has already become very powerful.
Nevertheless, Likee is giving a tough competition with its various different methods of getting revenue such as getting money for watching videos or liking posts, which has somehow managed to attract the people from TikTok.
So, I hope the above article on Likee vs TikTok has helped you to understand each platform better, and hopefully helped you select a platform according to your preferences.