GoFundMe vs GiveSendGo: Which Is Better? [2023]
We may earn small commission from the products mentioned in this post.
GoFundMe vs GiveSendGo: Managing funds and having funds with everything in life is a great grand luxury to afford nowadays. But simply not everyone has blessed with all the luxuries in life. 
There are needy people out there who need funds for their daily life to survive, for education purposes, for medical expenses, and much more in general. Having money for everything is not possible and earning enough is impossible.
In life, at some point you need help. You need some funds to be raised against your problems or genuine charity for big amounts to be paid off. Here comes websites and apps for our rescue to simply give you funds via fundraising.
In this article, we are going to talk about two mainstream crowdfunding platforms namely GoFundMe vs GoSendMe. You will find every detail about them below.
By the end of the article, you will get insights about their fees, pros and cons, countries' availability, how to create campaigns, etc in general.
What is GoFundMe?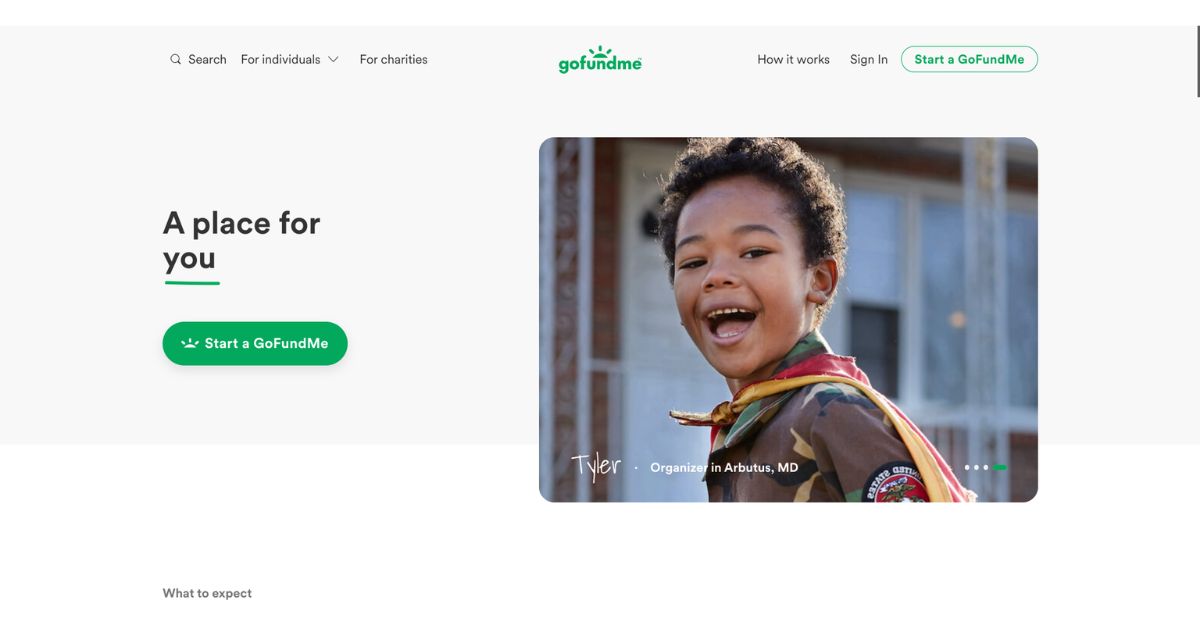 GoFundMe is simply a fund-raiser crowdfunding platform that allows people to create a campaign and raise funds for literally everything. The company started up in the year 2010 but is said to be a profit-making crowdfunding website, especially in medical fundraisings.
GoFundMe is said to be the world's largest crowdfunding platform mong others. The app doesn't need any fee for downloading or using for fundraising. Nonprofit crowdfunding is also available with GoFundMe.
You can easily collect your funds on GoFundMe without waiting for the goal you set to achieve or complete in terms of the financial amount set while posting the campaign on GoFundMe.
You can choose for which category you want to raise funds, you can go for charity option, for business purposes, for medical expenses, for education expenses, personal debts, and much more.
What is GiveSendGo?
GiveSendGo is another crowdfunding platform that is very user-friendly, simple to use, and is trusted around the globe. It is free for posting a campaign and earning funds out of it. It also offers a free version to use.
The users and organizations who can simply use GiveSendGo can be out of freelancers, businesses, charities, enterprises, non-profit organizations, government, small or big companies, etc. Simply anyone and everyone can use this app for crowdfunding.
It is a great app for anonymous donations or easy processing payments compared to GoFundMe. The app is also said to be kept very similar to GoFundMe where you simply create an account, choose a cover photo or video, title, and short description to create a campaign, and get funds.
Overview: GoFundMe vs GiveSendGo
Fees
GoFundMe
No fees are charged for starting or managing a fundraiser.
One transaction fee is charged be 2.9% + $0.30 for each donations.
GiveSendGo
Generally, GiveSendGo charges nothing for donations except the third-party processing fees which are 2.9% + $0.30 Per Donation in total.
For all the non-US campaigns the processing fee is kept to be 3.5% + $0.30 in addition to the currency exchange fees by the payment processors.
Countries Available
GoFundMe
Australia
Austria
Belgium
Canada
Denmark
Germany
Italy
Finland
France
Netherlands
Spain
Sweden and much more.
GiveSendGo
Australia
Canada
United Kingdoms
United States
Sweden
Spain
Japan
Ireland
Finland
Singapore and much more.
Funds Setup
GoFundMe
Go and signup to the GoFundMe website and create your account via a mobile number or email address.
Then enter your location and choose a category for the fundraising.
After that, set your fundraising goal just to reflect how much you need to raise for a cause.
Then you can choose to add a cover photo or video to showcase your reason and urgency.
After that, you can also tell your story with a title in 35 characters or less.
Once, you have set all your photos, story, goal, reason, etc then you can simply choose to make your campaign live and wait for receiving funds.
In the last, you can also choose to connect your fundraiser campaign on social media, and emails and share it in person too.
And you can also invite team embers to help you out by spreading your word speedily and to more people.
Later you can choose to edit your goal, transfer your donations, thank the donor or edit the story.
GiveSendGo
You need to go to their official website and click on create your account with them via email address and mobile number.
After creating your account, click on Create GiveSendGo and then set an amount to be raised in the campaign.
Then attach a photo and video and title for the fundraising campaign.
Then add a description of your problem and why you need funds.
Then simply set a goal for the amount you need and make it live.
You can also choose to share your campaign on other social media platforms like Facebook, Instagram, Twitter, and much more.
Once it is made live on their page, people will now see your campaign and will donate their contributions for your help.
You can then choose to transfer the funds to your bank account.
Fraud Protection
GoFundMe
There is no specific rulebook for fraud protection under the GofundMe app, but it does have some protection tips to follow. The accounts and campaigns which are verified via the GoFundMe team and criteria are given a green lock showing the site is encrypted.
Hence people using the site and campaigns should always look for the green lock before indulging in any activity related to the GoFundMe app and if you find any scam or query you can choose to email them or get help via chat.
GiveSendGo
GiveSendGo is a non-biased platform and hence the procedures for campaign making are kept private and unchecked. Hence people are responsible for themselves if they visit the site, create campaigns, or give donations via GiveSendGo.
Hence, there is no specific Fraud Protection mentioned by them or is kept as a procedure before sharing a campaign, no background check is done via their platform. It is just a mediator for the fundraising model.
Customer Support
GoFundMe
You can simply just go to their website and click on- The Get Help option.
Once you have clicked on the option, a dialogue box will appear to enter your query in the box to see the potential answers.
If your query is unique and not yet answered then you can simply choose to complete a short form regarding your personal information and send it to their mail.
GiveSendGo
You have to go to their website and click on the Contact Us page to open up.
Then you have to enter your name, email address, subject, campaign URL, and query in the message box.
After filling all these, you can simply send the message to their team to contact you and solve your query as soon as possible.
Compatible Devices
GoFundMe
Android Devices
IOS Devices
Tablets, Chrome extension, web extension, etc.
GiveSendGo
Andriod Devices
IOS Devices
Tablets, chrome extension, web extension, etc.
Pros & Cons
GoFundMe
Pros
It is a site that guarantees to fund your campaigns.
The donations receiving speed is quite fast than other platforms.
It offers full access to use tools for fundraising.
The platform fee is said to be zero for GoFundMe.
No time limits are given or compulsory to finishing the goal option for your campaigns.
It doesn't require you to complete all your goals.
It offers you a recognizable name in the crowdfunding industry.
It allows every category to fundraise on its platform.
Cons
No guarantee for success in this crowdfunding platform.
Some countries are not supported via their website.
There is some sort of privacy issue for the SSN of Americans.
The campaign organizers must meet some specifically withdraw criteria.
There is limited customer service available for queries and problems.
Building your community on their platform is tough.
You don't have an option to donate anonymously with GoFundMe.
Recent changes and updates are missing.
Donor identification is sometimes necessary.
GiveSendGo
Pros
GiveSendGo doesn't offer a lot of financial risks involved compared to others.
It is user-friendly and free to use and download.
It is easy to gain a whole new community of people to support you.
Cons
It needs lots of planning and time to get your word explained.
Raising funds doesn't complete your goal overnight.
Your campaign might get negative reviews if not well presented.
GoFundMe vs GiveSendGo: Final Verdict
Here we come to an end to the discussion of GoFundMe vs GoSendMe, both the app and website work similarly and has similar features. Hence, choosing one out of the two simply depends on your trust and requirements with the crowdfunding platform.
Both of them are free to use and download. Hence you can simply check their fees section and pros and cons to choose the best among them for your crowdfunding and fundraising mediator.
Buy Me A Coffee vs Patreon: Which is Better? [2022]
Plumfund vs GoFundMe: Which Is Better For You? [2022]
FAQs
Who owns GoFundMe?
GoFundMe is in the hands of Brad Damphousse and Andy Ballester. 
Who owns GiveSendGo?
GiveSendGo is completely managed by Jacob Wells and Heather Wilson.