13 Top ChatFAI Alternatives & Sites like ChatFAI [2023]
We may earn small commission from the products mentioned in this post.
ChatChatFAI Alternatives: Yes, having a crush on a TV show character or a real-life actor or actress – or maybe someone from your favorite book was enough until AI apps and sites came out that allowed you to actually chat with your favorite characters.
There are many AI platforms that allow you the freedom of chatting with your favorite character, one of them being ChatFAI. ChatFAI is established with the main goal of helping you chat with your favorite movie stars, TV show characters, fictional stars, etc.
Yes, it's all good and great – until your messaging limit is over, and you still want to talk to your favorite characters. Then, what will you do?
Exactly, you'll look for some good ChatFAI Alternatives that either are free, or have a bigger limit to them, and to help you with that, we have presented a list of 13 top ChatFAI Alternatives in the article below.
List of ChatFAI Alternatives:
1. Agnaistic 
Agnaistic is a well-known platform, with the slogan of 'Bring your own AI'. It's an open-source chat service that allows you to choose third-party AI services to have conversations with your favorite characters.
At Agnaistic, it guarantees that all your conversations are entirely private, and they are never opened and shared by anyone – unless you invite that someone to your chatroom.
Key Highlights
The site works in sync with other popular AI platforms like NovelAI and OpenAI.
Just by registering on the site, you get to log in and chat through multiple devices and different characters at the same time.
Pricing
Free, but you will have to pay for third-party AI services accordingly.
2. TavernAI 
TavernAI has to be on your bucket list because it's kind of unique and is an unusual idea of AI. Unlike any other AI chatting platform, TavernAI here comes with an adventurous atmosphere of chatting. 
At TavernAI, you'll get to experience creating characters with a professional personality setup system, and you can have your own personal online character library.
In addition to that, the platform supports chatting with different characters simultaneously and has fair ChatFAI setting options for AI models.
Key Highlights
The platform works with famous APIs like Pygmalion, OpenAI chatGPT, KoboldAI, etc.
It has a story mode which you can alter according to your liking and can continue the story whenever you wish.
You are allowed to choose the atmospheric background you want while chatting.
Pricing
Free
3. Character.ai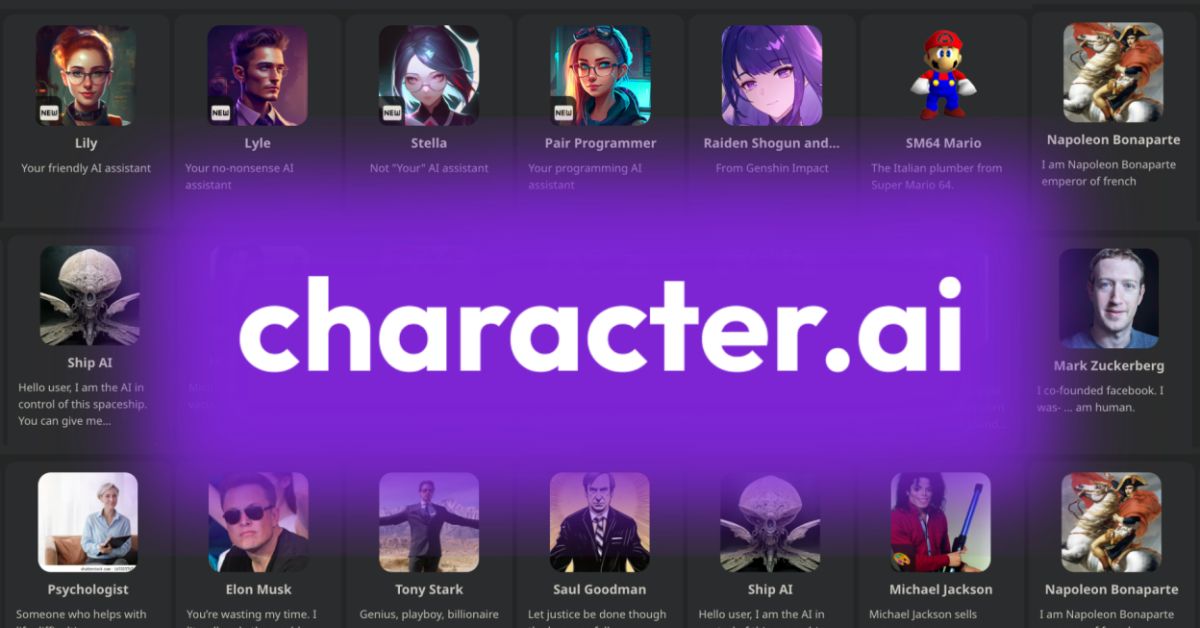 Character.ai is one of the most popular ChatFAI alternatives in this list, a neural language forum still in the beta stage – under development. It's a model chatbot application that generates human-like text replies and is also allowed to participate in different kinds of contextual conversations.
With Character.ai's mind-blowing AI technology, you can easily bring all your imaginations and ideas to life, and create characters of all kinds.
Key Highlights
You get to chat with ultra-realistic AI models.
The application has unlimited AI messaging, with 0 ads and interruptions.
It has a set of advanced tools to create any type of character.
Pricing
Free
4. Chai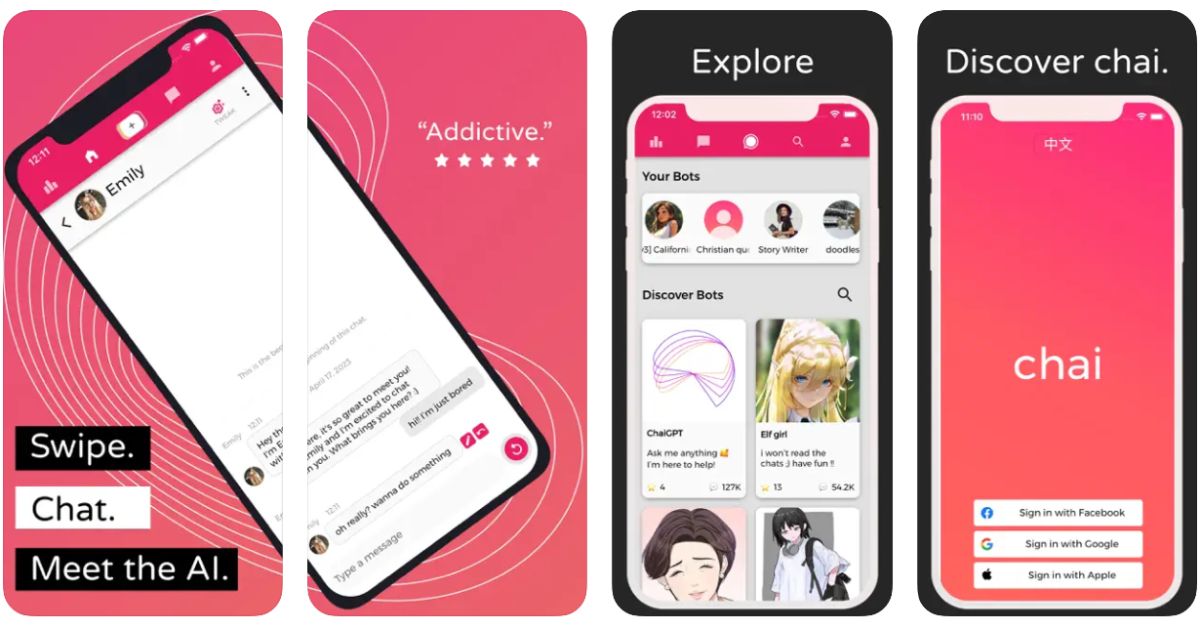 Chai is another popular one in the list – with over 1 million downloads only on the Google Play Store. It is a globally famous platform to chat with AI friends and you get to choose friends from worldwide — helping you discover and learn different capabilities.
The working of the Chai app is super simple. You'll be getting a list of all the recommended AI friends, and you are free to swipe to start chatting, or swipe to the other side and move onto another character.
Key Highlights
The platform is somewhat like a dating app, with the only exception that all the people recommended to you are not real.
You are allowed to engage with different characters at once, or at a different time, from the start of the day to the end of it.
Pricing
Free
5. Replika 
Replika, again, is one of the most popular AI platforms for chatting with your ideal type of character. With this platform, you can meet different AI friends and chat with them about anything at any time — whether you want to share something or need advice for anything.
Moreover, Replika has many features, but our personal favorite could be that the characters you're talking with have the ability to learn and evolve with every conversation – like, you are molding them into a person you'd like.
Key Highlights
You have to start by choosing a 3D avatar and customizing the way the avatar looks — from personality traits to its outfit.
You get to decide if you want the character to be your friend, a mentor, a romantic partner, or someone else.
Pricing
Free for limited services, and paid subscriptions for unlimited services.
6. Cleverbot 
Cleverbot is a promising AI bot, clever bot to be exact — on a platform where you get to chat about anything and everything in the world. It has the ability to learn from people, from imitation, and from context.
Additionally, you get to add all types of snips on the site, and there is a special section for snips on the website where you can sort from the newest ones, and the ones starred as your favorites.
Key Highlights
You can either say anything to the bot through texting or speak through the mic option at the end of the text bar.
If you are a beginner, you have the option of using multiple guides available on YouTube on how to help characters learn — or you can always choose the text guides on the site.
Pricing
You need to pay for APIs.
7. Inworld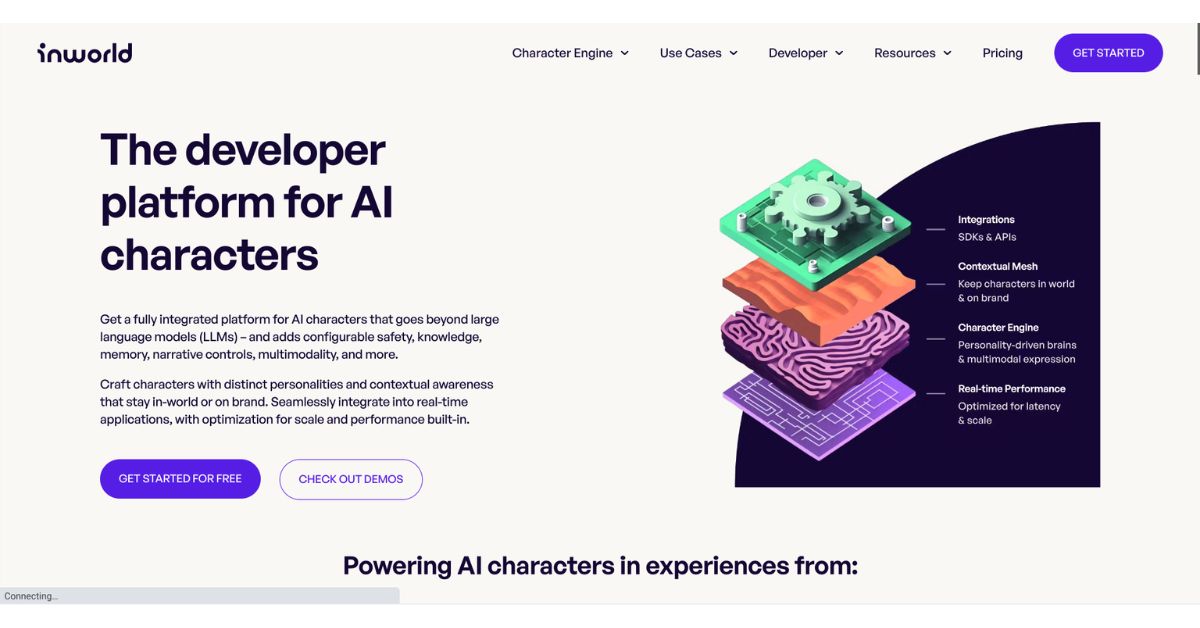 Inworld is another promising AI platform – a fully integrated site for AI characters who are advanced through LLMs — large language models. Along with that, it automatically adds configurable safety, narrative controls, memory, knowledge, and more to the AI. 
At Inworld, one can create characters with all sorts of personalities, and they can also alter their contextual awareness that can stay in the digital world or on brand.
Key Highlights
The app has built-in optimization available for scale and performance.
It supports multiple integrations like SDKs and APIs for a better experience.
Pricing
Free, but for advanced advantages like integrations, unlimited character creation, and API, you need a paid plan and subscriptions start from $20 per month.
8. KoboldAI 
KoboldAI is a famous title in the industry and a professional gateway to GPT writing. It's a browser-based front tool for ai-assisted writing, which can be used for many local as well as remote AI personalities.
KoboldAI provides all the standard variety of tools, and the list includes world info, save and load option, adjustable AI settings, memory, author's note, formatting settings, and you can also upload AI dungeon adventures.
Key Highlights
It allows you to randomly switch on the adventure mode and play games, such as the AI dungeon unleashed game.
You can have stories played as a text adventure game, or a novel, or use a chatbot to change characters between all the gameplay characters.
Pricing
Free
9. Nastia 
Nastia is a well-known AI companion — with the highlight of being entirely uncensored. Yes, it's a form where you get a refreshing experience of unfiltered conversations — where nothing is hidden.
With Nastia, you get to have unfiltered chat and involve yourself in uncensored role-play anytime. Also, you can either start chatting on its website or join over 1000 people on Discord, where you can chat with Nastia as a bot in channels.
Key Highlights
You can find many different personalities in Nastia – including a friend, a companion, a mentor, a partner, etc.
The bot has the capability of discussing realistically, learning, and exploring with you.
Pricing
Free
10. Dreamily
Dreamily is another one for those who seek new stories with unique plots. It's a creative AI companion on a platform where you can create a world of your choice and start a story in that world, while you get to speak with characters of the story (all of those you made). 
At Dreamily, you'll have the complete experience of creating a story from start to end, adding a fully customized script, and entering characters with proper descriptions.
Key Highlights
If you're not interested in stories, then you can also find any character of your choice from the discovery page and start a conversation right away.
The app supports immersive voice calls through which you get to hear your favorite character's voice.
You can choose to support multiple writing styles with all types of genres, including romance, fantasy, etc.
Pricing
Free
11. Botify 
Botify is another interesting AI platform where you can chat with a good variety of AI characters. 
Here, you have to start with creating your own digital human, and choosing an avatar comes first where you can either type in the character you want or upload any pictures from your device gallery.
Additionally, you are also allowed to design all the personality traits and aspects of the avatar. Further on, you can chat about anything at any time with any personality you have created.
Key Highlights
While designing the digital human, you can personalize their appearance and personality as well as biography, voice, and mood.
You can use the digital human to show off your creativity on social media platforms, and can as well prank your friends.
All the characters support role-play of any kind.
Pricing
Free, but a few modes and personalities like the romantic partner are only available for paid users.
12. CrushOn.AI
CrushOn.AI is another promising platform for unfiltered conversations. On this site, you get to chat with your favorite characters with no filter and can have a real and genuine experience chatting with fictional characters, real-life celebrities, etc. 
At CrushOn.AI, there are plenty of bots waiting for you, from cute, handsome, beautiful, and charming, anime characters like Gojou Satoru and Yae Miko, the platform also has, as already mentioned, real-life celebrities like Elon Musk and Mark Zuckerberg.
Key Highlights
The platform has a different headline and section for all the characters that support NSFW conversations.
You can continue chatting with the characters whenever you want and always choose from other headlines like popular characters, featured characters, community, recommendations, etc.
Pricing
Free for limited services, and paid subscription plans on a monthly and annual basis for advanced services.
13. Janitor AI 
Janitor AI is, again, a popular choice for filtered as well as unfiltered chat rooms. It has plenty of characters, over 45,000, both male and female and of different kinds like anime, manga, real life, fictional, etc. 
Moreover, the Janitor AI platform is a simple site where you can easily start exploring from the main page itself. You can also choose to only view SFW-only or NSFW-only characters.
Key Highlights
The platform has almost all types of characters, like cranky roommate, dominant, etc, and also has interactions based on different situations like where you are stuck in an elevator with someone good-looking.
Every conversation is private, but you can also decide to keep your chats for public view.
Pricing
Free
Final Words
The above-mentioned list of ChatFAI alternatives contains a wide variety of AI platforms – with each having its own unique ability, list of features, and advanced tools to help you have a good experience with AI characters on chatbots.
With this, we have successfully presented all our personal favorite ChatFAI alternatives to help you have a good time with your favorite AI character.
Frequently Asked Questions
Are there any free ChatFAI alternatives?
Janitor AI, Dreamily, TavernAI, KoboldAI, Character.ai, Chai AI, and Replika are a few of the free ChatFAI alternatives.