Brass App Review: Is It Worth It? [2023]
We may earn small commission from the products mentioned in this post.
Brass App Review: Are you bored keeping the usual themes and icons in your iPhone or Android? How about you try Brass App and give your cell phone an overall new look?
Just how boring it feels to switch on your cell phone and look at the boarding theme and its combination, again and again, this might feels boring to you too
As technology has developed in almost every part of this world, it has also shared some of its techniques and ideas in inventing unique and amazing themes for cell phones.
Themes may not be a crucial part of everyone's life, but it plays a part in your life if you are in love with your cell phone – because you simply cannot switch on your phone 10 times a day and look at the same wallpaper, same icons, and same lock screen every time.
So, who doesn't need a change in this world? You do and we do too. Similarly, like we change our thoughts and opinions on people and things regularly, we are also required to think about renovating the themes of our mobiles frequently.
To help you with the outlook of your cell phone – in the article below, we are presenting you with the Brass app Review, an app famous for widgets and icons of customers' choice. To learn more about the Brass app, don't stop reading!
What is the Brass app?
Pretty themes for girls, cool widgets for boys, elegant widgets for ladies, or decent yet rich outlooks for gentlemen, the Brass app has it all for every type of you.
With a few simple instructions, you can change the theme of your smartphone in a matter of seconds. You get a good variety of widgets and icons on the Brass app. You can prioritize the look of your cell phone and smile whenever you switch it on after renovation.
How does it work?
It is easy to download them and apply them to your device. How to do it? Have a look at the points below!
Start by downloading the application on your device.
After it is downloaded, switch it on and search for the themes or widgets of your type.
Once you find them, download them.
After it is successfully downloaded, you can apply them. Maybe customize it a little if you want.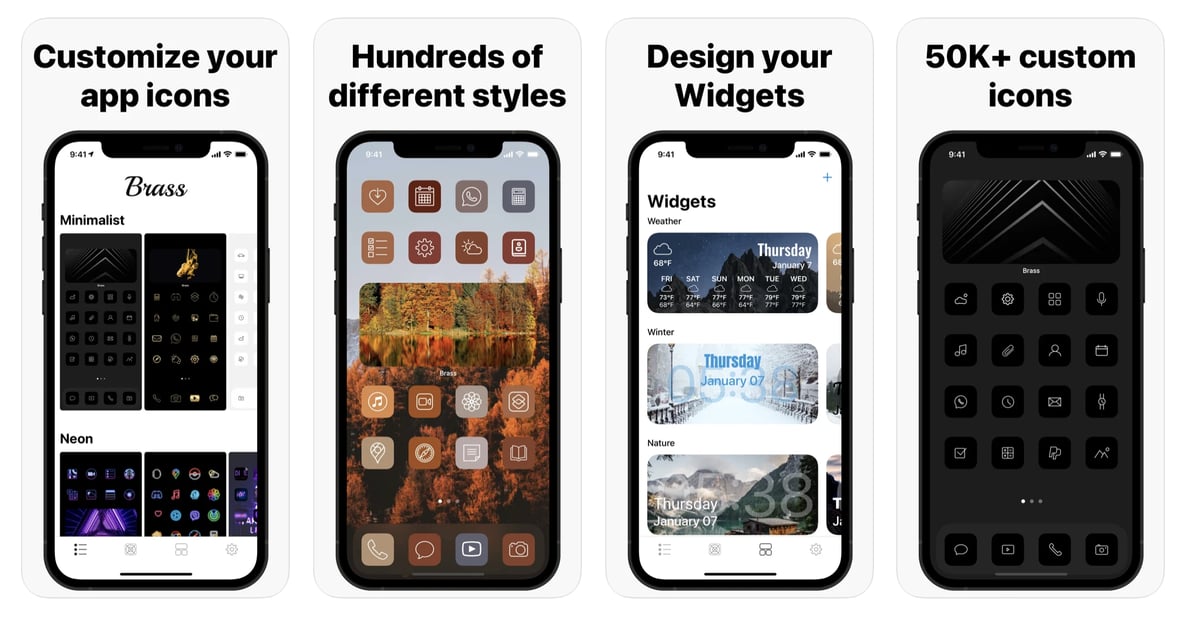 Features
Below is the list of Key Features of the Brass App:
With the help of the Brass app, you can customize your home screen, lock screen, and other things like widgets on your mobile.
It has a wide range of theme types from aesthetic to cool from decent to classic, you can find every type of theme and its list.
The app is easy to handle and manage with a few steps being followed carefully you can personalize your smartphone within minutes.
Pricing and Plans?
With the Brass app, you have five options to choose from. The list is as follows:
Free trial – the free trial feature will only last for a few days at the start before they will ask you to pay for the subscription to continue using the services.
Weekly subscription – Weekly Subscription will cost you $9.08 every week.
Monthly subscription –  Monthly Subscription will cost you around $19.99 every month.
Yearly subscription – early subscription will ask for $25.30 every year from you.
Billed once – for the people who would like to pay once and for all for this app – you have to pay $39.85 once and receive the services from the app for a lifetime.
Is it Safe?
Yes. Using the Brass app is 100% safe and secure. Transactions you make for subscriptions are guarded by high-AI Technology systems. The data inside your device which has the Brass app installed will not leak. It will stay safe along with other things in the device.
Is It Worth it?
If you are bored watching the same theme every time you switch on your cell phone then yes using the brass app and paying for the subscription is worth every penny spent.
Final Words: Brass App Review!
To conclude with amazing features and mind-blowing themes – you can make your experience using the phone better. Aesthetic, Hundreds, Customize, Create, Easy and so many more features are added in the Brass app. Along with these, there is no way you will be disappointed in giving the app a shot.
Frequently asked Questions
Is the Brass app safe?
Yes. The Brass app is 100% safe to use. It assures full security at the time of transactions you make for subscriptions.
How does the Brass app work?
Install the app. Allow the permissions. Download the themes and apply, you are all set!
How to use the Brass app on iPhone
Install the app through the Apple store. Give it all the permissions required then download the themes. Choose the one you want to keep now and apply!
Is the Brass app free?
It does have a few themes for free but others require a subscription to unlock.
Themify App Review: Features, Plans, Legit?