9 Anonymous Apps like Yik Yak [Must Try]
We may earn small commission from the products mentioned in this post. visit here for more details.
9 Best Apps like Yik Yak: Are you looking for a platform where you can express yourself anonymously? Wondering which app will offer you the best features? Don't worry; we'll help you with that.
In this article, we'll show you the 9 best Yik Yak alternatives that allow you to share your thoughts and ask questions anonymously.
Yik Yak is a social media platform that lets people create and view discussion threads within an 8 km or 5-mile radius. It is a fantastic location-based service that enables you to explore your nearby persons, and it doesn't need any personal information.
Although it is a fantastic app, it might not be suitable for you. So, read on further to know more about the 9 best Yik Yak alternatives.
Apps like Yik Yak: Top Alternatives!
Here is the list of the 9 best apps like Yik Yak that are worth considering:
Whisper
Whisper is a form of anonymous social media that allows users to share and post videos and photos messages anonymously.
The postings which are caked "Whispers" comprise text placed over an image, and the background pictures are either uploaded by the user or automatically saved from Whisper's search engine.
Key Features
Millions of people worldwide share honest thoughts, get the inside scoop, and trade advice.
It lets you share photos, videos, and text entirely anonymously.
It has its own gallery of fonts and videos to choose from.
You can communicate with other people by responding to their "Whisper" through the chat feature or by sending your own Whisper.
Users don't have a password for signing in to their accounts, thus protecting their anonymity.
It is available for both iOS and Android devices.
14 Best Apps Like Yubo to Make Friends [2021]
ASK.fm
Ask.fm is one of the best apps like Yik yak where users can create a profile and can send each other questions. It is a form of anonymous social media platform which fortifies questions to be asked anonymously.
Once you open the open, you can see all the questions that other users have answered.
Key Features
You can ask questions anonymously or openly to any classmate, friend, as well as a stranger.
Follow friends to check all the questions they've answered.
You can immediately add animated GIFs or photos to any answer.
You'll have the ability to toggle off anonymous questions for anyone who irritates you.
View everyone that has liked your answers to questions.
Over 11000 questions per minute are asked by other users.
You can lock your best answers and set up a price where everyone has to pay to see the hidden content.
Jodel
Jodel is a live social media feed comprising news, events, jokes, questions, and confessions.
It encourages people to communicate with each other locally. Also, it offers several tools to experience everything that your city has. Whatever you post on the Jodel app is visible to all the people in your community who are using the Jodel app.
Key Features
Make new friends and connect with people around you who have similar interests as yours.
Chat with other users, post messages and photos to everyone around you.
Find or provide useful local information or simply explore what's happening in your city.
Vote on posts and decide what your area talks about.
Join channels for more personalized content and pin content that you wish to follow.
Receive notifications for important news breaks and stay aware of local weather forecasts.
9 Apps like YOLO to Make New Snap Friends!
CuriousCat
CuriousCat is one of the best apps like Yik Yak that lets you connect with your friends and followers and ask questions & answers anonymously.
It has over a million active users who actively use it to ask questions anonymously.
Key Features
You can be able to connect with anyone in your community.
Its group chat feature lets multiple people to join and have fun asking random questions.
You can have the ability to post questions anonymously or publicly.
It is available for both iOS and Android devices.
Swiflie
Swiflie is a social media platform where all posts are temporary and don't last long. It lets you send opinions, thoughts, and suggestions to the things that you like.
You can also be able to like and follow the posts of other users anonymously.
Key Features
It provides customization options that let users create your profile and show everyone what you're all about.
It has groups and communities which allow you to share your posts with various groups to express your content and find new opinions.
You can like and follow the posts of other users anonymously.
It is available for both iOS and Android devices.
It lets you send text, videos, images, and GIFs through the chat room.
It also permits you to share and view content from people in your community.
11 Cool Apps Like Hoop to Make New Friends!
Reddit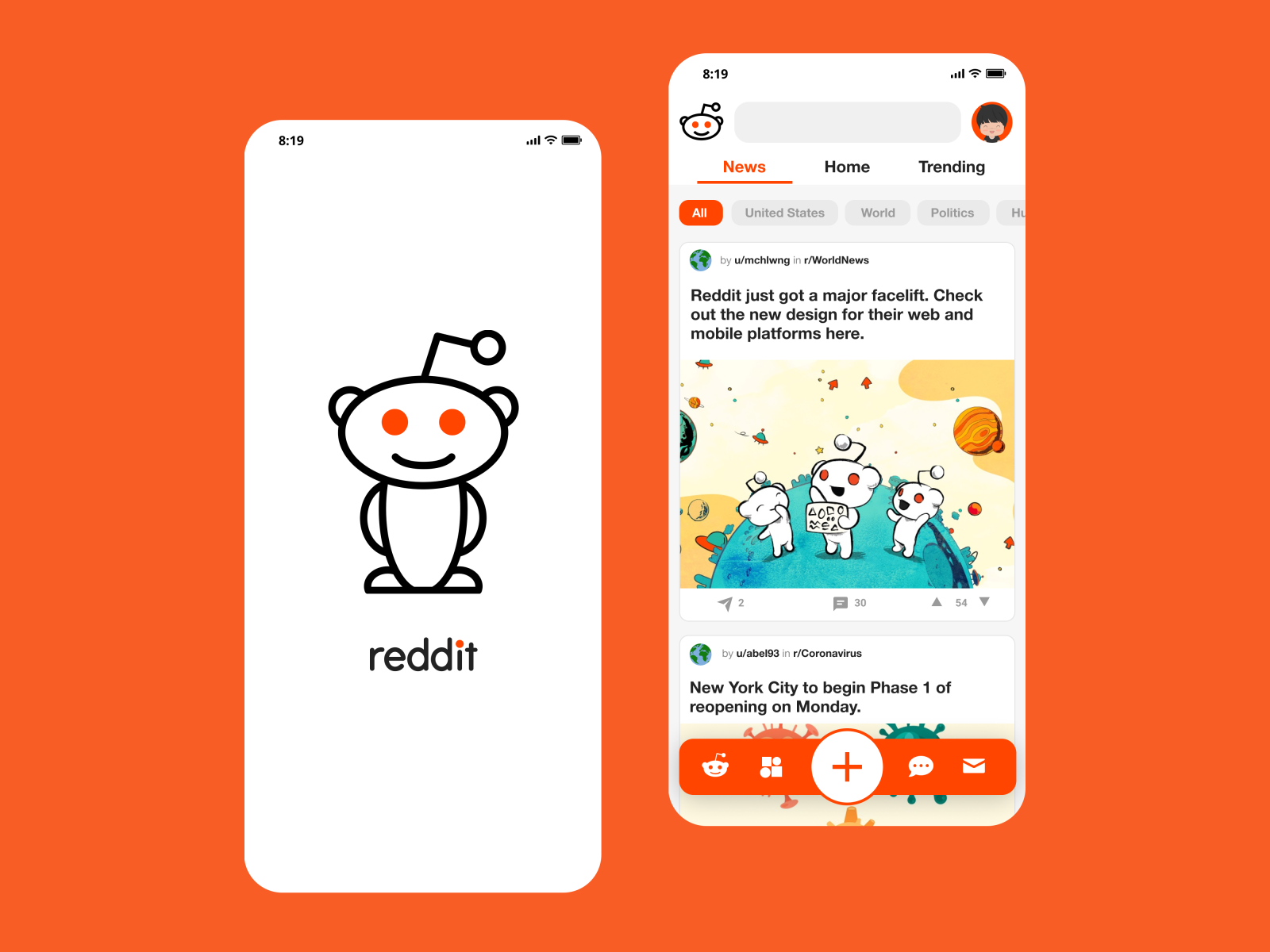 Reddit is a social news aggregation, discussion, and web content rating website. Registered members submit their content to the site, including text posts, videos, links, and images.
All these posts are organized by subject into user-created boards called "Subreddits" or "Communities", that cover different optics like politics, science, video games, book, fitness, pets, religion, movies, music, and more.
Key Features
You can join any community you find interesting, ask for advice, voice your opinion, get news, and discuss sports.
You can post memes, join discussions, upload photos, contribute stories and help others to find the best stories.
You can join the chat room in a community or simply have a one-on-one conversation about various topics.
Create a personalized feed by subscribing to your favorite subreddits.
Communities upvote, and downvote posts to highlight the most interesting and relevant content.
NoName
NoName offers an anonymous option that lets users to send messages, follow and like posts and ask questions anonymously.
It doesn't need any registration or account; you can simply enter the username and start a conversation instantly.
Key Features
Its chat rooms allow you to share videos, stickers, images, GIFs, and many more,
You don't have to provide your email address, name, or phone number to use this application.
You can be able to ask questions and get answers anonymously.
Create a profile, upload images, and send unlimited messages.
You can just simply start a conversation by entering your username.
It doesn't require any account, registration, or subscription.
It is available in numerous languages, including French, English, Albanian, Japanese, Chinese, Danish, and Dutch.
Vent
Vent is a free mobile application that helps you to connect to an interesting, fun, positive, uplifting, and understanding community, thus making it simple and easier to share your feelings.
You can join many entertaining groups and make new friends.
Key Features
Express your thoughts and your true self with its wide range of emotions and colors.
You can send videos, voice messages, images, and GIFs.
Make friends and chat privately in real-time without sharing your personal information.
React to other people's vent by using its special response buttons.
Join several groups to connect with other people who share similar experiences and interests.
Spout
Spout is an anonymous location-based chat application that lets you express yourself and connect with other people around you.
It is available for both Android and iOS devices, and you can access it anytime, anywhere across the world. It is one of the best anonymous chatting applications.
Key Features
You can share anything that's on your mind, ask opinions, advice, question, and check what others are saying.
It lets you chat with people that live nearby or across the world.
It allows you virtually handle your profile and never disclose it before anyone.
It also offers several features, including adjusting locations, expressing yourself voting options, and earning spout coins.
Final Words: All the apps mentioned in this article helps you to ask questions, share your thoughts and express your feelings anonymously or publicly. So, we hope the above article on the 9 best apps like Yik Yak has helped you to pick up the best option according to your preferences.
6 Awesome Anonymous Chat Apps like Sarahah[2022]
Yik Yak Not Working? App/Website Here's How To Fix It [2022]