5 Best Apps like Uber Eats & Uber Eats Alternatives [2023]
We may earn small commission from the products mentioned in this post. visit here for more details.
Uber Eats may be great food and delivery platform, but you can also try other apps like Uber Eats to order food or earn some extra money as a driver.
This post will show you the 5 best Uber Eats alternatives that will assist you in making the best decision based on your needs and preferences.
What is Uber Eats?
Uber eats allows you to order meals from your favourite restaurants and have them delivered at Uber speed. With Uber Eats, you can eat whatever you want, whenever you want. At the touch of a button, you'll be able to find the regional flavors you're looking for.
For ideas, look over the menus of local eateries and fast-food favorites. Search for a specific restaurant, dish, or cuisine to find exactly what you're looking for. If you're hungry, Uber Eats is a good option. You'll see your delivery address, an estimated delivery time, and the entire amount, including tax and booking fee, when you're ready to place your purchase.
Is all of this, however, sufficient in today's fast-paced world? No, I don't believe so. So, we've come up with some great Uber Eats alternatives, that will be advantageous to you in every way.
Check out these apps like Uber Eats that will allow you to make an order for on-demand delivery of any essentials, food, or anything else or for earning cash by delivering items:
Doordash
Doordash is a digital start-up that links individuals with the finest of what their towns have to offer. They accomplish this by strengthening local enterprises, creating new opportunities for individuals to earn, work, and live.
It began by simplifying door-to-door delivery, but this is only the beginning of linking people with opportunity — more leisurely evenings, brighter days, larger savings accounts, broader nets, and stronger communities.
What's Inside?
Get groceries, snacks, basics, and booze delivered to your home from all of your favorite local and national restaurants.
New customers receive a 25% discount and no delivery cost on their first order, and all subsequent products are delivered for $1 throughout the first month.
Your favorite restaurants: Choose from a wide range of cuisines, including anything from sushi to comfort food. With quick and easy ordering, you can get your favorite foods faster.
McDonald's, KFC, Subway, Taco bell, Pizza hut, Oporto, Nando's, Grill'd, Red rooster, Sushi sushi, and others are among the national partners.
Convenience stores and groceries: Thousands of things may be delivered on-demand from your local sites or the reject shop.
From housekeeping supplies to late-night desires for chocolate or ice cream, to beverages and chips to watch some Friday night football, there's something for everyone, Doordash has everything you need.
Become a dashpass subscriber: Customers with a dashpass membership enjoy unlimited deliveries, no delivery costs at dashpass businesses, and exclusive deals from local eateries. Only available in Melbourne at the moment.
No-contact shipping: By default, all deliveries are left at your door, but you can choose to "hand it to me" if you want.
If you choose a no-contact delivery, the dasher will understand that you want them to leave your meal in a secure location and notify you when it's available for collection.
Deliveries should be scheduled; you may have your meal when it's most convenient for you if you order ahead of time.
Tracking in real-time: Find out when your order will be delivered. We've taken into account everything that stands between you and your cuisine, from food quality to prep times to traffic and weather.
Pickup will save your time: Order ahead of time to save time on phone calls. Providing quick and convenient takeaway and pickup.
Payment: Pay using Apple pay, Credit card, or PayPal for more convenience.
Exceptional qualities: The most notable distinction between Doordash and other applications is that Doordash employs its own independent delivery drivers, known as "dasher."
They compensate drivers with tips in addition to a standard income, as well as for completing tasks.
Doordash for drivers
Doordash now pays $2-$10 for every delivery, plus any challenges, promotions, and tips.
The quantity of your orders determines rates, the number of miles you must drive, and how soon you can complete them.
If you're searching for a flexible side-income, it's a terrific option because you may work whenever and wherever you like.
Nonetheless, company expenditures such as petrol, phone, and auto insurance may be costly.
Check out the list of comparable applications that will allow you to make an order for on-demand delivery of any essentials, food, or anything else or for earning cash by delivering items.
Try these 7 Best Apps Like DoorDash & Doordash Alternatives
GrubHub
Uber Eats alternative, "GrubHub" delivers your favorite cuisine to your home from the broadest variety of eateries.
With the Grubhub app, you can order from your favorite restaurants and have them delivered in just a few taps.
Do you want to get out for a while? Great! Takeout orders can also be picked up.
What's Inside?
Variety of restaurants: Grubhub has the food you're searching for, whether it's your favorite local hangout, a well-known restaurant, or a new location to explore when traveling.
Join grubhub+ to enjoy unlimited free delivery from surrounding restaurants, special incentives, and access to our elite care team, among other benefits.
Plus, Grubhub will match any donations to no kid hungry made by grubhub+ members, doubling your community impact.
For a limited time, you can try grubhub+ for free. After that, it'll cost you $9.99 every month.
Do you have any ideas for your next meal? Each Grubhub city has its own set of eateries that you are familiar with and enjoy.
Arby's, Buffalo wild wings, Cinnabon, Denny's, KFC, McDonald's (only in new york city), pizza hut, potbelly, taco bell, and more are all within reach.
Here's a sampling of some of the dishes, flavors, and cuisines to look forward to Italian, Korean, Vietnamese, Chinese, Greek, vegan, vegetarian, and more! Burgers, Donuts, Pizza, Sushi, Pho, Wings, Italian, Korean, Vietnamese, Chinese, Greek, vegan, vegetarian, and more!
Takeout ordering made easy: Avoid the stress of ordering over the phone by utilizing the iOS app. You may also rely on GrubHub's customer service, which is available 24 hours a day, seven days a week.
Order tracking in real-time: GrubHub provides real-time order tracking, so you'll know when to rush out the door for your delectable meal.
Many ordering options – the GrubHub app comes with a slew of useful features.
You may place an order right now or plan ahead for your next meal.
With a tap, reorder your favorite meals.
Save time and money by ordering takeout and picking up your food.
Choose from a number of payment methods, including apple pay, Venmo, and GrubHub gift cards.
Specials and offers: Take advantage of unique GrubHub+ features exclusively accessible to GrubHub+ members.
Reviews and ratings of quality: Because GrubHub offers so many restaurant ratings and reviews, you can be sure to receive the most outstanding cuisine in your neighborhood.
To assist other GrubHub customers, review the restaurants and menus you sample.
Terms of free delivery: Offer restricted to one usage per diner; must be a first-time GrubHub diner. Before-tax, tip, and levies, your order must be $15.00. The discount is limited to $5.00 off your total order. Only valid for delivery orders.
Exceptional quality: The same great restaurants, quick delivery, and low prices are still available. It's now orange. Just eat takeaway, and GrubHub have teamed together, and they have altered the appearance to match.
They are still the same GrubHub you know and love beneath the new hues.
GrubHub for drivers
Grubhub drivers are not GrubHub employees but rather independent contractors. You'll be able to set your own hours as a GrubHub delivery driver, and you'll be able to choose what time of day and how many hours you want to work.
It is critical to plan a delivery block since drivers who do so will be preferred over those who do not.
You may even join up for additional shifts to increase your earnings! One of the significant disadvantages is that you are responsible for any depreciation, maintenance, and auto insurance for your vehicle since GrubHub would not reimburse you.
Postmates
Postmates is another app of the list of apps like Uber Eats, Postmates says "Delivery from your favorite restaurants, grocery shops, and more!". 365 days a year, 24 hours a day, 7 days a week.
Postmates delivers your items when and when you want them. Simply postmate it.
What's Inside?
Search for your favorite restaurants: Look for eateries in the area. Order from a number of options, including pizza and burritos, Burgers, Sushi, Chinese foods.
There's no need to wait in line or make reservations. With a few touches, you may order food from any menu and add it to your cart.
Alternatively, you may place your meal order ahead of time and have a courier bring it up later. It's your decision!
Retail, grocery, convenience, and more: From your neighborhood grocery store and liquor store to major cosmetics brands, there's something for everyone. Simply use Postmates to get them delivered in under an hour.
Order tracking in real-time: As your meal arrives, you may track it on a map. See how long it will take for your package to arrive at your location. When your order comes, you'll be contacted.
Delivery without contact or easy pick-up: Instead of ordering meals for delivery, you may order it ahead of time for pick-up. Select pick-up, add food items to your basket, then pick up your meal at the restaurant.
Alternatively, go non-contact and have deliveries left at your door with the new no-contact delivery option.
Terms of promotion: Your next order will be discounted by $10. Terms & conditions: receive a $10 discount on your next purchase. Only when you download and check in to the new Postmates app will you be eligible for this offer. Taxes and fees are still applicable.
Based on the user's location, store and offer availability. Each consumer is only allowed one use. This offer cannot be shared or transferred.
The offer is only good for 14 days after you sign up for the new Postmates app. There may be some exceptions.
Also, this offer is not redeemable for cash or like-kind swaps. Postmates retains the right to change or cancel this offer at any moment and without prior notice.
Exceptional quality : The app is updated on a regular basis to make ordering even faster and easier. Every update brings speed and reliability enhancements.
They highlight new features in the app as they become available.
Postmates for drivers
Postmates, unlike other services like Uber and Doordash, does not have a scheduling feature.
You must allow the white dot to receive delivery request alerts and then click 'accept' to accept the delivery.
Postmates drivers, on the other hand, are classified as independent contractors and are not entitled to minimum pay.
So, whenever you want to make deliveries, just let the app know you're available, and for each accepted delivery, you'll see the order's entire contents and where to pick them up.
7 Apps like Postmates to Make Extra Money!
Instacart
Instacart allows you to order groceries online and have them delivered to your home in as little as two hours. Your first delivery is also free.
It provides same-day delivery of fresh food, wine, and home supplies across the united states. To check what retailers are accessible in your zip code, download the app.
Do you like to be picked up? Order online and pick up at your nearest shop, where it will be ready for you.
Ordering has been simplified.
Type in your postal code.
Go shopping for groceries, home supplies, gadgets, and other necessities.
Place your order after adding your things to your basket.
Make modifications to your order in real-time by chatting with your shopper.
Unwind as you wait for your package to come.
Take pleasure in your purchases while saving time and money.
What's Inside?
Contactless delivery: Order safely from the comfort of your own home and have your groceries delivered the same day. The contactless delivery ensures the safety of both you and your shopper.
Look for your favorite items: Fresh produce, late-night snacks, and even alcohol can be delivered right to your front door. Don't forget to bring toilet paper, medicines, and other necessities!
Relax while your shopper handles even the most delicate products with care, such as eggs and glass bottles.
You can also do the following with Instacart:
Look for special offers and discounts.
Making grocery lists
Place a new order for your favorite items.
Look up nutritional information and sort it by diet.
What stores should you visit?
Shop at Aldi, Publix, Costco, Safeway, Wegmans, and approximately 40,000 additional retail locations across North America.
To check what retailers are accessible in your zip code, you can download the app.
Exceptional quality: The app is constantly changing since they deliver fresh food on your schedule. They have repaired a few fundamental issues in this version to provide you with the best possible experience. Have fun shopping!
GoPuff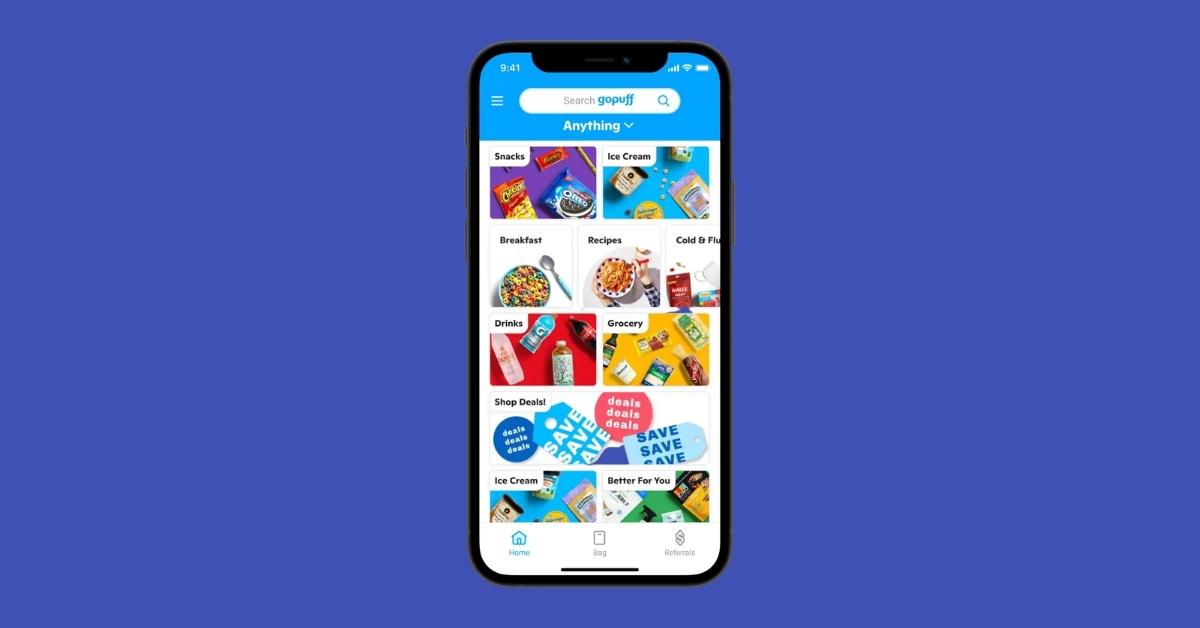 GoPuff gives the necessities you want and need in a flash. They bring food and beverages, cleaning supplies, baby and pet supplies (and, in certain areas, alcohol supplies) directly to your home.
What's Inside?
Costing: That's a lot of helpful information. And GoPuff's shipping prices never change — they're always $1.95. That's a buck and a half less than two dollars. That's it, math.
Products you like the most: Get everything delivered, including snacks, chips, ice cream, and sweets, as well as fresh groceries like eggs, milk, bread, and cheese.
GoPuff has access to regular water and high-end water. Also, it provides a variety of energy drinks and juices. Beer, wine, and spirits are available.
Paper towels, toilet paper, cleaning supplies, and your favorite local brands are also available.
GoPuff also sells over-the-counter medications, gadgets, and cosmetics.
GoPuff has a wide range of your favorite brands.
You still don't trust them? Ben & jerry's, coca-cola, Gatorade, Flamin' hot Cheetos, M&MS, Reese's, Gushers, Tide, Dayquil, Takis, Dove, and Colgate toothpaste might be able to persuade you.
If not, download the GoPuff app to discover all the other fantastic brands they carry.
Contactless Delivery: By default, they leave your delivery at your door, but you can request that they knock as well. In any case, they will text you when they arrive.
In seconds, delivered in minutes, order in seconds, delivered in seconds
Simply touch on what you want to order, add it to your bag, and check out. They pack and deliver your item directly to you from our local micro-fulfillment facility.
Flat delivery for $1.95: GoPuff delivery is always $1.95, 24 hours a day, 7 days a week. Even if there's a furious flock of geese buzzing around town and it's taco Tuesday, they never rush or increase delivery.
Subscribe to the family: Family is abbreviated as a fam. And members of the fam pay no shipping fees on any order, at any time.
Payment options: GoPuff takes credit cards (Visa, American Express, Mastercard, and Discover), as well as apple pay, google pay, and Venmo, in a safe manner. Redeem rewards by earning points.
Everyone enjoys a good bargain. With puff points, you can get more out of every gopuff order.
With every order, earn points that can be used for various benefits, including daily and weekly discounts.
With their first order, all new customers receive 6,000 puff points—like it's a welcome bonus, but better.
Outstanding customer service: Things go awry from time to time. That's why GoPuff customer service reps are also humans. They ensure the best, even though the condition and situations may be tough.
According to your timeline: They stay open late to make sure you have what you need when you need it. Many of the sites are open 24 hours a day, which is ideal if you're binge-watching classic sitcoms.
When it comes to locations, GoPuff has over 250 stores and delivers to over 550 cities.
Exceptional quality: Because mercury is in retrograde, let's get ahead of the game with this app update.
Improvements:
– Improved performance and stability
GoPuff for drivers
GoPuff will verify your papers and do a background check once you complete your online application. You may now log into the GoDriver app and get to work!
GoDrivers are given at least a week's notice to plan their own timetable. When you sign up for a shift, you commit to working those hours and must arrive on time.
They run 24 hours a day, seven days a week in specific marketplaces, and are open late in others. So, on the webpage or in the app, put in your address to check how late we're open in your region.
The type and year of your automobile aren't necessary because it doesn't specify any vehicle criteria. Handling orders from minors, on the other hand, adds an extra step to the delivery process.
FAQs
Which food app is the most lucrative?
Grubhub is the most expensive of the top three meal delivery services on the market.
Which app is the most widely used for food delivery?
Uber eats is the most commonly used meal delivery service, operating on six continents and ranking first or second in gross orders in the majority of nations.
What is the name of the app that can deliver anything?
Postmates delivers food, groceries, and alcohol to you from anywhere.
Is it possible to have meals delivered to my home?
Grubhub offers meals from local eateries right to your door. Order delivery from Grubhub whether you're craving breakfast, lunch, supper, or a snack.
Grubhub offers meals from local eateries right to your door. Order delivery from Grubhub whether you're craving breakfast, lunch, supper, or a snack.
Final words x Apps like Uber Eats
Users who require new software features or want to check out various solutions can look at the most acceptable alternatives to Uber Eats.
Apps and customer service are other crucial elements to consider while looking for Uber Eats alternatives.
Doordash, GrubHub, and Postmates are among the options reviewers picked as the best overall alternatives and competitors to Uber eats.
Amazon Flex vs Uber: Best for Side-Hustles?