7 Bank Apps like Albert to Smartly Manage Your Money [2023]
We may earn small commission from the products mentioned in this post.
Are you looking for different ways to save money? With the apps like Albert, you can save your money and invest your spare money automatically. One of the primary keys to being successful with money is to have a strong money-saving system.
As the number of financial apps is continuously increasing, it might be challenging to know which are worth your time and money.
After all, these apps can do everything from monitoring your investment portfolio to tracking bill payments.
So, if you are looking for an app that will assist you to save money, look no further. In this article, we've mentioned the 7 best apps like Albert that will help you save money.
What is Albert?
Albert is a financial app that helps you save money, lower your bills, develop a personalized financial plan, combine all your accounts in one place for a complete view of your financial life. Thus, offering you financial help and even leading you in investing your money.
It monitors your budget for savings and lets you know when you're at risk of going over your spending limits. Albert gives you access to live human, financial advisors who provide expert financial guidance.
These experts depend on Albert's algorithm and their own experience to provide you with guidance. And they regularly work to review your bank fees, bills, and unusual charges and send you alerts.
Digit
Digit is a money-saving app like Albert that analyzes your checking account balance, recent spending, incoming bills, expected income, and other personalized savings controls set by you to limit when and how much you can afford.
Depending on your spending habits, it will automatically transfer a small amount of cash into your Digit account a few times per week or month. So, improve your financial health with Digit!
Key Features
Know your personal finance habits and make saving money easy.
It analyzes your spending patterns and income and saves what you can afford.
Allocates the right amount towards each of your saving goals.
It helps you prevent overdraft.
Digit money tracker notifies you when you're at risk of spending more than your checking balance.
Has the same level of digital security as government and militaries.
7 Best Apps Like Digit & Digit Alternatives [2021]
How Does Digit Work?
In order to use Digit, download the Digit app for your device, and you'll require a bank account to connect to your Digit account.
It helps you set an unlimited number of personalized saving goals through which you can channel funds from your checking account.
Sometimes, it even takes the money you save in your Digit account and makes regular payments to monthly bills, including student loans, credit cards, and cell phone providers.
YNAB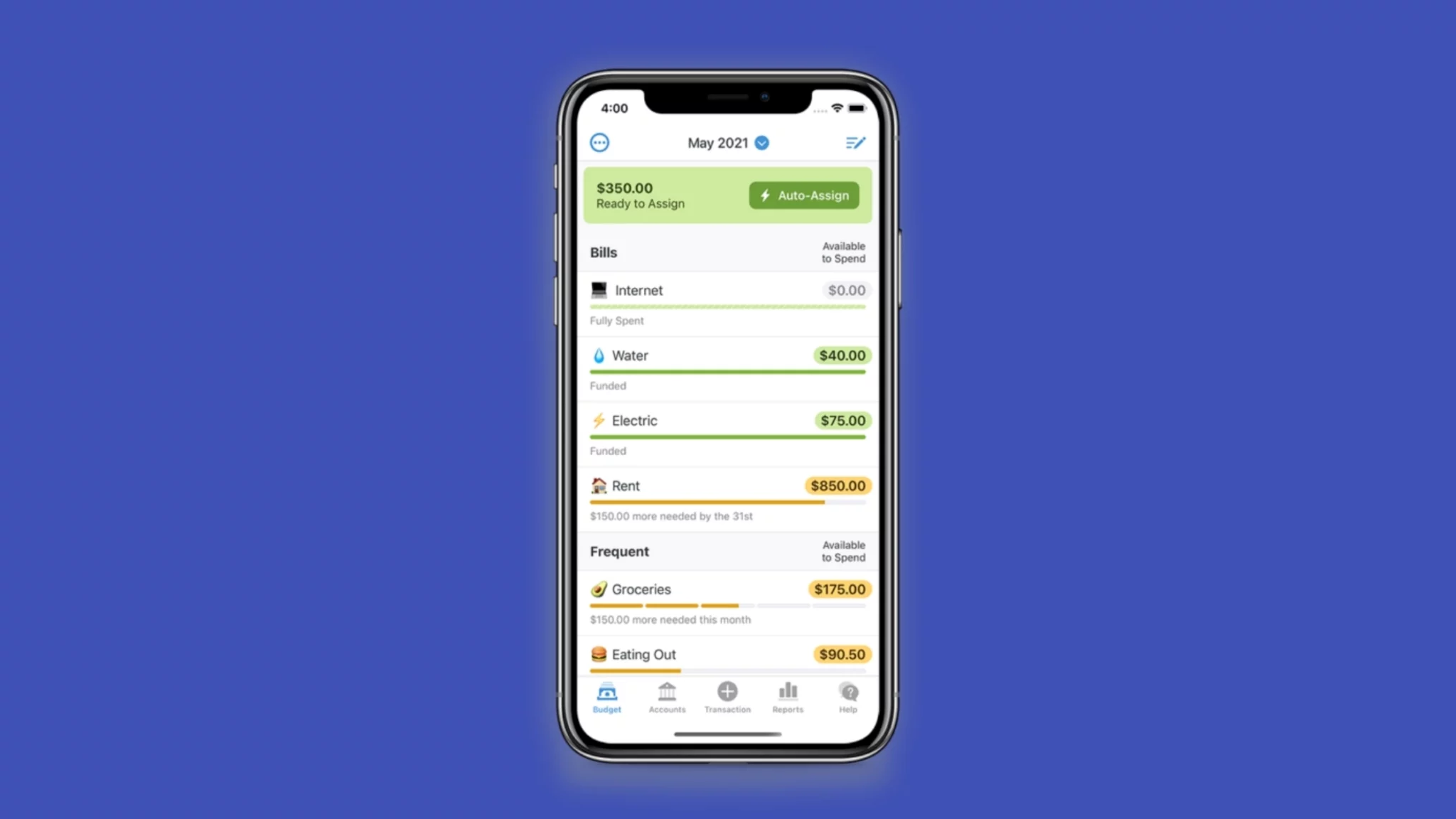 YNAB (You Need A Budget) is a personal budgeting service that can be accessed through desktop or Android and iPhone apps.
It usually works on a theory – Give every dollar a job, which means each dollar is allocated to a certain resolve, including long-term housing repair funds, annual car insurance payment, college savings, and many more.
Users can input transactions manually or import them automatically from their financial institutions.
Key Features
Seamlessly connect all your accounts at one place for a big-picture view.
View changes to your budget in real-time.
Debt paydown tool lets you create an easy-to-use plan to assist you in getting out of debt.
Ability to track the progress on your financial priorities and reach your goals more quickly.
Visualize your spending trends with easy and simple personalized reports.
Your financial information will never be shared.
How Does YNAB Work?
Unlike other budgeting services, YNAB works by making you assign every free dollar to a category. In this way, you can plan where your money is going to go before you spend it.
All you need is to download the YBAN app or visit YNAB's website and create your account. After you've logged in, you can instantly start setting goals and completing your profile.
You can also add credit card accounts, checking accounts, or saving accounts. And choose to have information imported automatically like account balances and cleared transactions.
Mint
Want to save & manage money? Mint will help you with that! Mint is a personal financial management service that helps you reach your financial goals with customized insights and customs.
Its primary services allow users to track investment, credit card, bank and loan balances, and transactions via a single user interface and allow you to set financial goals and create budgets.
Key Features
It collects information from different accounts for easy management.
Link your credit cards, cash, investments, loans and many more with just a single tap.
Its website and a mobile application sync all your bank account and credit cards information.
Although it is not an investing app, you can view and track your investments.
It gives account holders free access to its credit score and credit monitoring tools.
You can control your spending with its money spending tracker.
It has an additional feature on its website that offers information on personal loans.
How Does Mint Work?
After you create a Mint account, you can enter your personal information, debit or credit card information, and any bills that you would like to be reminded to track or pay. Also, you can track your loans and investments through the app.
Then, connect your mortgages, credit cards, PayPal, and as many bank accounts as you like. You can also set up your budget, and then based on your finances; it'll offer a budget for you that can adjust later.
Mint's main categories comprise transactions, budgets, trends, overview, bills, goals, investments, and ways to save.
Cleo
Cleo is another app like Albert that helps you track your spending, save your money automatically and even earn cashback rewards.
With Artificial Intelligence assistance, you can ask for your information like expenses or finances, and it'll respond to you quickly. After you've created your personal budget, it'll help you to follow it.
Not only that, but it even lets you get a small cash advance between $20 to $100. And with no credit checks and no interest, a credit builder card is particularly created for people who wish to improve their credit score.
Key Features
Save money automatically based on what you can afford.
Use its AI-powered service to create personalized smart budgets.
It helps you build up your own emergency fund.
You can set a limit on your spending.
It shows your spending per category over the last few weeks.
It helps you build your credit score.
How does Cleo work?
First, install the Cleo app on your device and enter your details, as well as link your banking details to Cleo to let the AI-powered chatbox examine your spending patterns.
Although not all banks are available in Cleo, you can request to add providers you wish to connect is not available. It later displays your selected accounts transactions and categorizes your spending.
You can also set your budget or simply start saving within the Cleo application by using "Save" or "Budget" phrases in the chatbox.
Cleo's algorithm and suggestions will depend on your spending patterns. All these budgeting, tracking and spending analysis features are entirely free.
Must Try these Apps like Cleo to Manage Finance [2022]
Acorns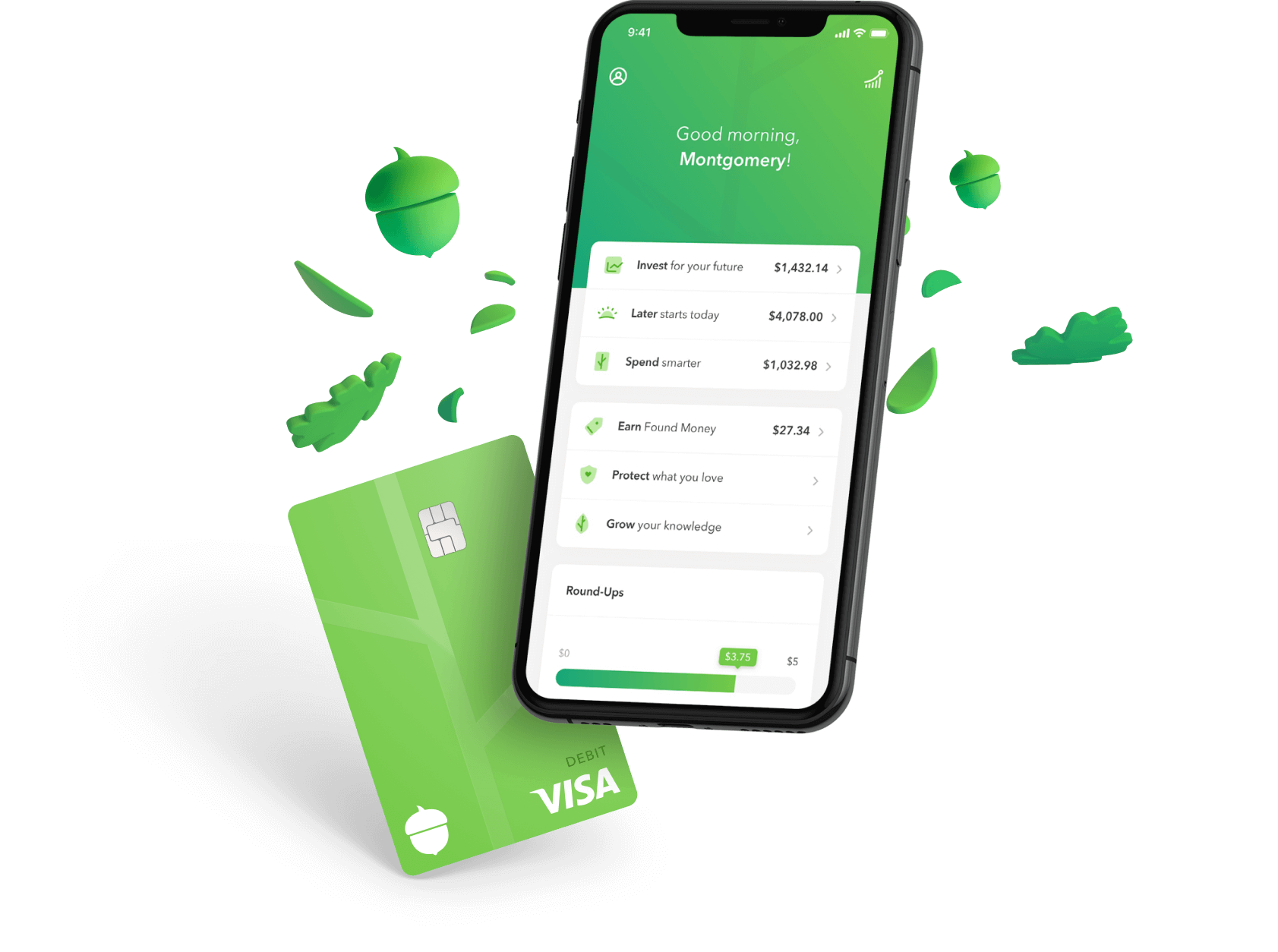 One of the best apps like Albert, Acorns offers a Robo-advisor model with an automated savings tool. It offers a simplified, low-cost investing approach that suits several types of investors.
It works by rounding up your purchases on linked debit cards or credit cards.
And it mainly targets a much younger, more tech-savvy generation as the complete investment experience can be created and managed directly from a smartphone.
Key Features
Examine your spending habits on your credit card and round every transaction up to the nearest whole number.
It has five different products – Invest, Later, Spend, Found Money and Early.
Invest for retirement with IRA options.
Grow your knowledge with the custom financial literacy content.
It has high fees on small account balances.
It rounds up to the nearest $1 and gives you the ability to transfer that change into the investment portfolio.
How Does Acorns Work?
To use Acorns, you'll have to create an account and select one of many pre-built portfolios to invest in and connect your credit or debit card to your Acorns account.
Then, it rounds up your every purchase to the next whole dollar. And it finances the balance in the portfolios that you've selected
You can link as many cards or accounts as you like. But remember that all it takes the roundups from the same associated checking account. 
8 Best Apps like Acorns & Acorns Alternatives [2022]
Prism
Prism is a bill management app that states itself as a 'Free app that helps you get control of your money.
Although Prism works like a financial aggregator, which is like Mint, Acorns, and other apps mentioned in this list, it aggregates income and expenses instead of bank and investment accounts.
Key Features
It tracks your bills continuously and sends you reminders for due dates.
All the income and expenses are assembled in one place.
It syncs the account every day, and you can also manually refresh a biller.
Choose to pay your bills from your bank account or by credit or debit card.
Make an immediate payment or select a future date.
How Does Prism Work?
First, download the Prism app on your iOS or Android device and add your bills. Prism will then integrate your account balances and bills.
As it works with over 11,000 billers across the United States, it can automatically pull up balances and due dates. This consists of banks and credit unions, cable companies, mortgage lenders, student loan lenders, utilities, and many more.
Therefore, with billers and payments linked to your account, you'll get a better picture of your budget. And there you can pay your bills and precisely match your expenses against your income.
Personal Capital
Personal Capital is an online financial advisor and personal wealth management company that offers both free and paid products.
To access its financial advisor, you'll have to become an investment client or use its retirement planner.
It is a similar app to Albert as it lets you track and manage your personal finance. So, now, you can view all your accounts in one place, including stocks, bank accounts, retirement funds, and your investment.
Key Features
View all your accounts in one place, including bank accounts, IRA, stocks, 401k, investments, and even debt.
Cash Flow tool lets you view your total income and total expenses across all of your accounts.
Compare your current portfolio division to the perfect target allocation designed to meet your financial goals.
Use its retirement planner to build, manage and forecast your retirement.
How Does Personal Capital Work?
It offers two different products – the Personal Capital Financial Dashboard and Personal Capital Wealth Management.
Personal Capital Financial Dashboard serves as a financial aggregator that comprises all your accounts, including savings, loan accounts, investments, retirement accounts, checking and credit cards.
Whereas, Personal Capital Wealth Management has investment check-up tools that determine your risk tolerance and investment goals, as well as consider your personal preferences in constructing your portfolio.
FAQs
What is like Albert?
There are several apps like Albert, including Earnin, PayActiv, Cash App, Robinhood, Earning and much more.
How does Albert make money?
Albert makes money through its subscription service by choosing what you think is fair from $4 to $14 per month.
What apps let you borrow money?
There are several apps that lets your borrow money, including Dave, Earnin, Brigit, Chime, MoneyLion, and much more.
What are similar apps like Albert?
Digit, YNAB, Mint, Cleo, Acorns, Prism, and Personal Capital. 
How much does the Albert app cost?
Albert costs as low as $4 a month. It gives you access to features like expert financial advice and a limitless number of savings goals.
Is the Digit app legit?
Yes, Digit is legit. It keeps your money and personal data safe and secure and offers a valuable service that benefits you. 
Is Acorns a safe investment?
Yes, Acorns offers a simplified, low-cost investing approach that suits several types of investors.
Final Words: Apps Like Albert!
With similar apps like Albert, it's all about saving your money without even realizing it. Because they round up every transaction to the nearest dollar and put the spare change into a separate savings account
If you have any queries regarding these apps like Albert, let us know in the comment section below.