6 Apps like Widgetsmith To Customize Phone Home screen [2023]
We may earn small commission from the products mentioned in this post.
Apps like Widgetsmith: When you want to customize the home screen according to your favourite colour, add pictures of your favourite celebrities or anime characters, you need a certain widget app or rather some good apps like Widgetsmith to work.
So what is Widgetsmith?
Widgetsmith is the best option to personalize your iPhone and iPad home screen and lock screen. It offers you a huge collection of highly personalized widgets which range from categories like photos to weather, date, astronomy. You can customize every word and adjust precisely to fit your preference.
So, Widgetsmith is no doubt the best app you can use to be creative with your home screen, and add pictures and videos to make it more amazing to use. Nonetheless, since the app will not be easy or offer enough options for all users, here in this article we are going to present a list of all the promising apps like Widgetsmith.
Widgeridoo
Widgeridoo is an Apple-exclusive home screen customize app that can help you personalize your home screen with images, music, health information, clocks, calendars, and more content of your choice.
The best part about using Widgeridoo is that although it offers widgets for almost everything, in case you didn't find the widget you are looking for then you can always build that widget with Widgeridoo's smart technology.
Key Features
Offers birthdays feature where you can keep a track of everyone's birthday you have set up.
You get to design your own watch hand clocks.
Color Widgets
Colour Widgets is one of the most famous custom widgets and icon changer apps like WidgetSmith that allow you to add aesthetics and handy widgets to your home screen and lock screen easily.
It offers a good variety of predesigned widgets or you can always create your own with the help of Colour Widgets' visit editor. And you can browse from dozens of widget themes like weather, date, battery, photo gallery, countdown, etc, and customize the home screen or lock screen according to your liking.
The list of categories available at Colour Widgets includes quotes, text, analog clock, calendar, weather, time, battery, date, countdown, step count, sunset and sunrise and many more yet to be discovered.
Key Features
With Colour Widgets' Quick install feature you can set a complete icon bank within seconds and a few clicks.
Offers hundreds of themes with broad categories such as neon, aesthetic, gradient, minimal and nature.
Widgy
Similar to Widgetsmith, Widgy has received a powerful and positive response from users for being a good custom widget maker for both home and lock screens on all the Apple devices including iPad, Mac, iPhone and Apple Watch apps.
It is fine if you don't have time to customize your home and lock screens because the default settings are pretty boring. So, if you want to make it a bit more exciting and aesthetic then downloading Widgy can be of good help.
The working of Widgy is simple. You can make different kinds of widgets that perfectly match your aesthetics, you can choose from the white collection of widgets and themes available in the app, otherwise, you can always add your custom images and content from your photo gallery.
Key Features
You can customize the size and colour of eligible elements.
Offers some exciting effects to customize the widgets you want to add.
Widgetopia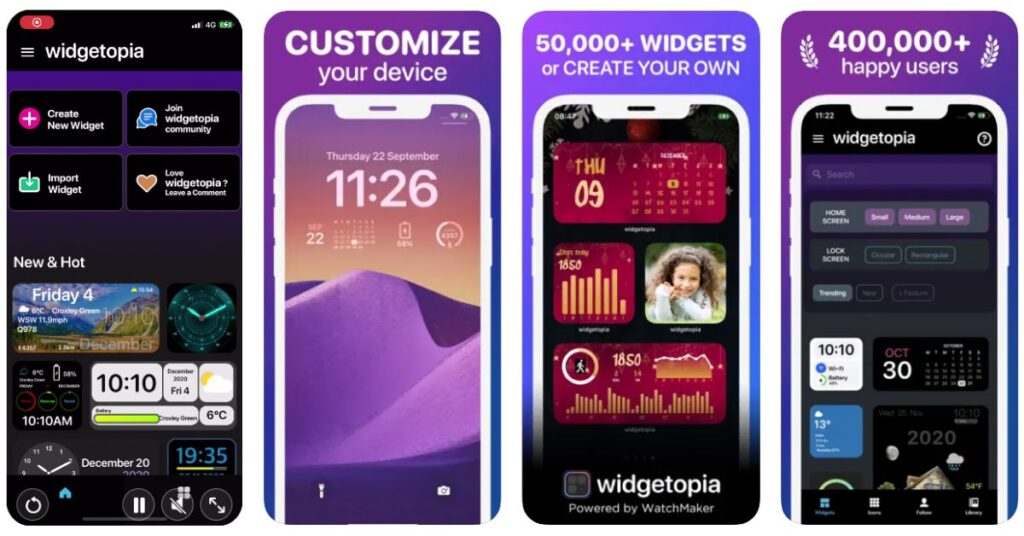 Widgetopia is a widget platform where you can design your own home screen. It is the best place if you got bored with your device's old look and want to try customizing new or mixing a few themes.
Whether you are looking for aesthetic themes or something with vibrant or dark colors, you can find every kind of theme and widget in over 50,000 pre-built widget collections available at Widgetopia.
You not only have the option to choose from thousands of themes and widgets but with Widgetopia's incredible customization tool you can also add your own content to widgets.
And it offers all types of widgets like Christmas-themed widgets, time, and date, and analogs that include seconds, weather, steps, charts, battery indicator, photo gallery, JavaScript expression, countdowns and much more.
Key Features
Offers transparent widgets.
Has animated GIFs.
It offers the remix to where you can remix existing widgets and create your own theme.
Purchase over 50,000 widgets regularly.
You get more than a hundred lock screens and home screen wallpapers.
Has 70 widget themes available.
Magic Widgets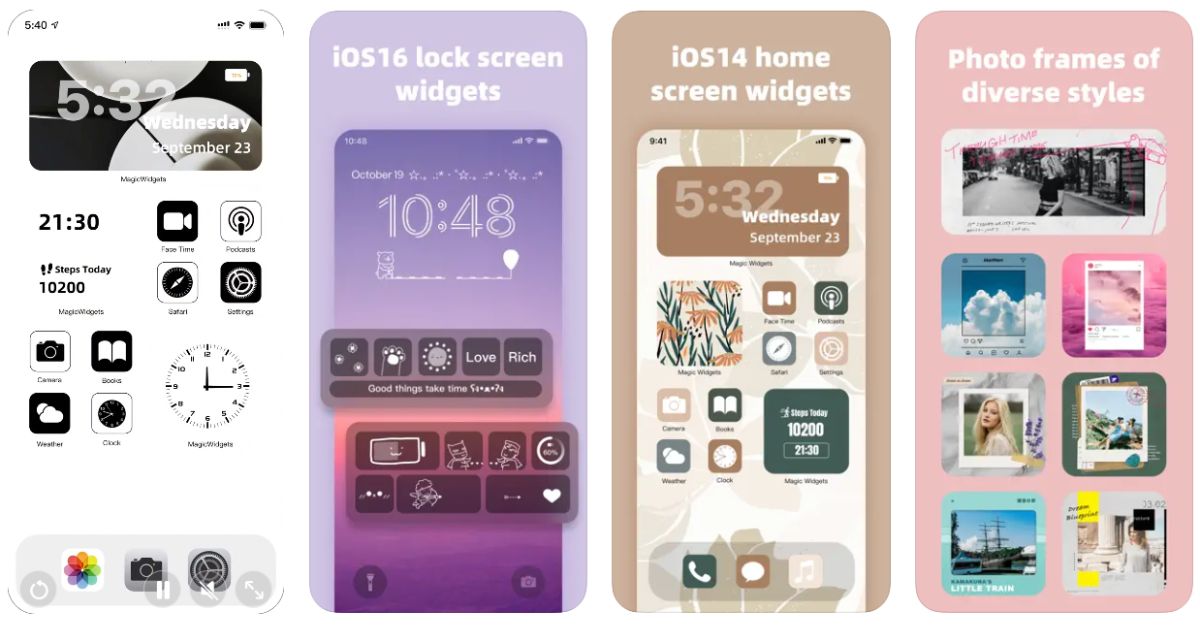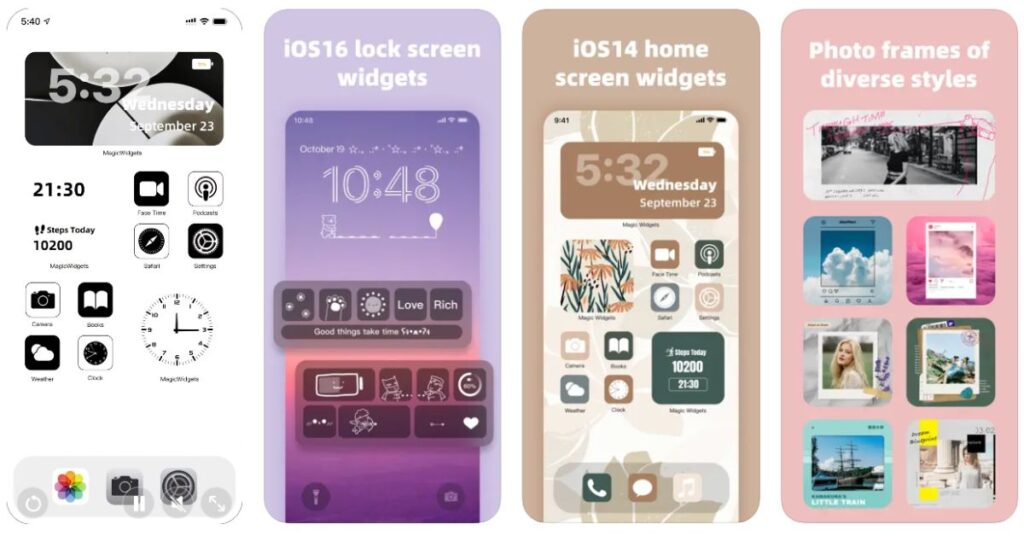 Magic Widgets is an application that permits you to customize your home screen and has dozens of calendar styles, clocks, and supports uploading local images from your photo gallery.
Magic Widgets offers a huge collection of beautiful pictures for you to choose from and you can always mix widgets from different themes to create and personalise your own. It is one of the promising Widgetsmith alternatives and has a user-friendly platform to use when you have no experience in customizing your home screens.
Key Features
With custom widgets you get to show and hide elements accordingly.
You get a good variety of fonts and colours to choose from.
With the steps widget, you can record every step you take with your iPhone or iPad.
You can customize the size of widgets or choose from large, medium and small.
KWGT Kustom Widget Maker
KWGT Kustom Widget Maker, popularly known as only KWGT is an exclusive app like WidgetSmith that is made for lock screens. It is a powerful widget-maker where you can not only choose from hundreds of designs available but you can also create your own designs to display any data you need.
So whether you want to highlight the pictures in your gallery or want to stay concentrated on the day and date and clock, KWGT has every kind and size of visit you need.
While it offers all the general widgets like analog clocks, live map visits, whether widgets, digital clock widgets, etc, you also get more options under every category mentioned.
Key Features
Use more than a thousand free widgets under the featured section.
You can decide shapes from a good list of options like arcs, triangles, hexagons, ovals, etc.
Offers curved, skewed text along with 3-D flip transformations.
Has wonderful effects like gradients, tiling, colour filters and shadows.
Edit the layers with different overlay effects such as difference, saturation, clear, blur, and xor.
Final Words
The above article containing good apps like Widgetsmith not only contain widget apps for Apple devices but also for Android devices.
When it comes to custom widgets and personalisation of your home screen, it is quite hard to find a good widget app and if Widgetsmith is not of your type, then other Widgetsmith alternatives mentioned in this article can be helpful.
Frequently asked Questions
What apps have the best widgets?
Apps like Widgetsmith, Widgeridoo, Widgy, and KWGT Kustom Widget Maker have the best widgets for both Apple and Android devices accordingly.
Are there any free widget apps?
Widgetsmith and Widgeridoo are two of the good and free widget apps currently available on Android and Apple devices. 
Does Widgetsmith drain battery?
Basically, widgets and customization of the home screen and lock screen are set to drain the battery of the device and that is why whether it is an Apple device or an Android device, the process of setting up widgets and altering them with Widgetsmith will surely impact the battery slightly more than the usual times.
Try Alternatives-