3 Best Apps like Viggle To Earn Money by Watching Videos! [2023]
We may earn small commission from the products mentioned in this post.
Apps like Viggle: Have you always wanted to spend your free time earning rewards? Are you interested in the entertainment industry and would love to earn some rewards through entertainment means?
About Viggle
Viggle is a platform where users get rewards for interacting with their favorite entertainment. They can check shows and movies live on TV or from providers like Amazon, Hulu, and Netflix. And they get points by streaming their favorite entertainment content which they can exchange for real-life rewards.
Although Viggle sounds like a good deal, there are other apps similar to Viggle which can give you different and even better opportunities.
So, do you wish to know about other apps like Viggle? Then we would highly suggest you go through our list of Viggle alternatives mentioned in the below article.
HideoutTV
HideoutTV is an app published by Adscend Media LLC. It is one of the best apps like Viggle because it allows you to earn points that can be exchanged with cash, gift cards, and so forth.
All you have to do is watch the videos from the platform and earn points. HideoutTV claims to give all users a premium viewing experience to watch their handpicked video content from some amazing content creators.
It is a way to discover new things, watch some interactive content and engage with the creators if you like their content. Moreover, it provides high-quality and exclusive content that is hard to find on other platforms.
They have a wide range of topics for you to cover including music videos, delicious food recipes, cute animals, and even celebrity news – whatever you think might suit your taste.
Furthermore, HideoutTV has received below-average ratings on the Google Play Store but with over 10,000 downloads.
Key Features
Users will get points for every ad they view while viewing the original content.
You can choose the reward of your choice while redeeming your points and exchanging them with rewards.
They offer all the services for free. This means you can install the app and create a free account and then watch all the videos and receive gifts for free.
The content is exclusive meaning the content is sent directly to you before reaching other platforms. You get to experience premium quality content before anyone else and that too for free.
Compatibility: Android
Dabbl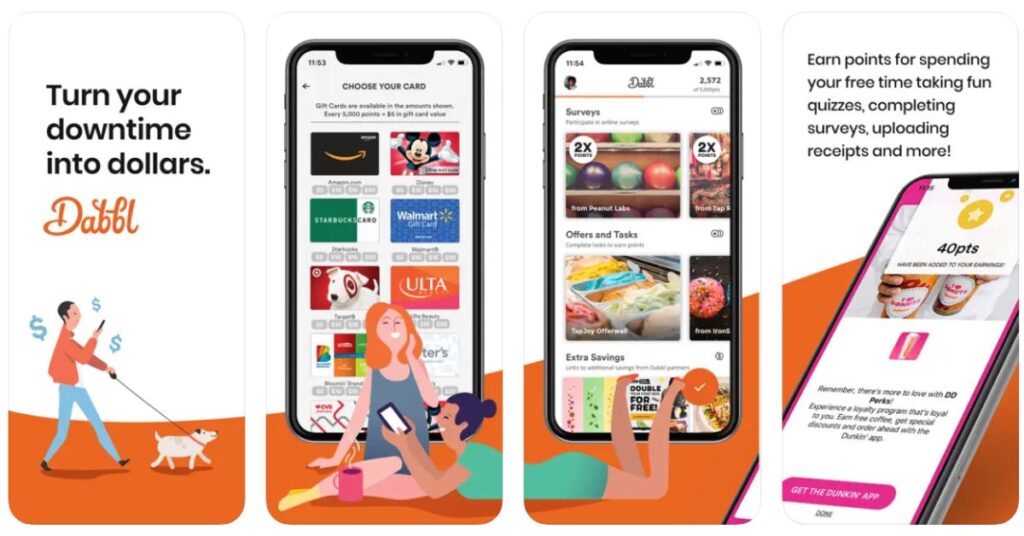 Dabbl is an app available for free installation by Adjoy Inc. It helps you turn your free time into earning rewards like gift cards from Walmart, Starbucks, Disney, Target, Amazon, and many more interesting brands.
Dabbl claims to give you easy earning opportunities. All you have to do is take some short surveys, watch videos, and fun quizzes, and complete wall tasks to earn your points, which can be exchanged with real-life rewards.
The highlight of the app is that you can watch different content and do different things according to your time. It claims that the users earned more than $3 million from 2018 to 2022.
If you have more free time you can go for big surveys and puzzles while if you have a short period to hang out, you can watch 1 or 2 videos.
When it comes to ratings, the app has received an average rating of 3.4 on the Google Play Store with over 3000 votes. On the App Store, it received a 4 out of 5 with over 3000 reviews.
Key Features
You can watch different content and either take surveys or do puzzles.
You get to decide which gift card you want and all the gift cards come from well-known brands like Amazon, Walmart, Disney, Ulta Beauty, Target, and more.
With the help of the newly updated feature called Streaks, you will get 50% bonus points on all your activities if you log in daily.
Compatibility: Android and iOS
Bituro
Bituro is one of the best Viggle alternatives that is published by Bituro LLC where users can complete a few simple tasks that are updated regularly on offer walls and earn points to redeem in exchange for PayPal, gift cards, bitcoins, and Ethers.
It'll either allow you to choose tasks from their offer walls or send them to you specifically on your smartphone via emails, Facebook, or Twitter. Do simple tasks, earn easy points and redeem them however you want.
While you can redeem points through bitcoins, Etherian tokens, and PayPal for all countries, google play gift cards, target gift cards and Amazon gift cards can only be redeemed by Americans.
It is free to install from both the Google Play Store and App Store but contains ads.
And it has received good feedback from users on the Google play store with a 4.1 overall rating and over 9000 votes. On the App Store, it is not that famous but has received an excellent overall rating, 4.5.
Key Features
The app allows you to manage your earned reward with the help of an in-app wallet.
It can be downloaded by adults.
You get points if you refer the app to your friends.
One of the easiest ways to complete the task is when it asks you to install free mobile apps and after a few minutes of using it, you can uninstall it and receive your points.
Compatibility: iOS and android
Final Thoughts
Trusting any app with your general yet private information in exchange for gift cards is not a good deal. However, Viggle and apps like Viggle mentioned in the above article are nowhere near known as cheaters or fraudsters.
Though not all of them may be famous, all offer high security and secured platforms for you to earn points. And your private information is not sold to any third party and is instead stored in safe servers for further usage.
To conclude, Viggle and its alternatives mentioned above are safe and secure for you to try and earn free points. Based on the positive reviews for all the apps, the customers claim – it has never been that easy to reward.
So, we hope by reading our list of best apps like Viggle, you should try all the apps if Viggle is not working for you.
6 Best Apps Like Zynn To Must Try Out![2022]
7 Legit Apps Like 1Q That Pays Decent! [2022]
6 Similar Apps like HQ Trivia To Play And Win Money [2022]
Yepp App Review: Is it Legit or Scam? [2023]
Frequently Asked Questions
Is Viggle a good app??
Although it has only received an average rating of 3.3 on the Google play store, over 121,000 have voted for it. This certainly does not mean it is a very good app but the number of people using it might mean it has something interesting which is worth giving a shot.
How do you use Viggle?
To use Viggle, all you have to do is install the app and first start with creating a free account. On the offer wall, it will allow you to watch your favorite entertainment shows and movies from well-known brands like Hulu, Amazon, Netflix, and more to earn points. You can further exchange these points for real-life rewards.