11 Crazy Games & Apps like Plato to Play with Your Friends! [2023]
We may earn small commission from the products mentioned in this post.
Apps like Plato: Plato offers a mixture of games. Yes, you are right, it isn't a game itself, but an app that consists of more than 45 free multiplayer games to play with your friends, family, etc online. It includes popular and interesting games like pool, table soccer, bowling, etc. 
Plato is an appealing app that also offers a group chat feature. If you and your group love playing games, winning and losing then trying Plato app sounds like a decision.
However, if you have already given it a try and want to know more interesting apps like Plato, then we are glad you landed on this article.
Because, we are going to present a list of 11 crazy games and apps like Plato to play with your friends and have fun, in the article below.
List of Best Apps like Plato:
1. Bunch
Bunch is a hangout platform where you can play games in multiplayer mode with your favorite people. Through this app, you can create your avatar, explore different dimensions and play the most interesting games in the bunch metaverse.
The interesting thing about Bunch is that everyone gets a virtual home in it. You can invite your friends to your house, launch your favorite games and even bother with a virtual house party!
Key Highlights
The app has a huge inventory to help you customize your avatar and express yourself to the fullest, from hairstyles to earrings.
You get to invite a maximum of 8 friends to your home and have a voice or video chat with them while playing your favorite games.
The app allows you to see which friend of yours is currently online and offline so that you can message and invite them to your house for hanging out.
2. Yubo
Yubo is a popular hangout platform, a community where you get to socialize with your friends, and people you know and explore more users sharing similar interests as you.
At Yubo, you can chat, play games and make new friends daily. You can do a good bunch of interesting things like going on live streams – then whether you wish to show your talent or just have a concert of your own.
Key Highlights
The app has a new feature of YouTube streaming where you can stream your favorite content directly from YouTube and have fun watching with your friends.
The lenses feature is interesting – allowing you to use new filters updated frequently and try on new looks with your friends.
The app helps you chat with your old friends and connect with new people privately. You can also start chatting directly on the live stream.
The platform is filled with multiple communities with various different topics such as beauty, yoga, LGBTQ+, sports, music, manga, anime, art, and whatnot.
3. GamePigeon
GamePigeon is another platform including interesting games, developed by Vitalii Zlotskii. All the games are for two players. The top 5 games on its platform are Poker, 8-ball, Sea Battle, Gomoku, and Anagrams.
GamePigeon acts as an extension to iMessage and is exclusively made for only iPhone users. As an extension, it helps you talk through the iMessage app while you're playing the game and discuss while having fun.
Key Highlights
You can enter the full screen for messaging or games, or decide to keep the screen half-half to chat and play together.
The platform offers a collection of popular and rare games and updates its gaming list frequently.
It has games from various different genres like shooting, action, tank, fighting, chess, pool, and many more.
4. Partying
Partying – a social media-like platform that lets you play games, chat and text your favorite group. While you can explore new people regularly, you can also hang out with your old friends and have fun every day!
Partying has made virtual parties easier. You can start your virtual parties with just one click and get endorsed in live voice chatting, singing, playing social games, and doing tons of fun-filled activities.
Key Highlights
According to your preferences and profile, the app will match you with more than 100 new friends daily.
You can join multiple chat rooms and talk about your favorite topics including life, food, travel, anime, manga, series, etc.
If you love singing but are too shy to visit a karaoke in reality, then you can join any Partying karaoke room and sing your heart out.
5. Party Star
Party Star, a Gumdrop Entertainment creation, is the place to go live, chat with your friends and play live games with your favorite group of friends.
With Party Star, you can sing your favorite songs, do amazing live concerts, have a private chat with your new friend, and play various games – all while exploring more funny activities with them.
Key Highlights
The app has different types of content rooms including games, poems, singing, etc along with general rooms where you can make new friends.
You get to randomly join any voice chat room and speak your heart out – join interesting discussions or maybe share some real-life advice.
The app acts as a game center for multiple gaming communities where you can play games with real competitors including billiards, Ludo, and many more.
You are allowed to send your love through unique gifts to your favorite broadcasters, friends, or anyone else.
6. CuteMeet
CuteMeet by LBE Tech is an application helping you play games with your friends. The app includes a huge variety of games from different genres – both intense and exciting.
The best part about the app is that it helps you play games with your friends while going live and streaming your experience with viewers. Additionally, it offers both mini and hard-level games as options.
Key Highlights
The gaming and chatting features of the app help you interact with people from worldwide. It is a good way to kick away boredom and loneliness.
If you are in a relaxing mood, you can have fun playing the mini-games on the app, take your time to complete the levels and relax while gaming.
You get to check the number of players currently playing the specific game to see the popularity of the games in the app and decide the best for yourself.
7. Playhouse
With Playhouse, meeting new friends, exploring more games, voice chat while playing around, and exploring interesting AI features of the app has become easier.
Playhouse is mainly dedicated to gaming, but if you are interested in any other relevant field, then the app has multiple chat rooms and channels to explore.
Key Highlights
In voice rooms, you can team up with other gamers, both strangers and your friends, and play popular multiplayer online games like Minecraft, Roblox, Among Us, etc.
You can create and customize your own room to invite friends or choose any room recommended on your homepage to join.
You get to exchange gifts with your friends or support your favorite person you met on any channel through gifts from your gift collection.
You can chat with AI to see how it responds and request any type of pictures from it.
8. Hago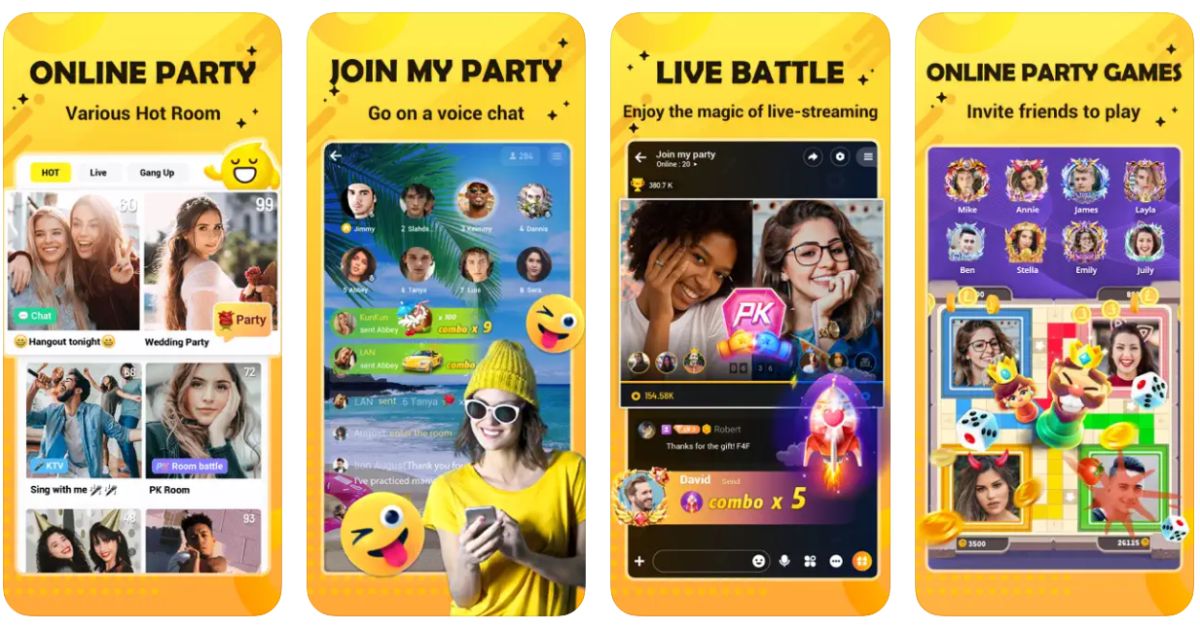 Hago is a place to meet new people, enjoy gaming, video chat with your favorite person or group of friends, and stream your favorite content.
Hago is mainly focused on providing you with different types of games – with an assortment of both easy and hard ones. You can opt for multiplayer as well as single-player competitions – all while staying connected through chats.
Key Highlights
The app has thousands of free chat rooms offering discussions and conversations about various different topics including gaming.
It has over 200 games to offer, including popular as well as interesting genres.
While in a competition, you can go live or also join other live video game streaming.
The app allows you to create and customize your chat room. You can keep it private, for only your friends, or open it for the public to invite anyone who wishes to play.
9. Among Us
Among Us is one of the most popular online multiplayer games. It is inspired by the party game called 'Mafia' and a science-fiction horror movie called 'The Thing'.
Personally, I'd suggest you go for Among Us because it has really interesting yet simple gameplay, you can either join rooms with others or create your own private room for friends, and have a lot of fun.
Key Highlights
The gameplay of the app asks you to complete certain tasks and vote whenever there is a murder detected.
If you are a crewmate, you have to complete all the tasks. But, if you are the imposter, then you have to just pretend that you are a crewmate and kill every other crewmate on the ship to win.
You can sabotage the ship – which will cut off the lights and you'll get a perfect opportunity to kill anyone.
The game offers a group chat where you can discuss and vote the imposter out. It also has a quick replies feature with enough reply choices.
10. Evil Apples
Evil Apples seems like that hilarious card party game only made for adults looking for dirty humor. It is a platform with more than 6000 answer cards and over 1000 question cards – so many that you'll never get bored again.
Evil Apples is an online game where you'll be given 1 question and 3 answers. Every Question card will have a blank for your answer, you can always discard the question you have already answered or change the question itself.
Key Highlights
The game has 3 game modes to play with different gameplays according to your mood.
You can invite your friend to challenge or play with any random person online.
The app offers an in-game chat room to discuss and have fun while playing.
It has a wildcard entry feature where you can customize the text on the cards, and unlock expansion packs to add additional sets of cards to your collection.
11. Skribbl.io
Unlike all the other apps in this list, Scribbl.io doesn't have a specific app to play on – rather an online website. It is a free multiplayer drawing and guessing online game where you draw and others will guess the words.
Scribbl.io is a good game to play live with your faraway friends. The gameplay is very simple yet appealing – one among the players will draw and others have to guess the drawing. Whoever guesses the drawing accurately or is very close will get the point.
Key Highlights
As a room owner, you have the right to kick and ban any player in case he or she misbehaves.
You can mute, report, or vote to kick any players who are not agreeing to the game rules from the game room.
You can create a room whenever you want, customize its settings, and invite a maximum of 20 players to play.
As the room owner, you can decide the number of words from 1 to 5.
Final Words: Apps like Plato
In the above article, we have presented a list of 11 intriguing games and apps like Plato to help you have a wonderful time hanging out with your friends.
In addition to that, there are more option games offering group chats, private chat, communities, etc features, but if you are more interested in gaming and chatting, then the list above is just for you!
Frequently Asked Questions: Games like Plato 
What app is similar to Plato?
GamePigeon is one of the popular apps similar to Plato. 
Can we play Plato offline?
No, you can't play Plato offline?
How many games are in Plato?
The Plato gaming app consists of more than 45 multiplayer games including the coolest and most interesting ones like Bowling, Ocho, Pool, Monsters, Table Soccer, Minigolf, Chess, and more.