5 Best Apps like Loopsie | Create Amazing Photo & Video [2023]
We may earn small commission from the products mentioned in this post.
Capturing moments in your camera is an important yet basic thing so how about you try some amazing apps like Loopsie which will turn your normal photo into a live motion picture? Apps which do not require professional tools, tripod or any prior experience but just a phone with a well-working camera?
About Loopsie
Loopsie is a cam app that lets users take 3D snaps without any professional tripod or experience. With the help of its artificial intelligence, you can capture live motion and reality in your camera on the go and the fun part is, you don't need a high-megapixel camera to use this app.
Clearly, Loopsie enables you to have a cinemagraph experience and can be a good app for motion pictures. However, not everyone will like the way it works or find the features and tools they are looking for. Therefore, we have curated a perfect list of apps like Loopsie in the article below, to help you get the best Loopsie alternatives out there.
Parallax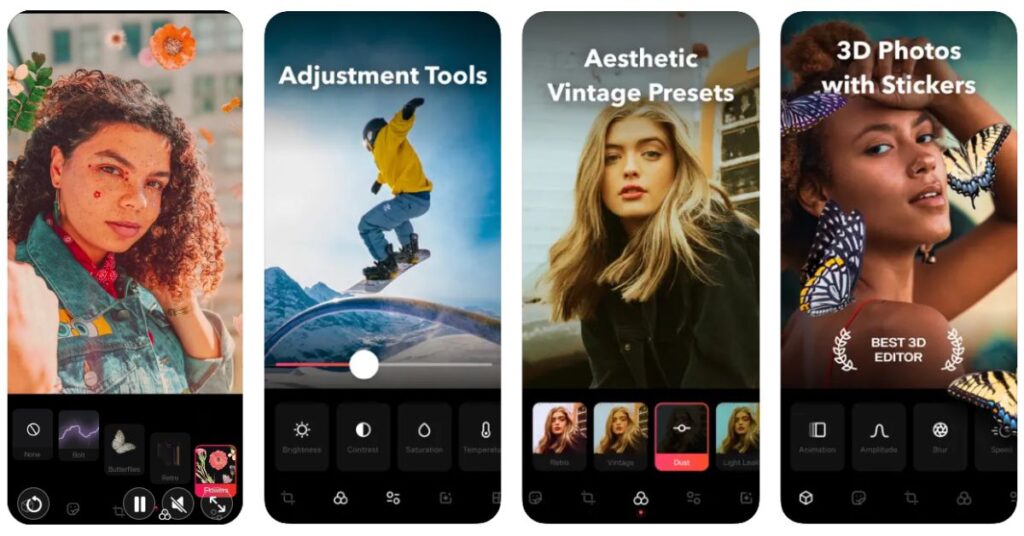 Parallax is a recently launched 3-D photo editing app that will help you enhance the style of your photos and videos. It simply does the work of turning conventional photos into something incredible with 3D effects and that is why it is as one of the promising apps like Loopsie.
Along with adding life to your normal photos, you can do many more things like adding amazing filters to your videos and pictures. And with the help of all the basic adjustment tools, you can change the lighting and overall look of the image, add aesthetic and vintage presets, make use of 3-D stickers and more.
The working of Parallax is super easy. All you need to do is to choose any picture from your camera roll or turn on the 3D camera to take a live picture which you can edit with all the amazing tools. Since Parallax works on every device, the model, size, and quality of your camera and device don't matter.
Key Features
Experiment with taking pictures through manual mode and shoot from bottom to top or crosswise.
Adjust the number of shots; increase and decrease the 3-D effect accordingly.
The result will always save in high resolution.
Compatibility: iPhone
PopPic
PopPic is another good Loopsie alternative that enables you to take fascinating snaps, turn them into 3D, live motion images and share the amazing outcome with the world. Similarly to the apps mentioned above, PopPic works with all types of cameras and devices.
Additionally, unlike other identical apps that merely snap a flat pic, PopPic uses artificial intelligence to capture the depth too, leveling up the quality from the start.
Talking about the working of PopPic – it's easy. Simply snap a picture, add effects and you get what you want. Besides, you can always tilt your camera and take pictures from various viewpoints. And to add more effects to the picture, you can use several depth effects and motions that are available in options.
Key Features
Adjust the depth and focus of the field after taking a snap.
It saves all the content exported from the app in high resolution.
Compatibility: iPhone
FILM3D
FILM3D is another way of bringing your boring photos to life with amazing 3D captures and beautifully curated filters. It claims to have combined the best of modern photo technology with new waves from creative photography to make a place where you can capture 3D photos without requiring professional tools that can cost you heavens.
FILM3D will make you bid bye to expensive cameras and instead, welcome 3D along with all the required basic editing effects. It simply enables you to take your work's quality from 0 to 100 and if you opted for its Motion or Pro capture, then there is no way you'll feel dissatisfied with your work.
Key Features
Apply a good set of effect packs made by professional photographers which will change their tones as you use them and you can also combine two effects to create something new.
If you don't know where to share your photos first then you can submit them to MODU WORLD, a place full of artists who share similar interests.
It has recently released Gyro viewing mode.
Compatibility: iPadOS and iPhone
Zoetropic
Zoetropic is another good option in our list of apps like Loopsie which allows you to create fantastic motion graphics with the help of any device camera or normal pictures from your Gallery.
The concept of Zoetropic is simple – it does the work of changing your memories into amazing animations with smart AI-based cinemagraph effects available in a variety on its platform. Furthermore, with the help of its 3D effects tools and Camera FX, you can have a good experience being creative.
Key Features
It has a bunch of exclusive overlays for both images and videos.
Offers a huge library filled with soundtracks for every type of occasion, festival, and mood.
Compatibility: iPadOS, iPhone and Android 
Motion Stills
Motion Stills is an exclusive app from Google research that will help you take short videos and turn them into beautiful cinemagraphs or impressive cinematic pans using advanced AI-based stabilization along with rendering technology.
Besides adding effects to videos, you can also loop GIFs or mix clips to make a movie filled with different effects and motions. And though the app does not offer additional editing tools and effects, with its precise tools for motions, you can still turn a boring video into an interesting vlog of the day.
Key Features
Under the augment section, you can add fun characters into your video or movie.
With a stabilization tool, you can create steady and beautiful clips.
Among the several effects available, you can experiment with the speed-up effect and try fast-forwarding the video or certain clips in your movie.
Compatibility: Android
7 Best Apps like Prisma | Amazing Photo Editor Apps [2022]
Final Words
In this article, we have presented all the good 3-D effect photo editing apps that were found in our research and we urge you to try these apps like Loopsie before you try any other app or website on the internet.
Frequently asked Questions
Which is a good cinemagraph app like Loopsie?
Motion Stills is a good cinemagraph app like Loopsie because it not only adds life to pictures but you can also create amazing movies after combining clips and creating stunning vlogs with as short as 3-second clips.
Which is a good app to create moving pictures?
PopPic, FILM3D, Zoetropic, and Parallax can be known as some good apps to create moving pictures.
Are there apps like Loopsie but free?
Yes, there are apps like Loopsie but free and the list has Parallax, FILM3D, Zoetropic, PopPic, and Motion Stills on it.