6 Free Apps like JibJab You Must Try! [iOS & Android]
We may earn small commission from the products mentioned in this post. visit here for more details.
Apps like JibJab: Did you want to make happy birthday videos or Gifs for your family or friends? JibJab is an app that allows you to create beautiful eCards, Gifs, and music videos for every occasion.
It offers a variety of eCard categories, including those for birthdays, anniversaries, graduations, weddings, and other special occasions and also holidays like Christmas, New Year's, Halloween, and Thanksgiving.
You will be able to find a card easily that is appropriate for the individual that you want to send it. But some of the eCards on JibJab cost money. Therefore, we want to share a few JibJab alternatives with you so you have more free options when looking for the best eCards online.
So keep on reading to know about the best apps and sites like JibJab which gives you more options in the same criteria.
Elfyourself
ElfYourself is the first best JibJab alternative in the market that allows you to add your face to dancing elves in videos that you can personalize.
It allows you to upload photos from your hard drive or gallery and also snap pictures using your camera or webcam. Additionally, you may also import photos from Facebook or Instagram into Elf Yourself by connecting your accounts.
And to use this app you need to choose a face, place it inside the elf's head shape by aligning it with the mouth's suggested line. With it, you can change the face by rotating, increasing or decreasing in size, or both.
Key Features
It is available on Android and iOS devices.
It's free to download and it also offers a pro version.
In any video, you can add up to five faces on the elves.
You can share the fun with friends.
Includes augmented reality.
6 Best Apps Like Elf Yourself to Fall in Love With! [2022] 
Canva eCard Maker
It is one of the most common apps like JibJab for designing eCards. Recently this app has risen to fame for offering several digital arts to you.
Additionally, Canva is largely free to use, which is the nicest part. However, you'll get both free and premium templates, but you can access a lot more free templates than on JibJab. You can customize any template by clicking on it and adding photographs, images, icons, stickers, illustrations, and other graphics from the platforms.
As for e-cards, it offers thousands of templates for both personal and professional use. And, it contains a search box that allows you to use keywords to find the templates you need. Furthermore, the JPG, PNG, PDF, and GIF formats are available for the finished eCard designs.
Key Features
Canva is a user-friendly platform, so you don't need any prior knowledge of graphic design to utilize it.
On your PC, you can access it via a web browser.
Canva offers mobile applications for iOS and Android smartphones, similar to JibJab.
With a few clicks, you can easily share your eCards on Facebook or Instagram as well.
Even if you leave the app, it automatically saves your design.
The eCards are editable whenever you wish.
American Greetings
American Greetings is another JibJab alternative, which provides thousands of instant multi-media cards for any occasion and allows you to send them to your family and friends.
It provides a wide selection of categories, which ranging from thank-you cards to birthday cards. Additionally, you can add personalized notes on select customizable eCards like talking video eCards, Selfie SmashUps, celebrity SmashUps, etc. So, have fun in a variety of ways.
Further, if you're an American Greetings member, you'll receive all the best features as part of your annual subscription, including access to your address book, contacts, as well as receiving birthday and anniversary notifications.
Key Features
You can pick from over 1,000 eCards.
Add me-to-you message and more to make greetings more unique.
It enables you to create a contact and address book.
Send greetings digitally and immediately via Facebook, texting, email, or other messaging tools.
Cards can be scheduled for later delivery and sending.
Set anniversaries and birthday reminders.
Blue Mountain
Like Jibjab, Blue Mountain offers free video eCards and greetings. It is the best for making virtual free video gifts, cards, eCards, and video creations.
The app includes a library of eCardsfor various occasions and holidays. And this interesting greeting card app allows you to quickly browse through thousands of Blue Mountain eCards from your preferred device.
Additionally, numerous printable cards, postcards, and digital gift cards are available from Blue Mountain. And it offers a range of personalization options where you may add your own message, choose the delivery date, and attach a lovingly chosen digital gift card.
Key Features
For any event, such as birthdays, anniversaries, and upcoming holidays like Easter, Mother's Day, Father's Day, and more, you can find a free eCard online.
Attach a favorite restaurant or retailer's digital gift card to the eCard.
Any eCard can be personalized with a customized message.
To locate contacts from your device or Blue Mountain account, use the address book.
Send your eCard immediately via email, text, or social media, or arrange for it to be received at a later time.
Having access to previously sent and received ecards will help you stay organized.
Adobe Spark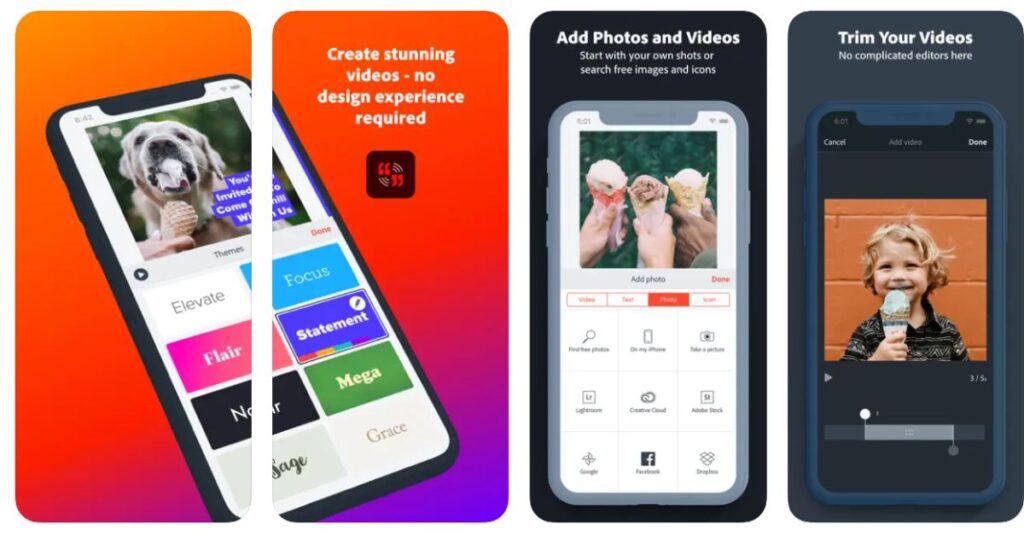 One of the best free apps like JibJab is Adobe Spark, which has an online interface in addition to Android and iOS apps. And without any prior design experience, you can make original eCards for free in a few minutes.
It has plenty of professionally made eCard templates in its library. So you can find a template in the Adobe Spark library to fit any type of eCard you want to make. In addition, you can look for the perfect template by a variety of criteria, including color, mood, and aesthetics. Also, you can choose a black canvas and start from scratch when making an eCard if you'd like.
Furthermore, you can customize eCards by adding your own images, altering the fonts, and more. You can choose from thousands of free photos in the Adobe Spark library, just like with the templates.
Key Features
You can use search terms like color, theme, mood, etc. to navigate your preferred template.
An image resizer is available to help you design the ideal eCard so you can alter it to fit any social media platform or print format.
Use its premium account if you want to save your brand's colours and logo so that they automatically appear on all of your eCards.
The eCards you made can be downloaded to your device.
Direct sharing is possible on social media websites and other online locations.
Direct printing is possible from Adobe Spark.
7 Apps like Unfold To Create Beautiful Story & Photo [2022]
PunchBowl
Lastly, we have Punchbowl which lets you select from thousands of wonderful free eCards for every occasion, event, and holiday. And you can use the app to send anything, including funny or anniversary eCards.
Not only that, you can also customize greeting cards or invitations and send them as a text or email. Further, you can add a gift card from well-known brands such as Amazon, Apple, Doordash, Lululemon, and Sephora, to name a few. And you can attract children with its wonderful cast of characters, which includes Mickey Mouse, Peppa Pig, and Frozen.
Key Features
Inside your digital greeting card, place a gift card from a company you'll adore.
You can see new holiday cards by subscribing to its Instagram Stories.
Personalize invites or a card on your phone, then text or email the recipient.
It makes it simple to preview your invitation and determine exactly how your guests will interact with it across all devices.
You may use it to assist with event planning.
Final Words
We come to the end of the article which provides a well-curated list of the best apps like JibJab for making funny dance videos to cheer up your family and friends. So we hope this article has helped you to find your desirable app.
FAQs
Are there any free apps like Jibjab?
Yes, the Blue Mountain app, PunchBowl, Canva eCard Maker and any other apps that are listed in this article are available for free to download on iOS and Android devices.
Can you use JibJab for free?
JibJab offers a free account and a paid Premium Membership. If you use a free account you have limited access to create, view and share videos and photos. And you can also create and share free GIFs through it.
Can you save JibJab videos to your phone?
You can download the GIF or video directly to your phone's gallery, so you can share it wherever you like! It also support your device's built-in sharing so you can share to any place that supports pasted web links, GIFs or video.