6 Top Apps like FacePlay: Best Face Changing Ai Apps! [2023]
We may earn small commission from the products mentioned in this post.
Apps like FacePlay: Among the recent trends, one is face-changing or swapping, for multiple reasons, one of them being creating funny videos of celebrities or yourself. Adding stickers, changing the effects around your face, making changes to noise, etc, can be done by a normal video editing application but when you want to swap your face in reality, it might get a little hard.
But you don't have to worry about it anymore because when the trend of a face swap came out, some good apps like FacePlay were highlighted too.
About FacePlay
FacePlay is an AI generator app, recently gaining popularity for its face swap feature. With just one click, you can generate digital artwork and swap your faces and different videos available. It is free as long as you are ready to watch some 30-second ads and you can always opt for a premium to unlock more videos from the library and other amazing editing tools.
FacePlay is a good choice for not only swapping your face but also for making different types of funny videos because it offers a good variety of tools like animating live pictures, offering over 3000 costume video templates, and much more.
Now, the question is – is FacePlay the only face swap app you can use to change faces? Definitely not and to prove that statement, in the article below we are going to show you some amazing apps like FacePlay to swap faces within moments.
FaceMagic
FaceMagic is an AI face-swapping app like Faceplay that is best used when you are bored of shooting and posting the same old videos on social media platforms. With FaceMagic, you can change faces accurately within a few minutes and create custom face swap videos.
FaceMagic delivers a big library of face-swapping videos and you can also add them from your device. It provides you with a unique face editor with extra tools to touch up the final videos before exporting and posting.
Besides, you can also re-face as well as deep swap videos along with images and other types of digital content, a unique face editor will help you make memes of your friends, replace yourself or your friend and popular TV shows, and do much more with FaceMagic.
Key Features
You get to face-swap many deep fake characters at once.
It offers deep fake face morphing for videos.
You can experiment with gender swap and a live face changer tool.
The app can help you edit videos as well as photos and GIFs.
Compatibility: Android and iOS
Reface
Reface is one of the leading face swap apps like FacePlay with common as well as advanced tools to help you create accurate masterpieces in a few minutes. It is combined with regularly updated content for videos, photos, pictures, and GIFs where you can make changes to your faces and create funny or different types of videos with a few clicks.
With Reface, you get to make realistic face swap videos with a single selfie and video clip of your choice from Reface's big library including popular TV series and movie clips. You get to become a celebrity by swapping faces from the original video and creating memes using the face editor and morphing technology tool.
Key Features
You get to try face swapping with new videos and Gifs updated regularly.
Explore and edit live face swap and gender swap.
You can share or post your edited clip to different social media with just one click.
With the help of the photo animator tool, you can bring boring images to life.
Compatibility: Android and iOS
Iface 
Iface is an AI cartoon photo editor offering advanced AI technology to make your photos cartoon instantly. It is included in the list of apps like FacePlay because it allows you to make changes to the person's face in the picture. You can either add filters, smoothen a photo, change gender, edit it in different ways and entirely swap the face.
Iface uses artificial intelligence magic to automatically transfer normal portraits in vector or cartoon style. It offers enough tools by experts to entirely change the outlook of your face and entire picture. In short, you can do all the work as a digital artist and change your boring photo into something funny or exciting.
Key Features
You can remove objects through the object remover.
Use common editing tools like Lightroom.
It offers a gender transition tool.
Compatibility: Android and iOS
FaceShow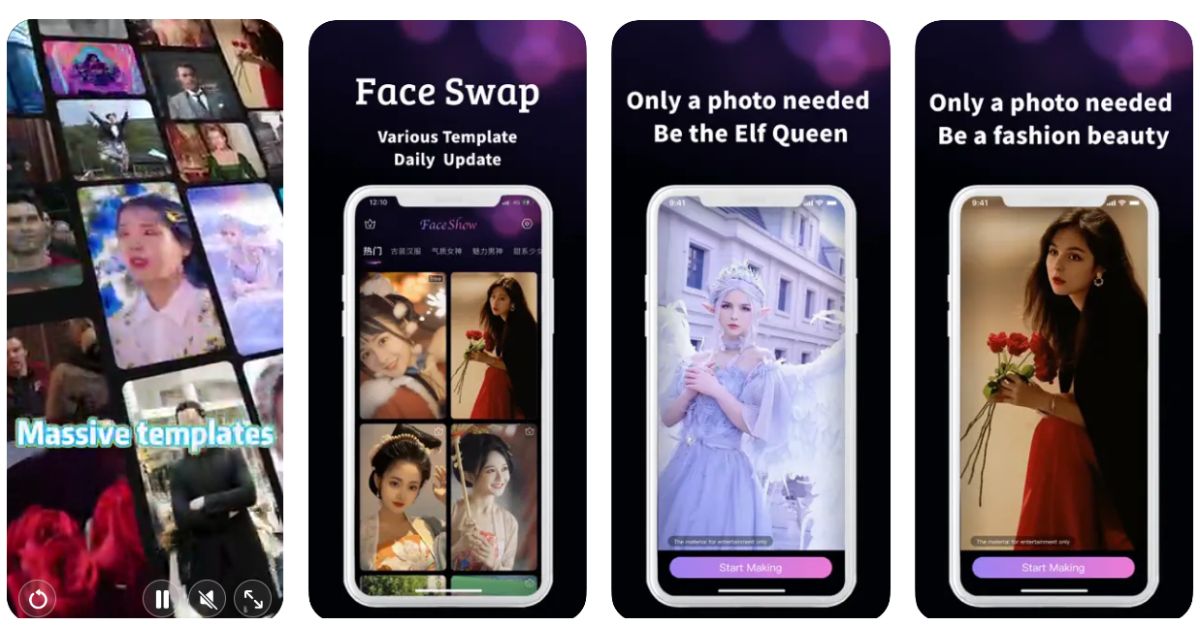 FaceShow is an app for face swapping within a few seconds. It uses advanced face swap technology and with the help of your selfie and a live video, you can map your face in the video in a realistic way with convincing facial movements and expressions.
FaceShow is extremely simple to use and you can create and edit videos of your clicks because all you need to do is pick your favorite cosplay video template from its library, import your photo from the device gallery, tap on the transition button after it has adjusted the photo and that is it, save the pic in your gallery and share it with your friends on different social media platforms.
Key Features
It offers various templates updated daily with newly trending videos and gifs.
It supports HD as well as SD quality videos and photos.
Compatibility: iOS 
Face Swap 
Face Swap Video app is another high-quality face swap app which allows you to make hyper realistic face swap videos with a few clicks. It is one of the best apps like FacePlay where you can either choose from the trending videos available in the app's library or upload your own video from your gallery.
It can be highly used when you want to swap faces of yourself or your friends with a movie star, girl, boy or a celebrity. After uploading your favorite video, all you need is one selfie to swap the video with, and with just one click the face will be visible in the video with accurate movements of the face.
Key Features
It allows you to reuse the sources you used in previous videos with just one click.
The app supports high-resolution videos and you also get video previews before the final export.
Compatibility: iOS
Avatarify
Avatarify is a famous Ai face animator app like FacePlay because it offers some amazing animation tools. It is extremely simple because all you have to do is choose a photo from your device gallery, pick a music track from the app's large collection of music and share a magical singing portrait with your friends and family members to surprise them.
Avatarify is the best in use when you want to prank your friends and blow up social networks and surprise your followers with an accurate singing portrait. You can also try using some old images of yourself or your friends and family members to surprise them with their magical singing portrait. And the best part is that the picture need not be in HD quality.
Key Features
You can add text boxes beside the mouth for lyrics and dialogues of the person.
Offers trending and meme-related sounds.
You can edit the setting and only view the clear face pics in your library to save time.
Compatibility: Android and iOS
Final Words
In the article above, we talked about various types of apps to help you go along with the trend of face swapping and add your face or anyone else's face in place of the face in life videos, gifs, or pictures. Additionally, all the FacePlay alternatives mentioned in this article have received a positive response from the users with thousands using them regularly.
With this, we have successfully presented the list of promising apps like Faceplay to help you swap your faces and do many more things like editing the video, adding filters, adding cartoon effects, etc, and hope you'll choose your favorite FacePlay alternative from this list only.
6 Apps like Reface to Make Face Swap Videos [2022]
Frequently asked Questions
Is there any app like FacePlay?
Yes, there are many other apps like FacePlay  to help you swap your face with live video faces and the list includes FaceMagic, Reface, FaceShow and Face Swap. 
Is FacePlay safe?
Yes, FacePlay is a safe platform to import content from your device gallery and swap faces. 
What is the best and free face swap app?
FacePlay, FaceMagic, Reface, FaceShow, and Face Swap are the best and free face swap apps in the market currently offering advanced AI tools to swap faces and edit videos to make them perfect.
Are there more free apps like FacePlay?
Yes, there are more free apps like FacePlay and our list has FacePlay, FaceMagic, FaceShow, Face Swap, and Reface on it. We also have Avatarify and Iface showing off some similar features. 
Are there more free apps similar to FacePlay?
Yes, there are more free apps similar to FacePlay and they are Face Swap, Reface, FacePlay, FaceMagic, and FaceShow all of them offer face-swapping features along with advanced tools to change the color tone of the video, add lyrical text boxes beside the mouth and more.