ABCMouse vs Starfall: Which Is Best For Your Child?[2023]
We may earn small commission from the products mentioned in this post. visit here for more details.
ABCMouse vs Starfall: Early learning for kids is one of the crucial steps today as soon as your kid turns 2. Among the many options currently available in the market, ABCmouse and Starfall are few of the best choices.
Which among the two is capable of helping your kid become strong in basics? Which among the two offers better quality services?
If you wish to know the answers to all these questions, we recommend you have a look at the comparison article below between ABCmouse and Starfall.
ABCMouse
Abcmouse.com is a well trusted early learning Academy founded in 2011 by Age of Learning, Inc. It is a purely subscription-based digital education program made for children between the age group of 2 to 8 years old.
ABCmouse is an award-winning reading app made for kids who love learning and are ready to build confidence in basic skills and subjects. They offer a huge library of content with houses and thousands of activities, lessons and tools to enhance your kids' abilities.
That reward program does the best work in inspiring the kids to complete the task even after failing. With a strict curriculum, with ABCmouse your kid will be learning many basic things till 2nd grade, the last level on their platform.
Subjects Covered
ABCmouse offers subjects that require mean and basic enhancement before actual learning. The overall list of subjects covered by ABCmouse includes maths, science, reading, writing, art and phonics.
It entirely depends on your kid's age, as in what type of subjects he or she will be covering through ABCmouse. For example, if the kid is in 2nd grade, along with the main subjects, they will also be covering lessons for social studies and science and health.
Key Features and Highlights
ABCmouse is known for offering a huge content library with a lot of fun activities. They offer over 10,000 activities that include games, videos, puzzles and more of different styles to enhance various skills in your kid.
On top of activities, the kids will learn in 10 different stages and over 850 lessons in their journey with ABCmouse since the start. They will be offered with around 900 books with different stories, different characters and different morals.
Parents will find it easy to track their kid's progress and what they are currently learning through ABCmouse. ABCmouse platforms offer a systematic graphical and an analytical report for parents to understand the progress easily.
As nothing can inspire the kids more than receiving prizes and gifts, the rewards program of ABCmouse allows kids to receive tickets as rewards after they complete their learning task. These tickets can be further used for buying anything digitally from their platform.
ABCmouse has captured more than 70,000 classrooms overall and has spread to most of the US public libraries. As soon as your kid nears the end of 2nd grade, you will see the visible readiness for the 3rd grade in them.
ABCmouse offers a step-by-step systematic criteria to help learn your kid independently and write optics one after another. You will not have to sit beside them for a long time and explain to them as ABCmouse offers an easy user interface, they will be able to get everything on their own.
Cost and What's included?
ABCmouse Offers 3 subscription plans to choose from. They are as follows,
Monthly subscription plan is available at $12.99 per month.
The short-term subscription plan is available for $29.99 for 6 months.
Annual subscription plan available for $59.99 per year.
After you become a subscriber, you will be given access to their huge content library with over 10,000 learning activities, 850 lessons and so much more.
Your kids will be following a systematic and professional award-winning curriculum created by educational experts. You will access pretty much everything with your subscription on their platform.
Pros
ABCMouse offers a 30-day free trial when you can experience the premium features.
It offers all the content for kids between the age of 2 to 8 years old.
ABCMouse has a reward system to keep your kids inspired.
They have a simple-to-understand tracking system where parents can easily understand their kid's progress.
One subscription plan will allow three profiles for kids in the house and one strictly for only parents.
Cons
Their content has not been refreshed for a good set of years and feels a bit outdated.
Their app and website user interfaces are simple but not advanced.
You will not be able to use the fourth profile as it will be strictly available for only parents.
The platform does not allow any customisation to the content and its speed and step-by-step process.
Starfall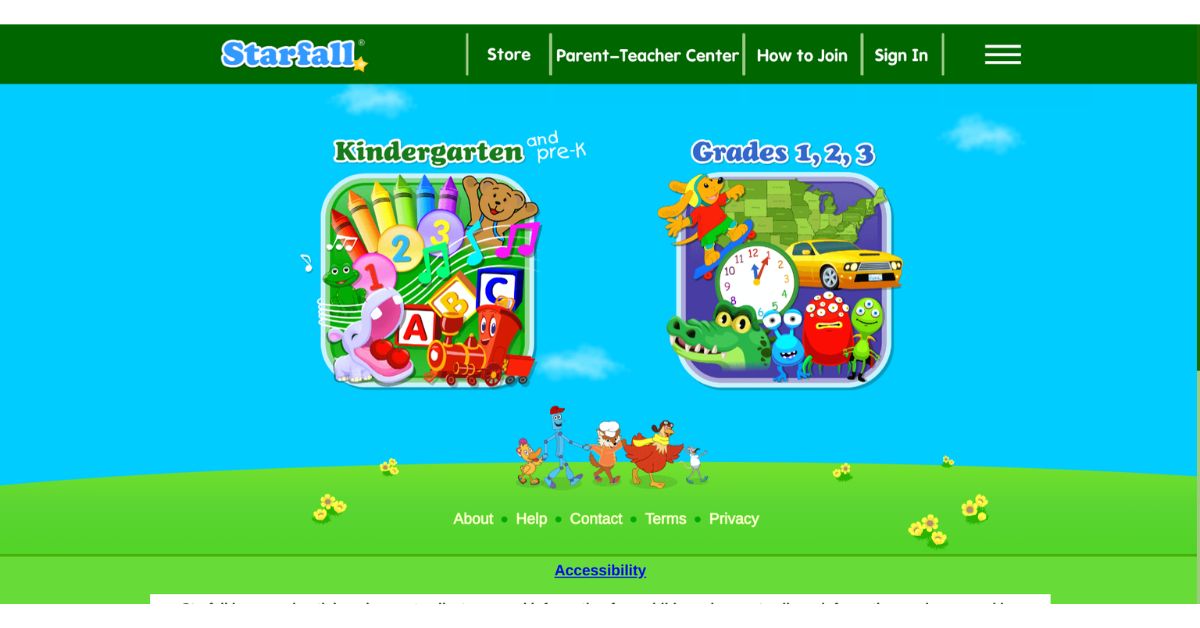 Starfall is a kid's website that helps them in learning basic English reading and writing skills. It was founded in 2002 with Roger Wilson being its current president.
The main target audience of the educational institute are the kindergartners and preschoolers. The highlight of the company is that it teaches children how to read and write through fun activities like games and phonics.
Starfall acts like a perfect alternative to fun activities for kids but it also focuses on improving their basic skills for homeschooling, special education and English practice.
Subjects Covered
Starfall education has primarily focused on specific skills and courses instead of entire subjects. Therefore, they do not cover certain subjects but skills like reading, writing, exercises for maths, voice recognition, reading comprehension, fluency, etc.
Key Features and Highlights
Starfall.com has received a teacher-approved badge on the Google play store. It allowed kids to read, play and learn with a good set of activities, songs and games. The application focuses on covering all the basic skills and subjects from preschool 3rd grade.
Zac, a mouse, is the main protagonist for Starfall along with his friends. The kids are supposed to join him and his exciting learning journey starting with ABCs and 123s to advancing to 3rd-grade grammar and mathematics.
Whether you are a paid subscriber or a free subscriber, you will experience ad-free content from their platforms. You will not find any traces of ads popping up anywhere on their platforms.
Starfall is a research based concept, teacher tested and child approved. The concept of Starfall was invented by some experienced educators while using some good time-tested instruments and all methods and practices.
Cost and What's included?
Starfall offers a subscription plan that will cost users $35 for a full year. They offer some other subscription plans but they are only for teachers, schools or classrooms. Therefore, if you are going to learn at home, only for $35 you can get access to all the content at Starfall.
Pros
Their platforms' user interface is easy to understand. The outlook of that platform is good enough.
While focusing on the main subjects and skills like talking library, punctuation, geometry, fractions and division, they also focus on additional activities like interactive calendar, nursery rhymes and holiday activities.
The subscribers will gain access to hundreds of additional premium activities compared to non-subscribers.
It offers free services for those who are not willing to pay for a subscription.
Cons
Starfall does not offer content and learning through a strict curriculum of subjects. It teaches kids according to its ways which can confuse your kid after opting for learning with others.
ABCMouse vs Starfall: What is the difference?
App
ABCmouse app interface is simple but a bit outdated compared to the app's interface of Starfall. Even Starfall offers an easy-to-understand user interface but with advanced Layout and tools.
Cost
While ABCmouse offers three convenient subscription plans, Starfall offers only one subscription plan for a year. While the subscription cost for ABCmouse is more than Starfall's, it still offers 5x times more content than startfall so it is just fair.
Trial Access
Both ABCmouse and Starfall offer one month free trial to everyone where they can experience all their premium features and services.
User Experience
Both ABCmouse and Starfall have received good responses from users for user experience. Majority of the users who subscribed for their premium services have had a satisfying and up-to-date experience in early learning for their kids.
Conclusion Thoughts
ABCmouse and Starfall are early learning service providers working in the same field but they are entirely different. Both ABCmouse and Starfall are good options for early learning for kids.
However, you can choose ABCmouse if you want your kid to see a huge library with many activities and tools to enhance their skills.
On the contrary, if your kid is good at usual studying but is lagging in some basic skills or reading and writing, to help him or her cope with others you can take help from starfall.com as it mainly focuses on skills rather than specific subjects.
On top of that, Starfall offers new technological tools and activities compared to ABCmouse. Nonetheless, both of them add enough advantages and disadvantages.
In the end, it is up to you to decide which among the two can offer your kid the required early learning.
Frequently asked Questions
Which app is better than ABCmouse?
If you want a better app than ABCmouse for the advanced user interface then noggin, Starfall or Khan Academy kids can do a good job. Although all of them have entirely different ways of enhancing your kids' early learning skills, they are good at their work according to the positive responses from their users.
What age group is Starfall for?
Starfall offers skills and topics for kids in preschool, kindergarten, 1st, 2nd and 3rd grade.
Is ABCmouse free with Amazon prime?
No, ABCmouse is not free with Amazon prime. 
ABCmouse vs Khan Academy Kids: Which Is Better? [2022]
ABCMouse vs Noggin: Which Is Better And Why? [2022]
6 Best Apps like ABC Mouse To Find Right Education [2022]