9 Top Websites like Quizlet but Free [2023]
We may earn small commission from the products mentioned in this post.
Websites like Quizlet but Free: Quizlet is a popular American company, offering a good range of tools for helping your kids study and learn systematically. The majority of its tools are AI-powered, and they allow you to study everything — including learning tools, textbook solutions, and flashcards.
Overall, it can be your ultimate choice for kids' learning, but, since it is paid, many hesitate. For the same, whether they simply wish to find a free Quizlet alternative or want to see how these kinds of sites work — many users are currently searching for more websites like Quizlet but free.
However, if you are also on the list, then you don't need to worry anymore because the article below contains a list of the best websites like Quizlet but free — helping your kid get an overview of new learning tools without you needing to spend a penny.
List of Websites like Quizlet but Free:
1. Anki 
Anki, with the full name AnkiDroid Flashcards, has received an excellent full points/rating on the Google Play Store with over 10 million downloads. Now, although Anki is not exactly for kids, it can still help kids through flashcards, to help them remember what they need to learn for a good while.
With this platform, you can make your kids' idle time in supermarkets, bus strips, and more situations, and let them study on a variety of platforms, including chromeOS, iOS, Windows, Android, and more.
Key Highlights
It supports a variety of flashcard content, including sounds, text, images, and Mathjax.
You'll get to explore thousands of premade decks and spaced reputation
It offers a progress widget along with detailed statistics, including all the highlights.
Pricing
Free on all platforms except iOS, where it will cost you $24.99
2. RemNote 
RemNote claims to be an all-in-one tool for learning and thinking. The platform is a combination of flashcards, PDF annotation, and notes, with a goal to help you always stay organized, study systematically, and think better.
With this app, note-taking is as easy as it gets, and with additional features like backlinks, PDFs, and more, it will not only help in knowledge management but you will also be automatically motivated to think better and work better.
Key Highlights
It has a smart flashcards feature where you can create flashcards directly from Notes.
The link reference feature will allow you to review all the notes related to a certain topic with contextual links.
It has a multimedia embedding tool where you can incorporate videos, documents, and anything embeddable.
Pricing
It has 3 pricing and plans to offer, including the free plan, the monthly plan at $10 per month, and the annual plan at $96 annually ($8 monthly)
3. Kahoot 
Kahoot is one of the most popular quiz platforms mentioned on this list with over 50 million downloads on Google Play Store alone. It is a game-based learning site where you majorly learn through games, also called kahoots — some user-generated MCQ, easily accessible through a Web browser or the app. 
Moreover, you can access the platform in over 15 languages, and play interactive quizzes at home, school, work, or whenever you feel like learning something new. Overall, Kahoot is a good choice that brings the creativity of learning to kids, teachers, workers, lifelong learners, and trivia enthusiasts.
Key Highlights
It offers a good bunch of study modes, and you can study at home or at any place with flashcards.
It all allows you to compete with your friends in study challenges, where you can directly challenge your friends and see who is more creative.
You can create your personal Kahoot and add images or videos to it.
Pricing
It has a free basic plan and offers more plans if you opt for paying annually, while the individual monthly plan will cost you $29 per month for 1 host.
4. NeuraCache 
NeuraCache is an underrated app compared to other titles mentioned on the list, but even with the small number of votes, it has received a positive response from users and is here with its specialty in flashcards and spaced repetition tools. 
Additionally, NeuraCache has a few goals in mind. The list includes helping you study whenever and wherever you want, working your brain to always stay fresh, avoiding forgetting things easily, resurfacing insight, and highlighting points on your notes.
Key Highlights
It comes with a good list of integrations, including Evernote, Twitter, OneNote, Obsidian, and many more.
It has a highlighting feature for hots, and the active recall section is meant to help you remember systematically.
Pricing
It has a free basic plan, and if you wish to upgrade to a premium level, then you can use its 14-day free trial and then pay $3.99 only per month, or $2.99 per month for an annually billed plan.
5. Brainscape
Brainscape seems to be one of the best flashcard apps available on the Internet, a seemingly perfect platform for classes and groups. It allows students to study with adaptive flashcards, along with providing systematic helping hands for teachers and corporate trainers. 
With an outstanding 4.7/5 rating on the Google Play Store, Brainscape fosters strong studying habits to double your speed and comes with the strongest enactment of active recall and spaced repetition.
Key Highlights
It is capable of easily creating, and organizing over 1000 multimedia flashcards, including images, text, and audio files.
It is affiliated with top publishers, educators, and schools to provide you with comprehensive collections of certified flashcards across an array of subjects.
Pricing
It has a free version, and if you want to upgrade to a pro plan, then it will cost you $19.99 per month, $59.99 for 6 months, or $95.99 annually.
6. Course Hero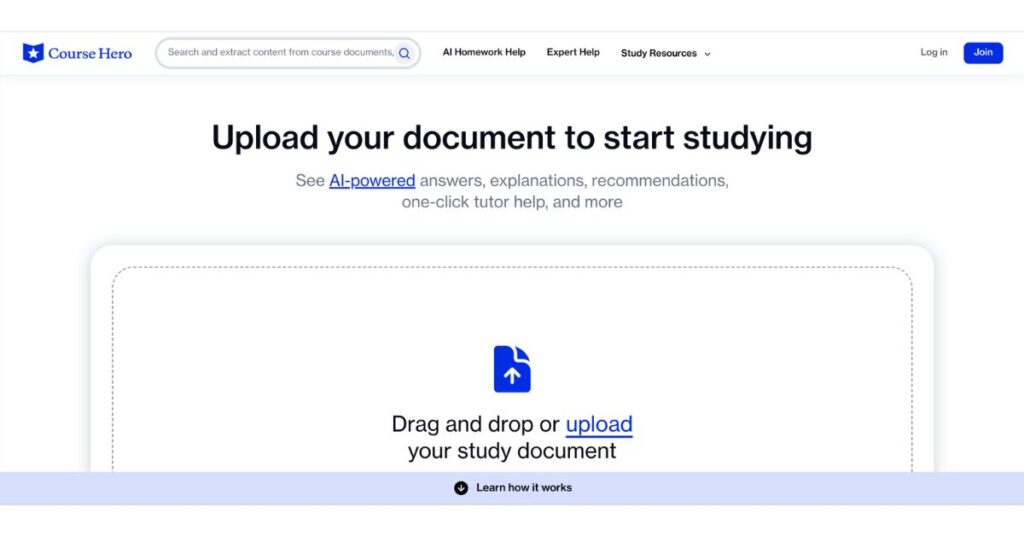 Course Hero is an American online learning platform for students, where they can access course-specific study material and online tutors. In simple words, it is a homework helper for all your textbook answers, where you can complete your homework while learning from experts 24/7.
With this platform, you can try different ways to understand distinct textbook answers and concepts. It also comes with a money guarantee policy, where, if you don't find quality in your homework answers, then your money will be refunded.
Key Highlights
It follows proper criteria, including hints, solutions, and step-by-step videos to help you understand and remember concepts.
It has a massive database of more than 100 million course-specific study notes and resources.
Pricing
It has a free basic plan. But, if you want to try its premium plan, then you will be charged $39.99 per month if billed monthly, $19.95 per month if billed quarterly, or $9.95 per month if billed annually.
7. StudyStack 
At StudyStack, you can use flashcards to learn and remember for a good while or play games automatically created by your own flashcards — ultimately helping you ace your exams. In simple words, it promotes a unique way of studying and learning through flashcards.
Moreover, it is a good platform to avoid ads which you encounter on almost every free learning platform. It can also help you study specific subjects, such as business, geography, history, languages, medicine, math, and science.
Key Highlights
You get to play an assortment of games, including matching, hangman, crossword, and Hungry Bug.
For all the victories you have received in games, you will get rewards respectively.
Pricing
It offers a free basic plan, while its pro plan charges $10 per year for students and $20 per year for teachers.
8. OmniSets 
OmniSets claims to be the ultimate flashcard tool where you can study in a smarter way with AI-based learning quizzes, matches, spaced reputation, and many more helpful tools – all working together to help you learn efficiently. 
With this platform, you can easily create flashcards with AI for any topic and subject globally. But, in case, when you already have notes ready, then you can also create flashcards from your study notes in a mixture of formats, such as fill in the blanks, Q&A, and more.
Key Highlights
The platform has 4 study modes, including new, familiarize, answer again, and mastered.
You get to learn at your own speed with adaptive learning, and an AI algorithm that learns alongside you.
You get to put forth your preferences and learning methods to make studying personalized.
Pricing
Free
9. StudyKit
StudyKit is for those who wish to build healthy study habits and is different from all the websites you have seen until now. It is here to give you instant feedback on your progress and tell more about your strong and weak points so that you can study systematically and ace your exams. 
Moreover, it delivers a regular set of personalized and small 10-minute lessons to make your studying creative, and not depressing. Overall, it is an engaging, organized, systematic, and time-efficient platform where you can study anything anywhere.
Key Highlights
It lets you transfer your notes, YouTube clips, and lecture videos into a customized study plan.
It doesn't take control over anything and leaves you to customize everything you want in your learning journey, like which lessons to learn, which points to highlight, etc.
Pricing
Free
Final Words
Nowadays, you can easily encounter a big list of learning platforms, but not all of them use new technologies and tools like flashcards and space repetition.
What we mean to say is that the above list only includes the sites with the majority of positive responses, and are some of the most reliable platforms for learning out there.
With that said, we have reached the end of the article and hope our list of the best websites like Quizlet, but free, was helpful to you.
Frequently Asked Questions
Are there any good websites like Quizlet but better?
RemNote, Anki, Kahoot, NeuraCache, Brainscape, StudyStack, OmniSets, and StudyKit are some of the good websites like Quizlet, but better in different ways.
Which are good websites like Quizlet, but better and free?
RemNote, Anki, Brainscape, StudyStack, OmniSets, Kahoot, StudyKit, and NeuraCache are a few of the good websites like Quizlet, but better and free.