12 Best Websites like Easybib & Easybib Alternatives
We may earn small commission from the products mentioned in this post.
Websites like Easybib: Easybib is one of the popular free bibliography generators, a platform featuring the latest innovative topics to keep you updated with writing. It's a useful platform for students, educators, and others that can easily help you create citations and other work with its list of tools.
Easybib is a good platform offering the popular form of guides like MLA, APA, Chicago, and Harvard referencing. But, there are plenty of other online platforms offering a better list of tools with enough guides and citation styles to amaze you, and ease your work while increasing the quality of outcome.
If you are interested to know about these powerful and popular bibliography generator platforms and plug-ins – then continue reading this article which presents a list of the top 12 websites like Easybib.
List of Websites like Easybib:
1. BibMe 
BibMe is a free bibliography and citation maker — an online writing center powered by Chegg. With this site, you can check and review your paper for plagiarism and start multiple citations, or manage and edit the existing bibliographies.
BibMe is another platform similar to Easybib with the same service provider — helping you do a better job in checking errors, missing punctuation, etc with an expert check. Also, it doesn't matter what type of style of citation you're using – because the platform is useful for all of them.
Price
It offers a free account along with a premium subscription plan with a 3-day free trial charged at $9.95 per month
Styles
APA, MLA, and Chicago.
2. Grafiati 
Grafiati is another trusted citation and reference generator platform in this article. With this website, you can create citations and bibliographies with the automatic system in various citation styles and guides.
Grafiati allows you to search through catalogs of a good list of kinds, including journal articles, reports, books, book chapters, conference papers, a thesis, or dissertations, etc. You could also add the source manually through websites, online videos, etc.
Price
It offers 3 subscription plans, among which, the first one is free. The second one is called cosmic bibliography — charged $1.3 per month, and the third one is called zero gravity — charged at $4 per month.
Styles
APA, MLA, Harvard, Vancouver, IEEE, ISO, Chicago, and more.
3. MyBib 
MyBib is another free bibliography and citation generator, making accurate and ongoing citations for you to directly copy into your academic papers, assignments, and projects. With its automatic generating system, you can create work directly from websites, online sources, etc.
MyBib is an ideal platform for teachers, students, and anyone related to academics — without having any time limits, limitations, privacy trackers, and ads on its site. It has a robust generating system that can help you be done with your citing worries within a few moments.
Price
Free
Styles
APA, MLA, Turabian, Vancouver, CSE, ACS, IEEE, AMA, Chicago, Harvard, and more.
4. Mendeley Cite 
Mendeley Cite is a plug-in – a brand-new citation continuously under development for new functionality and features. You can find this in the reference tab in Microsoft Word – allowing you to add in-text citations and generate bibliographies automatically.
Mendeley Cite is helpful in many ways – for instance, its import feature can automatically save webpages to your desktop application. It's also extremely easy to use because with just one click on 'insert citation' – you can start writing your paper.
Price
Free. You can buy 5 GB storage for $55 per year and unlimited storage for $165 per year.
Styles
APA, Vancouver, Harvard, and more — over 8000.
5. Citation Machine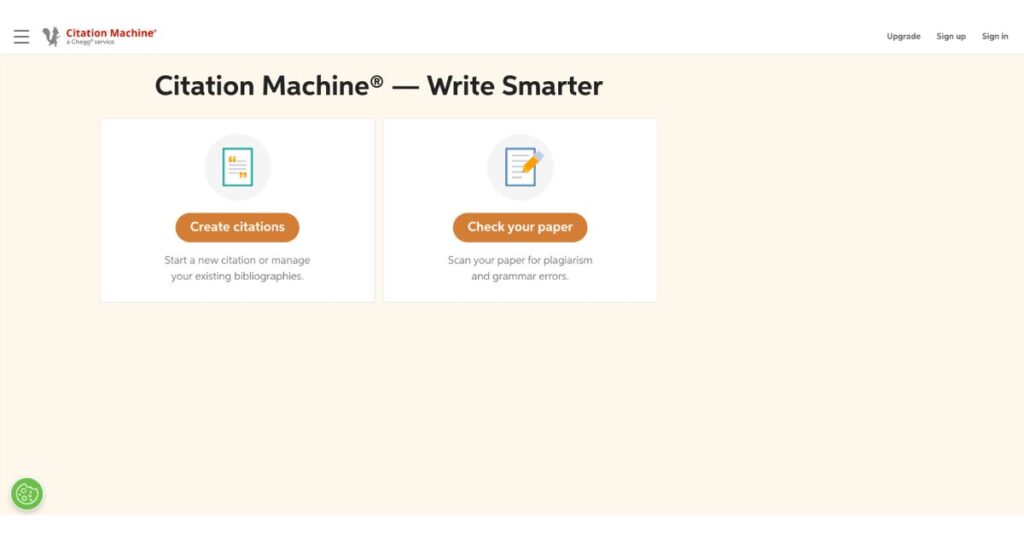 Citation Machine is here to help all these students and professionals to credit data that they use – to format and generate systematically. It is one of the most user-friendly platforms – a free online site with multiple bibliography and citation tools.
With Citation Machine, e-learning content developers get to choose from a vast citation style variety and collections. It also has an on-point plagiarism checker with numerous sources to cite content from, including magazines, journals, films, newspapers, books, and more.
Price
It has a free version along with 2 premium subscription plans. The first one comes with a 3-day free trial and costs $9.95 per month, and the study pack comes at $19.95 per month.
Styles
APA, MLA, Turabian, Chicago, etc — about 7000 styles.
6. Zotero 
Zotero is a free software and an open-source reference management platform. It's helpful to manage bibliographic information and related research material like PDF files.
Zotero is a user-friendly, personal research assistant to help you collect, annotate, cite, organize, and share your research material. It comes with an automatic system that senses and cites research data from the Internet.
Price
Free. The 300 storage limit is free, while 2 GB will cost you $20 per month, 6GB – $60 per month, and unlimited storage will cost you $120 per month.
Styles
APA, MLA, Chicago, and many more — over 9000 styles.
7. EndNote 
EndNote is a smart research and commercial reference management software package – an ideal tool to manage bibliographies and residences at the time of writing reports, articles, and essays.
With EndNote, you can save time in managing your information, and instead, focus on research. It comes with a powerful plug-in for Microsoft Word, through which, you can easily create bibliographies in citations with just one tap.
Price
To upgrade a license, you can pay $102.45, $247.45 for a full license, or $134.95 for a student license — all one-time purchases.
Styles
More than 6000 bibliographic styles.
8. CiteMaker 
CiteMaker is one of the top smart citation machines on the geography generator to help you format student assignments and projects in a variety of styles – mainly, including MLA, APA, and Harvard.
With CiteMaker, you are allowed to manually create citations, with about 9 sores types – and each one comes with a variety of subtypes. In addition to that, the generator offers a preview of citations, and also automatically manages them alphabetically.
Price
Free
Styles
Oxford, Chicago, Harvard, Turabian, and more.
9. Citefast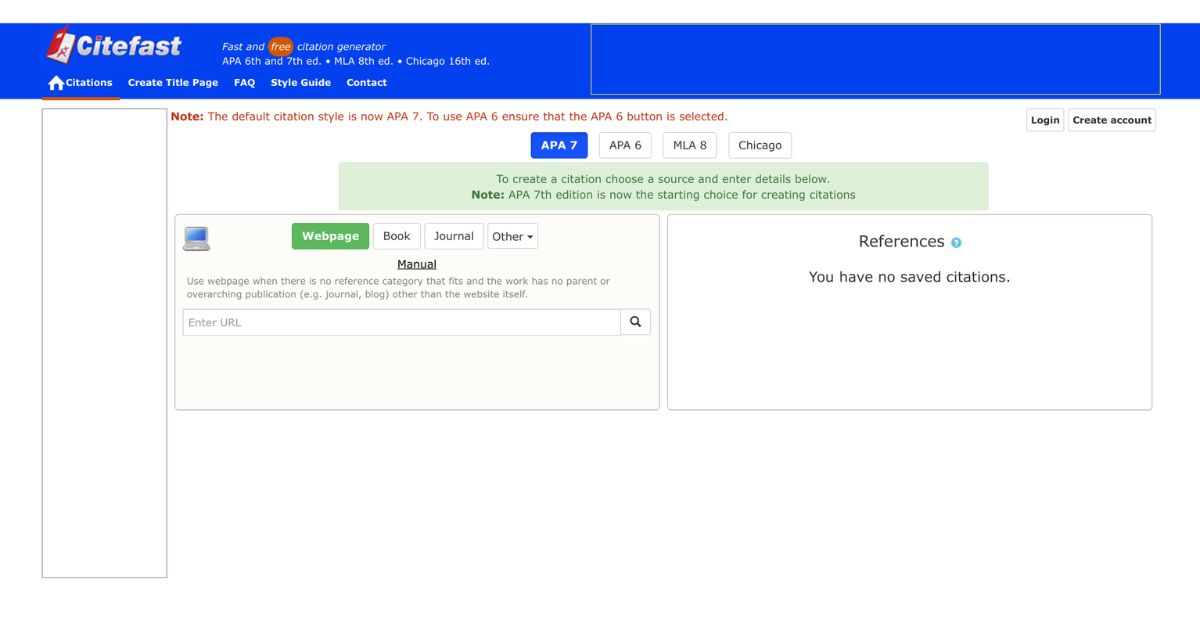 Citefast is another online reliable citation generator — best known for its fast, free, and accurate tool. With this, you can generate and manage your references, title pages, and citations in APA 7th edition.
Citefast can automatically make citations with the help of web page ISBNs, URLs, and many such formats. On the other hand, you can choose to type in the data yourself, and you are also allowed to save your citations for 4 days without an account.
Price
Free
Styles
APA 6 & 7, MLA 7 & 8, and Chicago.
10. Citelighter 
Citelighter is a well-known virtual highlighter – an award-winning automatic research and paper writing process. It lets you find and grasp unique facts on the Internet – acting as an ideal teaching tool on an academic level for students to understand how evaluating works.
Citelighter works with an automatic bibliography and citation generator, which will help you save time in writing. Moreover, it also offers a good variety of writing templates to help you manage your thoughts and ideas effectively.
Price
Demo version with 1 premium subscription plan available.
Styles
Chicago, MLA, and APA.
11. OttoBib 
OttoBib is another helpful platform for work related to the bibliography. It is a free website to generate an alphabetized bibliography of books, and as you might've already guessed – it specifically works for book resources.
OttoBib enables e-learning and you can reference your content just by providing the site with the ISBN number of the book. Along with that, it also comes in through Google Chrome extensions, permitting you to create citations from the utmost comfort of your web browser.
Price
Free
Styles
MLA, APA, Wikipedia, BibTex, Chicago, and Turabian.
12. Opendemia
Opendemia is listed on this list for being one of the best platforms to make your research and writing easier.
It lends you a helping hand in generating works cited in all the basic styles and formats, while it also allows you to add a note and pull quotes from different sources.
Price
Free
Styles
MLA, APA, Chicago, AMA, and many more.
Final Words
Along with the websites like Easybib mentioned in this article, the Internet has many more online platforms for good and trusted services – with a fair outcome.
On the contrary, all the websites in this article are judged based on the ease of use of their sites, the quality of work they do, and the number and types of tools they offer in total.
Therefore, we highly recommend you try all the aforementioned Easybib alternatives before you opt for others.
With this, we have come to a conclusion and hope you now have plenty of websites like Easybib to try out.
Frequently Asked Questions
Which are the good alternatives to Easybib?
BibMe, Citefast, Zotero, Mendeley Cite, Citation Machine, CitationMaker, MyBib, Citelighter, OttoBib, Opendemia, and EndNote are some of the good alternatives to Easybib and some top bibliographies and citation generators.
Which are other websites like easybib.com?
Opendemia, BibMe, CitationMaker, Citelighter, MyBib, OttoBib, Opendemia, EndNote, Zotero, Mendeley Cite, and Citefast are other websites like easybib.com to make your writing easier and help you focus more on research.