TickTick vs Notion: Who Wins and Why? [2023]
We may earn small commission from the products mentioned in this post. visit here for more details.
TickTick vs Notion: Managing time and tasks is difficult, Even machines and robots need detailed algorithms and dedicated tasks to work. Hence humans to be organized and managing the rhythm is the toughest thing to do. 
And yet there are many management and task organizer tools to divide your day, week, and month by the tasks which are important to you promptly. It also has many features like alerts and reminders so you are always on right track without forgetting anything in between.
In this article, we are going to talk about two important tools which are likely to be TickTick and Notion. We are going to compare both their prices and features to see how much they are alike and what's unique in them.
By the end of the article, you will get all the details regarding the comparison article TickTick vs Notion as in their overview, integrations, pros, cons, pricing and plans, and much more.
Overview: TickTick vs Notion
TickTick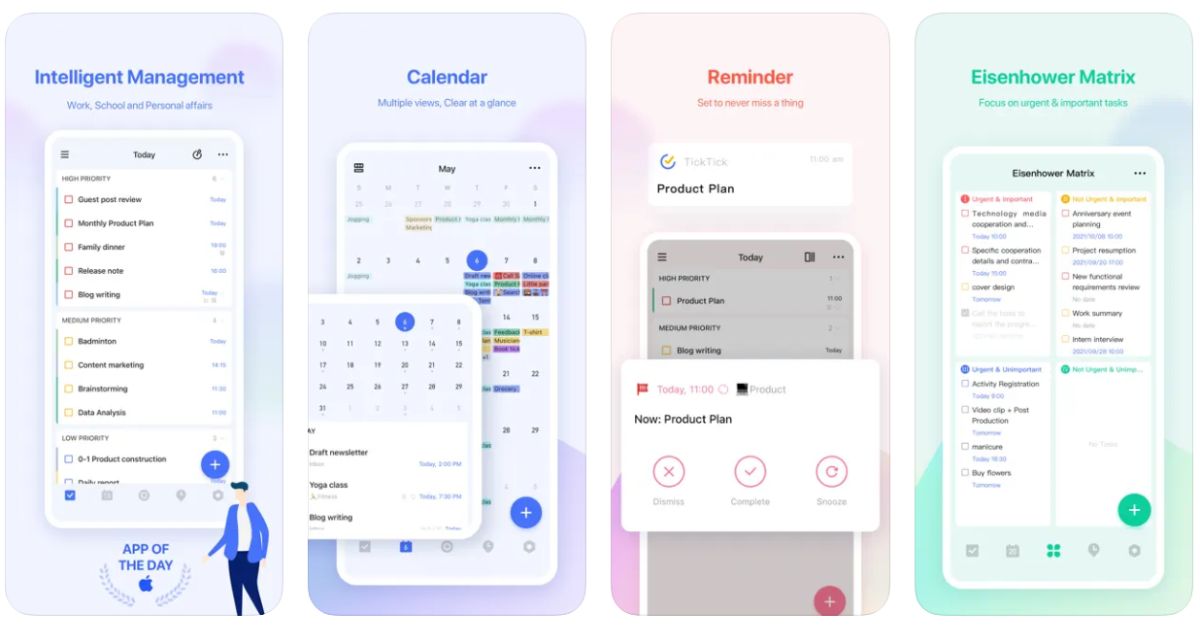 TickTick is known for the best GTD- Get Things Done App. It has been awarded as a Great To-Do list app for Android Devices by The Verge, The Best-To-Do App for Android by MakeUseOf, and The best-to-do List App for 2020 by Wirecutter by The New York Times Company.
TickTick is a one stop destination for things you want to capture by typing, photo, voice recorder, etc. It is a great app for personal goals to achieve with great time management, habits to track and recheck, sync across web, android, ios, mac, and pc with your updates, etc.
It is a great app to organize your all to-do lists, and classify your tasks into folders, tags, etc. You can easily make notes and a checklist with the TickTick app. You can easily sort your goals by date, title, and priorities.
TickTick is a great app to improve your skills of concentration with a built timer and stopwatch. You can easily build habits with goals to live a healthier life and track negative habits and things you can improve ahead.
Notion
The Notion App is a go-to app for project and workflow management solutions that helps businesses with the operations like goal setting, status tracking, lead management, and everything more on a centralized platform.
It is a great app for using a drag-and-drop interface to organize, rearrange, and develop ideas, thoughts, and plans easily and timely. It has a built-in calendar and Kanban boards where you can easily create roadmaps.
Users can also monitor the task as per status, category, priority, assigned team members, completion, working, etc. The Notion also allows the business to maintain and build a knowledge base for multiple topics such as task instructions, HR workflows, guidelines, and many more. 
Features of TickTick vs Notion
TickTick Features
You can easily pin your tasks to the top of the list.
You can track down your habit tracker to keep a check on your work and tasks.
There are many common tools like task planners, alerts, reminders, etc.
You can also set timers for the same due date to the task, and it will show how much time you have to get the task done.
You can easily convert any description into notes with TickTick.
The task description has rich text formatting to make it easier for the copy and pastes feature and much more.
You can also enable their location reminders on your mobile devices which will alert you when you are close to the destination set by you.
It also has the feature of making folders to organize your flow of content into different categories and sections.
Best of all, TickTick offers a Pomodoro Timer for mobile devices which helps you work efficiently with your time.
You can easily divide your work into tasks and sub-tasks.
You can make projects, and tags, and have task comments enabled, you can also set priorities according to you.
You can also have task repetitions and pinning of tasks to the emails.
Notion Features
It offers excellent tools for importing notes from Evernote.
It also supports the collaboration of persons and teams to work on one project or task.
It offers unlimited storage and strong template support for your project and notes.
It also offers web clipper, web app, mac app, windows and android app, ios app, and other collaboration tools.
If you are looking for a great table database block then the notion is a good software to manage projects, track productivity, keep organized notes, etc.
The notion app also has a habit tracker, simple budget, roadmap, etc.
The notion app's text editor is a great deal to look for if you are into a great color palette need, customization, and minimal aesthetic look to your notes, tasks, and projects.
You can also use many other text elements like headers, lists, links, dividers, quotes, and callouts to get your text more enhanced and highlighted.
You can easily save and display your bookmarks in notion.
The notion also has a feature of to-do lists which are very easy with public pages to share information with others.
Integrations of TickTick vs Notion
TickTick
TickTick offers an integration facility with the apps namely Zapier, Gmail, Amazon Alexa, Spark, Outlook, Slack, shortcuts, Google Assistant, and much more. They also offer calendars and plug-in features with the same.
Notion
Notion app allows integrations with the following app- Slack, Google Drive, Gmail, Trello, HubSpot CRM, MailChimp, Github, Klaviyo, Dropbox, Google Calendar, Microsoft Outlook/Teams, Acuity Scheduling, Linkedin, Monday.com, and Jira.
Pricing & Plans of TickTick vs Notion
TickTick
TickTick offers premium plans costing $17.99 per year and $2.33 per month. Students are eligible for a 25% discount on the same where they only have to pay $20.99 for the subscription. 
The paid plan of Ticktick offers- 

Calendar View
Customized filters and folders
Historical statistics and separate reminders for every task
Collaborations
Previous changes to look at
Premium themes and white noise for Pomodoro timer. 
Notion
The personal subscription is free.
Then it has paid plans as follows:

Personal Pro Plan at $5 per month.
Team Plan at $10 per person per month.
Enterprise Plan at $25 per person per month.

The Personal Pro plan is only meant for personal use and one person to be mentioned with limited collaborations. But you can invite as many guests as you want to co-edit and comment on the individual pages.
The Team Plan is for advanced collaborations and admin tools for regulating permissions where you can add up to as many persons as you want to work together as a team.
The Enterprise Plan falls into the category where you have everything of the team plan with enterprise-grade admin tools, controls on the sign-in and sign-out for the team, etc.
Pros of TickTick vs Notion
TickTick
The input feature is very quick for TickTick.
You have a custom list feature at your service.
You also have access to the multi-view which includes the Kanban view and calendar view use.
It also offers multi-platform including the web, desktop, and mobile versions altogether.
You can simply just share specific lists to email, etc.
Notion
Team Collaboration of Notion is on-point. It enables you to see who is working and what they are working on in which project in detail.
Text coding to copy and paste from note to board is kept very secure where they hold all the text in place without creating a mess out of the same.
It has a pin board facility to organize your tasks and notes within pages and keep everything organized and easy to find.
Cons of TickTick vs Notion
TickTick
The task reminders are in the form of notifications which can easily be missed by you if you are more of an email-preferred person.
If all your tasks are on the same day then the alert or reminder will be not dedicated differently for each task, because it will show up only as one notification and that can be a mess to handle separate tasks and timings.
Notion
The search option in Notion leaves something and it is hard to find a page unless you know where it is in the first place.
The sidebar and grouping of pages on the bar can be a bit confusing and not easy to navigate at all.
If you are a new member entering into someone's notion then it can be a hefty task to find things timely.
Final words
Here, we came to an end with the comparison article of TickTick vs Notion – organizing apps. In this article, you saw their features, pricing, and plans, with pros and cons.
Hope by the end now you are clear about what they have to offer their customers. Now selecting the best out of these 2 is up to you and your requirements for management apps.
FAQs
Who owns TickTick?
TickTick is in the hands of ByteDance.
Is TickTick free?
TickTick is not free but it is free for downloading. But they do offer a free trial to use the app and know how it works. 
Who owns Notion?
The notion is handled and managed by PreSonus. 
Is Notion free?
Yes. The notion is free for personal use but if you are looking for team and enterprise work then you have subscribed to their paid plans. If you want they offer a free trial for the paid plans to test first and then decide.