17 Top Stores like The Real Real to Check Out [2023]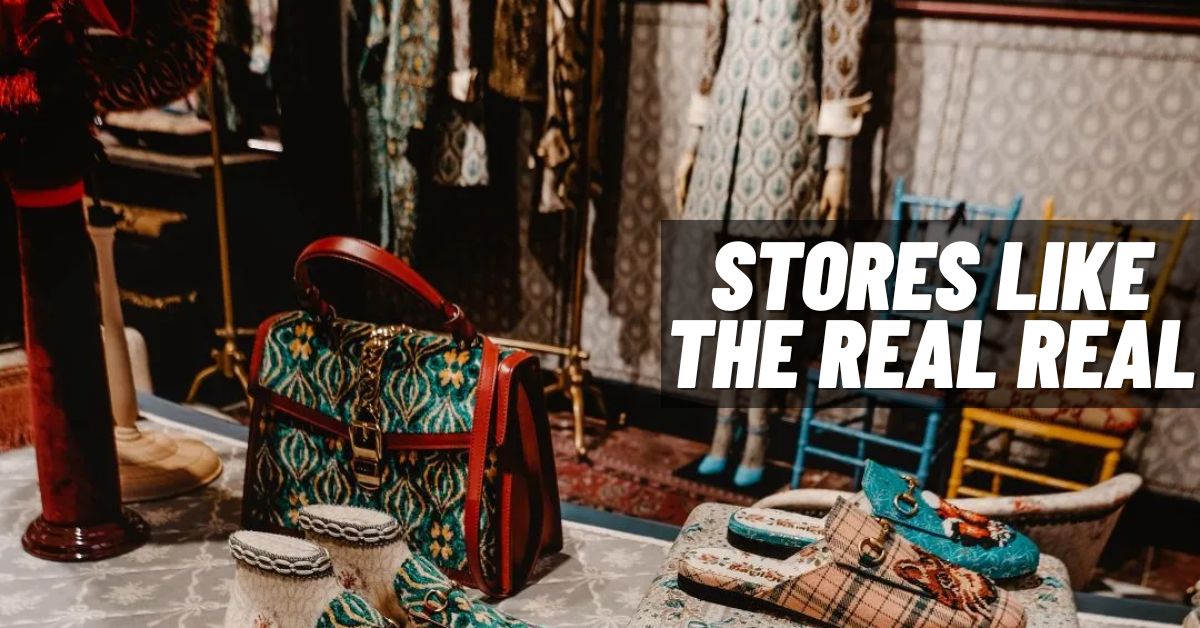 We may earn small commission from the products mentioned in this post.
Stores like The Real Real: The Real Real is a marketplace for certified luxury consignments online and offline. It offers various pre-owned designer goods, including handbags, accessories, footwear, clothing, and home goods.
If you are looking for the most reliable clothing and accessory resale stores, you've come to the right place. In this article, we'll show you the best stores like Real Real, where you can resale or buy unused products for some extra cash.
We've mentioned all the detailed information about each store with its highlights so that you can decide on the perfect store that will be right for you.
List of Stores like The Real Real
1. Vestiaire Collective
Vestiaire Collective is a reputable online marketplace that specializes in buying and selling pre-owned luxury fashion items. In the store, you will find luxury brands for women's, men's and children's clothing and accessories, as well as lifestyle items encompassing home decor and sports equipment.
The carefully selected portfolio of Vestiaire Collective includes a wide range of classic pieces from practically every major brand.
Key Highlights
It posts thousands of new listings weekly.
It allows you to create alerts, letting you know when a particular item you are looking for i
s listed. 
Luxury items undergo a thorough identification and quality control process before being added to the cart.
Every day, more than 25,000 expertly picked pre-owned luxury items are uploaded at discounts of up to 70%.
2. Rebag
Rebag is one of the best stores for designer handbags, pouches, clutches, totes, and more. It also offers a range of men's and women's footwear and ready-to-wear from designers like Gucci, Balenciaga, Louis Vuitton, Valentino, Fendi, and more.
It offers several ways to shop, including by trading and through its Infinity program. It allows you to enjoy a product for up to 12 months, and exchange it for 70 to 80 per cent of its purchase price
Key Highlights
There are more than 25,000 products available for purchase online, including stock from Rebag physical stores.
This is a cool opportunity to try out a variety of bags without paying full price if you frequently switch bags.
Shop tens of thousands of exquisite accessories and bags from more than 50 designers.
Updated arrivals are add weekly.
3. Fashionphile 
Fashionphile is an online marketplace where you can buy and sell jewelry, accessories, used handbags, and luxury brands for women.
It can be the perfect choice for people who have designer items to sell and don't want to negotiate with customers.
Key Highlights
Search, filter, shop, and share your favorites.
Manage your shipping status, returns, account, and seller's offers within its site.
Map your way to its showrooms using click-to-call technology.
Offers pre-owned handbags and accessories at up to 70% off retail.
4. Farfetch Pre-Owned
An online retailer of luxury clothing, Farfetch offers goods from more than 700 international brands and stores. You can trade in designer clothing, accessories, jewelry, and luggage for shop credit.
Farfetch offers prominent brands like Fendi, Versace, Burberry, Gucci, Balenciaga, Palm Angles, Saint Laurent, Thom Browne, Alexander McQueen, and much more.
Key Highlights
You can browse your page by aesthetic, sustainability, designer and types of clothing.
A team of luxury professionals authenticates and evaluates each pre-owned item.
Its visual search features allow you to take a photo of what you're looking for, upload it and they'll find it for you.
Discover positively mindful bags, jewelry, and shoes as you peruse the newest styles from sustainable brands.
5. 1stDibs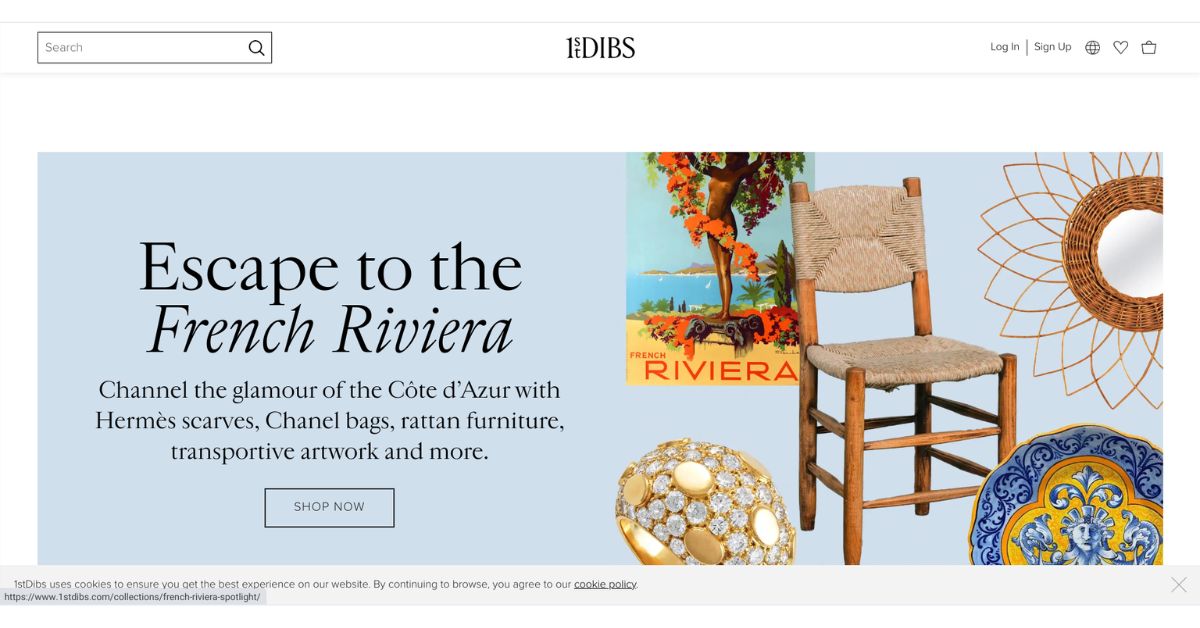 1stDibs is a one-of-a-kind online store that sells thousands of high-end pieces, from affluent fashion to fine art to designer décor. More than a million remarkable items, including furniture, fine art, jewelry, and clothing, are accessible to those who adore design.
It exclusively showcases goods from reputable merchants who have been checked out by internal experts. Each week, thousands of new things are added to the store, and a team of professionals handpicks the best to display.
Key Highlights
It includes listings from a trusted global network of sellers.
It allows you to buy directly, negotiate a price or bid on items at auction.
It provides a price-match guarantee, comprehensive buyer protection, trusted global delivery and more.
6. Collector Square 
Collector Square is the leader in Europe's online secondary market for designer jewelry, watches, and bags. Every item offered at Collector Square's store is carefully chosen and verified by a skilled team of curators.
The shop offers a variety of approximately 15,000 appraised items that can be transported anywhere in the world in less than 24 hours.
Key Highlights
It offers a carefully picked collection of upscale brands.
Its inventory is regularly updated, so you can find unique and exclusive pieces.
In addition to its online platform, it also has a physical store in Paris, France.
It employs a team of experts who authenticate the items they receive to ensure they are genuine and in the described condition.
7. The Luxury Closet
Luxury Closet is a popular online marketplace for buying and selling previously owned luxury goods. The shop carries a sizable selection of designer clothing and handbags, high-end watches and well-known jewelry brands.
The store is renowned for its top-notch white-glove concierge service, wonderful shopping atmosphere, and stringent verification procedure. And, with a global community of over 15 million, the store's pre-owned inventory is special.
Key Highlights
Top luxury brands like Louis Vuitton, Hermes, Piaget, Chanel, and more are offered at 70% discounts.
You may buy designer handbags for less with confidence because it guarantees that everything sold in store is 100 percent original.
It sells more than 25,000 upscale products from international vendors.
8. ThredUP 
ThredUP is an online store that offers women's and kids second-hand clothing. It lets you buy and sell second-hand products online. To determine prices, it employs an algorithm that considers the brand, season, style, and available stock.
The store connects buyers and sellers at exceptionally low prices and has over 50 million sellers. When purchasing used clothing that you can't physically inspect before buying, the additional layer of quality control gives you more peace of mind.
Key Highlights
It allows you to sort by size, color, brand, price, material, and even the piece's condition.
You'll find every possible style of clothing you could be looking for.
Includes over 35,000 brands, including Gap and Gucci.
It offers high-quality second-hand clothes and designer bags.
9. Poshmark
Poshmark store has everything you want in clothing for women, kids, & children and includes vintage, antiques, jewelry, accessories, makeup, and many more.
You can purchase items for less than the original price, and occasionally it's even less than any other location on the internet, which allows you to save a lot of money.
Key Highlights
You can purchase expensive goods like Prada and Gucci among thousands of other brands at low costs.
Finding particular things in the size, color, price, and other criteria of your choice is quite simple.
When the price of a listing is reduced, you'll receive an email.
Poshmark boasts more than 200 million products from 5,000 brands.
10. Depop 
DePop is one of the best peer-to-peer social shopping stores that lets you buy and sell accessories and clothing. It lets you comment and like the products, and you can also message sellers regarding any questions about the product on sale.
Images of used clothing that you have acquired elsewhere or through an internet marketplace can also be shared.
Key Highlights
For a more precise search, use detailed filters.
Discover a fantastic variety of both new and used items.
Join the communities of those that inspire you and support your friends.
By item, brand, size, price range, and other criteria, you can focus your search.
11. StockX
StockX is a store that offers the fastest and safest way to discover, buy and sell genuine products. Although it is well known for its trainers and streetwear, it also sells other goods like gadgets, collectables, handbags, watches, and the newest PlayStation 5 and Xbox next-generation gaming systems.
StockX works like a stock exchange, with buyers and sellers placing "Asks" and "Bids," respectively. When the ask and the bid coincide, the deal closes automatically and immediately.
Key Highlights
It enables you to sell and shop more wisely by giving you access to real-time market data.
A history of pricing alterations is available.
StockX has brand-new things for sale.
A visible serial number, blind stamp, or date code, which proves authenticity, must be present on every item.
12. Tradesy
Tradesy is a peer-to-peer online marketplace where you can buy and sell pre-owned items from top designer brands like handbags, accessories, apparel, and shoes.
When you want to sell an item, it will send you a pre-paid, pre-addressed kit, complete with amazing packing so you can ship it for free. If you purchased anything and are unhappy with it, you can easily return it after receiving it and decided you don't like it.
Key Highlights
Before shipment, Tradesy's experts inspect each item displayed in the store.
You can negotiate the prices.
It helps millions of users to access luxury brands at low prices.
The majority of its offerings are directed towards fashionable women.
13. HEWI London
HEWI London is a store exclusively for new or barely worn pre-owned designer goods. You have the option to "buy it now" or make offers on future purchases while keeping an eye on things and following vendors.
You can post products yourself for free as a seller, or you can choose the VIP service, in which case HEWI London will handle everything for you, including gathering items and responding to customer queries. You can sell anonymously by doing this; all you have to do is specify how you wish to get paid.
Key Highlights
It offers over 71,000 coveted designer pieces for women, men and children.
It has a wide selection of designer clothing.
It has authentication processes in place to ensure the authenticity of the items sold on its platform.
14. Rebelle
Rebelle is an online marketplace for premium pre-owned goods that offers a variety of products from well-known designers. The store enables you to sell your designer clothing while also enabling you to purchase the item of your dreams.
Rebelle's work focuses on historical items and beautiful fashion items. With the goal of providing an exceptional experience, they guarantee each item's authenticity and quality.
Key Highlights
Nearly 600 designer labels are available for used fashion trade between over 1 million individuals.
In-house specialists examine the privately offered high-end products to rule out the sale of plagiarized products.
It has a concierge service with a 48-hour turnaround that includes delivery and identification.
15. Cudoni 
Cudoni is an online luxury resale platform based in the United Kingdom. It specializes in the consignment and sale of high-end fashion items, including clothing, accessories, and luxury goods.
If you want to sell on Cudoni, company experts will value your luxury items and take care of the entire process for you. It will send updates on how your sales are progressing and inform you once your pieces have sold.
Key Highlights
Allow notification for any updates.
This service is perfect for people short on time because it is effective, hassle-free, and straightforward to use.
It has a diverse range of luxury fashion items from well-known brands.
Its aim is to present items appealingly and attractively, providing clear and detailed images and descriptions to give potential buyers a comprehensive understanding of each item.
16. Lampoo 
Lampoo is a second-hand designer store, which aims to help give new life to pre-loved luxury items. Along with its online store, it offers an extensive selection of designer apparel, accessories, and jewelry from high-end staples like Valentino and more modern names like Kenzo and Alexander Wang.
If you want to sell, there are several options. You can arrange a DHL pick-up from your home, a one-to-one concierge or a virtual appointment. In addition, you can drop into one of its ever-growing number of European boutiques to have your items valued.
Key Highlights
Its team of experts inspects every item, validating authenticity, quality and condition.
It prepares and ships your order in 1-3 working days and offers express delivery.
If you're not completely satisfied, you can always return your order to it for a refund.
17. Sellier
Sellier is a store that offers luxury ready-to-wear, handbags, shoes and accessories. You also have the opportunity to sell your own items with them, with Sellier offering cash upfront.
The authenticity of every item sold by Sellier is guaranteed. A staff of luxury experts and authenticators working with labels like Hermes, Chanel, Christian Dior, and Louis Vuitton has been with the store for over 30 years.
Key Highlights
Sellier also offers a selection of genuine Hermès bags for sale.
It offers you the chance to see its beautiful pieces before making those important buying decisions.
The store's team of experts is available to assist you with styling advice and personalized recommendations.
Final Words
Online consignment or resale shops are a fantastic method to get high-end goods for a discount off the list price.
However, with so many sites available, choosing one may be confusing for you. However, we hope that after reading all of the information we've provided, you can now select the store that is ideal for you.
FAQs
What is better than Real Real?
Poshmark, Vestiaire Collective, and Tradesy are some of the biggest rivals of The Real Real. Poshmark is a social e-commerce platform. The store sells apparel and other accessories for men, women, and children, as well as supplies for home furnishings.
Does The Real Real sell used items?
You can buy and sell designer clothing, bags, and jewelry at the Real Real – luxury resale & consignment.