6 Clothing Stores like Buckle You'll Love! [2023]
We may earn small commission from the products mentioned in this post. visit here for more details.
Stores like Buckle: Are you looking for new outfits that help you stay updated with trends but also look graceful as per your age? We have just the right websites for you! Curated with the love and fashion expertise of the store's customers, this list is sure to help you find the best go-to store for your fashion needs!
About Buckle
Buckle is a fashion house for apparel and identifies as America's favourite denim destination. With top-notch quality products at eye-popping prices, Buckle is one of the stores that stay true to its mission of providing a memorable shopping experience for its customers.
The brand is extremely sincere in maintaining consumer loyalty, based on the fact that every Buckle store has an in-house tailor/seamstress to provide free denim repairs and alterations within 30-days of purchasing the product.
So, if you're buckled to Buckle, these alternative fashion stores are sure to get you to confess your shopaholic identity.
Pacsun
PacSun is the go-to for the latest jeans, graphic tees, swimwear, and more. Build your next 'fit' and enchant everyone at the next luncheon or soiree! This leading lifestyle brand is a great option when looking for stores like Buckle because it has varied options and styles to choose from.
It also features brands like Billabong, Budweiser, Champion, Adidas, Colour Range, Free People, Dr.Martens, and Converse.
The Gender Free section on their website is a breath of fresh air from the constant division of men and women within collections and apparel.
Highlights
Labour Day Sale: up to 50% off sitewide and a new addition of products.
2 pairs of jeans and/or for $49 + Free shipping.
Shop Pre-Loved Pac on ThredUp and give some of the brand's clothing a second life (plus reduce environmental impact by 82%).
Purchase a pair of jeans/pants and your order ships free!
#EasyFastFree: 10% off every time you choose to pick your order up from the nearest store.
#MyDenimStory: for all your chic denim fits to be featured on the PacSun socials!
Categories:
Tops, Bottoms, Swimwear, Activewear, Loungewear, Dresses, Accessories, and Shoes.
Madewell
At Madewell, good days start with great jeans, as they should! This is the perfect option if you're looking to shop from stores like Buckle that have longevity and durability. The spot to shop keep-forever essentials, Madewell is known for its amazing denim collections and the brand knows better than to just jump from trend to trend.
Its unbelievable growth owes its credit to focusing on actually knowing its customers, good-quality, longer-lasting clothing, which has a lower price point than most brands they compete with.
Highlights
The Fall Forward event: 30% off fall faves and an extra 40% off sale.
#EverydayMadewell: to get featured on their socials if you have fits with inspiring!
Madewell Forever: Your chance to do the environment some good and shop for pre-loved products you can love evermore. A new way to do well!
More sizes, more inclusion: Plus, Petite, Tall, Taller, Maternity, and Curvy for all your needs. Because every shape is beautiful.
Categories:
Dresses, Tops, Denim, Bottoms, Blazers, Jumpsuits, Overalls, and Swimwear.
Reformation
In the great words of Reformation, "Being naked is the #1 most sustainable option. We're #2." This brand manufactures using carbon and water neutral methods and its products are worthy of draining your wallets. It's challenging to single out one aspect of the Reformation as the key to its success. The brand is successful because it offered sustainability at scale and sparked a paradigm shift in the fashion industry. And the reason it keeps succeeding is due to its distinctive aesthetic and voice.
Highlights
Free shipping on everything! And 50-70% off your favorite products.
RefRecycling: Your unwanted shoes, jeans, sweaters, and activewear can be sent to Reformation at no cost to you. They get to make clothes out of recycled materials while you get rid of things you no longer want. Pretty much everywhere, it's a good thing.
Shoes Suck Brand new take-back program to recycle 100% of the shoe Reformation makes. This allows them to save old footwear from landfills and turn it into new, useful stuff. Their ultimate goal is to create a closed-loop system where they make new Ref Shoes directly from old ones.
Categories:
Bodysuits, Dresses, Jeans, Outerwear, Pants, Shorts, and Jumpsuits.
ASOS
This international, online-only platform for fashion primarily serves the needs of trendy young adults. With more than 100 styles and collections available for you to browse through while you sit and pretend to work in a Starbucks, it has by far one of the most artistic and budget-friendly collections.
For all my e-girl personalities out there, the collection is also divided into aesthetics like Summer Grunge and New Prep. It features items from shops like 54 Floral Clothing, Kitzy, Plis, DeFacto Clothing, Now Millennial, RItaxxSara, Rave Vintage, and Volga Volga, among a seemingly endless list, and offers you the chance to advertise your fashion brand on the website!
Highlights
Asos has a marketplace for local independent brands and international vintage shops; it promotes #supportlocal, and we support it!
In addition to helping small businesses, the website gives you the chance to sell and set up your little spot on this incredibly well-known platform.
Categories:
Dresses, Co-ords, Jumpsuits, Swimwear, Athleisure, Fleeces, Knitwear, and Tracksuits.
Tillys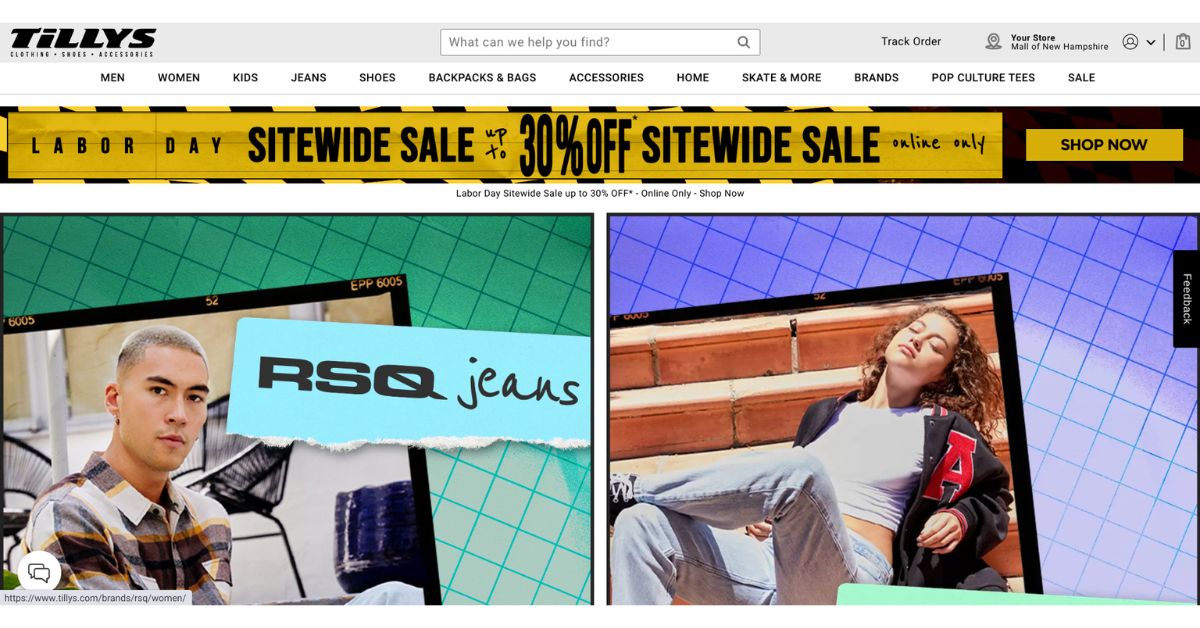 Tillys is an American retail clothing company that sells an assortment of branded apparel, accessories, shoes, and more. It's trendy, chic, and everything you need. When looking for stores like Buckle, this one will get you hooked (pun intended).
Highlights
#WithTillys: To get featured on their Gen-Z-inspired socials with your mix-matched fits.
Free shipping on orders above $49.
Only on Tillys: Exclusive collection of clothes sourced in-house aside from the top brands on their website
Online Only Clearance Sale with up to 70% off selected products
Labor's Day sitewide sale with up to 30% off!
Categories:
Dressers, Rompers, Tops, Tees, Bottoms, Leggings, Shorts, and Skirts.
GAP
Gap, which was founded in an idealistic state, is a champion of uniqueness, an early proponent of inclusivity, a creator of culture, a force for good, and a believer in possibility. Since the opening of its first store in 1969, Gap has expanded to connect with customers online as well as in company-operated and franchise retail locations throughout the world.
The gap is the OG of apparel clothing and is perfect when looking for cheaper and premium quality apparel stores like Buckle!
Highlights
Maternity section where you can shop through your trimesters and stay updated with fashion trends irrespective of what or who you're pushing out the next day!
Labor's Day sale with an extra 50% off sale styles, and 40% off all registered styles.
Free shipping on orders above $50 for rewards members.
Gap for Good: Responsibly made shop with products made out of organic cotton.
Categories:
Swimwear, Activewear, Dresses, Rompers, Skirts, Shorts, Outerwear, Athleisure, Sweatpants, Accessories, and Jewelry.
Conclusion
We hope this speed dating with apparel stores has found you your perfect match and you're ready to splurge on a shopping haul, for the right price, of course! For cheaper, eco-friendlier stores like Buckle, we advise you to try out Reformation, Pacsun, and Madewell. If you're going for trendier stores that have a more vibrant and colorful collection, ASOS and Tillys is the right choice for you!
And for your other fashion doubts, we've got it all covered, until next time!
FAQs
What is GAP most famous for?
Even though Gap is concentrating on its most popular product lines, including denim, activewear, fleeces, and knitwear, the company made news in June 2020 when it announced a 10-year partnership with Yeezy, the well-known fashion label founded by the musician formerly known as Kanye West, who recently changed his name to Ye.
Is Reformation considered fast fashion?
The US-based fashion label Reformation was "born" in 2009 and stands out from the crowd for being quick, stylish, and a pioneer in the field of sustainability. Additionally, a large audience can afford Reformation's limited edition items, and millennials and celebrities love them dearly.
Why the name 'PacSun'?
Carl Womack, chief financial officer, said, "The kids have been calling us PacSun for years. It's essentially something that was bound to occur. According to him, the shorter name is also less likely to give the impression that the business only sells T-shirts and bathing suits because it is "more neutral than Pacific Sunwear."
What is Madewell owned by?
Madewell was a defunct workwear manufacturer that was founded in 1937. In 2004, J. Crew purchased the rights to the name, and starting in 2006, they used it as "a modern-day interpretation" that was aimed at younger women than their main brand.