SoFi vs Capital One: Which Is Better? [2023]
We may earn small commission from the products mentioned in this post.
SoFi vs Capital One – Are you wondering which banking service is perfect for you? Well, look no further! In this guide, we'll be comparing two popular bank services – SoFi and Capital One.
Both Capital One and SoFi are full banking services that offer competitive rates. Currently, SoFi offers a hybrid banking account, which combines the advantages of a savings account with the features of a checking account. 
Whereas Capital One has modernized its entire service to keep up with the latest fintech companies. And unlike SoFi which offers services through the mobile app and website, Capital One 360 offers both online services and physical banks in various locations.
Now, keep on reading to find out more about SoFi and Capital One comparison.
SoFi vs Capital One: Overview
SoFi: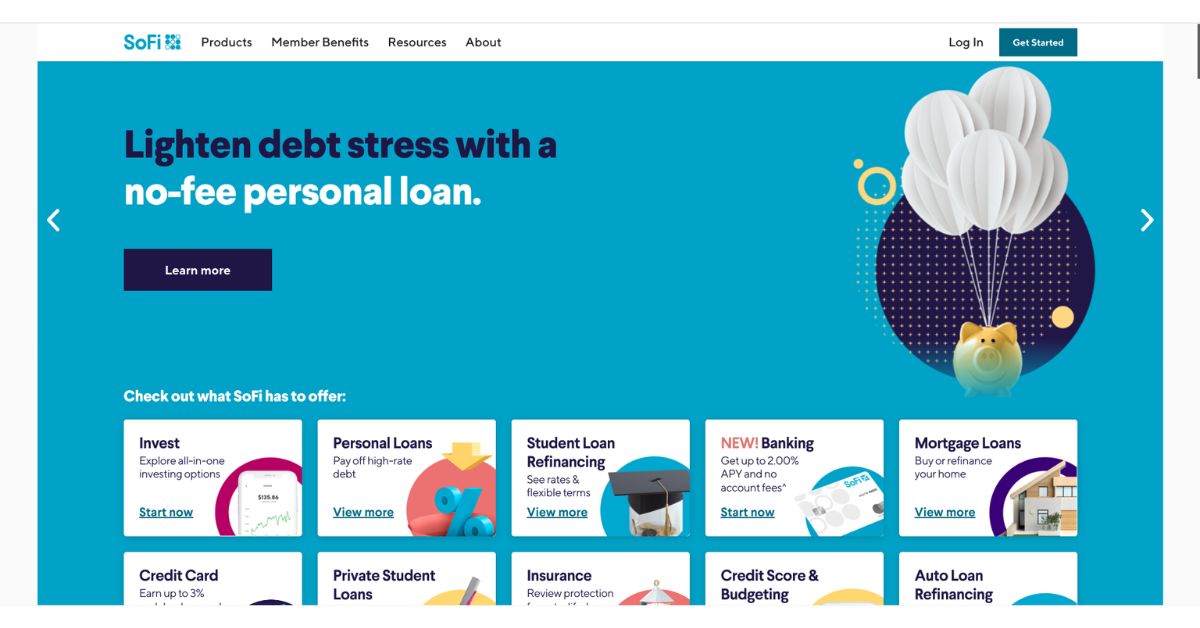 It is one of the popular American online banks and online personal finance businesses. It provides financial products, such as auto loan refinancing, personal loans, student loans, mortgages, investing, credit cards, and banking through both mobile and desktop interfaces.
It offers a credit score monitoring and budgeting tool – SoFi Relay, which let users track their money in banks, investments, transactions, credit cards, and loan balances.
And it is partnered with numerous third-party insurance companies to offer life insurance, homeowners insurance, auto insurance, and renters insurance.
Capital One:
Capital One is another American bank holding company that specializes in auto loans, savings accounts, credit cards, and banking services, including checking, savings, and money market accounts.
Popularly known for its credit cards, it entered the banking world when it purchased ING Direct and rebranded services as Capital One 360 banking. It has over 755 branches along with 30 café-style locations, and 40,000 ATMs.
Additionally, the mobile app users can use Capital One's Add Cash in-store feature to deposit up to $999 a day up to five times a month at CVS stores via a cashier.
SoFi vs Capital One: What do they Offer?
Checking and Savings
SoFi
SoFi's Checking and Savings are offered by SoFi Bank. Its checking and saving account operates as one account but if you create a direct deposit, the money you have will earn different APYs based on where within the account you have it.
For instance, your Savings balance will earn 3.75% APY, and your Checking balance will earn 2.50% APY. However, without a direct deposit, you'll get 1.20% on all balances with no limits and minimums.  
It can be a perfect choice if you wish to earn high interest and don't mind using remote customer services in place of bank branches.
Capital one
Unlike SoFi, Capital One's savings and checking accounts are separate accounts.
360 Checking Account: With this, you can access your money and bank anywhere with no minimums and fees.
It offers several benefits like fraud coverage, the ability to access your money up to 2 days sooner than your payday, and no fees for any overdraft options you select.
It also comes with a 360 Checking MasterCard debit card and the first checkbook is free. But it requires a minimum deposit of $50.
Nonetheless, it allows for up to two days earlier direct deposit paychecks and a grace period in case of an overdraft.
360 Performance Savings: It is a high-yielding savings account with a superior 3.40% APY savings rate, which is typically higher than what other online banks offer.
And there are no monthly or maintenance fees, no minimum to open deposit, and no minimum balance requirement and the interest you'll earn is irrespective of your balance.  Thus, a Performance Savings account can be a top choice to meet savings goals like saving for a family vacation or for college.
Interest Rates
SoFi
As mentioned earlier, you can earn up to 2.50% APY on your Checking balances with direct deposits and 3.75% APY on your Savings and Vaults balances.
Accounts with Direct Deposit:
| | | |
| --- | --- | --- |
| Account | Interest Rate | APY |
| Savings Account | 2.47180% | 2.50% |
| Checking Account | 3.68705% | 3.75% |
Accounts without Direct Deposit:
| | | |
| --- | --- | --- |
| Account | Interest Rate | APY |
| Savings Account | 1.19345% | 1.20% |
| Checking Account | 1.19345% | 1.20% |
Capital one
Checking Account: You can easily earn interest just by having money in your account.
| | |
| --- | --- |
| Balance | Annual Percentage Yield |
| < $49,999.99 | 0.10% |
| $50,000 – $99,999.99 | 0.10% on your entire balance |
| >$100,000 | 0.10% on your entire balance |
Savings Account: Regardless of your balance, you'll earn 3.40% APY with a 360 Performance Savings account.
Note: These interest rates and APY are variable and can change at any time. But, at the time of writing this article, these are the rates that are effective.
SoFi:
Automated Investing: Get started with SoFi automated investing with just a $1 account minimum, and it has no management fees and no advisory or administrative fees. 
Personal Loans: SoFi lets you borrow between $5,000 and $100,000 for different expenditures like credit card consolidation, home improvements, emergency funds, and more.
So, whatever you are looking for, get funds in your accounts as soon as the loan is approved, with no pre-payment fees, no origination fees, and hidden fees.
Credit card: After you get approved for the SoFi Credit Card, if you fund an Invest account and Checking and Savings account, you can earn up to $200.
And when you set up direct deposit, earn 3% cash back rewards for a year. After that, get 2% unlimited cash back on purchases.
CDs: CD holds your money for a fixed time in exchange for a higher rate of interest than a regular savings account.
The average rate for a 1-year CD is about 0.51% and the average rate for a 5-year CD is about 0.86%. Note that this interest rate can differ based on the institution.
Capital One
CDs: Another banking option through Capital One is a CD or Certificate of Deposit. These are available for a variety of terms ranging from six months to five years.
If you have funds that you don't need access to currently, then opening a CD can be a good choice to increase your savings over time.
You can choose how the interest should be paid – monthly or annually, which is transferred to another Capital One account or another connected bank account.
Here are the current CD terms and rates that are available via Capital One.
| | | | |
| --- | --- | --- | --- |
| CD Term | APY | Minimum Deposit | Earnings |
| 6 Months | 3.30% | $0 | $82 |
| 9 Months | 3.30% | $0 | $123 |
| 12 Months | 4.15% | $0 | $208 |
| 18 Months | 4.25% | $0 | $322 |
| 24 Months | 4.30% | $0 | $439 |
| 30 Months | 4.30% | $0 | $555 |
| 36 Months | 4.30% | $0 | $673 |
| 48 Months | 4.20% | $0 | $894 |
| 60 Months | 4.10% | $0 | $1,113 |
Annual Percentage Yields are variable and effective, and the CD rates are fixed upon opening the account.
Money Teen Checking Account: It is a fee-free bank account for teens with a debit card and a mobile app. Kids can use their cards to access money at over 70,000 fee-free ATMs across the country.
Kids Savings Account: This is another option for children. This account can be opened in a parent's name and earn 0.30% APY with no monthly fees, no minimum balances, and no minimum opening deposit requirements.
Short Comparison: SoFi vs Capital One
SoFi
Capital One
Checking Accounts
Monthly Fees: None
Minimum deposit: None 
Monthly Fees: None 
Minimum deposit: None
Savings Accounts
APY: 2.50% APY
Monthly Fee: None 
APY: 3.40% APY
Monthly
Fee: None
Certificates of Deposit
1 year: 0.51%
5 years: 0.86%
1 year: 2.30% APY
5 years: 3.20% APY
Minimum Deposit: None 
Overdraft
No overdraft fee and covers up to $50
$35 up to four times a day
ATMs
Over 50,000
Over 40,000
Automated Investing
Yes
No
Customer Service
SoFi:
If you need any help with SoFi, get in touch with their customer service through email at investsupport@sofi.com or call them at (855) 456-7634 on Monday to Thursday between 5 am to 7 am and on Friday to Sunday between 5 am to 5 pm.
Visit this page for more information on SoFi's customer support.
Capital One:
Get in touch with Capital One customer service for live support through call 1-877-383-4902 or visit here for more detailed information. 
SoFi vs Capital One: Which one is Best for you?
Capital One can be a better choice as brick and motor service as they have physical banks. So, if you want to go to the bank to make a large deposit, cashier check, wire money, notary, etc., go for Capital One.
On the other hand, SoFi is an online-only bank that provides ways to keep tabs on your account anytime, anywhere. Moreover, there is no monthly maintenance fee, no-fee overdraft protection, competitive APY, and offers automatic savings, expense tracking, and many other features.
When you move a large amount to SoFis' direct deposit, you'll get $300 as a bonus. And it offers great tools if you like to track your spending.
SoFi offers a better interest rate than Capital One. However, the only drawback is that you have to pay a fee to deposit money.
And when it comes to credit cards, even though SoFi's 2% credit card is good, Capital One can be a great choice if you wish to have different benefits and cashback options.
So, before deciding on any platform, make sure that you do thorough research and pick the one that meets your requirements and works best for you.
We hope the above guide on SoFi vs Capital One has helped you choose the best banking service that helped you meet your needs.
FAQs
Why should I switch to SoFi?
Well, you won't find a lot of bank fees associated with SoFi and there is no minimum balance requirement or monthly maintenance fee.
What is so good about Capital One?
There are no checking or savings fees and offers a highly competitive savings rate and high CD rate. Besides, there is also a brick and motor presence. 
Why can't I withdraw money from SoFi?
The funds from a cryptocurrency or securities sale cannot be withdrawn till your trade is processed.
Will Capital One lower my credit limit?
If your credit risk changes, it might change your credit limit. So, this means that it may increase or decrease based on your circumstances.
Is SoFi checking free?
SoFi doesn't charge any account fee on your checking and savings account. 
7 Best Apps like SoFi You Should Use [SoFi Alternatives 2022]