Slowdive App Review: Worth It or Scam? [2023]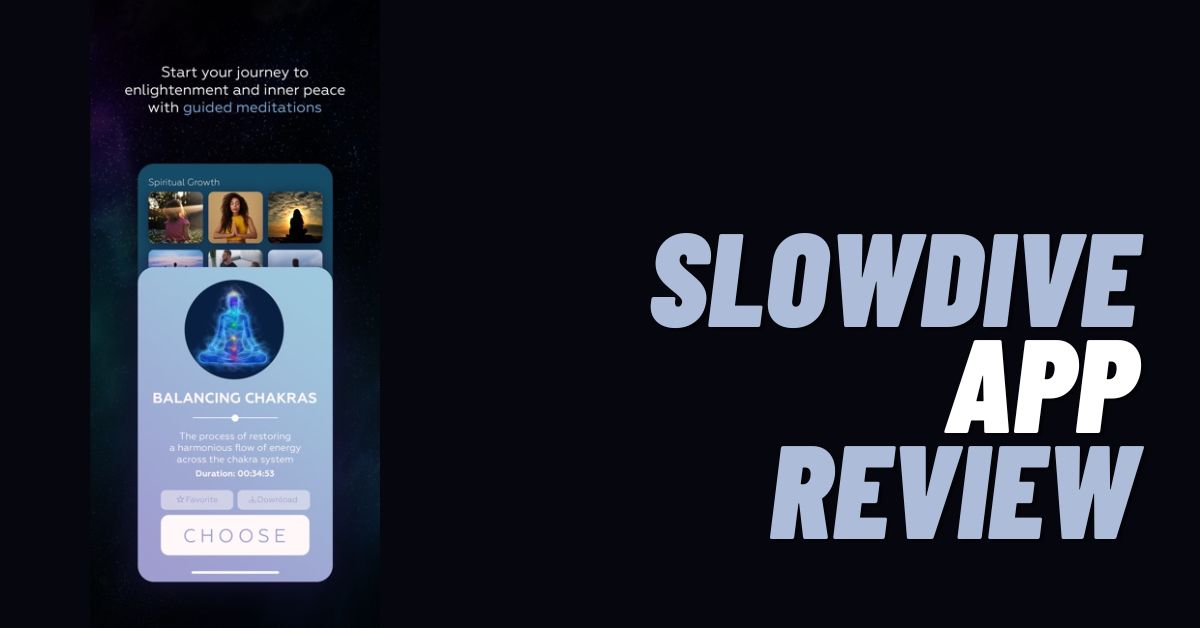 We may earn small commission from the products mentioned in this post.
Slowdive App Review: While meditation can help you live a peaceful life mentally, it can do the magic on the physical level too – helping you heal and feel less fear. Moreover, it does a good job of eliminating stress, anxiety, and many such negative impacts on your successful life.
Now, why are we talking about meditation? Because we have this helpful app called the Slowdive app that offers guided meditation through a variety of things to help you gain multiple benefits gradually.
But, does the app work? Is it actually worth it for you? If you're also unsure about the app, then reading our Slowdive app review mentioned in the article below might be helpful for you.
What is the Slowdive App?
The Slowdive meditation app is here to provide you with guided meditation that helps stay active whenever required, reduces fear, stress, anxiety, etc, and also helps you stay calm and heal mentally.
Overall, it works on a spiritual level and offers you multiple benefits – also helping you form good habits of meditation, offering mindfulness, getting rid of different types of fears, and such — all through naturally proven methods.
How Does the Slowdive App Work?
The working of the Slowdive meditation app is quite simple, where it uses some powerful and natural methods to help you meditate.
It offers self-help meditations and resources such as powerful mantras, guided meditation for sleep, relaxing music, and guided meditation for an increase in productivity.
All you need to do is have a strong willpower to meditate whenever required according to the schedule, and believe in improvement.
Key Features
Smart Feed
The application has the ability to learn and predict your needs and wants so that it can recommend to you the type of feed you are looking for, based on habits and preferences accordingly.
Powerful Timer
The app has a powerful and multifunctional timer where you can set it to a metronome, alter the schedule for background music and sound, and do many such interesting things easily.
Active Community
If you want to meditate with others, then you can join the online meditation practice on the app, where you can join live sessions every 1 hour.
Mantras & Music
The platform offers more than 35 variations of music, sounds, and mantras for backgrounds in your meditation sessions.
Pricing
The platform has a free mode where you can check all the benefits of the app and service before opting for the paid subscription plan. As for the subscription plan options, they are as follows:
Monthly subscription plan – $9.99 per month.
Yearly subscription plan – $59.99 per month.
Forever (one-time) subscription plan – $159.99 per month.
Pros & Cons
Pros:
The app comes with more than 100 meditations for several scenarios.
It also works on helping you form a habit of meditating, regularly – without fail.
You get illustrative statistics and analytics to help you understand your progress.
It offers a variety of special breathing exercises, inclusive of diverse difficulty levels.
Cons:
Although the plans are all guided, one still needs to have motivation and willpower to complete the course and improve.
The pricing and cost for subscription plans might be a couple of dollars expensive compared to similar programs.
Is It Worth It For You?
To be honest with you, although all the points and highlights mentioned in this Slowdive app review seem to be impressive, the app received a below-average rating on the Google Play Store and barely managed to pass the above-average mark on the App Store.
However, the overall functionality and working of the app still seem to be working for many, so, we suggest you give the Slowdive app a try and check for yourself if it is worth your time and money or not.
Frequently Asked Questions
Is Slowdive meditation app free?
No, the Slowdive meditation app is not free. It does have a free mode, but only for a limited time, and after that — you'll have to pay $9.99 per month or $59.99 per year.
How much does Slowdive cost?
The Slowdive meditation app costs $9.99 per month or $59.99 per year. It also has a one-time forever subscription plan that costs $159.99 per month.