4 Best Rotten Tomatoes Alternatives to Try out! [2023]
We may earn small commission from the products mentioned in this post. visit here for more details.
When you wish to not waste your time and have a look at the reviews of the movies or tv series before actually streaming it — Rotten Tomatoes and Rotten Tomatoes alternatives jump into the view.
Rotten Tomatoes is one of the most trusted websites for movie and drama reviews. But, in many cases, users must be in search of other sites like Rotten Tomatoes. Are you one among them? If yes, then in the article below, we have presented you with the introduction to rotten tomatoes and a list of Rotten Tomatoes alternatives.
About Rotten Tomatoes
Rotten Tomatoes is a USA-based review aggregation platform made for movies and television. Rotten Tomatoes, a home for the Tomatometer is by far the most trusted platform to measure the quality of television series and movies.
It is the ultimate website where you can find trailers, Showtime, reviews and other information related to the content you wish to view. It has several recommendations for different genres. From 90s hits to recent blockbuster content, you will get the information and honest reviews about all of them at the rotten tomatoes website.
IMDb
IMDB is your ultimate platform and online database of important information related to television series, movies, video games, home videos and other streaming content available to view online.
The website gives you important data about the content you wish to stream — including the cast, plot summary, production crew, trivia, ratings, personal biographies, fan and critical reviews and more detailed information. IMDB is one of the best Rotten Tomatoes alternatives because it works in the same way as Rotten Tomatoes and is popular for its stability and accuracy.
Key Takeaways
IMDB does all the work for you and gathers the correct information about hundreds and thousands of movies and TV series available to stream online.
Unlike other database websites which do not focus on detailed information about the cast, IMDb gives you personal biographies which talk about the characters in brief.
IMDB ratings are valued highly. Many users consider taking these ratings into account and decide whether they must invest their time in streaming the content or not.
The website has an easy user interface.
It is available through apps on Apple as well as android devices.
Metacritic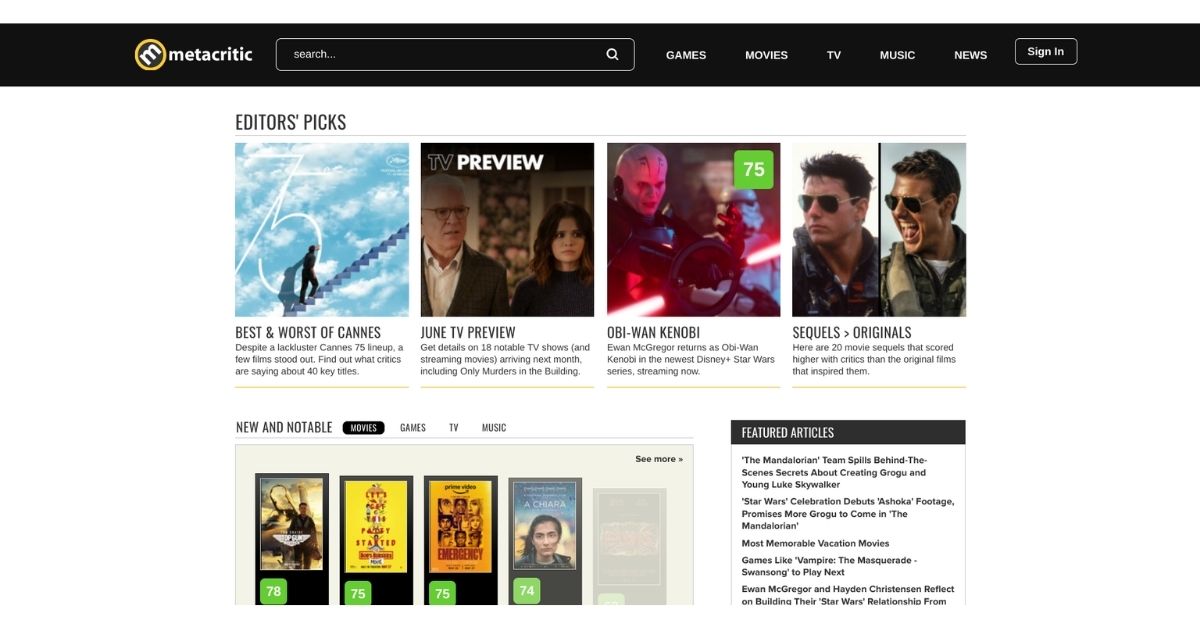 Metacritic is a well-known website by Red Ventures that gathers reviews from users for movies, television series, music albums, video games and books. For every TV series or movie, Metacritic pulls out the average in the result from every review received.
Users do not get to use the platform to vent their thoughts about the tv series or movies directly. On the contrary, Metacritic has a set of trusted and professional sources to provide it with honest and accurate reviews of the movie or dramas. Keeping its professional nature of working in mind — we have named it one of the up to date Rotten Tomatoes Alternatives.
Key Takeaways
Metacritic uses a self-invented term called Metascores that makes it easier for you to get the idea of how good the tv series or movie is.
It has an article section which gives you thorough information about the video game launch and related stuff.
PluggedIn
Plugged In is a type of source through which you can make appropriate entertainment choices for you and your family. It works in the entertainment section and provides information related to movies, books and games. It is called one of the best Rotten Tomatoes alternatives.
Plugged In.com is best to know the movie status and honest reviews by the people who have viewed it before you and in theaters. You get to know the MPAA rating for the movies. As for the books, you get honest thoughts about the readers who have had a look at the book you wish to read before you.
This all helps you in deciding whether you must go for a specific movie or a book by yourself. All this is the same for the game section. Plugged In is the favourite review site for movies for parents — it is an ideal place where parents can look up educational and appropriate movies for their kids to watch.
Key Takeaways
The brand's website has a good user interface and is user-friendly.
Plugged In does not present any false or incomplete data to users. It has a high stability and accuracy rate which means — everything you view is accurate and true.
With the help of Plugged In, you will be saved from wasting your time on unwanted books, tv-series or movies and can search for better ones which suit your taste instead.
Roger Ebert
Roger Ebert is an American film critic. Although the critic died back in 2013, the website started with his work full of movie reviews, is still working and handled by his team. All the members of the team behind the website are trusted, movie reviewers and film critics. They all go by the saying that narrates that no good movie is either too long or any short movies are bad.
The reviews by them are complete and fair and come along with an interesting touch. They give ratings to the movies they have reviewed from 1 to 5 to make it easier for readers to understand the quality of the movie. On the website, you can search for the movie with the help of date, ratings and Genres. Thus, Robert Ebert's website is one of the best Rotten Tomatoes alternatives.
Key Takeaways
The reviews by the professional reviewers on the website are in-depth and presented in this simple form for readers to grasp understanding easily.
As the website was launched years ago and is the house of movie reviews, there is no such movie which you can not find on the website.
The reviewers make the reviews fun to read so that you won't get bored and leave halfway.
6 JustWatch Alternatives To Try Out! [2022]
Conclusion
All the above-mentioned sites are a perfect match for you if you like the swift flow of work done by Rotten Tomatoes. They all are the best Rotten Tomatoes alternatives and best to trust instead of unofficial and fake reviews websites on the internet.
Frequently asked Questions
Which is better IMDb or Rotten Tomatoes?
If we consider the ratings from viewers and critics, the users must go for rotten tomatoes as it does a good job in this part. However, the ratings and reviews found on IMDB are way more accurate than rotten tomatoes. Rotten Tomatoes gives reviews in detail and most of the time, readers are not interested in going through a whole paragraph or two just to get an accurate review of the movie or series. In this case, IMDB is better than rotten tomatoes.
Do any movies have 100% rotten tomatoes?
To this date, Leave No Trace is the only name to hold a record on the rotten tomatoes website, with a total number of 249 positive reviews and a 100% rating.