Roblox Error Code 502 [How to Fix 2023]
We may earn small commission from the products mentioned in this post.
Roblox Error Code 502: Roblox is a popular online game site and a game creation system allowing users to launch their own games and play games launched by other users. In simple words, it's a worldwide famous platform bringing gamers together to play.
Likewise, we have the Roblox studio — the place where you create games with any theme. The main thing is that it's 100% free – driving in thousands of users regularly on its platform, automatically giving birth to bugs and issues like the recent: Roblox error code 502.
Under this issue, many users have failed to load settings with 502 Roblox Studio and the same isn't allowing them to create games. Indeed, the issue is big – but no more worries, because in this article, we are going to give you just the right list of solutions to solve your Roblox error code 502 problem.
What is the Roblox Error Code 502?
Roblox error code 502 with the initial message — Failed to load settings with 502 Roblox studio', is an issue that is preventing many users from completing their game and further launching it on Roblox.
Otherwise, the same issue is causing the Roblox studio to work very slowly, where it's taking its sweet time to load, or it might suddenly stop working and show the message — 'Failed to load Settings with 502. Please restart the studio or contact support if the problem persists.'
However, the same issue has been seen a good bunch of times before at the Roblox studio, and for the same, we have presented the list of solutions in this article. But, before you move ahead to the solutions, make sure you are done with all the following things,
Try switching off your firewall and antivirus.
Switch off the VPN and proxy, if you are using any.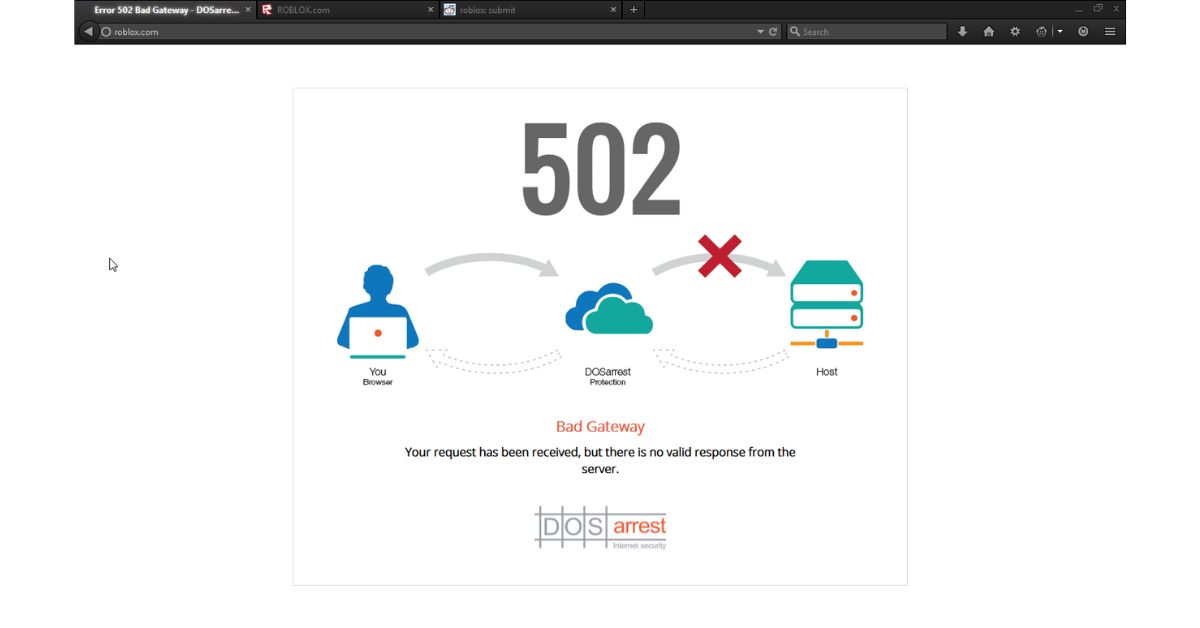 Is Roblox Down?
In case the Roblox servers are down, then there's no way you or other users of your region will be able to use it or its studio. Thus, check the status, and to do so, you can try visiting some trusted server-down detectors like Downdetector. 
Check Twitter
If you didn't find anything above, then you can also try visiting Twitter, where other users from your region, facing the same issue, might be discussing the same problem. If not the solution, then you'll at least learn the exact cause of the problem.
How to Fix: Roblox Error Code 502
Wait for a While
For many users, who are facing the same problem, all they did was wait for a while, and the issue was resolved on its own.
Therefore, you should try waiting for a while. The same should be done if you find that the Roblox servers are facing an outage — then, your only option is to wait till the servers are back to work.
Check/Change your Internet Connection
As soon as you start facing issues at the Roblox studio, the very first thing you should do is check your Internet connection, if it's doing well, and is switched on.
If it's not working properly, you can switch it off and on, and repeat the procedure a couple of times before trying to use the Roblox studio again.
However, if your Internet connection shows no signs of working properly, then it's your cue to swap with Wi-Fi or a hotspot.
Change DNS Settings
DNS is a term related to network and Internet on your device, and if these settings are not in accord with Roblox, then they might prevent the Roblox and Roblox studio from working smoothly. Thus, to change the DNS settings, follow the instructions given below,
Go to Windows Settings.
Go to the Network and Internet page – select Wi-Fi or Ethernet, whichever is relevant.
Choose the Edit option next to the DNS server assignment.
Select Manual, and then enable IPv4.
Change the DNS to 8.8.8.8 and 8.8.4.4.
Save and Restart.
Delete all the Roblox Autosave data
Deleting all the autosave data from Roblox can help you solve the problem easily. Therefore, to delete the autosaves, follow the instructions given below,
Go to This PC.
Navigate to Documents.
Search for the Roblox Folder —> Autosaves.
Delete all the data.
Re-install the Roblox Studio
If you have installed the Roblox studio app on your device, then it might have gathered a lot of unwanted data, which is preventing it from working smoothly. Therefore, delete the Roblox studio app and reinstall it.
Check for Network Driver Updates
If there are pending updates for network drivers, then it might create issues, bugs, and glitches for some games and applications on your device, including the Roblox Studio App.
Therefore, check for Network driver updates, and if you found any, then update all of them. To update the network driver, follow the easy steps given below,
Open the Device Manager.
Get the drop-down list of contents after clicking on Network Adapters.
Choose the Search Automatically for Drivers option.
Contact Roblox Customer Care
If none of the solutions mentioned above worked, then the last option you have is to contact Roblox customer service and complain about the issue.
To contact the Roblox customer care service, you can visit its 'contact us' page on its official website.
Frequently Asked Questions
How do I fix error 502?
If you're facing error 502 while using the Roblox studio, then you should try switching off your VPN, checking or changing your network connection accordingly, and updating the required Nettwerk drivers.
Is error 502 temporary?
Yes, the error 502 faced while using the Roblox studio is temporary and can be solved on its own if you wait for a while.
Fix More Roblox Error Codes-