Qobuz vs Tidal: Which Is Better For You? [2023]
We may earn small commission from the products mentioned in this post.
In this article, we compare the streaming services Qobuz vs Tidal to see which one is best for your audiophile needs.
Competition is healthy in a free market, but both of these options can be overwhelming at times. Competition can sometimes result in the failure of all options, leaving the buyer with no options at all.
We have huge players like Apple, Amazon, and Spotify when it comes to streaming services. We can now add Qobuz to the roster of audiophile-focused boutique businesses like Tidal. We questioned if there was a need for yet another niche streaming service, given that Tidal seemed to be suffering.
Qobuz vs Tidal – Let's begin!
Qobuz
What exactly is Qobuz? On a Samsung Galaxy S10e smartphone having red Noble Kaiser 10 IEMs next to it, the Artist page of the Qobuz music streaming service app is open. Qobuz's max streaming frequency is 24-bit/up to 192kHz.
Qobuz is a high-resolution and lossless music streaming service based in France. It might be the only streaming service that provides both high-resolution streaming as well as high-resolution music downloads through its online shop.
Qobuz also has editorial content on the music industry, such as articles and videos. The same way you can search for music, you can search for news items and Panoramas (pieces on a given artist, label, genre, and more).
Rather of relying on algorithmically generated playlists or suggestions, like Spotify does, Qobuz employees suggest music to its users. Although this seems appealing, the manual procedure may make it more difficult to discover new music that you appreciate.
Qobuz Audio Quality
The Qobuz interface for Android OS shows streaming quality for mobile and Wi-Fi. For both Wi-Fi and mobile network streaming, you may adjust your normal streaming quality.
Qobuz offers a variety of audio quality settings that you may choose at any moment, with 24-bit/192kHz lossless files being the highest quality. Despite the fact that these are incredibly high-quality audio files, there are a few things to consider.
Lossless audio files take up a lot more room on your smartphone than conventional MP3 files, and streaming them over your cellular network might be expensive.
Furthermore, you will need the right technology to really enjoy these files, and even with that, the quality difference is little. The majority of listeners are likely to detect just the variations in MP3 and Hi-Fi quality.
Cost of Qobuz Subscription
Qobuz gives you instantaneous access to its 24-bit/192kHz collection regardless of which membership plan you choose.
Qobuz provides a few different payment alternatives. The most basic subscription, Qobuz Studio Premier, costs $14.99 per month. It comes with a one-month free trial, and if you do not like it, you may quit before the monthly term begins. Stud can only be used by one person at a time.
You may also sign up for Studio Premier's annual membership and pay for it all at once (which works out to $12.49 a month).
Qobuz does not have any sort of personalized discovery tools.
Qobuz Studio Sublime is also available on a yearly payment plan for $249.99 per year, or $20.83 per month. This category grants you access to additional benefits, such as unique discounts (up to 60% off) on specific Hi-Res tracks and albums purchased through the Qobuz store. This makes sense if you want to buy a lot of music through Qobuz, but you do not need a Qobuz subscription to shop at the store.
Qobuz also provides a family plan for each of the aforementioned plans, which covers up to six people. You can have up to six different accounts on the same bill. The yearly Studio Premier family plan is $22.49 per month, while the monthly Studio Premier family plan costs $24.99 per month. The yearly family package for Qobuz Studio Sublime costs $41.66 per month.
Tidal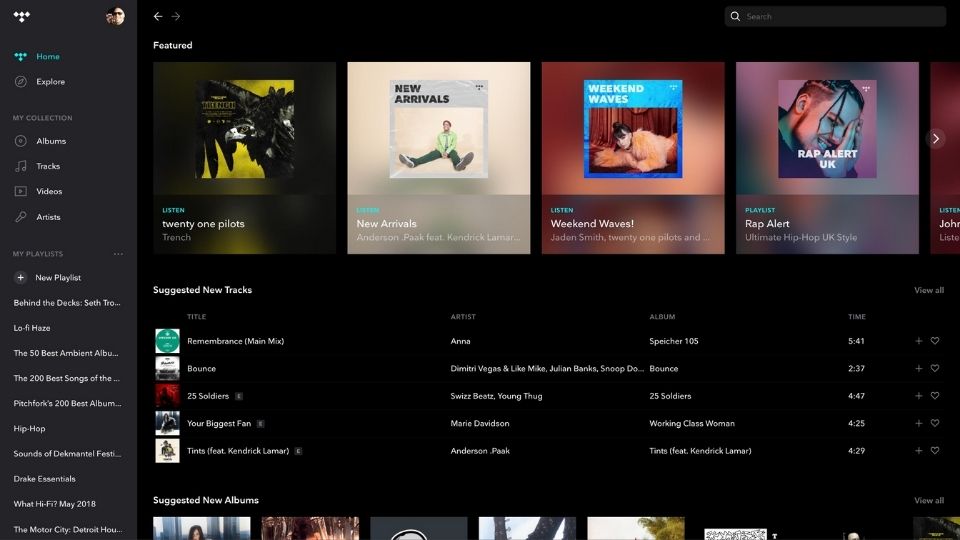 The service's base subscription is Tidal Premium without HiFi. It is $9.99 each month.
Tidal is a music streaming service that aims to bring musicians and fans together. If you go all-in with a Tidal HiFi subscription, it offers lossless streaming, which sets it apart from other providers. While music takes precedence, viewers may also access original TV series, podcasts, and music journalists—though podcasts are severely limited.
It advertises itself as a streaming service that prioritizes artists. It is owned by a number of celebrities, including Jay Z and Beyoncé. The platform's dedication to serving fans is as important as its dedication to empowering artists. Through the Tidal X program, artists give subscribers with exclusive digital material and experiences.
Tidal now has social tools that allow iOS and Android users to easily upload music and video to their Instagram and Facebook stories as of August 20, 2019. We have seen this with Spotify, which allows users to upload individual tracks to a narrative. Tidal, on the other hand, allows users to publish individual tracks or whole playlists as still photos on any social network.
Tidal Subscription
Standard, family, student, and military subscriptions are available. Every 30 days, regardless of the rate you pay, you will be charged. Months with more than 30 days may display charges twice in a month, according to the company's website.
Students and military personnel can get lower pricing on Tidal.
A family membership allows up to five people to share one account. Users must enter their university and give a valid university email address in order to join as a student. Every 12 months, this must be verified. Military memberships, on the other hand, require users to specify their current military status, the branch of service they belong to, and an email address.
Both student and military memberships are restricted to specific areas.
Tidal Advantages and Disadvantages
The highlighted playlists and genres tab of the Tidal HiFi desktop program is seen in this picture.
Tidal allows you to discover music depending on your mood or activities, as well as integrating social features into Instagram and Facebook stories.
Additionally, this service is not for you if you have a huge personal collection of locally saved files or if you are hooked to podcasts.
Qobuz vs Tidal: Streaming Qualities
Depending on your preferences and what you value in music playing, you may choose from a variety of streaming quality.
The Tidal HiFi subscription I utilized for this study gives you access to four different streaming quality options: regular, high, HiFi, and Master. Normal saves data and is ideal for people who have limited bandwidth or a sluggish internet connection. By streaming at 320kbps via AAC, High Quality achieves a good balance between data utilization and sound quality. HiFi and Master are the most intriguing features.
HiFi recordings are lossless FLAC files of CD quality, which means no data is lost in the transmission of the music to your ears. This implies you are getting 44.1kHz/16bit audio files, which is a lot of information for our brains to process. Instead of your cheap backup earphones, you will want to outfit your ears with some good headphones to get the most out of this.
Master Quality Authenticated (MQA) is included in the $19.99/month membership, although its execution has gotten a lot of flak. This audio codec claims to deliver high-resolution (96kHz/24bit) audio via FLAC or WAV files, although it is unclear if the encoding adds any value beyond the extra data it consumes.
Any Tidal media identified as MQA has been personally validated by the artist for usage with this standard. MQA was once only available on the PC, but it has now been expanded to include a mobile version.
Downloading music helps you save data.
Tidal allows you to download content for offline listening, which is useful if you want to avoid service provider overage fees. Anything you may access through the service is also downloadable: adding a music video to a downloaded audio playlist will download the music video as well. In the options section, you can opt to download solely via Wi-Fi.
If you want to download a lot of music, especially videos, make sure your phone's internal storage can handle it. Pick get a microSD card if your phone has expandable storage.
Qobuz vs Apple Music: Which is the Better Music Streaming Service?
Qobuz vs Spotify: Which Is Better? [2022]
FAQs – Qobuz vs Tidal
What is the finest music streaming service?
Best music streaming services in 2022: free high-resolution audio streams
1. Tidal
2. Spotify
3. Apple Music
4. Primephonic
5. Amazon Music Unlimited
6. Deezer
7. Qobuz
8. YouTube Music
9. Napster
Is Tidal of higher quality?
Tidal's claim to fame is that it offers real lossless streaming at 1.4Mbps, which is equivalent to CD quality for all intents and purposes, whereas Spotify's maximum bitrate is 320kbps. Apple Music has a slightly lower bitrate of 256kbps, but it employs the AAC encoding technique, which is superior to Spotify's Ogg Vorbis.
Is Qobuz truly a lossless service?
Qobuz offers a variety of audio quality settings that you may choose at any moment, with 24-bit/192kHz lossless files being the highest quality. Lossless audio files take up a lot more room on your smartphone than conventional MP3 files, and streaming them over your cellular network might be expensive.