Noom vs GOLO: Which is Better? [Comparison 2023]
We may earn small commission from the products mentioned in this post.
Noom vs GOLO: When it comes to weight loss, the issue is quite serious for most of us and there are just too many options on the internet to choose from. But, few among these are some genuine and leading weight loss programs like Noom and GOLO.
Noom and GOLO have different techniques. While you are motivated to work regularly on your body and fitness with exercises with Noom, GOLO here encourages you to buy medications and supplements to ease the hard work.
Regardless, which among them is a better choice? hundreds of people are currently comparing them for the same reason and if you also want to know, then our comparison battle between Noom vs Golu mentioned in the below article will surely assist you!
Noom vs GOLO: Overview
Noom
Noom is a well-known subscription-based application helpful in tracking your diet and exercise. It's an award-winning weight loss program, scientifically proven by experts to create real effects in your body and help you stay fit.
Additionally, while using innovative technology, Noom also gives you access to thousands of trained coaches who will guide you along your healthcare journeys to achieve realistic goals.
GOLO
GOLO is a weight loss program with proven clinical impacts. It claims to be 100% safe to use with medication. Along with weight loss, it also offers related supplements for increasing energy and reducing fatigue.
GOLO's main focus is to balance your hormones which will gradually affect weight loss while you get healthy. Although it entirely depends on your body condition and needs, overall, it still works to build your immune system healthier.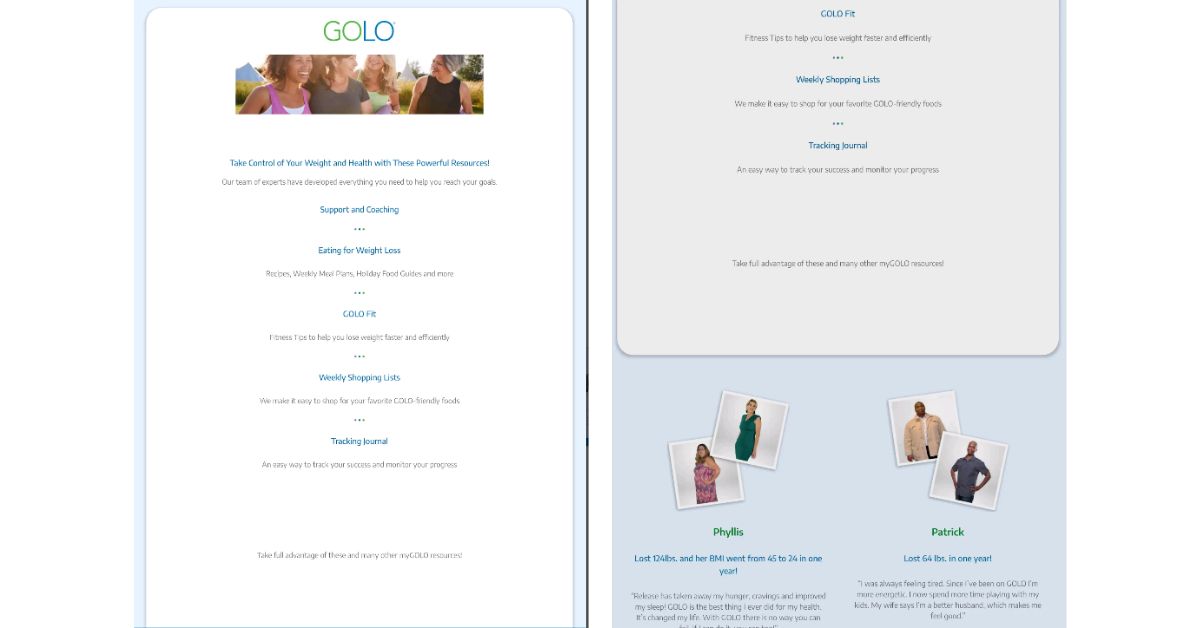 Noom vs GOLO: Pricing and Plans
Noom
Noom has a big list of pricing and plans to offer, as follows:
Monthly subscription plan – $70 per month
2 months subscription plan – $129 billed every 2 months
3 months subscription plan – $159 billed every 3 months
4 months subscription plan – $169 billed every 4 months
5 months subscription plan – $174 billed every 5 months
6 months subscription plan – $179 billed every 6 months
7 months subscription plan – $184 billed every 7 months
8 months subscription plan – $189 billed every 8 months
9 months subscription plan – $195 billed every 9 months
10 months subscription plan – $199 billed every 10 months
11 months subscription plan – $205 billed every 11 months
Annual subscription plan – $29 billed annually
Moreover, the majority of the users prefer to start from its 4-month subscription plan which is billed every 4 months for around $42.25 per month.
GOLO
GOLO has a diet plan which is free. But, to access the eating plan, you'll have to first purchase the supplement. Every bottle of this release supplement comes with 90-release capsules and will cost you $49.95. You get a discount if you buy more than one bottle at a time.
GOLO recommends you eat one capsule with every meal in a day – which equals 3 capsules per day. This way, one bottle will be completed in approximately 4 weeks, aka 1 month.
Noom vs GOLO: User Experience and Reviews
Noom
Noom has received a positive rating from the users, stating clearly that it is a worthy weight loss app. The majority of the reviews have clearly expressed how effective the app and its exercises are, certainly along with all its features.
Talking about its UI, it is easy and you'll just need one day to learn how things work on the app. As for beginners, at least the basics will be cleared in the first go and you can take your time in understanding the insight and available personalizations.
It's super easy to get started with it since it offers a free trial where you can start using all its premium features. With this free trial, you can get a good idea of how the app works and you'll be able to schedule a proper plan before opting for its paid version.
In addition to that, the rate of short-term success probability for this application is very high, compared to almost all other similar apps, including GOLO.
GOLO
GOLO has an average rating on the Internet. The app seems to be working for a few and a failure for others. It is easy to get started with the app, but as expected, since it is entirely based on supplements and medication, it doesn't always work for everyone.
Now talking about ease of getting started, although it doesn't offer free samples and free data, it's pretty easy to get started and the app comes with an easy UI. You'll probably take one day to navigate around the app, buy the bottle or bottles, and eventually get started.
But, since it doesn't have any free version or even a free trial, it gets harder for users to directly trust it straight away at $50 with a fear of failure.
Apart from everything, its rate of short-term success probability is just medium. In simple words, it totally depends on you and your current condition, whether you will see the successful results sooner, a bit later, or never.
Noom vs GOLO: Pros and Cons
Noom
Pros:
It gives you full access to the coaches.
The app gives easy access to the support group chat.
Has a personalization feature that will give you workouts and routines according to your current body state.
It motivates you to set goals while providing relevant tools to track progress and also celebrating achievements.
Cons:
You have to follow its proper schedule for results, at least giving it half an hour regularly.
It's quite expensive compared to other similar apps.
Doesn't offer enough exercise tracking and insights according to many users.
GOLO
Pros:
It offers a 90-day money-back guarantee for all its supplements.
It offers 3 systems and it's up to you if you want to opt for all three or one or two bottles based on your needs and condition.
All the supplements have natural ingredients, mostly extracts from plants, herbs, and fruits.
Its supplement-based weight loss program is best for those who can't dedicate time to daily workouts and exercise.
Cons:
It doesn't have a mobile application.
It doesn't give you access to the coach/nutritionist.
There's no such thing as a support group chat.
There's no personalization, everyone gets the same bottles.
Noom vs GOLO: Differences and Similarities
| | | |
| --- | --- | --- |
| Features | Noom | GOLO |
| Mobile App | Yes | No |
| Ease of Use and Getting Started | Easiest | Easy |
| Free Trial | Yes | No |
| Approach | Daily Workouts and Exercising | Supplements |
Noom vs GOLO: Which is Better?
Starting with the ease of use and user experience, the main thing about Noom that levels it up is its easy UI for both the website and application. Additionally, it's super easy to use the app, even if you are a beginner.
As for the GOLO app, it comes with an easy-to-understand and use website but doesn't have a mobile application – a direct hit for those who are more comfortable with apps.
Secondly, Noom gives you easy access to the support group chat which can help you understand things that are hard to grasp. Along with that, you'll also get easy access to the coaches for better understanding of routines and exercises.
On the contrary, GOLO doesn't have a thing called a support group chat to start with. You'll probably have to go through its FAQ section or simply contact its customer service for support. Similarly, there's no such thing as access to coaches.
One more big drawback of GOLO is that since it doesn't have an app available on the Google Play Store or App Store, you can't find reviews by other users before paying for the bottles. In a clear case, you don't know if this weight loss app is for you to try or not.
Now talking about the free trials and versions, neither Noom nor GOLO offers free versions but at least Noom has a free trial through which you can understand it's working before paying. For GOLO, you have to pay first, buy the huge bottle of supplements and test them yourself.
With all the headlines mentioned in the above comparison article, it is quite clear that Noom is a better choice and a winner over GOLO.
However, if you think supplements and medication are a better choice for you and you simply can't dedicate at least half an hour from your hectic schedule to workout and exercise, then the GOLO weight loss program has better options for you.
With this, we have successfully ended our comparison battle between Noom vs GOLO, and hope you now know which weight loss application between the two is a better choice for you.
Frequently Asked Questions
What's better Noom or GOLO?
Noom is a better choice when you want to be dedicated to proper exercising and diet regularly. But, if you believe more in medication and supplements, then GOLO is your answer. 
Which diet is better, Noom or GOLO?
Both Noom and GOLO have professional dietary plans, but according to the majority of the users who have tried both apps, Noom is a better option for most dieters.