Hickey App Review: Know This Before You Sign Up! [2023]
We may earn small commission from the products mentioned in this post.
Hickey App Review: Although there are so many dating apps on the platform, if you are someone who is not exactly looking for a committed relationship, then you'll find very few options, and the ones you find will likely have multiple suspicious issues.
However, we have this recently launched app that seems to have a great rating on both the app stores, with multiple users calling it their go-to destination for — you know what.
But, considering all the fake platforms claiming to be real dating platforms out there, it is quite important to make sure this platform is also genuine, and, if you want to know if it is or not, continue reading because this article includes a thorough Hickey App Review.
What is The Hickey App?
Hickey is a recently launched casual dating app, where you can search for casual connections and enjoy local dating. It allows you to search for people who might be interested in casual relationships in your area so that you guys can chat, meet, and have fun.
Moreover, the app works with a goal to help those who are searching for an adult dating community, where they can freely express their fantasies and desires, without compulsorily wanting to get into a serious relationship.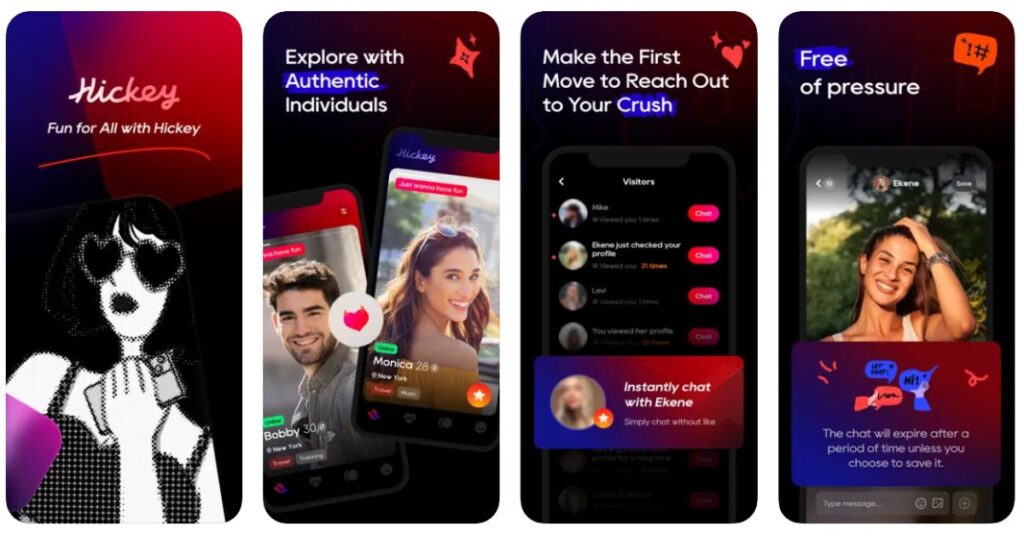 How Does it Work?
The working of this dating app is similar to any other dating platform, where you log in, create a profile, and with the usual swipe left and right — choose who you want to connect with.
Key Highlights
Save or Let Go
The app allows you to start chatting instantly with anyone, and you choose to keep your chatting saved, or it will automatically expire after some time.
Meetups
As soon as you both know that you two clicked, you can opt for a meetup. Ladies — rest assured, you both will only meet if you agree because the app will ask you if you really want it, and he will not have that option.
Pricing
The app is free to download from both the app stores, but it has limited free usage, and in-app purchases seem all above $10-$12.
Does The Hickey App Review Have Real People?
If going through all the points mentioned above has convinced you that the app is worth a shot, then, just wait a moment and go through the opinions and reviews we have gotten from the Internet.
Unfortunately, after reading and looking at so many negative reviews, and opinions about the app, it is wrong to say that Hickey has real people.
To justify the same, users have tried multiple things to check whether they were talking to a robot or a real human, like asking for a normal selfie from 10 users, and it turns out no one replied.
In addition to that, none of these profiles seem to be genuine at first look, and they don't even have any social media accounts, like legit no one has even one.
Yet, if you are still not convinced, then, just to let you know – none of the verified users, who have used the app, has accepted the fact that they were able to meet their date, even once.
Overall, as you might've expected, we didn't find this platform genuine at all, and think that there are multiple better and safer platforms out there.
That is all from our side, and hope our Hickey App Review was able to tell you if the app is worth a shot or not.
Frequently Asked Questions
Is the Hickey App Review free?
The Hickey App Review is only free to download, and you can use it to some extent before you will be limited to the usage, and will be asked to be before moving ahead.
Is the Hickey App Review legit?
Unfortunately, the majority of the reviews about the Hickey app, even when it has great ratings on both the app stores, are negative, and almost no one recommended trying the app. 
Try Similar Apps-