9 Top Cities Like Chicago: Find Your Perfect Midwestern Match!
We may earn small commission from the products mentioned in this post.
Cities Like Chicago: Ah, the Windy City—Chicago, a bustling metropolis known for its stunning architecture, vibrant culture, and, of course, that iconic skyline. 
But what if you've already savored all the delights Chicago has to offer and are yearning for a change of scenery?
Fear not, fellow travelers, because we're about to embark on a virtual adventure to discover cities around the globe that share a certain urban charm reminiscent of Chicago.
From captivating architecture to diverse cultural experiences and, of course, delectable cuisine, these cities promise a slice of the Chicagoan magic.
List of Cities Like Chicago
1. Washington, D.C., USA
Washington, D.C., our nation's capital, is a city steeped in history, much like Chicago.
From the iconic National Mall and its memorials to the vibrant neighborhoods and world-class museums, D.C. is a captivating blend of the past and present.
Best Places to Visit
The National Mall: Walk in the footsteps of history as you visit the Lincoln Memorial, Washington Monument, and the awe-inspiring U.S. Capitol.
Smithsonian Museums: Dive into a world of knowledge with museums like the National Air and Space Museum and the National Museum of American History.
Georgetown: Wander the historic streets of Georgetown, where boutiques, waterfront views, and cobblestone charm await.
Food
Ben's Chili Bowl: Taste the famous half-smoke sausages that have been delighting locals and visitors for generations.
Ethiopic: Explore diverse flavors with Ethiopian dishes, a unique culinary experience.
Founding Farmers: Enjoy farm-to-table delights in a welcoming, rustic-chic setting.
2. Toronto, Canada
Toronto, often hailed as Canada's New York City, shares a cosmopolitan vibe with Chicago.
It's a city where diversity thrives, and skyscrapers gleam under the Canadian sun.
Best Places to Visit
CN Tower: Soar to the top of the CN Tower for breathtaking views of the city and dare to walk on the glass floor.
Distillery District: Explore this historic area filled with art galleries, boutiques, and charming cobblestone streets.
Royal Ontario Museum: Delve into art, culture, and natural history with an impressive collection of exhibits.
Food
Peameal Bacon Sandwich: Try this iconic Toronto sandwich featuring peameal bacon and classic condiments.
Kensington Market: Sample global cuisines from the various vendors and restaurants in this diverse neighborhood.
High Tea: Experience a traditional high tea at one of the city's elegant tea rooms.
3. Berlin, Germany
Berlin, the capital of Germany, is a city that wears its history on its sleeve.
With a vibrant arts scene, a penchant for reinvention, and a unique blend of old and new, it's a European counterpart to Chicago.
Best Places to Visit
Brandenburg Gate: Stand before this iconic symbol of German unity and admire its neoclassical beauty.
East Side Gallery: Walk along the longest remaining stretch of the Berlin Wall, now adorned with striking murals.
Museum Island: Explore a treasure trove of art and history in this UNESCO World Heritage site.
Food
Currywurst: Savor the beloved Berliner fast food—sausage served with curry ketchup and fries.
Döner Kebab: Taste the city's favorite street food, inspired by Turkish cuisine, and available at every corner.
Beer Gardens: Enjoy the lively atmosphere of Berlin's beer gardens, where you can savor local brews and hearty German dishes.
4. Boston, Massachusetts
Boston, a city steeped in American history, shares a reverence for its past much like Chicago.
Cobblestone streets, historic sites, and a thriving intellectual community define this New England gem.
Best Places to Visit
Freedom Trail: Follow this red-brick path to iconic sites like the Massachusetts State House and Paul Revere's House.
Harvard Square: Stroll through the heart of academia and explore bookstores, cafes, and lively street performances.
Fenway Park: Experience America's favorite pastime by catching a game at the historic Fenway Park.
Food
Clam Chowder: Savor the creamy goodness of New England clam chowder, a Boston classic.
Lobster Roll: Dive into a buttery lobster roll, a seafood delight loved by Bostonians.
Union Oyster House: Visit the oldest continuously operating restaurant in the United States for a taste of history and fresh seafood.
5. Philadelphia, Pennsylvania
Philadelphia, often called the "Birthplace of America," offers a unique blend of historical significance and modern vitality.
Much like Chicago, it boasts iconic architecture, a thriving arts scene, and a love for sports.
Best Places to Visit
Independence National Historical Park: Immerse yourself in American history by exploring the birthplace of the nation.
Philadelphia Museum of Art: Run up the "Rocky Steps" and admire a vast collection of art, including the famous "Rocky" statue.
Reading Terminal Market: Satisfy your culinary cravings with a diverse array of food vendors serving up Philly's iconic cheesesteaks and more.
Food
Cheesesteaks: Try the city's legendary cheesesteak sandwiches, served with thinly sliced beefsteak and melted cheese.
Soft Pretzels: Snack on soft pretzels, a Philadelphia favorite available on nearly every street corner.
Philly Roast Pork: Sink your teeth into a hearty roast pork sandwich topped with broccoli rabe and sharp provolone.
6. Portland, Oregon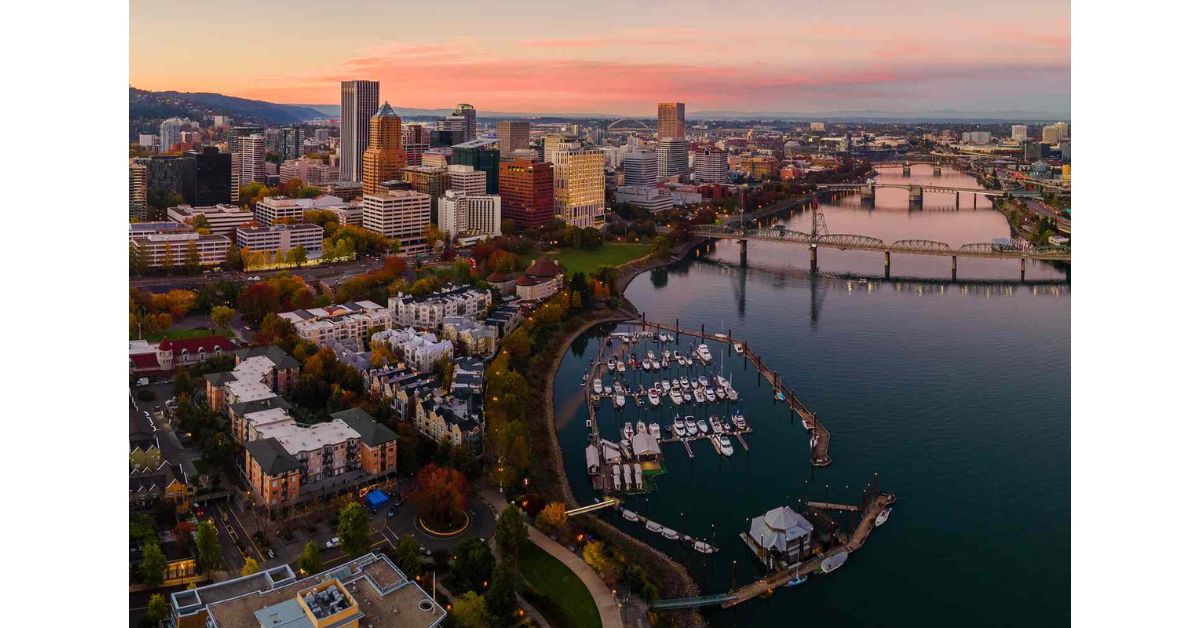 Portland, often referred to as the "City of Roses," is a haven for nature lovers and creatives alike.
Much like Chicago, it celebrates culture, culinary arts, and the great outdoors.
Best Places to Visit
Powell's City of Books: Get lost in the world's largest independent bookstore with a vast collection of books.
Washington Park: Explore lush gardens, the Oregon Zoo, and the iconic International Rose Test Garden.
Hawthorne District: Stroll through this vibrant neighborhood filled with unique shops, cozy cafes, and street art.
Food
Food Carts: Indulge in an array of international cuisines at Portland's famous food carts.
Farm-to-Table Dining: Experience the city's commitment to local, sustainable ingredients at farm-to-table restaurants.
Craft Beer: Portland is renowned for its craft beer scene; sample a pint or two at local breweries.
7. Hamburg, Germany
Hamburg, often called the "Gateway to the World," is a city where maritime history mingles with contemporary design.
It shares Chicago's love for architecture, music, and vibrant neighborhoods.
Best Places to Visit
Elbphilharmonie: Marvel at the stunning architecture and catch a world-class concert at this iconic venue.
St. Pauli District: Explore the vibrant nightlife, theaters, and clubs of Hamburg's entertainment district.
Miniatur Wunderland: Visit the world's largest model railway exhibition and be transported to miniature worlds.
Food
Fischbrötchen: Try a traditional fish sandwich by the waterfront for a taste of Hamburg's maritime history.
Franzbrötchen: Satisfy your sweet tooth with these cinnamon-flavored pastries, a local favorite.
Craft Beer: Hamburg's craft beer scene is booming; enjoy a variety of artisanal brews at local bars.
8. Prague, Czech Republic
Prague, often called the "City of a Hundred Spires," is a fairytale destination where history, architecture, and culture converge.
It shares with Chicago a rich history and a love for the arts.
Best Places to Visit
Prague Castle: Explore the largest ancient castle complex in the world, overlooking the city.
Charles Bridge: Stroll across this iconic bridge adorned with statues, and enjoy panoramic views of Prague.
Old Town Square: Immerse yourself in the heart of Prague, surrounded by historic buildings and the famous Astronomical Clock.
Food
Trdelník: Indulge in this sweet, chimney cake-like pastry often served with ice cream or other fillings.
Goulash: Taste traditional Czech goulash, a hearty stew perfect for warming up during colder months.
Pilsner Beer: Prague is famous for its beer; enjoy a glass of Pilsner in a local pub.
9. Glasgow, Scotland
Glasgow, often called "Scotland's Creative Capital," seamlessly blends its industrial past with contemporary arts and culture.
It shares Chicago's spirit of reinvention and vibrant arts scene.
Best Places to Visit
Kelvingrove Art Gallery and Museum: Explore art, history, and culture in one of Scotland's most visited museums.
The SSE Hydro: Catch a concert or event at this iconic entertainment venue located on the River Clyde.
Glasgow Green: Relax in this historic park, home to the People's Palace and the famous Doulton Fountain.
Cuisine
Scotch Pie: Try a traditional Scottish savory pie filled with minced meat, often enjoyed at football matches.
Fish and Chips: Savor a classic British meal of battered fish and deep-fried chips.
Whisky: Glasgow offers numerous whisky bars where you can sample Scotland's finest.
Final Words
Each of these cities, from Philadelphia to Glasgow, possesses its unique blend of culture, history, and culinary delights, much like the beloved city of Chicago.
Whether you're drawn to historical landmarks, artistic expressions, or simply savoring local cuisines, these urban destinations offer a treasure trove of experiences waiting to be explored.
So, pack your bags and embark on a journey to discover the captivating charm of cities like Chicago, each with its unique story to tell.