Hema Explorer App Review: Worth It? [2023]
We may earn small commission from the products mentioned in this post.
Hema Explorer App Review: Do you just randomly pack your bags, cancel all your schedules, and run off to your car – ready for a new adventure in Australia? If yes, then you would definitely need a good Explorer app to help you schedule, navigate, and have a good remote trip experience with ease, something like the Hema Explorer app.
The Hema Explorer app is a paid 4X4 explorer application by the famous Hema Maps, to enhance your adventure experience in the nature of Australia.
But, what more features does the Gama Explorer app have? What's the pricing? What are its strengths and weaknesses? If you are here to get to know the Hema Explorer app better, then our Hema Explorer App Review mentioned below is sure to help you with that.
What is the Hema Explorer App?
The Hema Explorer app is known for being the first new-generation explorer product released by the trusted Hema Maps. Its main goal is to help you have a good experience in all types of adventures across Australia.
With the Hema Explorer app, you'll get to know more than 100,000 interesting spots of interest across the country, and the app is best for small trips, remote trips, solo trips, family trips, or just a long drive in nature.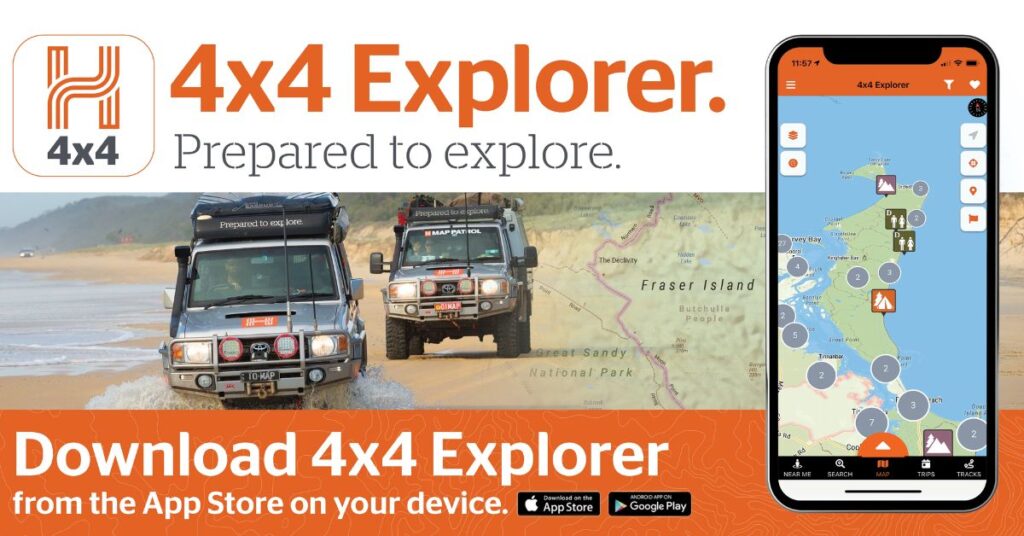 How Does the Hema Explorer App Work?
The working of the Hema Explorer app is simple, and it does a good job of providing you with all the materials you need to navigate, plan, and execute your trip. It comes with all kinds of tools, like GPS tracking, 4×4 for tracks and trails, satellite and hybrid Maps, and more. 
The Explorer gets the explorer map for online usage, and a touring map for offline usage, along with a hybrid and satellite map from the free subscription plan. Together, all these tools can help you decide on the best route, and spot, and enjoy the best of nature easily.
Key Highlights
Thousands of Destinations
The app gives you access to more than 100,000 points of interest, and the sum includes 40,000 verified campsites, dump points, lookouts, national parks, caravan parks, and many more exciting places that can give you a good view of Australia.
Trips Log
The app has a trip log space where you can accurately track your recording, note down trip points, save waypoints, and add geotag photos along the way.
HemaX Cloud Account
The app can be easily connected to a HemaX cloud account, which will only unlock more features and extra sharing options before, during, or after the trip with your friends, colleagues, and family.
Pricing
It is a paid app available on the Google Play Store for A$39.99 and also has in-app purchases.
After you pay for the app, it has a free subscription that includes the basic features of the app, but if you're looking to upgrade your experience, then you can also opt for the Explorer pro subscription plan for A$9.99 per month or A$49.99 yearly.
Is Hema Explorer App Accurate?
According to all the reviews we have read on the Internet about the app's accuracy, it's not entirely good but can do a better job than most similar explorer apps.
According to users, they said that the Hema Explorer app is not entirely accurate, but it's near to being accurate and rarely glitches so that you won't get lost.
Is it Good For You?
With all the points mentioned above, it seems that the Hema Explorer app contains all types of features and tools one requires to completely plan different types of trips in Australia, while it also impresses an explorer with additional and advanced features.
Yes, it's quite a letdown to see that the app is paid and one can't explore its features, even the basics, without paying for it. But, according to the reviews, it's a good app and worth a shot, at least when you are mostly interested in small, and route trips.
Frequently Asked Questions
What happened to Hema Explorer app?
For a definite reason, the Hema Explorer app has not been available for sale on the App Store, since the 5th of February 2021. As of July 2023, it's only available on the Google Play Store.